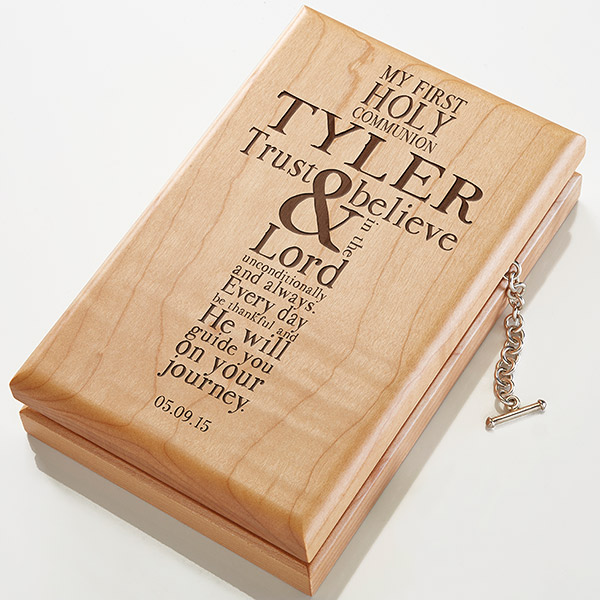 There's no better way to commemorate important religious milestones than with personalized gifts, like some of these customer favorites and brand new gifts in our First Communion Gifts Store. One of our new gifts is already a big hit with our customers. The First Communion Engraved Valet Box makes a great gift for both boys and girls.
The handsome valet box is professionally laser engraved with a unique cross design with a phrase honoring their First Holy Communion:
"Trust & Believe in the Lord unconditionally and always. Every day be thankful and He will guide you on your journey."
The design can be personalized with any name and date to celebrate their Holy Sacrament.
If you're looking to find a gift on a smaller budget, we recommend our new Holy Day Personalized Cross Pocket Token. The pewter coin measures 1 1/8″ in diameter and comes engraved with "God bless" and your choice to personalize it with any name followed by the option of First Communion or Confirmation.
The beautiful token is presented in a velvet drawstring bag for elegant gift-giving and for the little boy or girl to treasure and carry with them for many years to come!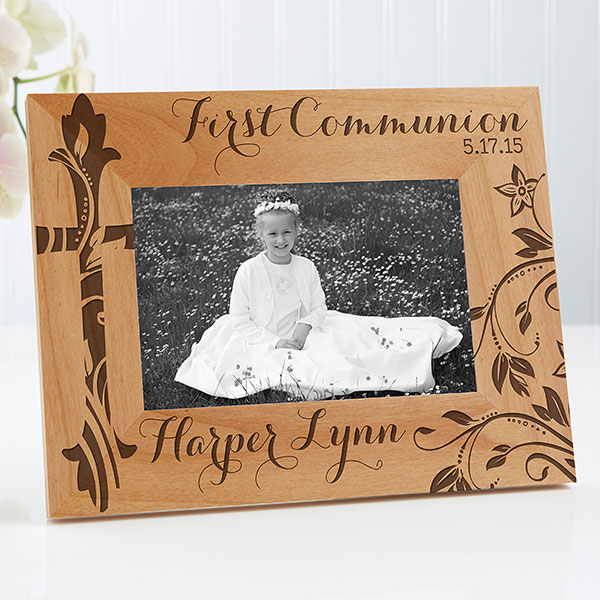 Another special way to commemorate their special celebration is with our First Communion Personalized Wood Picture Frame. The frame is available in a 4″ x 6″ or 8″ x 10″ photo-opening size and is made from top quality, natural wood.
This one-of-a-kind engraved frame features any title, optional date and child's name, making it a wonderful gift that you can use to display a photo of them on the day of their First Communion!
For these and more great gift ideas for first communion or any other religious celebration, check out our Personalized First Communion Gifts Store.