Whether it's a work trip, a romantic weekend getaway or a family vacation, make your next travel adventure easier and more comfortable with these handy personalized travel accessories designed especially for women.
Many think of travel as a luxury, but the reality can be far from it. Unless you can afford first class, travel often means being cramped and uncomfortable for extended periods of time.
Traveling can get exhausting, even if you're doing it for fun. So how can you make it better?
If you're a frequent traveler or if you simply don't like to travel, these simple yet smart accessories are here to make your life a bit easier when on the road. Investing in these small travel luxuries is sure to make your next trip more enjoyable.
1. A Handy Travel Tote Bag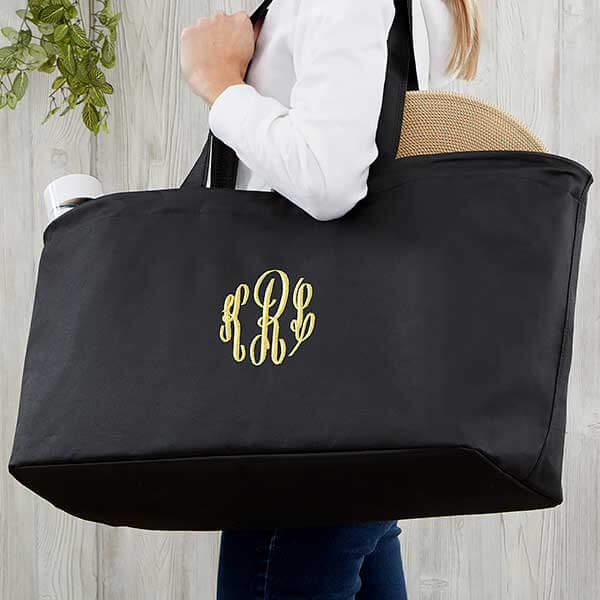 A good quality travel tote that's roomy and easy to carry on a plane, train or car is a must. Our Embroidered Ultimate Tote Bag is perfect for traveling long and short distances.
It's a great plane carry-on, big enough to fit a small purse or wallet, cosmetic bag, a blanket, a book or tablet, a water bottle and snacks, even a pair of shoes or socks to change into. The inside has a zippered pocket along with 6 open pockets, perfect for organizing your travel gear.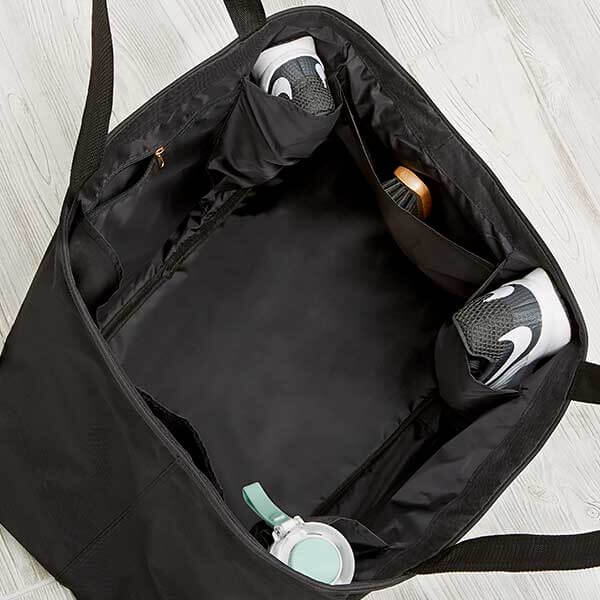 Adding an embroidered name or monogram on the side of the bag will ensure your tote is easy to spot and less likely to be stolen or confused with someone else's bag.
2. A Cozy Monogrammed Luxury Throw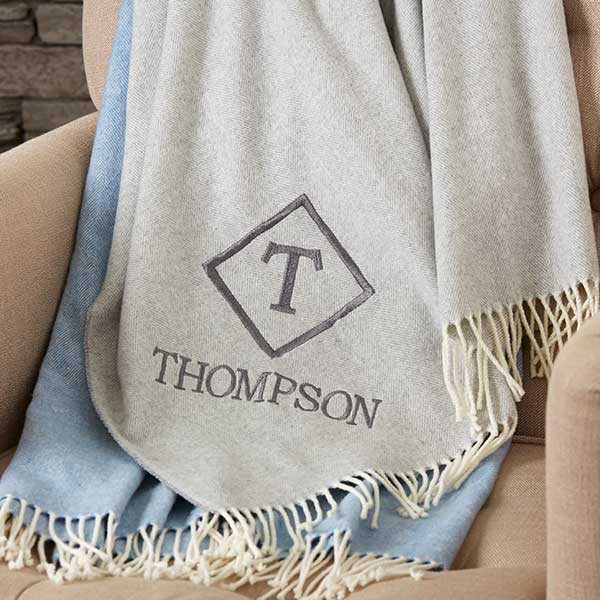 No matter how long you spend on the road — a couple of hours or a couple of days — a luxuriously soft blanket can make the trip so much more enjoyable. Ideal for travel, our Monogram Elegance Personalized Throw has a cashmere like feel and an elegant look. Plus it can be personalized with a monogram and optional name in your choice of colors.
The blanket is lightweight, so it can be easily folded and stored in your travel tote, but still big enough to wrap up in on a long plane ride. This incredibly soft blanket might just become your favorite travel accessory.
3. Packing Cubes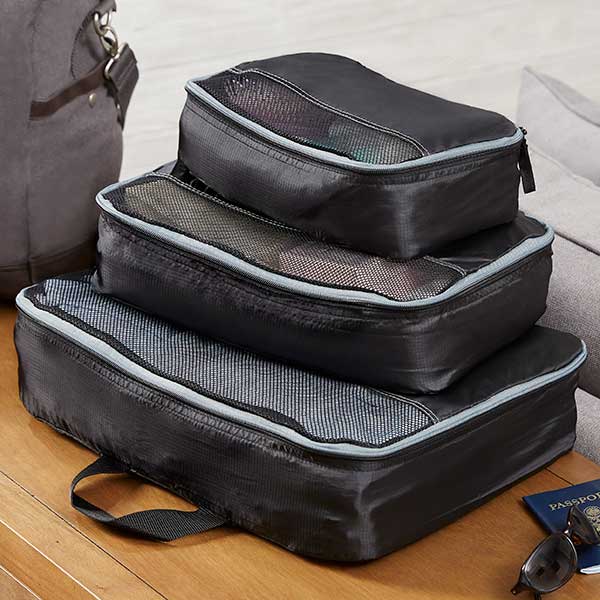 Even if you're an expert at packing for travel, you'll find these handy storage cubes make packing and unpacking for even short trips so much easier. They're especially useful when you have to make multiple stops and don't want to unpack all of your belongings at once, or if you want to separate your business wardrobe from the rest of your clothes.
Our 3-Piece Packing Cube Set has breathable mesh and all cubes nest together for easy storage when not being used.
4. Embroidered Tech Organizer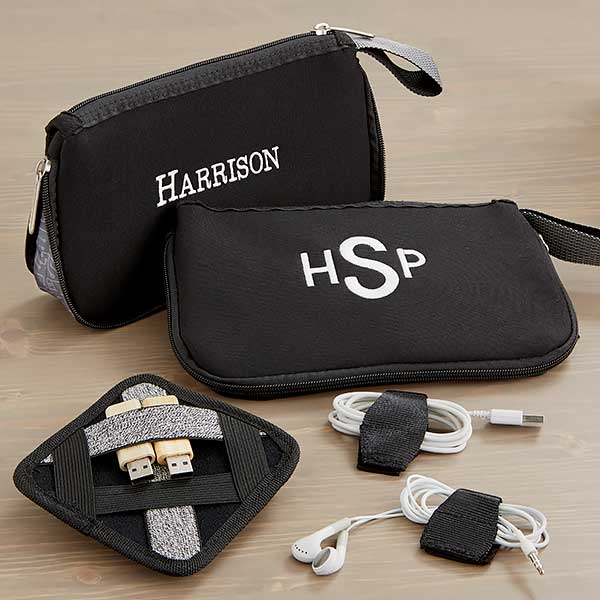 Traveling with electronics can be a hassle when all of the cords and wires for the different chargers, headphones and other tech accessories get all jumbled up. Keep everything nice and neat with our that features magnetic cord wraps and an elastic organizer for holding small gadgets, adapters and more.
Customize the organizer by adding any name or monogram to be embroidered on the side of the zippered pouch in your choice of over 20 thread colors.
5. Personalized Cosmetic Bag & Train Case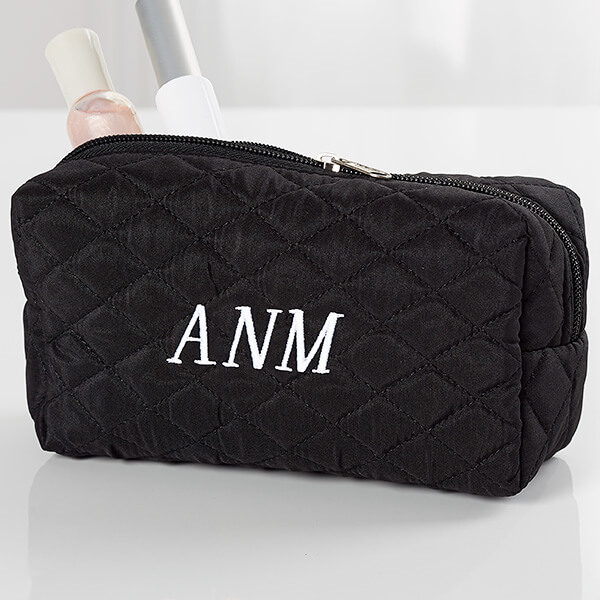 Whether you need lots of storage for your cosmetics and toiletries or a small case just for the essentials, good quality storage will come in handy on every trip. Choose between a smaller cosmetic bag or a larger train case, both with zipper closure and lining for easy cleaning.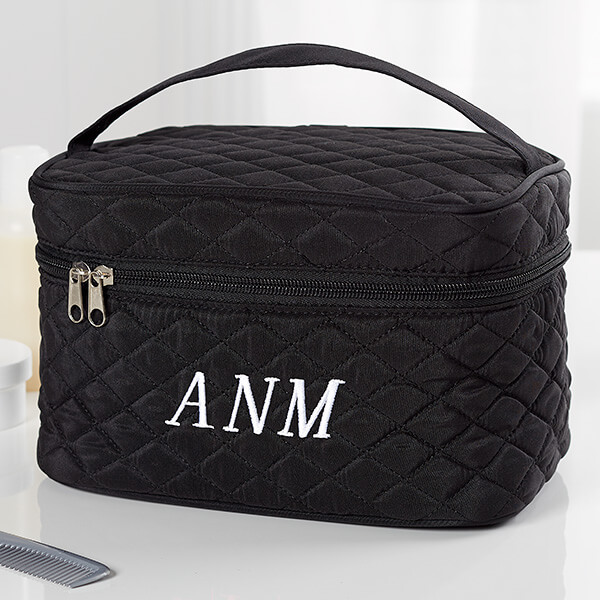 Add you name or monogram in your choice of over 20 colors to be professionally embroidered on the front of each bag.
6. Custom Embroidered Garment Bag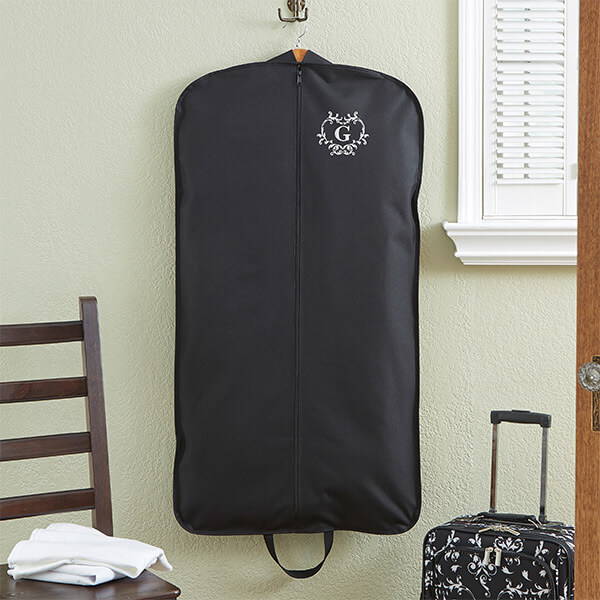 Keep your clothes wrinkle free and ready to wear with our elegant Custom Embroidered Initial Damask Garment Bag. Made from lightweight, durable material that's water resistant, our garment bag can comfortably hold up to 6 garments on hangers accessible through a full length zipper front.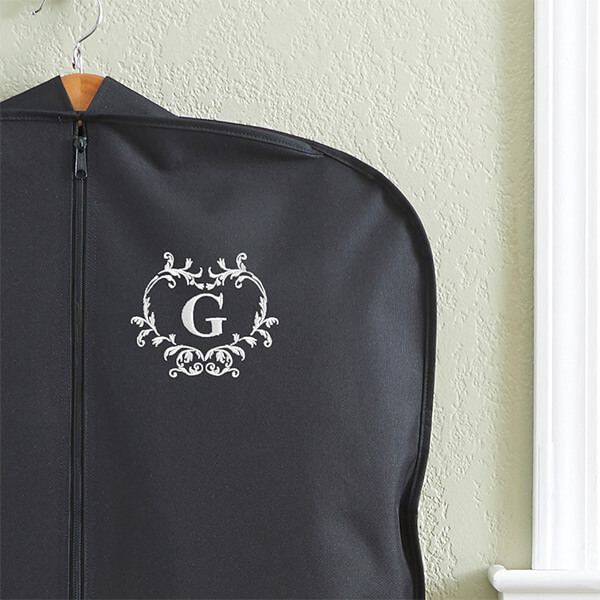 Add any initial monogram to our beautiful damask design and we'll professionally embroider your bag in your choice of over 20 thread colors. This stylish garment bag is perfect for any travel, business or pleasure.
Check out other personalized travel accessories to make your next journey more comfortable and enjoyable.