Turning a house into a home can be a lifelong endeavor. It doesn't matter how long you've been living in your current space — it could be a month or a decade — you know that there are things you'd like to change and improve to make it more homey, welcoming, warm and comfortable, and ultimately more like you and your family. As we renovate, decorate and beautify our homes we're constantly striving to make them ours, so that each room reflects who we are and tells a story of our families.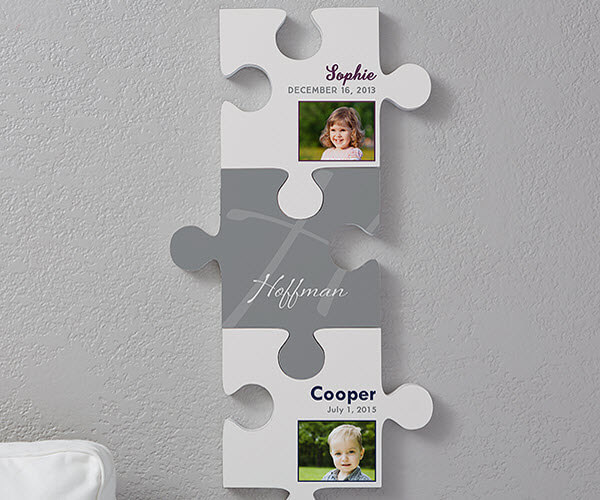 There are countless ways to decorate your home and an endless supply of ideas on how to display your most cherished family memories. Today, we're sharing one of our favorite ways to tell your family's story in a unique and interesting way that can evolve and grow over time. Read on to learn how you can use our exclusive collection of puzzle piece wall decor to celebrate your family's most treasured moments.
Life Is Like A Puzzle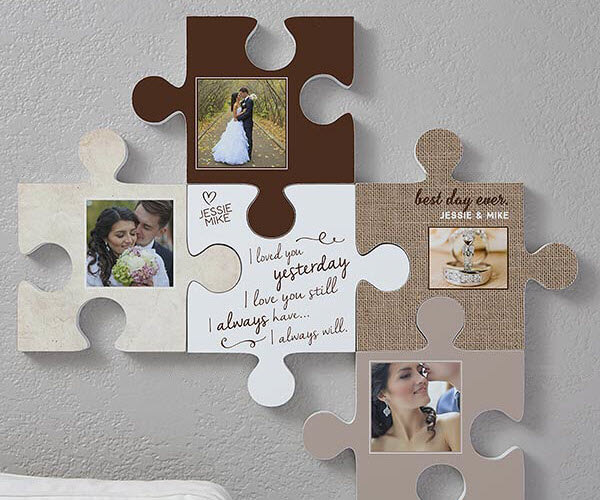 You're probably heard the saying "life is like a puzzle." At Personalization Mall, we took a more literal meaning of the phrase and created a collection of puzzle piece wall decor that can be customized with photos, text, colors and textures to create unique and memorable wall art for your home. Each puzzle piece can be displayed individually or as a collection, and you can mix and match the puzzle pieces to create one-of-a-kind designs.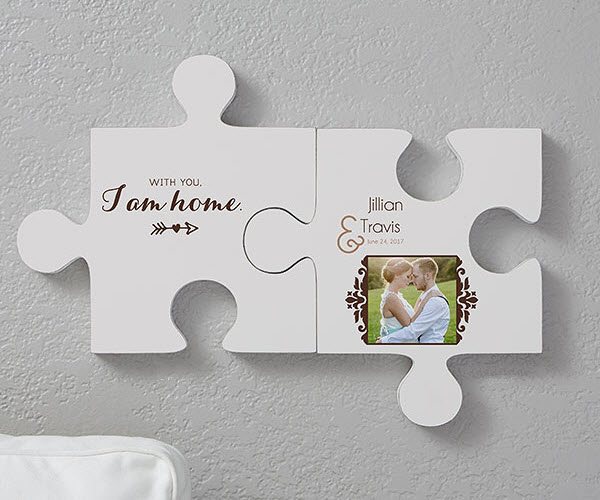 What's really wonderful about this idea is that you can add on new puzzle pieces to your collection as your family grows or reaches new milestones. This means you can start with just one or two puzzle pieces and add on new ones over the years. The puzzle pieces interlock together for a seamless fit and you can coordinate a variety of colors, designs and textures to create a truly unique and personalized wall decor collection.
It's The Small Pieces That Make The Big Picture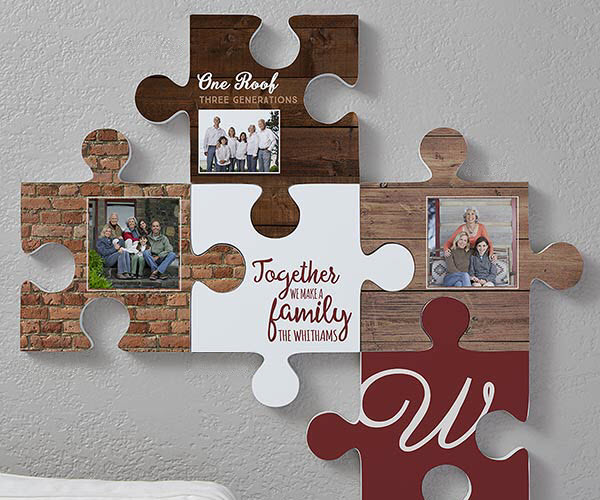 Whether you're creating a puzzle piece wall decor set for your own home or as a gift, here are some ideas, available options and ways you can customize your display.

First, you start off my choosing the orientation for each puzzle piece, so that all of the different puzzle pieces can snap together, just like a real jigsaw puzzle.
You can create puzzle pieces with your choice of photos, text or both — photo and text. We have a number of designs to choose from with different font options, photo layouts, and even special graphics, monograms, dates and more.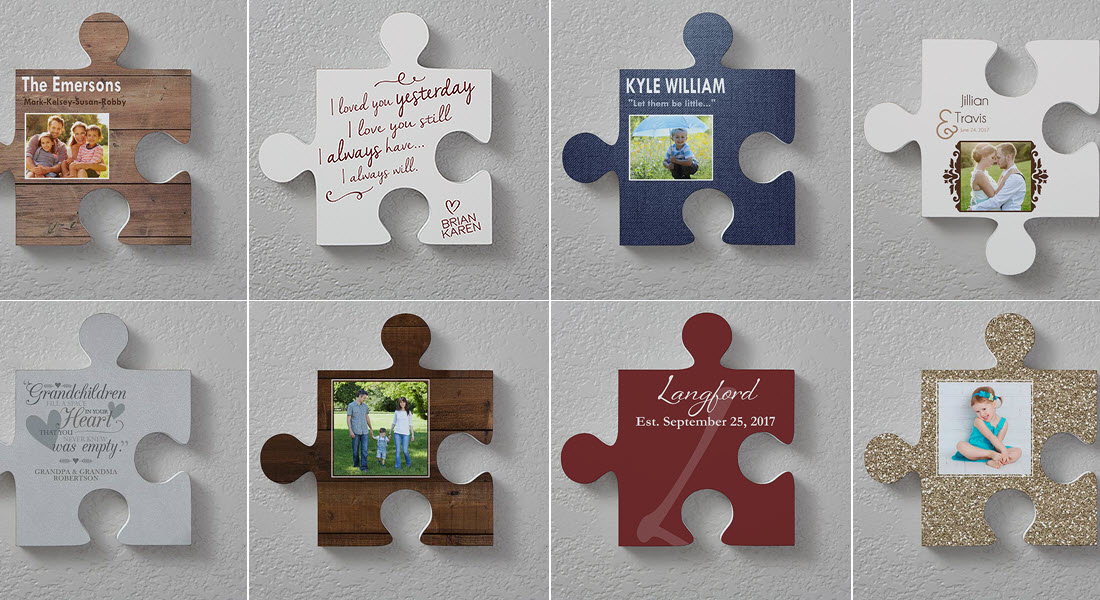 Depending on the puzzle piece you choose, you can customize the text color, font styles, background colors and textures, accent colors and more.
We recently refreshed our puzzle piece decor collection with several new backgrounds and textures, including different types of wood, stone, chalkboard, burlap, metal, glitter and other fun designs.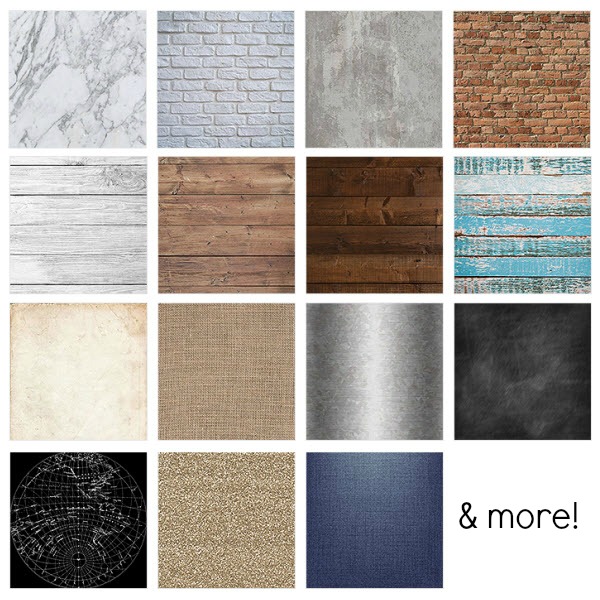 There are so many options that you can create hundreds of puzzle pieces and each one will look completely different. The idea is not to match the pieces, but to coordinate them and create variety through the different designs. You can really have fun mixing and matching your favorite colors along with cherished photos, names, special sayings and anything else you'd like to feature in your puzzle piece collection.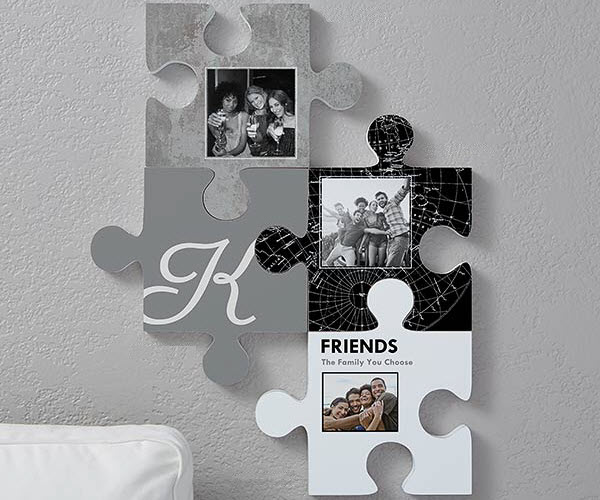 Of course, the best thing is that you can continue to add new pieces as your family grows and you make new memories. Add a new puzzle piece for a special birthday, a religious occasion, like a Christening, communion or confirmation, an engagement, wedding or anniversary, a fun vacation, a memorable adventure or a family reunion, and so much more. The possibilities are endless and all you have to do is have fun creating your unique collection and sharing your family story one piece at a time.