Here are 5 great ways to enjoy the summer and water for kids and the whole family.
While the kids may be thrilled, mom may be wondering how to keep them busy! Here are some helpful tips for "boredom busters":
1. Pull Out Your Sprinkler
It's amazing how much fun kids can have with a simple garden hose. They'll skip, jump, and cartwheel for hours. Even the dog can participate!
2. Camp Out In The Backyard
No need to pack up the car – they will be happy enough to pitch a tent right behind the house. Just add flashlights, snacks, and sleeping bags, and you're all set! Make it more fun by caming by a lake!
3. Take Me To The Water Park!
If there's a water park within driving distance, it's worth a trip. Especially on the hot days. If your budget is tight, consider a splash pad. Most are free and those that do charge are cheap. It's just as much fun for much less money!
4. Hit The Local Beach or Pool
There's nothing like some sand and surf to put a smile on their faces (and to tire them out!) A nice pool will also do the trick! Don't forget to pack plenty of towels. Personalized beach towels are the perfect choice because everyone will be able to recognize their own towel. They also make great gifts for summer birthday parties and they're fun for everyone.
5. Let Kids Wash Your Car
OK, it won't look quite as nice as when the pros wax it, but it makes them feel good and cools them off at the same time. Make it worth their while by giving them some movie or ice cream money as a reward.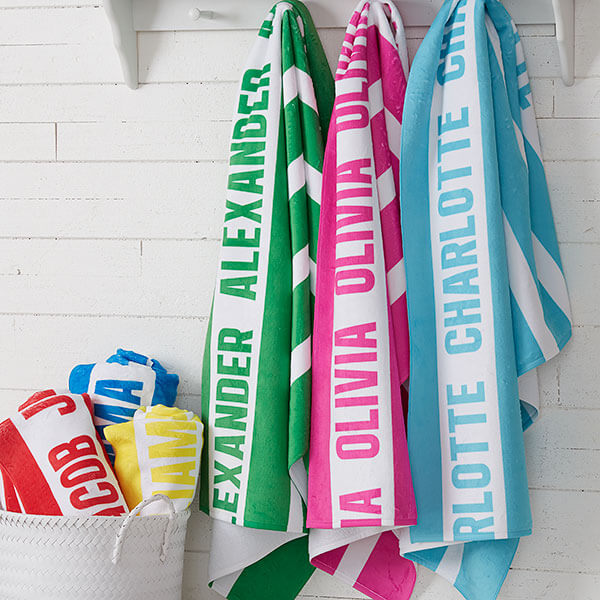 P.S. Don't forget your phone or camera during all of these fun-filled events! You're sure to capture some great moments that will make cool photo gifts later!