Do more with your graduation photos with these unique graduation photo ideas for any grad.
As your special grad makes it down the aisle, the camera flashes will be going off. We take more pictures than ever, thanks to cell phones and modern digital devices that seem to be inside everybody's pocket. But what do we do with all those photos?
Graduation Photo Ideas
Sometimes one photo just sums it all up. And a big part of the graduation ritual is the tradition of the autograph book. Put the two together in a personalized autograph frame, capturing memories of the day and the family and friends we shared it with.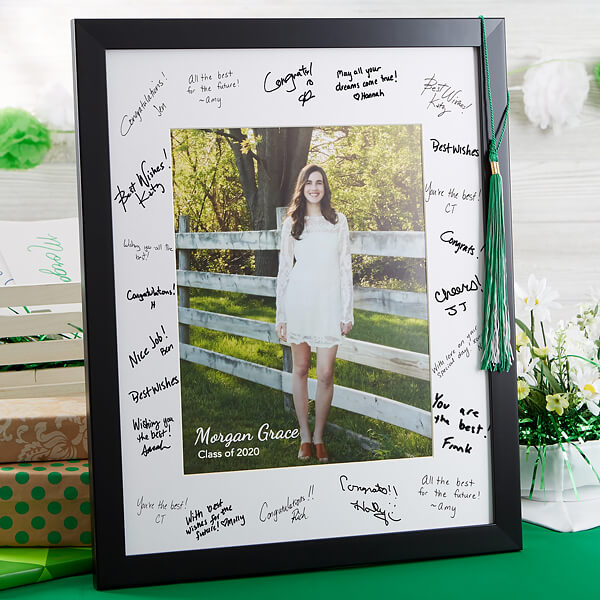 In the old days, graduation snapshots would pile up in bulky boxes, to be dragged out and looked over occasionally when space permitted. It doesn't have to be that way anymore; the digital photo revolution has spoken. There are more ways to keep and share photos today than we can count.
Which are the really special ones? Online photo sharing services allow entire photo archives to be uploaded and shared to the whole extended family right over the internet. With no limit to the number, you can transfer every shot from the graduation right into family's lives with just some quick uploading and an email or message to family letting them know where to look.
With so many great shots on our phones, computers and media cards, why not arrange some of the best pictures from graduation into an awesome framed personalized photo collage? With so many options to personalize and create custom photo gifts, you can do that in just minutes. Add names, graduation year, school name, or your own message and select the best photos from your graduation collection to put together an instant heirloom.
What are your favorite graduation photo ideas? What's the best grad photo gift you've been given – or gifted to a new grad?