Planning a graduation party? We have you covered with these 5 quick and easy tips that will have you organized for the big day in no time.
1. Send Custom Graduation Party Invitations
Fist thing's first. If you're throwing a graduation party for friends and family, you need to send out invitations. Our Personalized Graduation Gifts Store has an entire department dedicated to graduation invitations, thank you cards and party accessories that's full of great designs that come in every color you can imagine. The Grad Photo invitation pictured above is one of our newest designs for 2019. It's great because you not only get to share the graduate's senior photo right on the invite, you also can personalize the back with another photo of your choosing. This gives you the opportunity to use a photo of the graduate growing up giving all the guests a cute visual story of their journey to graduation. Of course, you'll find other invitation designs as well, with or without photo options. You can even personalize matching thank you cards and mailing labels so your graduate can thank all of his or her family and friends for their lovely gifts!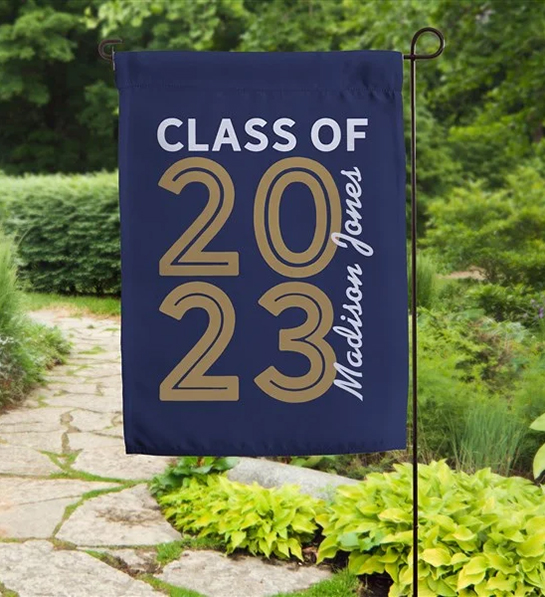 2. Decorate Your Front Lawn
On the day of the graduation party, you'll want to make sure people know where the celebration is happening. This is why you'll want to personalize the School Spirit Photo Garden Flag and place it proudly on your front lawn. Our all-weather, double-sided garden flag will be custom personalized with the grad's school name, class rank, graduating year, and any sports, honors or titles with special meanings. Plus you get to customize the colors to match their school colors or your party theme colors. Finally, you can upload any photo and add any two-line message to appear above the photo for a personalized touch. As an added bonus, this garden flag is removable and can be interchanged with any of our other garden flag designs. That way you can continue to swap out different garden flags for different holidays, celebrations and upcoming seasons.
3. Create A Unique Graduation Guest Book
One of our most popular graduation party decorations is our graduation photo banner. The banner is a great way to decorate any inside or outside space for the party and it also doubles as a great guest book! Leave out a couple of Sharpie markers and have the graduate's family and friends sign their names, write a message, or share an inspirational quote right on the banner. Your graduate will love having a keepsake with notes from all their loved ones. It will be something they can look back on years from now and treasure forever. Another great guest book alternative for graduation parties is a photo backdrop. Guests can pose for photos with the new grad then sign the backdrop before leaving the party.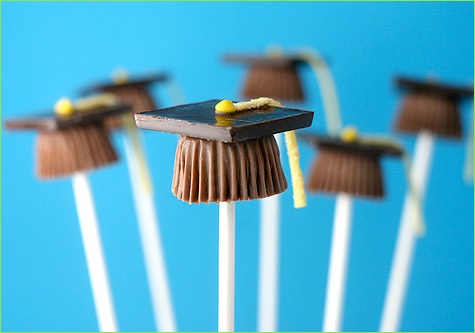 4. Treat Your Guests To Something Sweet
It isn't a real party unless there's dessert! We came across these cute graduation dessert pops on Pinterst and thought they were a great idea for any graduation party. Use them in addition to or instead of a traditional cake – they're much easier for everyone to eat, too. With high school graduation parties especially, there are bound to be friends and family who will have to attend more than one graduation party the same day as yours. Instead of missing out on cake because they have to leave early for another graduation party, your guests will love being able to take a sweet treat with them whenever they need to leave because they can enjoy it on their way to the next party. And we're sure everyone will love them because they're just so darn cute! If you like the idea of a portable dessert, you should also check out our personalized candy bar wrappers that can be great party favors.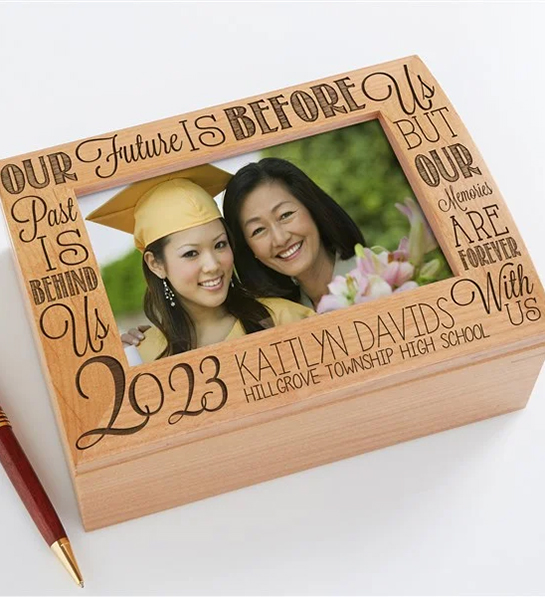 5. Create A Unique Graduation Gift
Last but not least, you need a gift for the grad! The School Spirit personalized picture frame is our best-selling graduation gift and it's easy to see why. Our exclusive School Spirit design features an artistic splash of their school colors and can be personalized with their school name, class rank, graduating year, and any sports, inside jokes or titles with special meanings. It's a great gift idea for the new grad, and it's also the perfect graduation gift high school seniors can give to their friends who are also graduating. They can personalize the frame with their inside jokes or incredible moments they shared together for the past four years.
And there you have it – 5 quick and easy tips for throwing a graduation party! Make sure you check out our graduation gifts store for graduation invitations, party favors, decorations and unique gifts for the new graduates. We have great gift ideas for graduates of all ages!
We hope you enjoy your graduation celebrations. And please extend a congratulations to the grad on our behalf!