28 Jun

How To Add Some Personal Flare To Your 4th Of July Party

July 4th is almost here and we've got some great party ideas to share with you!

Whether you're hosting a celebration or were asked to bring something to a party you're attending, you'll love the fun and festive recipes we found on Pinterest and pinned to our "4th of July!" Board.

As you can see from the American Flag-inspired cake, people have been sharing some great red, white and blue ideas–and we just can't get enough of them! For those of you who don't want to take on the challenge of the flag cake, be sure to check out our Pinterest board where you'll find tons of easy ways to add some July 4th flare to your food.

We found everything from using cookie cutters to create star-shaped watermelon bites to strategically making fruit kabobs with bananas, strawberries and blueberries so when you fill a platter with them it looks like the American Flag! We even pinned some great drink recipes for kids and adults!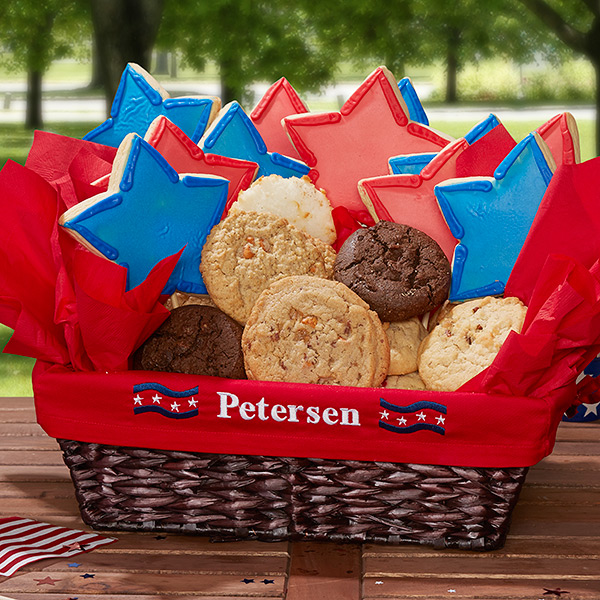 Once you've created your red, white and blue snacks or desserts, present them to your family, friends and party guests in the new Patriotic Pride Embroidered Gift Basket at right!
The reusable red liner is artfully embroidered with PMall's exclusive stars and stripes design and personalized with any family name or message so you can add a personalized touch to your party! If you don't want to fill it with food, the gift basket can also be used to store all of the party plates, napkins and plastic ware that the guests will be using at the party. If you host the 4th of July party every year, this basket is a must-have! It also makes a great hostess gift for your friends and family, too!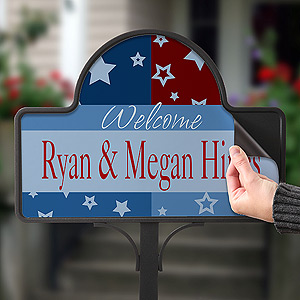 While the food is always important, no party is complete without decorations!
Now that it's summer, everyone will want to enjoy the nice weather outside so make sure you clean off your lawn chairs, stock up on sunscreen and bug spray and decorate your yard with one of our Personalized Yard Stakes, like the All American Personalized Yard Stake at left. The yard stake will let your guests know where the party is AND act as a great outdoor decoration! Customers love our personalized yard stakes because the design is magnetic and can be taken off the stake and switched out with another design whenever you'd like. Once you've purchased the yard stake with your first personalized magnet design for $32.95, you only have to pay $15.95 for any new magnet designs you'd like to personalize! You can switch out the magnet so that your yard stake is always celebrating the current season, holiday, birthday or any other celebration you'd like. The beautiful star pattern featured on the All-American magnet design will look great with all of your other party decorations and your guests will love that you've thought to have that July 4th flare outside.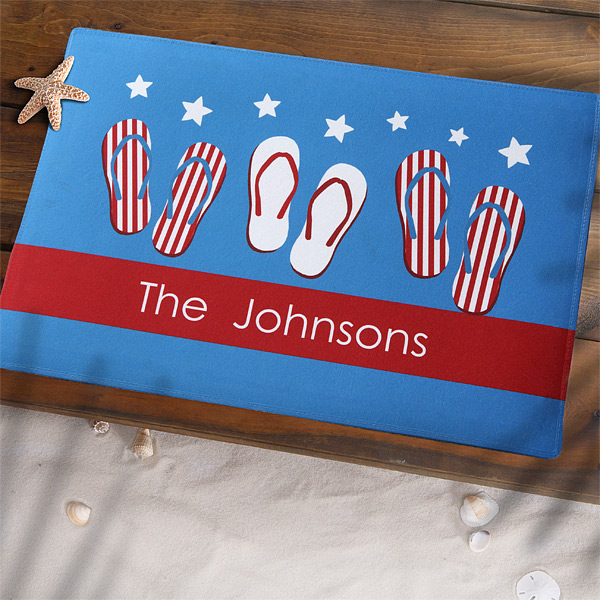 Even though your guests may spend the majority of the time outside on your deck or patio, they're sure to be coming in and out of your house to use the bathroom or to help bring refrigerated foods outside throughout the celebration. Personalize the Patriotic Flip Flops Doormat so they're met with 4th of July fun at the door and also to prevent your guests from tracking mud, water, or anything else into your home! The fun flip flop design is so cute you'll want to leave the doormat out all summer long!
If you like the All American and Patriotic Flip Flop designs that you see here, be sure to check out all of our 4th of July Personalized Gifts – these same designs can be personalized on other gifts plus we have other great gifts you can use at your 4th of July party! You can personalize a blanket to save your spot at your local parade or have one of our party tubs engraved so your guests can drink ice-cold beverages in personalized style. Head over to PersonalizationMall.com now to find all your 4th of July party needs!