The cupcake is an old-fashioned treat that generations of us have enjoyed. But now, the traditional, home-baked dessert is more popular than ever, and it's not just for kids anymore!
Move Over Sheet Cake, Here Comes The Cupcake Cake
Like many of you, I've spent lots of money on bakery sheet cakes for special occasions, and most of the cake goes to waste. Well no more!
One of the latest dessert trends is the "Pull-Apart" Cupcake Cake. It's basically a cake which uses cupcakes as the base and is frosted as one cake. Since the cake is made out of cupcakes, they are made to "pull apart." When it's time to serve the cupcakes, you simply start pulling the cake apart, handing out individual cupcakes to your guests. It's easy and convenient, with no need for plates or forks. Cupcake cakes are also great for making a character or image cake. For example, you could place cupcakes in the shape of a football and then ice it.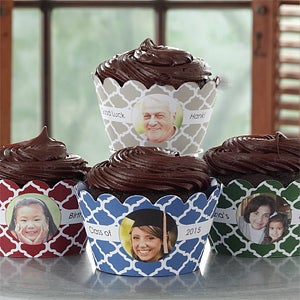 You can add a sweet twist to your batch of cupcakes with our personalized Cupcake Wrappers. Each is printed with fun party designs and finished with delightful, scalloped edging. We can include any personalization on your custom cupcake wrappers to add the perfect finishing touch to your cupcake creations. We even have a design that features your favorite photo. These adorable wrap-arounds decorate your cupcakes after they've cooled from the oven (or after you've removed them from the bakery box – we won't tell!). Just slide the ends together easily with the tab – then drop the cupcake right in, and decorating is done!
After you've decorated your pretty little confections, make them the center of attention on a gorgeous display. Tiered cupcake stands are a fun way to serve your party cupcakes. It also makes a great centerpiece on the buffet table – one that's sure to wow your guests! It doesn't matter what your party theme is – traditional, modern, or artsy – there is a perfect stand for your cupcake creations. The more adventurous party hostess might even make her own display. For an elegant touch, try stacking wine glasses, topped with a silver tray.
Happy decorating! Save a cupcake for me!