Plan a one-of-a-kind recipe and kitchen themed bridal shower with our fun and creative ideas for party favors, invitations, gifts and bridal shower games.
Calling all family and friends of the bride-to-be! We know how stressful it can be to put together the logistics of a bridal shower, not to mention the immense pressure you feel to create a beautiful, special and memorable day that you know the bride will love. That's why we've put together some great tips so you have everything you need to host the perfect bridal shower!
These unbelievable, almost-too-pretty-to-eat kitchen inspired cookies from The Adventures of Sugarbelle blog had us instantly inspired to come up with ideas for a kitchen themed bridal shower. You can find the recipe and decorating tips for creating these beauties here. We think these pretty treats would not only add some fun to each table, they'll also make great bridal shower favors that each of your guests can take home with them!
But let's not get ahead of ourselves. The first thing you need to do after setting a date and securing a location is decide on the focal point of your kitchen or recipe themed bridal shower.
The purpose of any bridal shower is to help the bride start off her married life with a kitchen and home full of everything she needs, but with our personalized tips and ideas, you'll also be helping her build a kitchen and home that's hers alone.
Favorite Family Recipes Make Great Gifts
Our personalized recipe cards, which come in 3×5 or 4×6 sizes, will help you achieve both of those goals because while they do make a great gift (a gift the bride-to-be will actually use!), they will be extra special when you announce that you've had the bride's family and friends fill them out with their favorite recipes!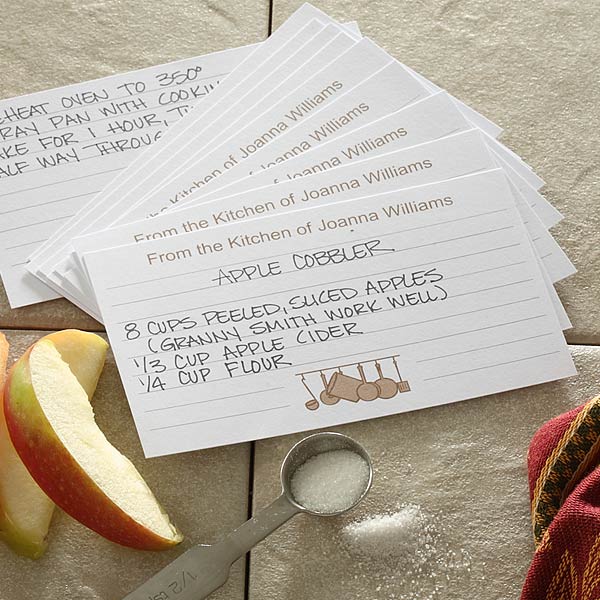 In order to surprise her with this gift you'll have to personalize enough cards (they're sold in sets of 24) so you can include 1 or 2 of them with each of the bridal shower invitations. We also suggest personalizing an extra set of recipe cards that you can leave blank, so when you present them to the bride she can add her own favorite recipes to her collection.
When you're creating the invitations, make sure to include a line somewhere on the invite that says "Please fill out the recipe cards and bring them to the bridal shower. Write down 1-2 of your most favorite recipes to help us start the bride's recipe collection!" Send the invites off and you're well on your way to creating a one-of-a-kind gift that will be a bridal shower show stopper!
Recipe For A Happy Marriage Recipe Box
As part of the gift, you can also customize a beautiful wooden recipe box or recipe book for the bride where she can store and organize all of the recipe cards.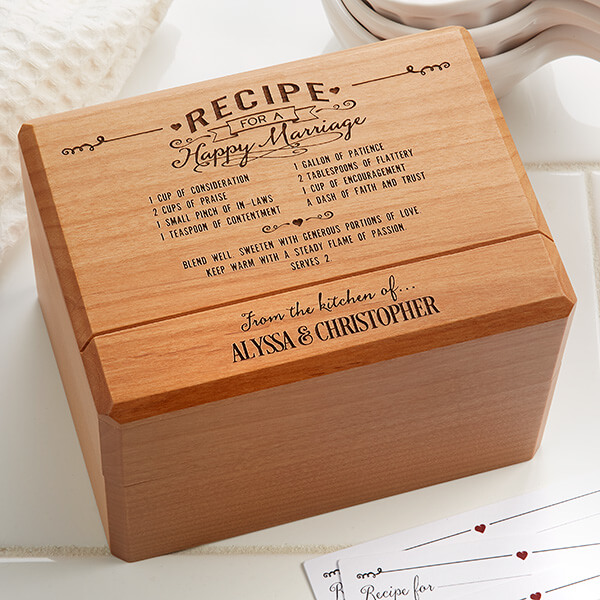 You can match the design of the recipe box or book to the theme of the recipe cards to create a beautifully coordinated set. Our engraved wood recipe boxes are excellent additions to anyone's kitchen! The lids on the boxes feature a slit that can hold a recipe card upright while you're cooking and the acrylic recipe box lids not only hold the recipe cards upright, they also protect them from food splatter!
We suggest quietly collecting all of the recipe cards from the guests as they arrive so when the bride opens the recipe box you've personalized for her, you can surprise her with all of the recipe cards that her loved ones have lovingly filled out. Just think of how special it will be for her to receive secret family recipes, the directions for making her future husband's favorite meal from his Mom, or the recipe to her favorite dessert that her Aunt makes and brings to every holiday party.
You're not only setting her up with a good start to a recipe collection, you're giving her the opportunity to surprise her husband with his favorite dinner from growing up, or to recreate her favorite holiday meals that she's enjoyed since she was a little girl. We promise you when she opens this gift there won't be a dry eye in the place!
Fun Kitchen Themed Bridal Shower Games
Of course we also have a way for you to lighten up the mood with fun bridal shower games!
Now stop groaning (yeah, we heard you!), these aren't the same ol' games that you've seen a million times… they're kitchen-themed and interactive!
We loved all the great ideas we found on this Kitchen Bridal Shower Games post, but especially the Spice Quiz. To set up the game you remove the labels from a dozen or so jars of spices and assign each of them a number. Pass the spices around to each of the tables and ask the guests to guess which spice it is that they're seeing, smelling, and (if they're brave enough) tasting. The person with the most correct guesses wins and the bride can keep all the spices to stock her kitchen!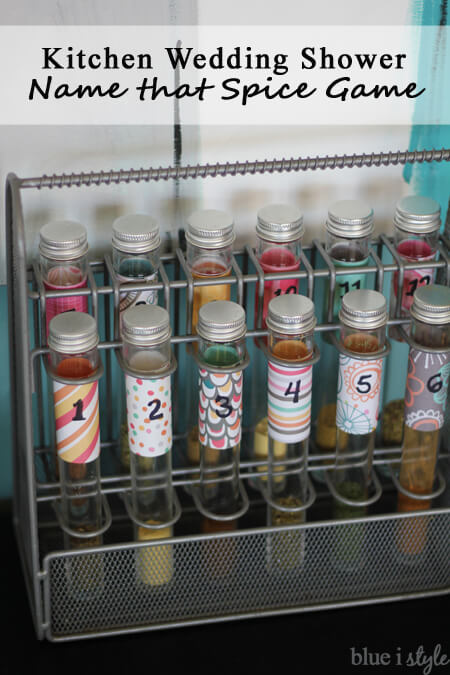 If you're looking for bridal shower gifts in addition to the recipe cards and boxes, check out our complete collection of home and entertaining gifts, including unique kitchen gifts like custom cutting boards, aprons, cookie jars, platters, kitchen linens and more.
We also have a separate collection of wedding gifts for the kitchen bar and home where you can find bridal shower gift ideas any bride will love.
If you have any other tips for throwing a kitchen or recipe inspired bridal shower, please share with us and all of our readers by posting your ideas in the comments below!