Curious George is making a comeback! The adorable mischievous monkey is capturing the hearts of a whole new generation and we are here to help you throw the perfect Curious George birthday party that your little ones will love.
Thanks to this incredible theme cake we found on Pinterest and our new line of Curious George® Personalized Gifts, we were inspired to put together this party theme and share some ideas for party accessories, birthday gifts and some cute party tricks to help you plan a successful party.
Whether the party is for your baby who loves watching the Curious George cartoons or for your older child who likes to read the Curious George books – we've got great ideas that Curious George fans of all ages will love.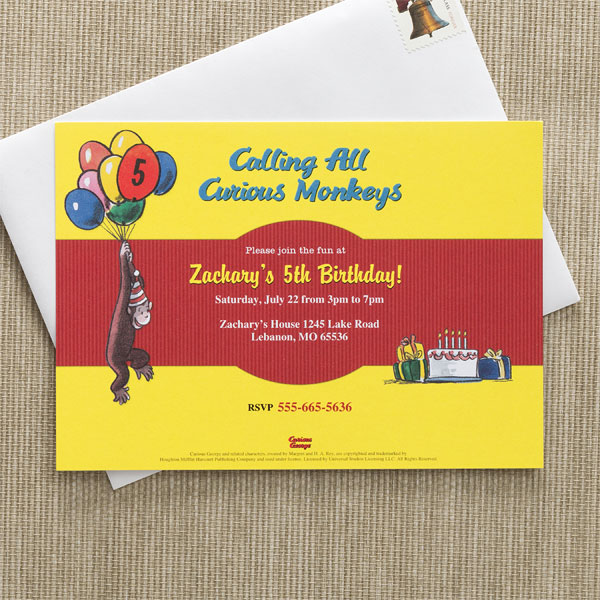 Before you start working on making a masterpiece cake like this one have to start planning the party and the first think you need to do is send out party invitations.
Our Curious George® Personalized Invitations feature the title "Calling All Curious Monkeys" and can be personalized with your child's age and six lines of text which can include all of the important details including the name, date, time and location of the celebration and any other optional details you choose! These cute cards are sold in sets of 24 and include coordinating crisp, white envelopes for mailing.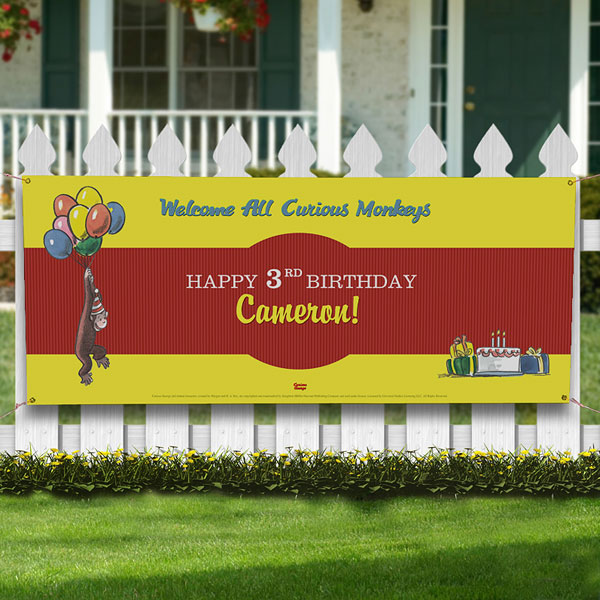 Once the special day finally arrives, decorate your home or party location with the Curious George® Personalized Party Banner so you can continue the party theme and let guests know exactly where to go for the party! The banner can be personalized with their age and name and is made from heavy duty vinyl so it can be used whether it's an indoor or outdoor party!
Outside-of-the-gift-box Party Tip: The banner can also be used as a unique guest book! Leave out a permanent marker and have guests sign their names and leave messages for the Birthday Boy or Girl. It makes a great keepsake that they'll love looking back at for years to come!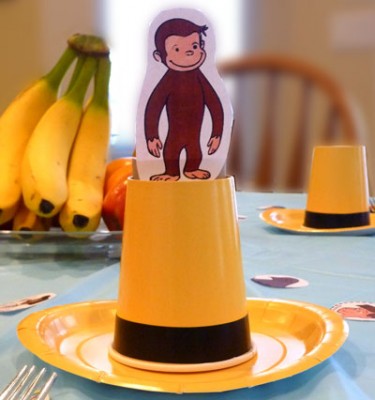 Another great way to keep the party theme alive is to incorporate George's friend The Man With The Yellow Hat into the place settings like they did in this photo (at right) that we came across on Pinterest.
These place settings are easy to put together, won't cost you anything extra (since you'll already need plates and cups for the party) and are perfect for the Curious George theme! After you've purchased yellow cups and plates, take the yellow cups and tape or glue a line of black construction paper around the top of the cup. If you'd like, you can even write down each guests name on the black "belt" so they know where their cup is at all times! Flip the cup over and place it in the center of the plate and that's it – you have the yellow hat!
As for the food, prepare their favorite meal (after all, it is their birthday!), but we also suggest incorporating bananas. This is a great way to stick to the theme while also offering your guests a healthy snack! Either place one banana at each of the place settings or hang a bunch and use as a centerpiece for your table and have guests take them as they please!
When it comes time for your little one to open their birthday presents, make sure you've wrapped up one of our Curious George® Gifts, such as a personalized sweatshirt, pillowcase, growth chart, picture frame and much more!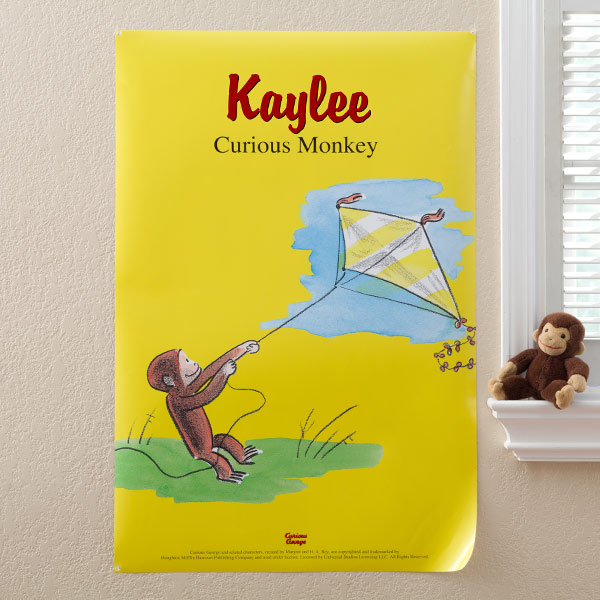 When the party starts to wind down and your guests are starting to leave, don't let them leave without their goodie bag!
Personalize a Curious George® Poster for each of the kids to take home and hang up in their rooms! You get to choose from 4 different Curious George designs (George riding a bike, playing on his ball, flying a kite or hanging out in his room with toys) and personalize the posters with each of the guests' names in 1 of 3 sizes! They will have had so much fun at the party and love the personalized touch to their goodie bag so much they won't want to leave!
And there you have it – the perfect Curious George Birthday Party!
Don't forget to use proper party etiquette and thank your guests – the Curious George® Personalized Thank You Cards would be perfect! If you have any tips or ideas for throwing a Curious George Birthday Party we'd love to hear them so please be sure to comment below.