Meet Kate Smith, the artist behind the fun (& funny) greeting cards and gifts of Kate Smith Company. Kate gives us a behind-the-scenes look into her design process, inspiration, her unique art and quirky, off-the-wall designs.
Kate Smith Company was created with the sole purpose of making people smile through greeting cards and unique gifts that have an eccentric, even a bit wacky, and always playful twist.
Kate's designs are a collage of cute and clever, with a dash of silliness, some fun word mashups, and a funky, retro spin that makes them incredibly moving and memorable. Try not to smile while browsing through some of Kate's designs below, I dare you.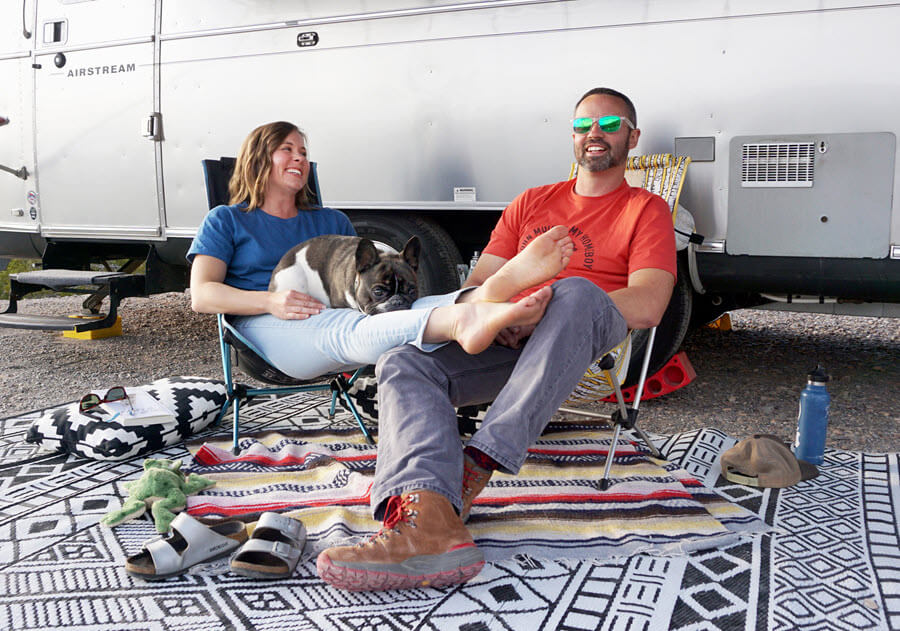 Kate, the designer, along with her husband, Ryan, launched Kate Smith Company just last year after overwhelming success with their first brand, From Frank, starring their adorable French bulldog named Frank and his animal friends. They've worked with major brands, like Zappos and BarkBox, and the best greeting cards retailers around, including American Greetings and Recycled Paper Greetings.
In 2018, Kate Smith Co. partnered with Personalization Mall to create a line of greeting cards, stationery and gifts that people can personalize. Kate Smith Company collection includes invitations, thank you cards, announcements, greeting cards for any occasion, and stationery gifts. All can be customized with your own text and photos. And all feature Kate's unique typography, original illustrations, clever humor and one-of-a-kind style you won't find anywhere else.
Read on to hear from Kate herself about her artistic journey, where she finds inspiration, her design process, new projects for 2019 and more.
Interview with Kate of Kate Smith Company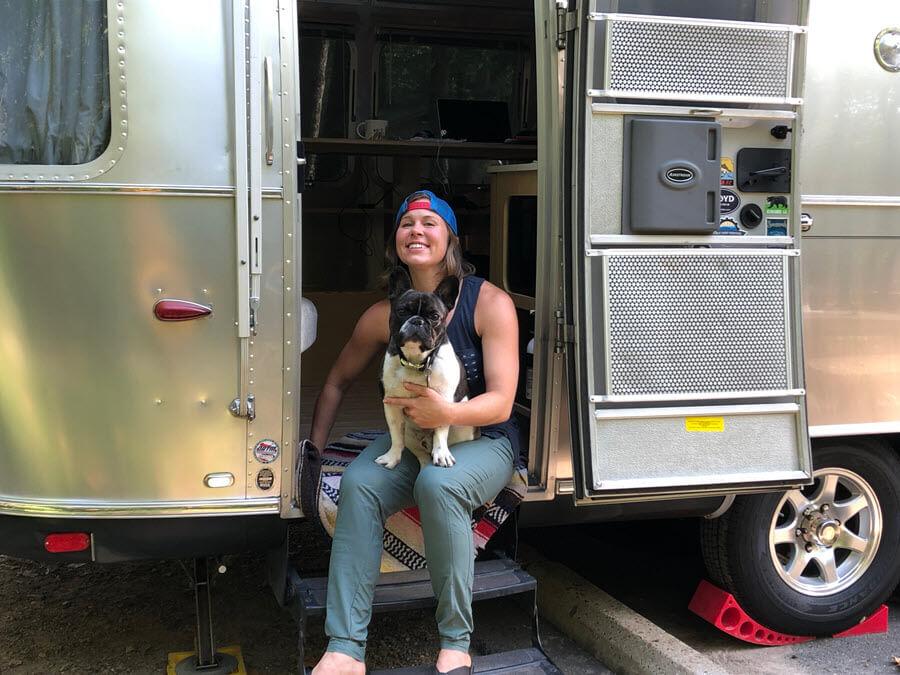 Q: Where do you find inspiration for your new designs?
Kate: Literally, everywhere. I listen to what people are saying in coffee shops (Yep, I'm that creepy eavesdropper). I photograph signage on downtown streets, wine bottle packaging in the grocery store and hand written signs at the deli. I take note of what people are sharing on social media, what is sitting on store shelves, art from today, art from yesterday, art at flea markets, art at your grandma's house… you get the picture. Inspiration is everywhere, if you're looking for it. And I find that the best pieces of art are created when you mush together inspiration from very different areas.
Q: Who do you have in mind when designing?
Kate: For sure, the end consumer. What I create should delight them and be functional for them. I try to vet my work by asking myself, "Would I buy this?" and if the answer is "no" it gets scrapped. I mean, crap… if I wouldn't buy it that's kind of a bad place to start, amiright?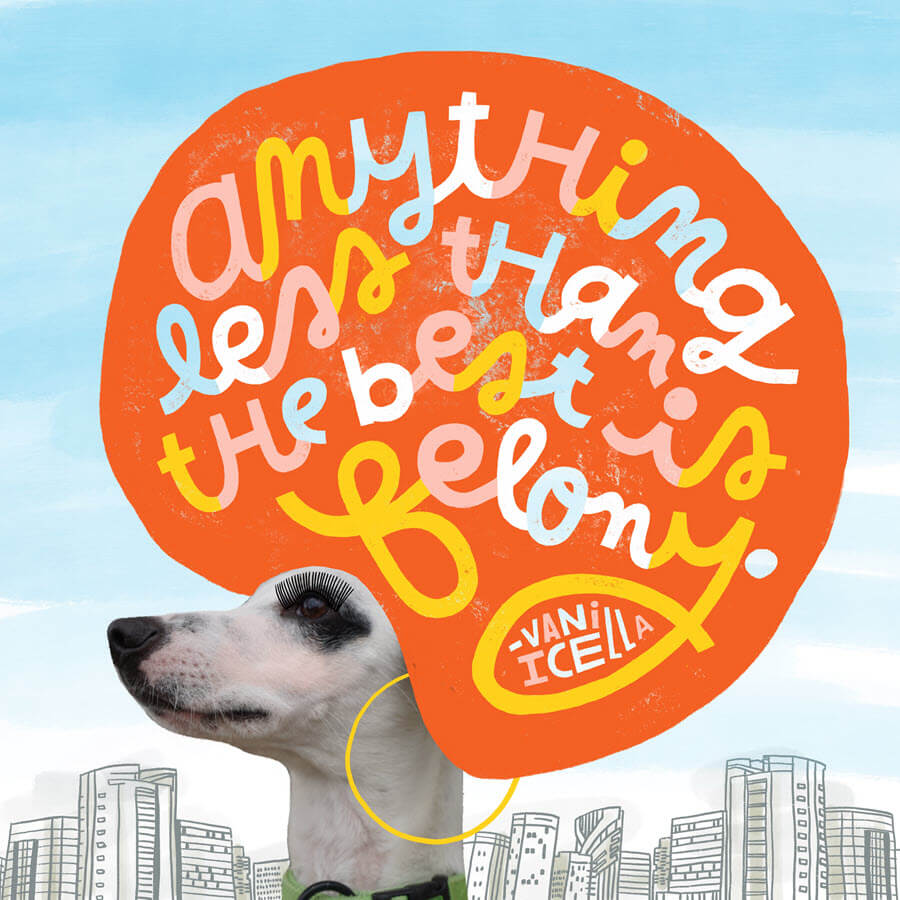 Q: What is your favorite inspirational quote & why?
Kate: Honestly, it changes all the time based on how I'm feeling and what is going on in my life. But currently this quote is sorta my personal mantra…
"The art of being happy lies in the power of extracting happiness from common things."
– Henry Ward Beecher
It doesn't take much to create a happy life. And I find the greatest amount of happiness in the simplest things — a kind word, a thoughtful gesture, a hug, a puppy snuggle. It's one of the reasons I love the social expressions industry so much. The industry is all about connecting with the ones you love in simple ways — greeting cards, party invites, small gifts. And it's really fun to help people connect.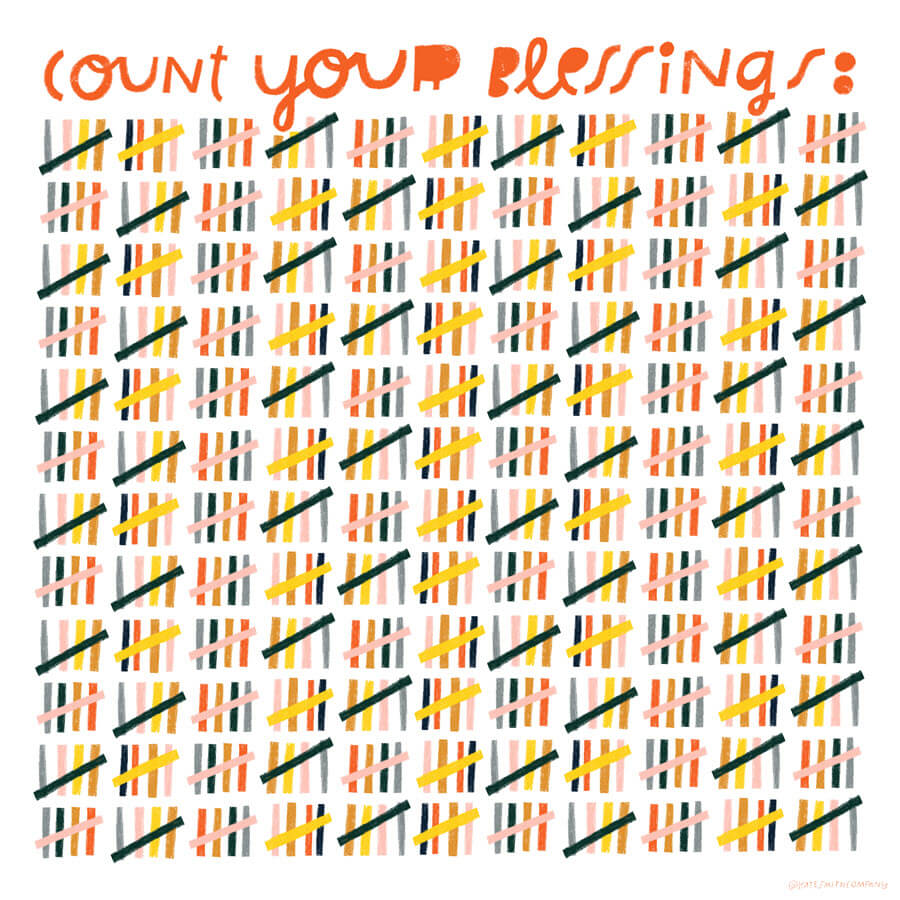 Q: How do you define your style?
Kate: Currently, I don't. 🙂 I've spent so many years designing for other companies and within the confines of my own previous character brand, From Frank, that feel like I'm just starting to scratch the surface of what my "style" might be. What I do know is it's not fancy. It's funny… probably even silly. It's a little cut and paste from here and there. And it's always meant to make humans smile. Stay tuned, friends. 🙂

Q: What artists, brands and other things inspire your style, design aesthetic and voice?
Kate: Things and people I heart big time:
Hand-made signs
Comedians like Amy Schumer, John Mulaney, Chelsea Peretti, Anthony Jeselnik, Jim Gaffigan, Nate Bargatze and Rachel Feinstein.
Anything from the 1960's or 1970's
All animals — with a specific shout out to dogs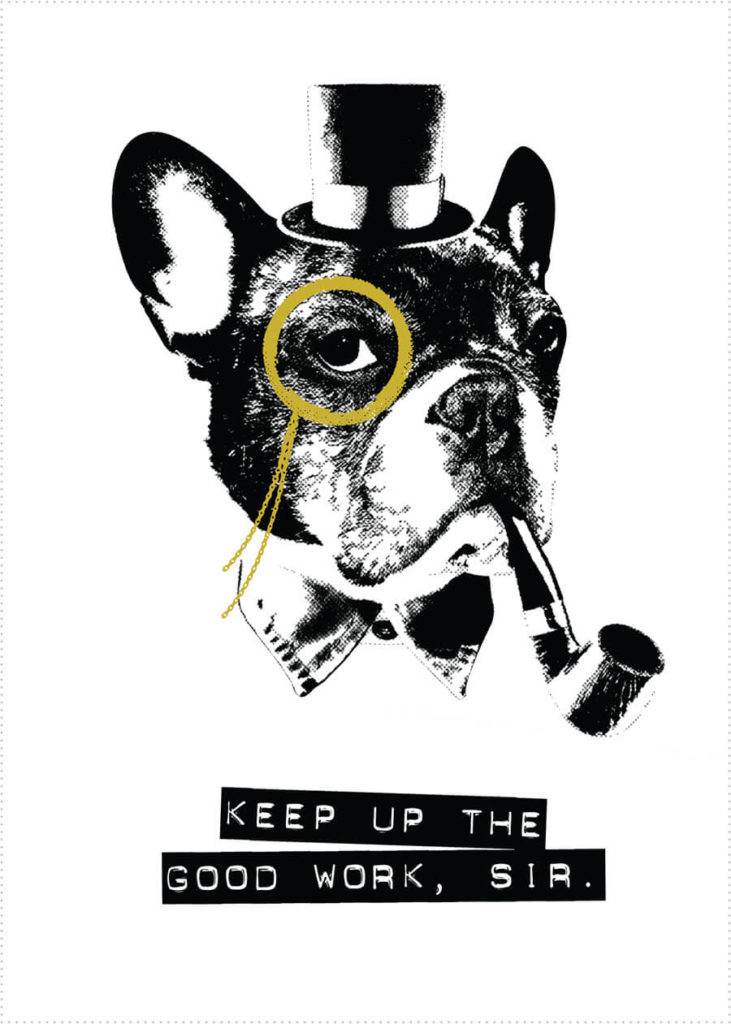 Q: Describe your creative process.
Kate: I'm a big hunter and gatherer. I spend a large amount of time doing research, pulling words from here and images from there. Then I see what fits together to create the most concentrated and compelling visual and message. Sketch, sketch, sketch. Finalize and fine tune with design software. Prep for print. The end.
Q: What are your favorite tools of the trade?
Kate:
iPad Pro
MacBook Pro
Pinterest
iPhone
Coffee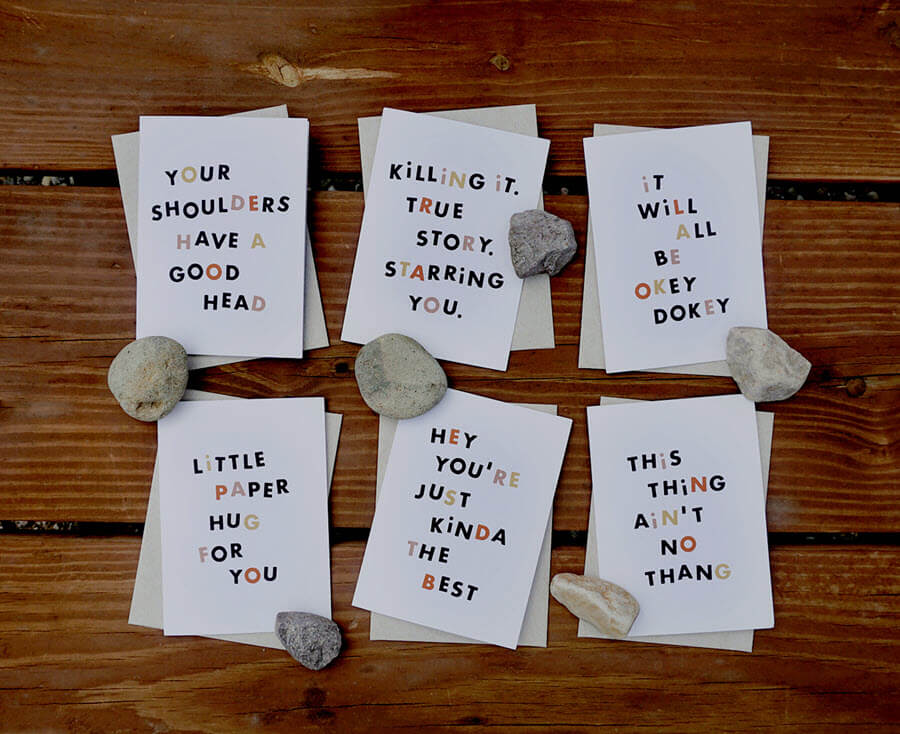 Q: What are your favorite Kate Smith Co. designs and why?
Kate: Currently, I'm loving our new stationery sets! The copy is so conversational — it just feels like what you'd really say — and the typography is pretty fresh. (Are the kids still saying that, these days?)

Q: What new designs/projects can we look forward to in 2019?
Kate: We are super excited to have a new greeting card collection in Target stores this fall, collaborate with Personalization Mall on a new calendar design later this year and continue to find more ways to support animal shelters with our art.
Q: How did you get your start in art and design?
Kate: It's just kinda always been what I did. I designed my first billboard in 5th grade, illustrated almost every school yearbook cover — elementary through middle school — and had designed a logo for my personal brand by high school (It was really awful 🙂 ). I've always found art fun, exciting and rewarding. And I've always gravitated to do what I felt was fun, exciting and rewarding as a career.
Q: Tell us about your artistic journey.

Kate: Here's the highlight reel*:
Graduates with a BA from Purdue University in Visual Communications Design (Yep, I went to an engineering college for an art degree. Makes sense, right?)
Gets job at local advertising agency
Has first early life crisis
Gets job at Mega Brands designing puzzles, game and toys (you know, the ghetto Lego)
Has second early life crisis
Returns to advertising agency (Yep, same one mentioned earlier)
Starts a greeting card line called From Frank based on pet dog
Quits advertising agency to do From Frank full time
Expands brand to Kate Smith Company
*(Many melt downs, high fives, lattes and other details omitted for time's sake)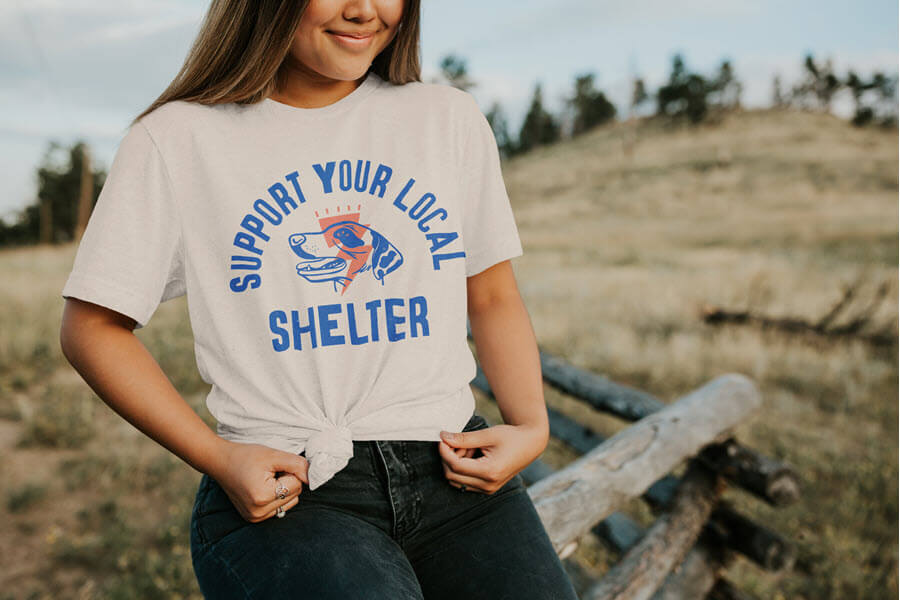 Q: Any charitable causes, collaborations and other meaningful things you'd like people to know about?
Kate: Yes, please! We just released our new Support Your Local Shelter graphic tee. $5 from each purchase of the tee goes to support an animal shelter. We like to spread the love, so we'll be changing the animal shelter that the tee benefits each month. Our current beneficiary is Loving Heart Animal Shelter in Lafayette, IN — now through the end of June $5 from each tee purchased will be donated to them. Tee on sale now at katesmithcompany.com.

Q: Where can people find your work besides Personalization Mall?
Kate: Well, thanks for asking! I'm an artist for Recycled Paper Greetings and my greeting card designs can be found on the shelves at Target, Wal-Mart and any other fine store where Recycled Paper Greeting products are sold. And we have a small (but growing) selection of fun product in our shop at katesmithcompany.com.
Learn more about Kate Smith Company and connect with Kate on Instagram and Facebook.