Archive for
May, 2012
0
What some people don't realize about PersonalizationMall.com's wide selection of personalized gifts is that they offer more than meets the eye!
That's why A Personal Touch is here to help offer some unique and alternative uses for our personalized gifts with "Think Outside The Gift Box" posts!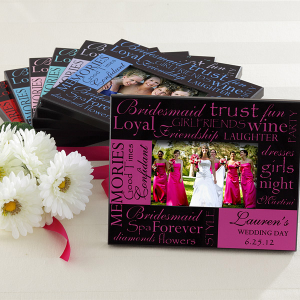 Today I'd like to show you a great way to use the Bridesmaid© Personalized Photo Frame as a tool to accomplish a more unique, intimate and welcoming atmosphere for your bridal shower.
This elegant frame is the perfect bridal party gift for your bridesmaids because the design features a collage of cute "girly" terms like, "Girls Night," "Laughter," "Martini," "Style," "Friendship," and comes with the choice of 7 color options so you can personalize the frame to match your wedding colors! The frame costs only $24.95 (great for brides on a budget!), and becomes even more memorable when you add your own personal 2-line message and wedding date to showcase the special bond you share.
Now if you're a bargain hunter like me then you're in luck because I have an outside-the-gift-box idea for these personalized frames that will help you get 2 or 3 uses for the price of 1! Not only can you give these frames as bridal party gifts, you can also use them to create a "Meet the Maids" table that you can feature at your bridal shower and wedding reception!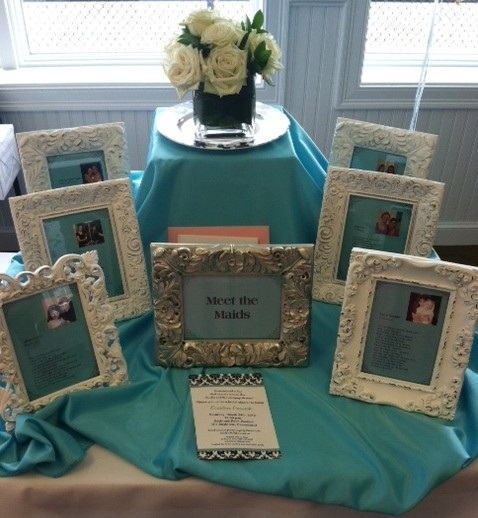 I immediately loved the "Meet the Maids" idea when I first saw the Pinterest Photo you see at left, and after reading Cherry Blossom Events' "Meet The Maids" post I knew that the only thing this great idea was missing was PMall.com's Personalized Photo Frames!
The "Meet the Maids" idea works as a fun ice breaker at your bridal shower and is a great way for your guests to meet your bridal party. I don't know about you, but I'm always curious about how the bridesmaids and groomsmen came to know the bride and groom and with a "Meet the Maids" table, you can share these sweet stories with your guests and make them feel more included before the big day!
All you have to do is create a personalized frame for each of your bridesmaids and fill them with a mini "profile" that helps your guests get to know them a little better. The mini bios can include anything you can think of, however I recommend at least sharing how you and your bridesmaid met, how long you have been friends, and some of your favorite shared memories. Be sure to include a small photo of your bridesmaid or one of the both of you so your guests can easily recognize them and don't forget to personalize an additional frame that features the words "Meet the Maids" to finish off the display.
Once the shower is over you can gift the frames to your bridesmaids or create frames and bios for a "Meet the Men" display and then feature both near the guest book at your wedding ceremony or by the gifts table at your wedding reception. That way you can give the frames as gifts after the wedding and everyone who may have missed out on the shower will still be filled in with all the bridal party details!
I hope you enjoyed my out-of-the-gift-box idea for your personalized frame! I'd love to hear about the alternative uses you have for any of PMall.com's personalized gifts! Please share your ideas by commenting below or by emailing me at social@pmall.com.
Click HERE to see the original Pin for the "Meet the Maids" photo
0
We were so excited to see that the new groomsmen and usher gift trend has a fun, creative and do-it-yourself twist!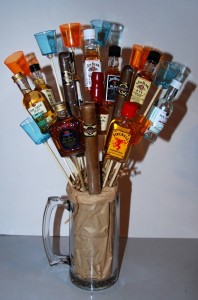 As you can see from the photo we came across on Pinterest (at left), the new gift idea that is becoming more and more popular is creating a "Groomsmen Bouquet" full of "man favorites" such as mini bottles of liquor, cigars, shot glasses, beef jerky, and much more!
The idea is to arrange the goodies in a way that all the different items can be seen and well presented – just like a bouquet of flowers.
In order to create this gift, all you have to do is attach a wood skewer on the back or bottom of all the different goodies you've gathered by using a strong type of tape or glue (make sure the shot glasses are secure so they don't topple over!).
Since we believe that gifts are always better after you've added A Personal Touch, we love the idea of arranging the "manly bouquet" in PMall.com's popular Groomsmen© Over-Sized Beer Mug, which you can customize with any 3 lines of personalization! You can have the tall, 25-ounce mug engraved with their Name, Job Title (Groomsmen, Usher), and the wedding date all for just $24.95.
The personalized mug will help you show the groomsmen and ushers how much you appreciate them celebrating with you and they'll love the added personal touch to the mug, especially because they'll be able to use it again in the future!
PMall.com's Groomsmen Gifts Store has a wide selection of personalized gifts that would also make a fantastic addition to the bouquets.
The Engraved Silver Cigar Case and Cutter is a handsome cigar accessory set that retails at only $38.95 and would be the perfect gift to arrange in the front of the bouquet so the guys can grab it before taking out their new cigars!
The cigar case will also help the men keep the cigars safe and their tuxedos clean throughout the ceremony and reception before they light up in celebration afterward. The cigar case can be skillfully engraved with his name, nickname, event or message and the cutter can be customized with his single, 2 or 3 initial monogram.
PMall.com's The Wedding Party© Personalized Pocket Flask would also be a great gift to add to the bouquet so that the groomsmen and ushers have somewhere to store the contents of all those bottles! The pocket flask features intricate detail in the brushed finish base with a convenient, attached cap for easy open and close plus a handy funnel so not a drop is missed! PMall.com skillfully etches any name, title and date you choose into the flask for only $29.95. The guys will love their flasks – just make sure they don't "Love" them too much before the actual ceremony!

We hope we've helped you come up with some gift ideas for your groomsmen and ushers. For more ideas, head over to PMall.com's Groomsmen Gifts Store and check out all the personalized gifts we have to offer. You'll have a blast searching through our personalized shot glasses, bottle openers, baseball bats, can and bottle wraps and so much more!
0
If you're planning a wedding and aren't on Pinterest yet – go join now! We find the best ideas from various wedding boards; including our inspiration for this Wedding Party Gift Guide's Bridesmaid Edition post (continue reading for a coupon code that will help you save big on all these bridesmaid gift ideas!)!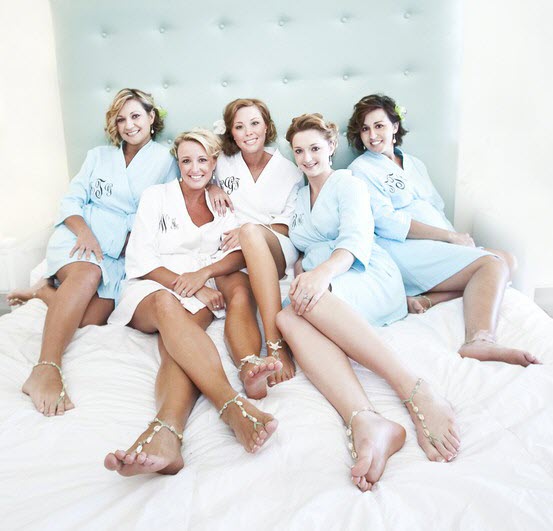 One of the new wedding trends that we see popping up everywhere is personalizing robes as a bridal party gift for bridesmaids and posing in them for pictures before the ceremony - it's adorable and we can't get enough of it!
Personalizing robes is such a smart idea – you're sure to get your money's worth because it's a gift that both you and your bridesmaids will love!
For starters, as you can see from the picture at left which we recently repinned onto our Pinterest board, brides love giving personalized robes as gifts because it creates a cute new wedding photo opportunity that is truly unique! Instead of having pictures taken of you and your bridesmaids in old, mismatched t-shirts or tank tops while you're getting your hair and makeup done, you can have beautiful pictures that look more elegant, girly and just plain fun!
PMall's beautiful and soft Velour Spa Robe is the perfect robe for brides to personalize for their bridesmaids because they not only get to choose from 15 thread colors so the robes will match their signature wedding colors, they also get to personalize them in any way they'd like! The kimono-style robe can be custom embroidered with the word "Bridesmaid" or you can choose to use your bridesmaid's first names, monograms or initials … you even get to pick having it personalized in block or script lettering style! The robes usually retail for $59.95 but they're on sale now for only $44.95, better yet - you can get them even cheaper if you act fast because as a "Thank you" to our A Personal Touch Readers, we're offering the coupon code "BRIDESMAID" which you can use at checkout to save 25% off all of PMall's Personalized Bridesmaid Gifts now through the end of May!
To really make your fun bridesmaid photo pop, be sure to personalize a matching robe for yourself that says "Bride," customize one of our Mr. and Mrs. Collection© Embroidered Robes so that it says "Mrs. (future last name here)," or look through PMall.com's wide selection of robes for robes in different colors and designs that best suit your wedding style!
Your bridesmaids will be truly touched when they see that you personalized a gift just for them and they'll be thrilled to receive a gift that they can use for years to come! Let's face it, after all the help they've given you with planning the wedding, bridal shower and bachelorette party, they deserve to be pampered with a luxurious robe so they can relax and be comfortable the morning of your wedding (especially because of the uncomfortable high heels you're making them wear that night!).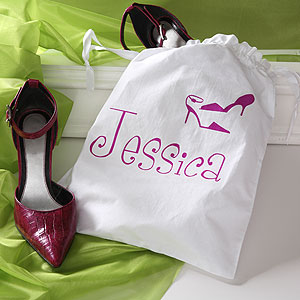 Speaking of heels, another unique bridesmaid gift idea is the Just My Style© Personalized Shoe Bag. This cotton bag features a cute high heel design that you can personalize with your bridesmaid's name in one of 8 colors. It's the perfect way for your bridesmaids to carry and protect their heels as they take them to and from their hair and makeup appointments on the day of your wedding and in the future!
This gift is especially perfect for destination weddings and for brides who have offered to pay for their bridesmaids' shoes as a bridal party gift because they can give the shoes to their friends in these cute bags for a memorable presentation! The bags are also great for brides on a budget because they're only $14.95 (save even more by using the coupon code "BRIDESMAID" we mentioned earlier in the post)!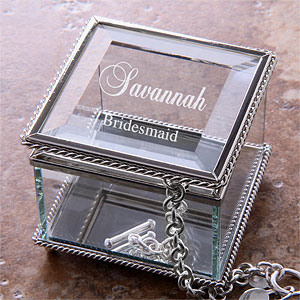 Another trend we've been seeing is brides giving their bridesmaids the jewelry they will wear at the wedding as their bridal party gift. This is a nice gesture for helping cut the cost of being a bridesmaid for your friends, but what we think would make it even better is by presenting the jewelry inside the Wedding Reflections© Personalized Jewelry Box! The exquisite box features glistening beveled glass within a shimmering silver-plate that can be engraved with your bridesmaid's name and any 1-line of personalization, such as "Bridesmaid," below. While the jewelry is a great gift, this beautiful jewelry box helps convey your appreciation and love for your friends who are helping you celebrate your big day. It's an impressive and feminine keepsake that she will treasure through the years – just like your friendship! You can personalize the jewelry box for only $26.95 or use the coupon code "BRIDESMAID" before May 31st and get 25% off the retail price!
We hope you enjoyed our Bridesmaid Gift Guide and that you take advantage of the "BRIDESMAID" coupon code which is worth 25% off all PMall's Personalized Bridesmaid Gifts before the code expires May 31st and check back here at A Personal Touch for the next edition of our Wedding Gift Guide!