01 Feb

We're Crazy For Conversation Hearts

Necco's famous Sweethearts conversation heart candies are cute, sweet and make the perfect Valentine's Day treat! So perfect in fact, that these nostalgic little candies helped inspire a bunch of the personalized gifts in PMall.com's Valentine's Day Gifts Store!

It looks like we weren't the only ones inspired by the famous candy – check out these adorable Conversation Heart Cheesecakes that we stumbled upon while surfing through the latest pins on Pinterest. These mini cheesecakes look just like the real thing – but we bet they taste way better!

We're obviously big fans of personalization so we love that making your own conversation heart cheesecakes at home means that you get to personalize them with any message your heart desires! However we love the classic phrases too, such as "Be Mine", "Kiss Me", "Call Me", "Let's Get Busy", and "Miss You." Get your kids involved and have them help you come up with new phrases for the hearts so you can enjoy them together after your Valentine's Day family dinner. We also think these mini cheesecakes are a more "adult version" of the candy hearts, which makes them the perfect treat to pass out to your coworkers on Valentine's Day, too!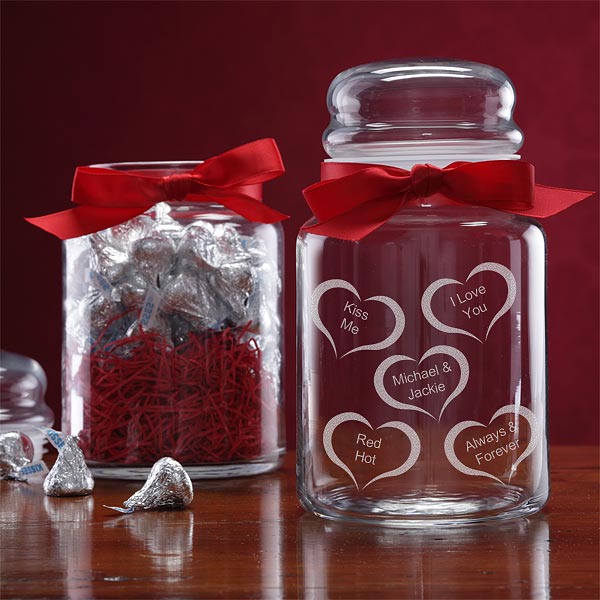 If your baking skills are lacking but you still want to bring a conversation-heart themed treat to work on Valentine's Day you'll love our Conversation Hearts Candy Jar with Hershey's Kisses®! This exclusive design can be custom personalized on the front with your own special messages creatively etched inside the 5 conversation hearts. You can fill in the hearts with your kids' names, other nicknames, special dates or any message you can come up with. But the fun doesn't stop there – this one-of-a-kind glass jar will come filled with irresistible, individually wrapped Chocolate Hershey's Kisses. It will be a great festive decoration to add to your desk and your coworkers will love coming to visit you for a delicious treat.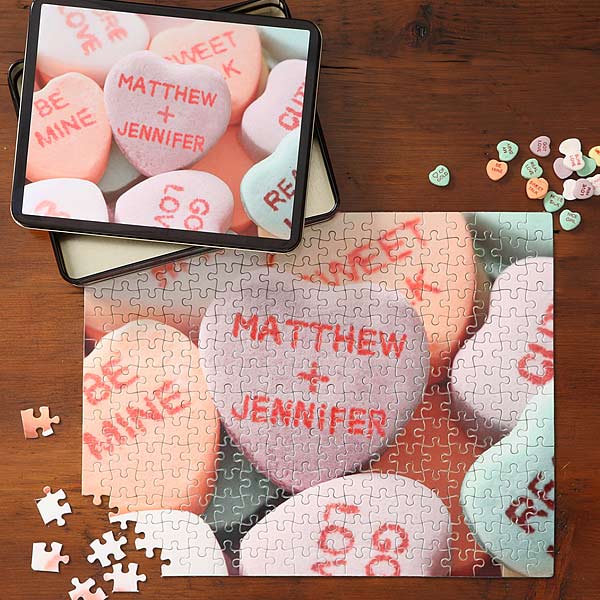 Don't forget about your Valentine – we have a unique conversation-heart inspired gift that we know they'll love! The Conversation Hearts Personalized Puzzle & Tin creatively features your first names custom personalized inside the candy heart design. The 252-piece puzzle comes with a matching tin for storage. You and your valentine will cherish the thoughtful gift and the quality time you get to spend together as you put the puzzle together. You can make it a new Valentine's Day tradition to enjoy eachother's company as you work together to complete the puzzle. If you will be spending Valentine's Day at home with your kids, personalize a Sweet Affections Personalized Puzzle for each of them so quality time with your significant other isn't disturbed. This smaller puzzle is made up of 72 pieces and features a different conversation heart candy theme. You can personalize the candy heart design with your child's name and a sweet sentiment at the bottom.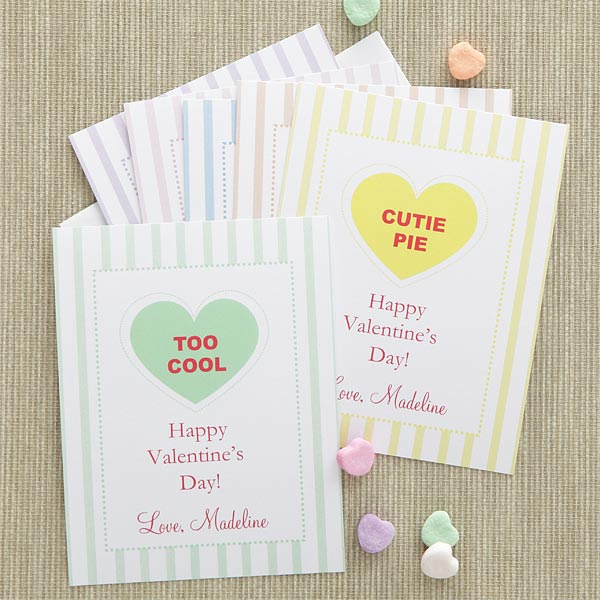 Once your kids help you create the mini cheesecakes and put together their puzzle they'll be huge conversation heart candy fans just like you. When you send them off to school on Valentine's Day make sure you send them with our Candy Hearts Personalized Valentine Cards to pass out to their friends during their classroom party. We'll custom personalize any 3-line message below the assorted messages which are available in 6 different pastel colors that look just like the real thing!
It will save you and your kids the time and headache from hand signing each of the individual valentines and their friends will love the festive designs. The cards are sold in sets of 24 and start at $24.95, but the price is reduced for each additional set you purchase (click the link to see the complete price list).
Do you have any other conversation-heart inspired treats for Valentine's Day? We'd love to hear them – please be sure to comment below!