Posts tagged
gifts for coach
0
No one is more excited for the fall season than football fans and PersonalizationMall.com has the perfect game-time accessories for fans of all levels of the sport!
In our Sports & Leisure Gifts Store, we have something for players and fans of pee-wee, high school, college AND professional football teams -we even have great gifts for fans who love to tailgate!
Whether you're as big of fans as the people who created the huge stadium made of sandwiches and party food that's in the photo we found, or just a casual viewer who enjoys to catch a game on your couch, you are going to love all our Personalized Bar & Grill Gifts that will help add a personal touch to any type of party.
But what we're most excited to share with you is our new line of Licensed NFL Personalized Gifts because now you can have a piece of sports memorabilia for your favorite team with your name!
You can personalize a canvas print, like the NFL Chicago Bears Personalized Locker Room Canvas, with any NFL team and add your name to the jersey that hangs next to your team's most valuable players.
The canvas comes in 3 different sizes and gives you the option of leaving it as a gallery-wrapped canvas or you can add a black wood frame.
This unique piece of art would be the perfect decor to be around when you're watching your favorite team and it also makes a great gift idea for any fan (keep this in mind for Father's Day)!
College Football fans will be excited to know that we also have Licensed Collegiate Personalized Gifts that they can enjoy during Saturday football.
Choose from 24 college teams and create a one-of-a-kind canvas print like the Texas Longhorns Collegiate Personalized Pub Sign Canvas, that you can showcase in your dorm room, home bar, man cave or office so everyone knows just how big of a fan you really are!
We also know that football fans aren't just watching the games at home, they're tailgating before the games, cheering from the stands and sometimes even driving players to practice (no one can argue that Mom is usually the No. 1 fan).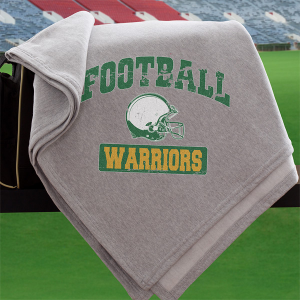 We had all of those different types of fans in mind when we added the new 15 Sports Personalized Sweatshirt Blanket to the site! The heathered grey jersey fleece is warm and comfy and can be personalized so that it comes in your favorite team's colors! You also get to add your first name, last name, nickname or team name underneath the design so you can support your favorite team or player at the game or on the couch at home. This blanket is the perfect accessory for high school and pee-wee parents who will be watching their kids from the chilly stands this fall … it's also a great gift idea for the coach, too!
So all of you football fans need to make sure you head over to PMall.com's Sports & Leisure Store now for all of these and more fall favorites that you're sure to love!
0
Happy New Year to all our PersonalizationMall.com and A Personal Touch Fans! We hope you had a great holiday season and are ready for the exciting fresh start of 2012!
With every new year comes the talk of New Year's Resolutions. And while some of you may have no problem sticking to yours, we thought we'd help offer a couple tricks for those of you who sometimes need some extra motivation to help you keep your New Year's Resolutions. And our tricks will show you how to make keeping them fun, too!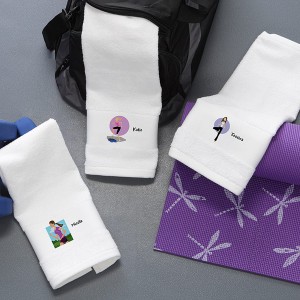 One of the most popular New Year's Resolutions that people make is to lose weight, eat healthy or to become more physically fit.
We think one of the best ways to stick to a goal is to have friends or family right there beside you to help you reach it. And when you personalize one of our stylish Workout Girl© Personalized Gym Towels for you and your friends, you all will be extra motivated to hit the gym or attend that yoga class you all signed up for! With these super cute towels, you'll be excited to head to the gym to show off your newest workout accessory! You can personalize the Workout Girl© character with 1 of 6 workout activities, such as Yoga, jogging, boxing, Pilates, volleyball, and aerobics and you can have the character personalized in 1 of 3 skin complexions so she looks just like you and each of your friends! Add your name to your towel and you and your friends won't get each other's towels mixed up.
Any Workout Girl would agree – accessories can make working out fun! And the more fun you have, the more often you'll want to stick to your resolution!
Another great workout accessory you may enjoy is one of our Personalized Water Bottle Designs, like the Personally Yours© Personalized Water Bottle! With our Personally Yours© design, you have the option of choosing from 2 designs, then adding any full or single name. You also have the option of choosing any 2 color combinations from our 12 background and accent colors!
When you personalize one of our water bottles you'll be saving money, helping the environment, and keeping yourself hydrated and healthy! Our top-quality sports bottle is made from durable aluminum and is BPA and lead free so there's no after-taste or harsh chemicals. It comes with a pop-off and screw-off top and can be easily attached to a belt loop or backpack so you can take it wherever you go! Show it off at your next workout and bring it to work during the day so you can refill it at the water cooler and motivate yourself to drink more water.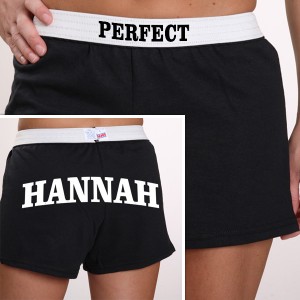 Last but not least, have fun looking around at all of PersonalizationMall.com's Soffe® Athletic Shorts Designs! You can personalize these comfortable shorts in red, black or grey and with all our different design choices - the personalization options are endless! You even have the chance to personalize the waistband! Get together with your workout buddies and come up with a team name or motivational saying and have it personalized on the back of the shorts. Then you can have each of your names customized right on the waist band and wear them to support each other!
If you're working on more of an individual fitness routine, personalize a pair just for you. You'll not only feel comfortable while you're working out … you'll look cute, too!
We hope we've helped offer up some good ideas for those of you choosing to get fit as your 2012 resolution! They are just a couple of many personalized gifts PersonalizationMall.com offers that you can use to help you get your New Year's Resolution off the ground. Also, keep these gifts in mind later down the road and you can also use them as a way to reward yourself for mini triumps on your way to your big goal. For example, personalize a towel for yourself after you've lost 5 pounds, or maybe after you finally tackle that tricky Pilates position you can personalize an adorable water bottle! Whichever you decide, you'll be sure to be motivated to keep on pushing through!
We wish you good luck with your resolution and keep checking back here for some more ideas on how to make your resolutions fun & easy to keep!
Happy New Year!
0
Time is running out to find the perfect Christmas gifts for everyone on your list! Right about now it's crunch time and things are getting pretty stressful. You have to deal with finding last minute gifts, wrapping, baking or cookiing for the big day, etc. That's why this is a good time to stop, take a breath and go over your Forget-Me-Not Shopping List and Shopping Planner so you can make sure you have everything organized and you don't miss anything.
But if you happened to see our Forget-Me-Not-Shopping list and realized you still need a little something for some of those people, don't panic – we've got some great last minute gift ideas for you!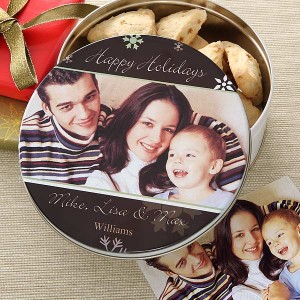 PersonalizationMall.com is a firm believer that last minute gifts don't have to be impersonal. They can still have that special personal touch that leave a lasting impression on your family and friends! So here are a few ideas to help you still hold on to the title of "Best Gift Giver" without going over budget!
The Happy Holidays© Personalized Photo Gift Tin is the perfect way to add a personal touch to a last minute gift to a group of people on your Christmas Shopping List. You can fill them with your freshly baked holiday cookies, candies, or brownies and give them to your doctors office, Church, or even your local Fire and Police departments! You can personalize them with any color or black & white photo and we'll custom personalize the lid with any personalization above and below, for an extra-special personal touch that they'll love just as much as the treats!
And if you're afraid you're running out of time before Christmas, you can always personalize your tins with a Happy New Year message and drop them off next week! These popular tins are available in various quantities with prices ranging from $13.95 – $17.95 each, depending on the number of tins ordered.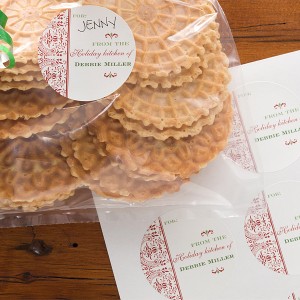 For the individual people who are still on your list, you can fill bags with homemade treats and decorate them with the Classic Christmas© Personalized Gift Stickers so your gift is extra special and unique. The exclusive design features an elegant red pattern and the words "From the Holiday Kitchen of" in a beautiful font that is followed by any family name or first names that you choose. The self-adhesive labels are sold in a set of 72 for only $14.95! Another way to add a personal touch with your Classic Christmas Gift Stickers is to make your own instant coffee and hot cocoa mix to share with your loved ones! We'd like to share one of the A Personal Touch staff member's family recipe for a festive drink mix that everyone on your list will enjoy:
Fireside Coffee
2 cups instant hot chocolate mix
2 cups non-dairy powered creamer
1 cup instant coffee
1 ½ cups sugar
1-teaspoon cinnamon
½ teaspoon nutmeg
Combine all ingredients in bowl, mix well. Store in air-tight
container. Mix 3-4 teaspoons with 1 cup HOT water for each serving.
With the nutmeg and cinnamon, who wouldn't love sipping on a cup of this warm blend and being instantly brought back to your childhood Christmas memories?!
If you're worried about having the time to bake treats to fill the tin and bags, here are a couple more budget-friendly personalized gift suggestions for those people on the Forget-Me-Not-List that can be hard to buy for:
For the coworker on your list
We suggest something that is fun and something they can actually use, too … like the popular Personally Yours© Personalized Coffee Mug which is usually $12.95, however if you shop now you can personalize one while ithey're on sale for only $8.70! You can make it fun and colorful by adding any full or single name and then choosing any 2 color combinations from our 12 background and accent colors. They can leave it on their desk at work and since you will have personalized it with their name, they won't have to be worry about mixing up their mug with any other coworkers again!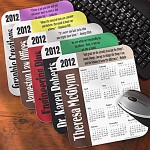 If your coworker isn't a coffee or tea drinker, we suggest you think about personalizing a You Design It© Quote Calendar Mouse Pad for them! The mouse pad is usually $13.95 but is on sale right now for only $9.90! Created exclusively by you, we'll create the calendar with any starting month in any 2 colors from our 12 color options. Then you can personalize it with their name and any of our 35 quotes or you can write your own and we'll personalize any name, company or business name, too! They'll think of you every time they use it – which will be every single day!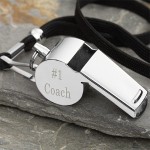 For the coach on your list
The #1 Coach Personalized Whistle is a great gift that any coach would be truly touched to receive! Quality crafted in a shiny non-tarnish finish, we skillfully engrave any name, title team name or year in the handsome block letter style for a winning keepsake on both sides of the whistle for just $24.95!
The coach on your list will know how much he or she and their work mean to the team when they see how you took the time to personalize this special gift just for them!
So there, you see!? It is possible to give last minute gifts that have meaning! Just head on over to PersonalizationMall.com now to get yours before time runs out!
Happy Holidays from everyone at PersonalizationMall.com and A Personal Touch!