Posts tagged
office gifts
0
"People will forget what you said, people will forget what you did, but they will never forget how you made them feel." ~ Unknown
We love this quote and think it's a great thing to keep in mind, especially because Wednesday April 24th is Administrative Professionals Day. Now is a great time to show your coworkers how much you appreciate their work and we have some great gift suggestions to help you!
Our Personalized Office Gifts Store is full of beautiful gifts that your assistant, office manager or coworker will love and no matter what your budget is, we've got great gift suggestions for you!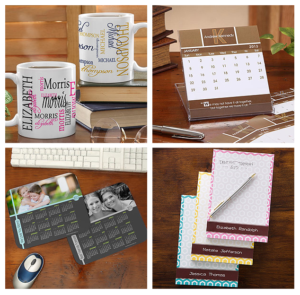 Gifts for $20 and Under
If you're on a small, strict budget you will be happy to know that we have a wide selection of gifts in the $20 and Under section of our Office Gifts Store. Choose from personalized coffee mugs, calendars, mouse pads, note pads and more! Customize a gift with their name, a special message, a favorite inspirational quote, photos, favorite colors, a beautiful design or pattern and other personalization options to help you coworker add a personal touch to their desk or office. They'll love to know that their hard work is appreciated and they'll be truly touched that you thought of them on Administrative Professionals Day!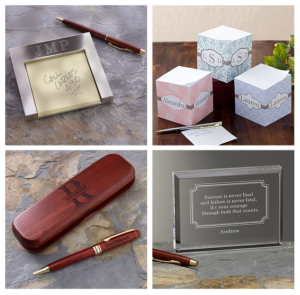 Gifts from $20 to $30
The Office Gifts from $20 to $30 section includes beautiful gifts, such as the Personalized Monogram Post-It Holder, Sticky Note Cubes, Personalized Pens, and the Inspiring Quotes© Personalized Keepsake that you see in the photo at right. The personalized sticky note cubes come in several different designs and colors so you can find the perfect match for your coworker's personality! Our personalized pens and Inspiring Quotes designs let you choose from provided verses or you can write your own so you can let your coworker know just how much you appreciate them.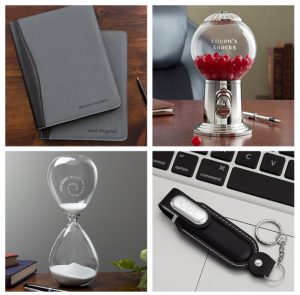 Gifts from $30 to $50
If you have a little more room in your budget, we suggest browsing through our Office Gifts from $30-$50 section where you'll find an eclectic offering of gifts for all types of personalities and interests. As you can see from the photo at left, you can personalize a Business Professional Personalized Portfolio, Personalized Executive Candy Dispenser, Personalized Sand-Filled Hourglass, Personalized Leather USB Flash Drive with Key Ring and more! The Executive Candy Dispenser is one of our favorite gift suggestions because it's cool, unique and you know everyone will love it (who doesn't love candy or snacks?)! Not only will your coworker love being able to offer everyone a snack from her new gift, your whole office will enjoy being able to use the dispenser to get a treat every once and awhile, too!
And there you have it – our 2013 Administrative Professionals Day gift ideas! Don't forget to visit our Personalized Office Gifts Store to find all of these gifts and more so you can show your coworkers that you appreciate them and their hard work!
0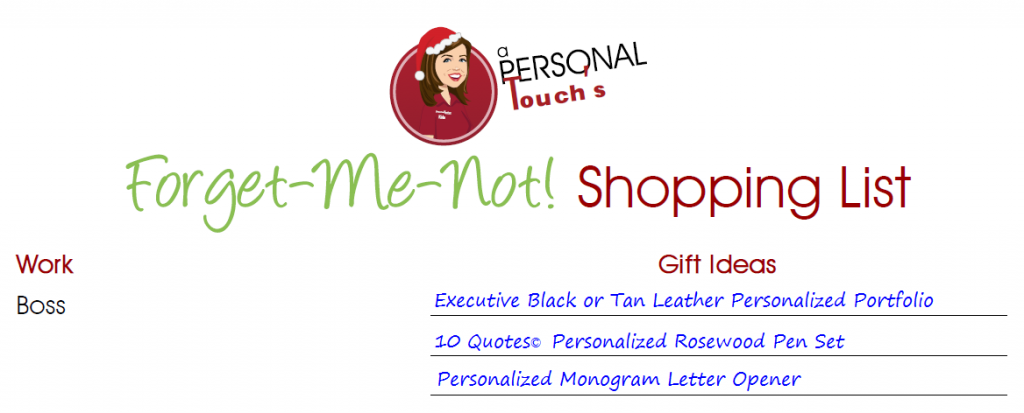 Christmas shopping for your boss can be pretty tricky.
You want to impress them with a gift they'll love, you may not know how much to spend, and you want to make sure it leaves a nice impression of you with them.
Well, PersonalizationMall.com's gifting blog, A Personal Touch, is here to help!
We have a couple of gift ideas in different price ranges to help you give the perfect gift to your boss this Christmas!
Since people tend to spend a little more on their bosses or supervisors we'll start off with a gift idea that is sure to earn some brownie points! The Executive Black Leather Personalized Portfolio is $59.95, is also available in Tan Leather, and makes an impressive statement, especially when you have your boss' full name artfully stamped across the bottom in your choice of silver or gold tone and the choice of block or script font style! The portfolio features a flap, storage and business card pocket and pen holder to help your boss stay organized on the go. Extra brownie points if your boss travels for work!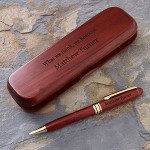 If you're an employee that has a more conservative budget in mind for your boss, we recommend the popular 10 Quotes© Personalized Rosewood Pen Set which is normally $24.95, however if you shop PMall.com's Huge Christmas Gift Weekend Sale this weekend (December 9th-11th) you can purchase it while it's on sale for just $18.70! You can choose from 9 quotes to provide daily inspiration for your supervisor, or if you already know his or her's favorite quote you could write your own! If you aren't comfortable choosing a quote, you can include your company's name, which we will skillfully custom engrave into the top of the Rosewood Case along with any name. We also will engrave your boss' name on the pen, which gives it a sophisticated look that they'll love!
If you were leaning more toward sticking to a $20 budget, you should see our beautiful Personalized Monogram Letter Opener, which is on sale this weekend for just $14.95, marked down from $19.95! Your boss will be truly touched to see you made an effort and had it personalized … not to mention it's a gift he or she can use and display on their desk! They'll love that they don't have to worry about anyone "borrowing" their opener anymore since now they'll will have one with their name on it!
No matter which PersonalizationMall.com gift you end up choosing for your boss you're sure to make a lasting impression because every time he or she looks down to use their gift, they'll think of you! Good luck with all your Christmas shopping and don't forget to shop the Weekend Sale to save big!
Happy Gifting!
0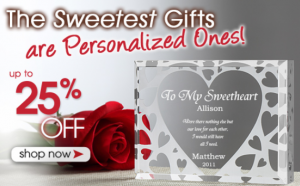 This year Sweetest Day, the day people take the time to let their "Sweetie" know how much they care about them, lands on October 15th. Now even though you just looked down at your calendar, saw that Oct. 15th is only 10 days away and started to panic – don't worry, we've done all the research for you and we have some great tips to share with you as you look to find the perfect way to express how much you care about your Sweetie!
From now through Sunday PersonalizationMall.com is having a Sweetest Day Sale where you can save up to 25% off romantic gifts that you can personalize for the upcoming Holiday! Choose from items like the beautiful You're All I Need© Personalized Keepsake (As shown in above picture).
The quality-crafted Lucite block that features an elegant heart mosaic design can be personalized with the verse "Were there nothing else but our love for each other, I would still have all I need," or for those of you who are good with words, you can write your own personal message to your loved one!
There are several gift options that can display your own personal and touching engraved message, but if your sweetie is a fan of sweets, we have a couple of gift options they'll love even more!
The Sealed With A Smooch© Personalized Treat Tin can be purchased to include Hersey Kisses or you can personalize the tin alone and fill it with your own homemade treats.
You can fill the tin with your famous chocolate chip cookies and wrap them up for your significant other, or you could send them to your kids in college as a nice Sweetest Day care package to let them know you're thinking of them!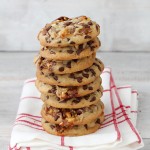 If you're looking to make your own treats but want to try something new, we have a recipe we think you may enjoy. We came across the recipe for Chewy Chocolate Chip Snickers Cookies on the Bakers Royale blog and instantly started drooling!
It doesn't get much more sweet than combing one of the most popular candy bars AND cookies! If you like what you see in the picture, click here for the instructions on how to make these decadent desserts.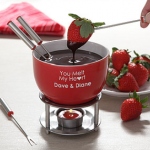 If you and your loved ones are a little more calorie conscious but wouldn't mind indulging a little this Sweetest Day, the You Warm My Heart© Personalized Fondue Set is a customer favorite and is great because while you can personalize it for your significant other, you can also customize one to share with your other "sweeties" like your kids or close friends. You can dip your favorite fresh fruits like pineapples or strawberries and not feel as guilty about splurging as you would with the rich cookies.
We hope these suggestions help steer you in the right direction for your Sweetest Day gift needs! Have fun shopping around all the unique and beautiful romantic gifts at PersonalizationMall.com and don't forget to submit your entry for the Sweetest Day Contest! Click here to read all the details about how to enter and your chance at winning the Your Love Letter© Personalized Sculpture for your sweetie!