Posts tagged
personalized photo frames
0
We couldn't stop laughing when we saw this hilarious back-to-school photo on Pinterest (at left)!
We love the idea of taking a "happy mom and dad" back-to-school photo – after all, it's a big day for parents, too! If you like this photo, you should visit our Back to School Pinterest Board where you'll find a couple of other cute parent photos, as well.
We hope this will inspire you to have some fun with your back-to-school photos this year because once you have the perfect photo of your kids in their first day of school outfits, you'll need somewhere special to display them … and we have just the thing!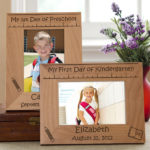 The 1st Day of School Personalized Picture Frame (at right) can be engraved with any line of text nestled in among the ruler design, while any two lines go below your child's photo to commemorate the date, school name, grade, or whatever you choose!
This adorable wood frame is available to be personalized in vertical or horizontal format for just $24.95 (shop before Monday, August 19th and you can purchase the frame for only $18.70 while it's still on sale!).
If you'd like to showcase your cute new back-to-school photo in a more colorful way, the "My First Day Of School" Personalized Full Color Frame (at left) is another great option! Even though the example says "my first day of kindergarten" that's not all this frame can say!
You can personalize the colorful bus design with any line across the top, along with your child's school name and the year which will be cleverly featured within the bus design. Finally, add your little one's name to the bottom and you will have captured an adorable moment in time! This back-to-school frame can be personalized for $28.95 (or shop before Monday, Aug. 19th and personalize it for only $21.70 while it's still on sale!).
For those of you who are looking for a frame for older children, head over and check out all of our Personalized Photo Frames where you're sure to find the type of design that you're looking for.
Before you send your kids off to school, be sure you also check out our Back to School Supplies – you'll find personalized back-to-school gear for kids of all ages, including backpacks, lunch bags, pencils, folders, notebooks, pencil cases and so much more!
1
Don't give Dad just any ol' picture frame this Father's Day – make it special by creating a personalized frame just for him!
PersonalizationMall.com has a wide selection of Personalized Father's Day Frames for you to choose from, including a bunch of brand new designs that were just added to the Father's Day Gifts Store!
There are photo frames that are perfect for dads with all kinds of hobbies such as, fishing, golf, hunting and even Rock N' Roll! But today I wanted to share an outside-the-gift-box idea on how to personalize PMall's unique Loving Them Collage© Frame so that it's tailored specifically for your Dad (or husband if you're helping your little ones)!
The collage frame can be personalized to say "I" or "We" love Dad, Daddy, Papa, Grandpa or any other name you'd like for just $39.95. The message will be cut out on a white matte board so that you can uniquely display your favorite family photos! But since we like to think outside the gift box here at A Personal Touch, I have a creative way for you to fill your frame so that it's truly one-of-a-kind … after all, Dad deserves the best!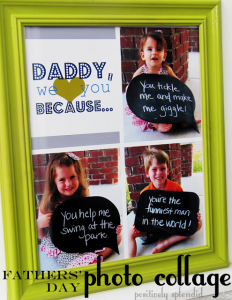 Instead of having the kids pose for staged photos to display in the frame, take individual pictures of each kid holding up a sign that says what they love most about their dad like the photo we found on Pinterest (at right).
Have your kids sit down and think really hard about what they love most about their dad. It could be because he watches cartoons with them Saturday mornings, or helps them with their homework or any fun thing your little ones can dream up. Then write down their answers on individual chalk boards, white boards or posters and have each child smile for a photo while holding up their sign!
The result is a beautiful frame personalized with all the cute little things that your children love most about their father. Your little ones will love being able to actually help create a Father's Day Gift instead of just going to the store plus their Dad will love the personal touch his kids left on his gift!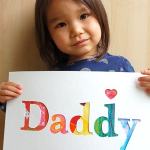 If you're short on photos and need help filling out the extra letters in the frame, another great outside-of-the-gift-box idea is to display your children's colorful artwork like the little girl is doing in another photo we found on Pinterest (at left)!
Dad is sure to love this thoughtful gift and will have fun proudly displaying it at home or at work so he can show it off to all his coworkers!
Hurry over to PMall's Father's Day Gifts Store now so you can place your order and have it in time to wish Dad the best Father's Day ever!
0
What some people don't realize about PersonalizationMall.com's wide selection of personalized gifts is that they offer more than meets the eye!
That's why A Personal Touch is here to help offer some unique and alternative uses for our personalized gifts with "Think Outside The Gift Box" posts!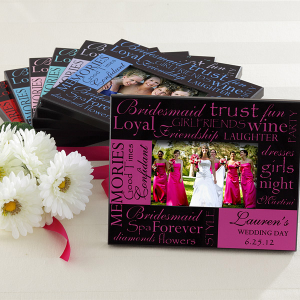 Today I'd like to show you a great way to use the Bridesmaid© Personalized Photo Frame as a tool to accomplish a more unique, intimate and welcoming atmosphere for your bridal shower.
This elegant frame is the perfect bridal party gift for your bridesmaids because the design features a collage of cute "girly" terms like, "Girls Night," "Laughter," "Martini," "Style," "Friendship," and comes with the choice of 7 color options so you can personalize the frame to match your wedding colors! The frame costs only $24.95 (great for brides on a budget!), and becomes even more memorable when you add your own personal 2-line message and wedding date to showcase the special bond you share.
Now if you're a bargain hunter like me then you're in luck because I have an outside-the-gift-box idea for these personalized frames that will help you get 2 or 3 uses for the price of 1! Not only can you give these frames as bridal party gifts, you can also use them to create a "Meet the Maids" table that you can feature at your bridal shower and wedding reception!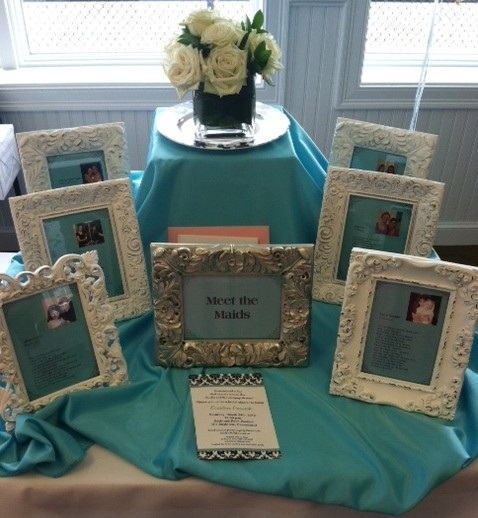 I immediately loved the "Meet the Maids" idea when I first saw the Pinterest Photo you see at left, and after reading Cherry Blossom Events' "Meet The Maids" post I knew that the only thing this great idea was missing was PMall.com's Personalized Photo Frames!
The "Meet the Maids" idea works as a fun ice breaker at your bridal shower and is a great way for your guests to meet your bridal party. I don't know about you, but I'm always curious about how the bridesmaids and groomsmen came to know the bride and groom and with a "Meet the Maids" table, you can share these sweet stories with your guests and make them feel more included before the big day!
All you have to do is create a personalized frame for each of your bridesmaids and fill them with a mini "profile" that helps your guests get to know them a little better. The mini bios can include anything you can think of, however I recommend at least sharing how you and your bridesmaid met, how long you have been friends, and some of your favorite shared memories. Be sure to include a small photo of your bridesmaid or one of the both of you so your guests can easily recognize them and don't forget to personalize an additional frame that features the words "Meet the Maids" to finish off the display.
Once the shower is over you can gift the frames to your bridesmaids or create frames and bios for a "Meet the Men" display and then feature both near the guest book at your wedding ceremony or by the gifts table at your wedding reception. That way you can give the frames as gifts after the wedding and everyone who may have missed out on the shower will still be filled in with all the bridal party details!
I hope you enjoyed my out-of-the-gift-box idea for your personalized frame! I'd love to hear about the alternative uses you have for any of PMall.com's personalized gifts! Please share your ideas by commenting below or by emailing me at social@pmall.com.
Click HERE to see the original Pin for the "Meet the Maids" photo