Posts tagged
personalized wedding gifts
0
With all of the craziness surrounding wedding planning it's easy to forget the people who have been there for you since Day 1 – your parents!
You may have gotten caught up in finding gifts for your bridesmaids and groomsmen but don't worry, we're here to offer some great gift ideas for your parents and future in-laws, too! We think it's a wonderful gesture to present both parents of the bride and groom with a little something special to show your appreciation for their love, support and help with the wedding.
We love the idea of taking a special photo with both sets of parents on the day of the wedding, like the picture we found on Pinterest at left where all three couples share a sweet kiss. If you visit our Pinterest boards at the above link, you'll see some other great photo ideas we repinned, as well like the idea to take a photo of the bride, her mother and her grandmother together with their wedding rings to show that special bond between mother and daughter (and granddaughter)! Another one of our favorite unique photo ideas was to recreate a wedding photo of the bride and groom's parents – it's neat to see and compare them after the wedding!
Whether it's a unique photo or just a standard family photo from the wedding, we suggest presenting it to your parents in the "To My Parents" Personalized Wedding Frame (at right). This beautiful frame comes in your choice of 3 colors (tan, sage or blue) and can be personalized for the parents of the bride or groom with any title (To My Parents, Mom, Dad, etc.) and any subtitle (On My Wedding Day, etc) at the top. You can also include any closing sentiment along with the bride and/or groom's names and wedding date at the bottom for a very special touch. The lovely poem and elegant colors aren't the only reasons this frame is one of our most popular wedding gifts for parents … it's because of that added personal touch that makes the gift even more special and meaningful. Both sets of parents will love it and be proud to display it in their homes forever.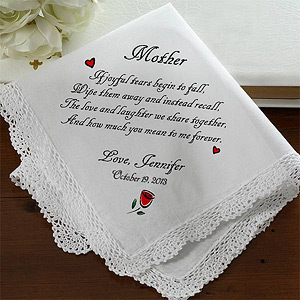 PMall.com's Parents Gifts Department, which is located in the Wedding & Anniversary Gifts Store also has great gift ideas specifically for the mothers and fathers of the bride and groom. The "Tears of Joy "Personalized Wedding Handkerchief (at left) is just one of our personalized handkerchiefs that makes a great gift idea for the mothers of the bride and groom. This handkerchief gives you the option of selecting one of three designs, a rose & hearts, wedding bells or wedding doves, and personalizing it with any name or title at the top, followed by a heartfelt sentiment, and the bride and groom's names and wedding date underneath. This is just a special gift to give your mother or future mother-in-law the morning of the wedding so they can wipe away their tears of joy throughout the ceremony and reception. They will love that you went out of your way and thought of them on your own wedding day and they're sure to be truly touched by the sweet gesture!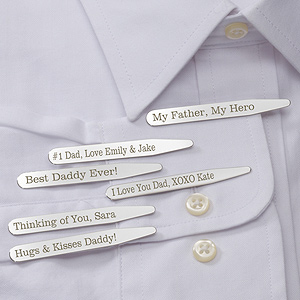 If you're looking for a special gift that you can give your father or future father-in-law on the day of your wedding, we suggest personalizing our new "For Dad" Collar Stays Set. The set consists of 6 silver-plated brass collar stays that are presented in a handsome black velvet box. The collar stays can be engraved with 6 different personalized sentiments, heart felt messages and/or names … anything you'd like up to 25 characters each! Men are usually hard to buy for, but these are such a great gift idea because he'll be able to use them that day with his suit or tux plus he'll be touched that you created a one-of-a-kind gift just for him – it's sure to make his day!
If you're interested in any of these gifts or need some more gift ideas, head over to PMall's Wedding & Anniversary Gifts Store and check out the Parents Gifts Department. You'll find a wide selection of great gift ideas, such as personalized keepsakes, photo albums, photo frames, vases and so much more!
We hope we were able to help you cross off something from your to-do list – happy wedding planning!
2
Calling all family and friends of the bride-to-be! We know how stressful it can be to put together the logistics of a bridal shower, not to mention the immense pressure you feel to create a beautiful, special and memorable day that you know the bride will love. But never fear – PMall is here! We've put together some great tips so you have everything you need to help you host the perfect bridal shower!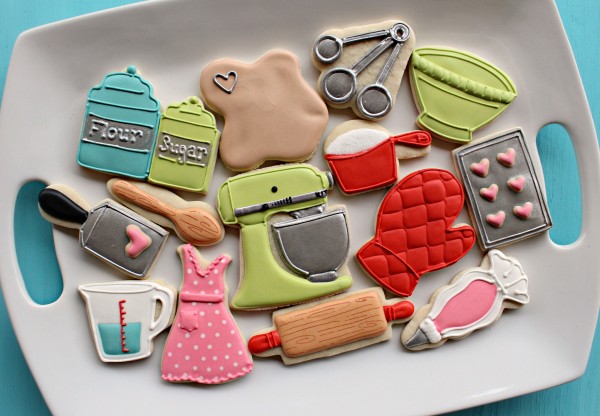 These unbelievable, almost-too-pretty-to-eat Kitchen Cookies from The Adventures of Sugarbelle blog had us instantly inspired to come up with ideas for a kitchen themed bridal shower (we first saw the picture on Pinterest, but you can find the recipe and decorating tips for creating these beauties here). We think these pretty treats would not only add some fun to each table, they'll also make great favors that each of your guests can take home with them!
But let's not get ahead of ourselves – the first thing you need to do after setting a date and securing a location is work on the bridal shower invitations. But before we talk about creating beautiful bridal shower invitations like this, this or this, we need to go over the focal point of the kitchen themed shower. 
The purpose of any bridal shower is to help the bride start off her married life with a kitchen and home full of everything she needs but with our personalized tips and ideas, you'll also be helping her build a kitchen and home that's hers.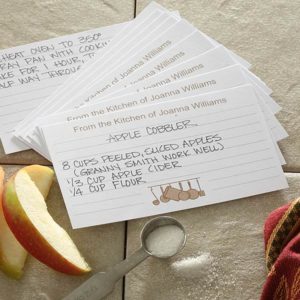 The From The Kitchen Of… Personalized Recipe Cards, which come in both 3×5 and 4×6 sizes, or any of our other Personalized Recipe Card Designs will help you achieve both of those goals because while they do make a great gift (a gift that she'll actually use!) all on their own … they will be extra special when you announce that you've had the bride's family and friends fill them out with their favorite recipes!
In order to surprise her with this gift you'll have to personalize enough cards (they're sold in sets of 24) so you can include 1 or 2 of them with each of the bridal shower invitations (we also suggest personalizing an extra set of recipe cards that you can leave blank so when you present them to the bride she can add her own favorite recipes to her collection). When you're creating the invitations, make sure to include a line somewhere on the invite that says "Please fill out the recipe cards and bring them to the shower. Write down 1-2 of your most favorite recipes to help us start the bride's recipe collection!" Send the invites off and you're well on your way to creating a one-of-a-kind gift that will be a bridal shower show stopper!
The final part of the gift is to personalize the From The Kitchen Of… Bamboo or Clear Acrylic Recipe Box for the bride. We suggest trying to match the theme of the recipe box to the theme of the recipe cards, however we also offer different designs for you to choose from in our Personalized Recipe Box Department, including a Personalized Recipe Binder that would also work well for this gift. These recipe boxes are excellent additions to anyone's kitchen – the lids on the bamboo recipe boxes feature a slit that can hold a recipe card upright while you're cooking and the acrylic recipe box lids not only hold the recipe cards upright, they also protect them from food splatter!
We suggest quietly collecting all of the recipe cards from the guests as they arrive so when the bride opens the recipe box you've personalized for her, you can surprise her with all of the recipe cards that her loved ones have filled out. Just think of how special it will be for her to receive secret family recipes, the directions for making her future husband's favorite meal from his mom, or the recipe to her favorite dessert that her aunt makes and brings to every holiday party. You're not only setting her up with a good start to a recipe collection, you're giving her the opportunity to surprise her husband with his favorite dinner from growing up, or to recreate her favorite holiday meals that she's enjoyed since she was a little girl – there won't be a dry eye in the place!
Of course we also have a way for you to lighten the mood again – bridal shower games! Now stop groaning (yeah, we heard you!), these aren't the same ol' games that you've seen done a million times … they're kitchen-themed and interactive! We loved all of the ideas they offered on this Kitchen Bridal Shower Games post, but especially the Spice Quiz. To set up the game you remove the labels from 10 jars of spices and assign each of them a number. Pass the spices around to each of the tables and ask the guests to guess which spice it is that they're seeing, smelling, and (if they're brave) tasting. The person with the most correct guesses wins and the bride can keep all the spices to stock her kitchen!
If you're looking for bridal shower gifts in addition to the recipe cards and boxes, check out our Personalized Entertaining and Home Gifts Store - especially the Kitchen and Grill Department or head over to the Kitchen, Bar and Home Department in our Personalized Wedding and Anniversary Gifts Store where you'll find more great bridal shower gift ideas that every bride will love.
If you have any other tips for throwing a kitchen bridal shower please share with us and all of our fans by posting in the comments below!
0
We were so excited to see that the new groomsmen and usher gift trend has a fun, creative and do-it-yourself twist!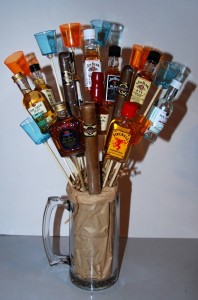 As you can see from the photo we came across on Pinterest (at left), the new gift idea that is becoming more and more popular is creating a "Groomsmen Bouquet" full of "man favorites" such as mini bottles of liquor, cigars, shot glasses, beef jerky, and much more!
The idea is to arrange the goodies in a way that all the different items can be seen and well presented – just like a bouquet of flowers.
In order to create this gift, all you have to do is attach a wood skewer on the back or bottom of all the different goodies you've gathered by using a strong type of tape or glue (make sure the shot glasses are secure so they don't topple over!).
Since we believe that gifts are always better after you've added A Personal Touch, we love the idea of arranging the "manly bouquet" in PMall.com's popular Groomsmen© Over-Sized Beer Mug, which you can customize with any 3 lines of personalization! You can have the tall, 25-ounce mug engraved with their Name, Job Title (Groomsmen, Usher), and the wedding date all for just $24.95.
The personalized mug will help you show the groomsmen and ushers how much you appreciate them celebrating with you and they'll love the added personal touch to the mug, especially because they'll be able to use it again in the future!
PMall.com's Groomsmen Gifts Store has a wide selection of personalized gifts that would also make a fantastic addition to the bouquets.
The Engraved Silver Cigar Case and Cutter is a handsome cigar accessory set that retails at only $38.95 and would be the perfect gift to arrange in the front of the bouquet so the guys can grab it before taking out their new cigars!
The cigar case will also help the men keep the cigars safe and their tuxedos clean throughout the ceremony and reception before they light up in celebration afterward. The cigar case can be skillfully engraved with his name, nickname, event or message and the cutter can be customized with his single, 2 or 3 initial monogram.
PMall.com's The Wedding Party© Personalized Pocket Flask would also be a great gift to add to the bouquet so that the groomsmen and ushers have somewhere to store the contents of all those bottles! The pocket flask features intricate detail in the brushed finish base with a convenient, attached cap for easy open and close plus a handy funnel so not a drop is missed! PMall.com skillfully etches any name, title and date you choose into the flask for only $29.95. The guys will love their flasks – just make sure they don't "Love" them too much before the actual ceremony!

We hope we've helped you come up with some gift ideas for your groomsmen and ushers. For more ideas, head over to PMall.com's Groomsmen Gifts Store and check out all the personalized gifts we have to offer. You'll have a blast searching through our personalized shot glasses, bottle openers, baseball bats, can and bottle wraps and so much more!