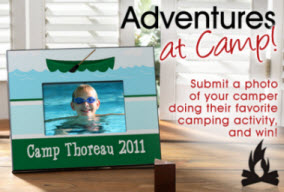 When you hear the word S'Mores, what's the first thing you think of? Here at PersonalizationMall.com we are immediately transported back to our fondest summer camp activities and memories.
So in honor of National S'Mores Day, which started August 10th, and National Smile Week, which ran from August 7th-13th, we want to see what fun adventures our customers' kids are having at camp this summer! Today is the final day of the Adventures At Camp photo contest so make sure you head over to our Facebook Page and vote here for your favorite photo to win!
The winner, who will be determined by our Facebook Fan's votes, will be announced tomorrow, August 17th, 2011 and will win their very own Summer Camp© Personalized Frame!
So hurry and vote now – we need your help to determine the winner!