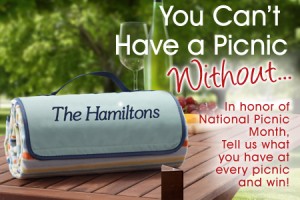 Congratulations to PersonalizationMall.com's "You Can't Have A Picnic Without …" contest winner, Dawn!
Dawn offered some great advice for all our readers when she shared with us that she can't have a picnic without:
"My family and baby powder!!! We live at the shore so we picnic every day on the beach. With a 3 year old and a 7 month old there is always sand everywhere … that's where the baby powder comes in! Sprinkle a little baby powder on sandy fingers, toes, cups etc., and the sand magically brushes right off!!!"
For her helpful and original idea, Dawn won her very own St. Tropez Personalized Picnic Blanket Tote!
PersonalizationMall.com would like to thank Dawn and everyone else who entered the contest …
Everyone give the baby powder a try and let us know how it works for you!
Happy Gifting!