It's childhood memories like your mom's signature dish that made your house a home. We want to hear what magical meal made your family dinners so special!
Today is "Family Day – A Day To Eat Dinner With Your Children." The holiday was launched in 2001 by The National Center on Addiction and Substance Abuse at Columbia University to inform parents that the engagement fostered during frequent family dinners is an effective tool to help keep America's kids substance free (Learn more about it here).
We love the idea of making time to sit down and have a nice family dinner. Even though it may seem hard to find the time in everyone's busy schedules to fit in a sit-down family meal, it's important to make the time because the dinner table is one of the most common places that childhood memories are formed.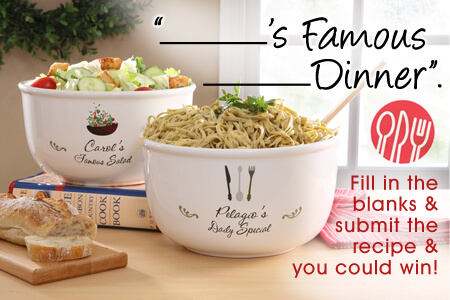 Whether it was the signature dish your mother prepared, the prayer that your father lead the family in reciting, or even the comforting feeling you got when everyone plopped down in their seats (the same seats everyone sat in week after week even though they were not assigned)… it's those memories that made your house a home.
We think it's important to keep those memory-making traditions alive, that's why we'd like to announce our new fill-in-the-blank contest titled: "_________'s Famous ________ Dinner."
We want to hear all about the delicious dish that was the foundation of your special family dinners when you were growing up. We want to know who was the mastermind behind the meal (i.e. Grandma, Mom, Uncle Joe, etc.), the name of their "famous" dish, and the recipe for the magical meal that had everyone running to the table!
The winner will receive their very own Your Special Dish Personalized Serving Bowl from Personalization Mall.
How To Enter
To enter the contest, please send an email with the subject line "Family Dinner Contest" to social@pmall.com with the following information:
Your first and last name
The name of the chef who created the dish
The name of their special dish
The recipe for the memorable meal
All submissions must be sent in before midnight October 4th, 2011 and the winner, who will be determined by our staff, will be announced here October 5th, 2011.
We can't wait to hear all about the dish that you shared while making those special memories. Good luck to everyone and have fun at your family dinner tonight!