Fall in love with these three romantic photo gift ideas for couples to enjoy and cherish, and see how easy it is to surprise your partner with a photo gift made with your favorite memories.
Custom photo gifts make great romantic presents for Valentine's Day, anniversaries, birthdays, or any romantic occasion. They offer a unique and sometimes unexpected way to display your favorite photo memories and the special moments of your relationship. In addition to being a nice surprise, custom photo gifts are made to be cherished and treasured by you and your partner for years to come.
How to create the perfect romantic photo gifts
There are countless ways you can use your pictures to create photo gifts. From cute and sweet to deep and thoughtful, these mementos of your love should last forever and incorporate more than just your favorite shots.
Here are our top three photo gift ideas to surprise your sweetheart with that are perfect for any romantic or special occasion.
1. Create something unexpected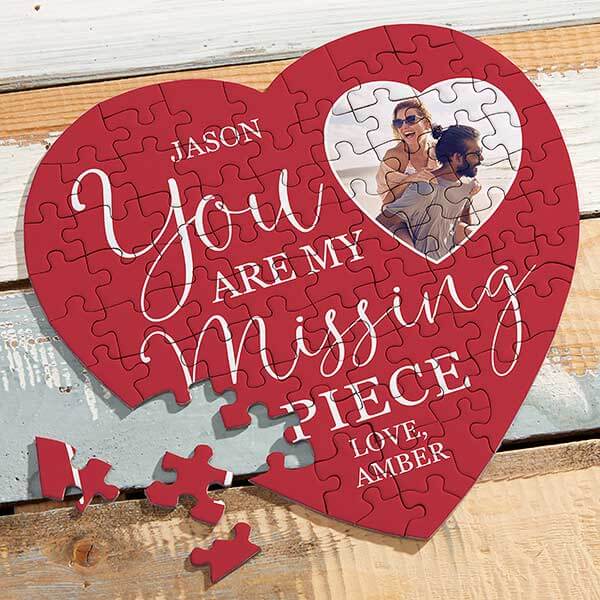 One great way to surprise your partner is with something different and unexpected. Your girlfriend might think you got her just another ordinary jigsaw puzzle when in fact it's a heart-shaped photo puzzle with a photo from a fun vacation or the first trip you took together as a couple.
Your boyfriend will think you're so thoughtful to get him a Rubik's cube so he improve his problem-solving skills while having fun…until he sees the extra incentive you added for him to solve the puzzle! Add any four of your favorite shots to the puzzle and see how fast he learns to solve it.
You can also add your favorite photos to keychains, wine labels, even guitar picks, along with names, special dates, and loving messages that will make your photo gifts unexpected and unforgettable.
2. Create something meaningful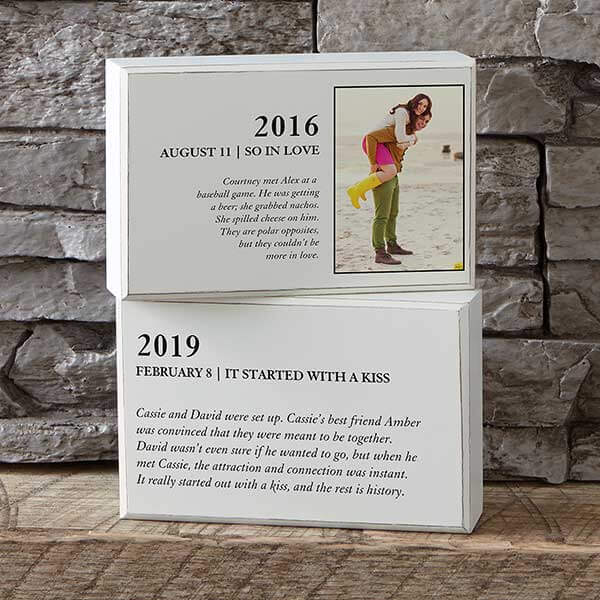 Any photo gifts created with the precious moments of your relationship will be beautiful and thoughtful, but you can add more meaning by incorporating dates, places, and words that have special significance. For example, instead of creating a photo collage frame with your names, why not use your wedding date or the day you met? This way the photos that make up this important point in time have additional meaning just for the two of you.
You can also make your romantic photo gift more thoughtful by including a poem, a special message, or even your wedding vows. Choose a photo that defines the sentiment and include the words that will make it more meaningful. Your partner will be head over heels when opening up a gorgeous photo gift with a sentimental reminder of your lasting love.
You can also create canvas prints, wood or glass prints, and wall art featuring your favorite photos and special sentiments. Add all the important details of your relationship to the "Our Life Together" canvas print that creates word art from your most precious memories. Or add dates, places, and photos to our one-of-a-kind puzzle piece wall décor and add new puzzle pieces on as your relationship continues to grow.
3. Create something practical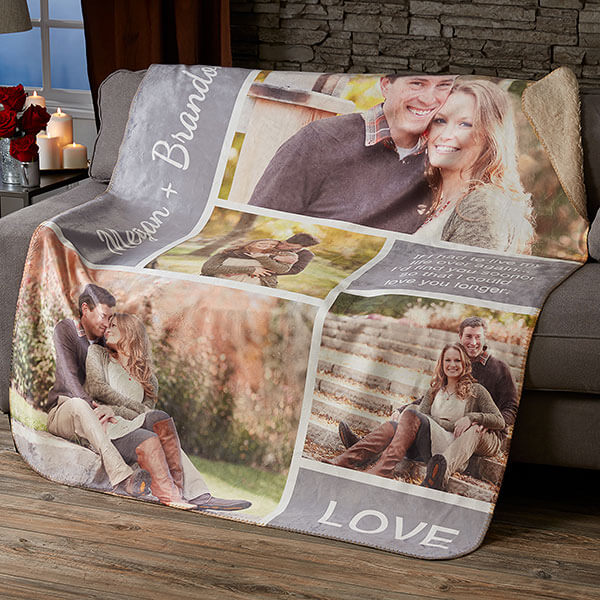 Another option is to customize a photo gift that you know your partner will use and appreciate every day, such as a photo mug, blanket, canvas tote, and more. Get creative and see how you can use your favorite photos to put a smile on your partner's face with everyday things. Customize a set of throw pillows and a custom blanket with a few of your favorite photos to surprise your wife with a bedroom makeover.
You can personalize photo coffee mugs and travel tumblers, photo towels and bath accessories, even scented photo candles that both of you can enjoy during a romantic evening.