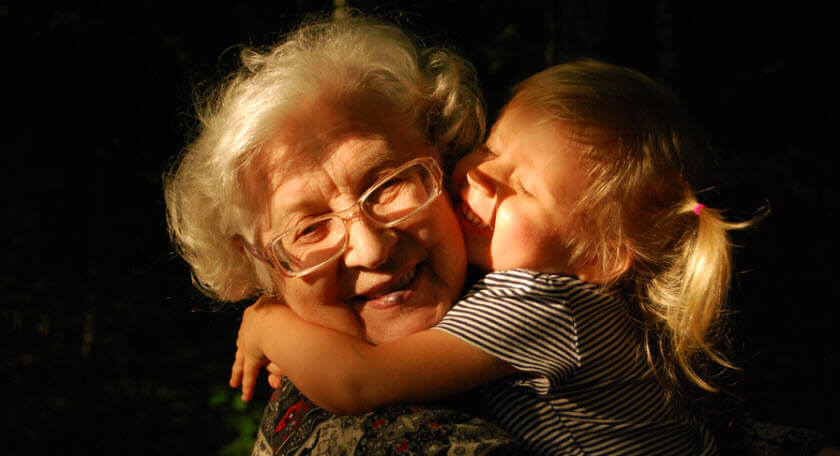 06 Aug

10 Unique Grandparents Day Gift Ideas

Celebrate your sweet Nana and Papa with creative Grandparents Day gift ideas they'll love and cherish.

There's a reason grandparents are so special. For many, the connection between a grandchild and grandparent is often as close as the child's bond with mom and dad. What makes the relationship even more special is that grandparents are always happy to see their grandkids, they always make the time for them, and will invariably say "yes" to anything just to make them smile. Let's face it, grandparents make kids feel loved and adored beyond measure. Who doesn't remember getting spoiled with gifts and treats from grandma and grandpa? That's what grandparents do best!

Whether you're lucky to see your grandparents often or only spend time with them a few times a year, honor your loving grandma and grandpa with a gift they can treasure and take pride in when they're not with you. National Grandparents Day is the perfect time to celebrate your grandma and granddad, but you can find ways throughout the year to surprise them, including Valentine's Day, Mother's Day and Father's Day, birthdays, Christmas and more.
Grandparents Day 2021 is Sunday, September 12th
No matter what the occasion, find creative and unique gift ideas for grandparents they'll truly appreciate, including homemade and do-it-yourself gifts, practical items they can use, and stunning keepsakes they'll never forget.
1. Homemade & DIY Grandparents Day Gift Ideas
There's nothing like a homemade gift you created just for grandma and grandpa to be proud of. And there's no shortage of do-it-yourself gift ideas out there, from adorable art and crafts projects for kids to make, to practical and decorative items both of the grandparents can enjoy. Pinterest is one of the best places for DIY ideas, and you can find plenty of great gifts to make depending on the level of difficulty and involvement you desire.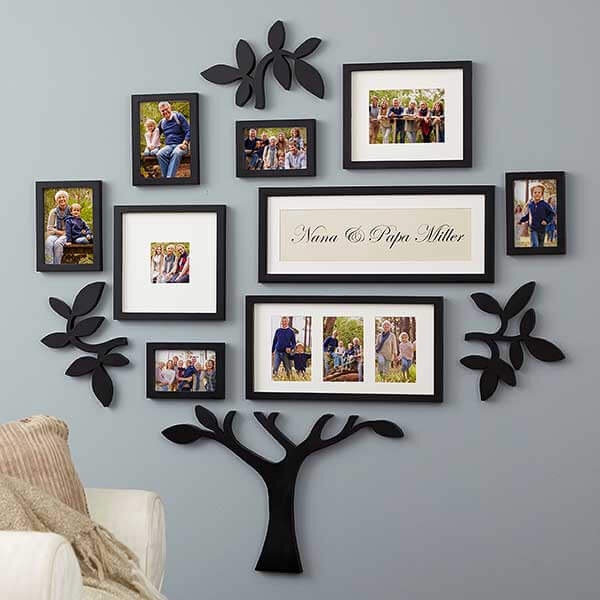 One DIY gift any grandparents will love is a gallery wall of photos with their precious grandchildren. You can create it with custom canvas prints or simply find a coordinating set of picture frames you can fill with family photos, or photos just of their grandkids.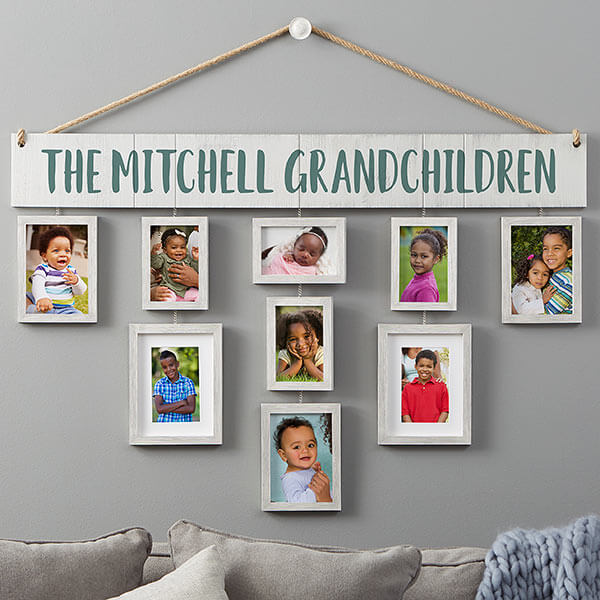 2. First Grandparents Day Gift Ideas
Grandparents will always remember their very first Grandparents Day, whether they just welcomed their first grandchild or are still awaiting the baby's arrival. Commemorate this special occasion with a set of ceramic coffee mugs they can use every day that proudly proclaim their new titles of Grandmother and Grandfather. These adorable mugs with heart shaped handles can be customized with any title, like Nana, Papa, Gram, Gramps, Grammy, Granddad or any variations you choose along with an established date or a future "to be" date. They also work great as a pregnancy announcement for the most unforgettable first Grandparents Day for the happy, newly-minted grandparents.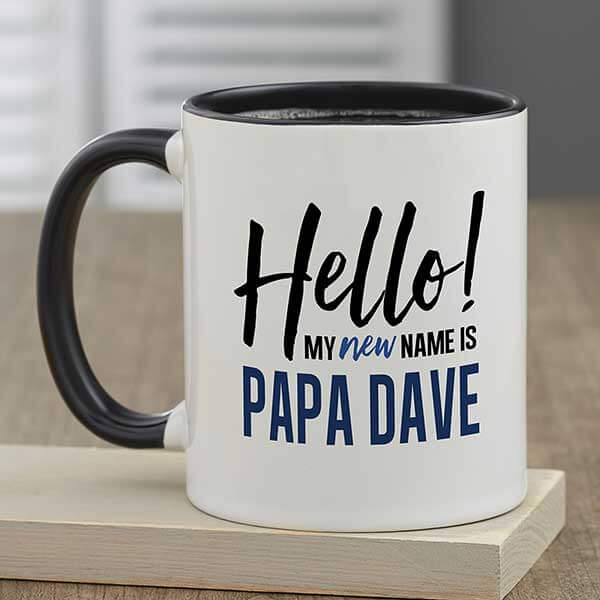 3. Grandparents Day Gifts from Baby
Every new grandparent wants to show off and brag about their sweet grandchild, beaming with pride and smiling from ear to ear. And this personalized picture frame gives them the perfect way to do just that. This unique design features the loving quote "When a child is born, so is a grandparent" and can be customized with baby's name, birthdate and choice of colors. Simply add baby's adorable photo to complete this sweet and memorable Grandparents Day gift from baby.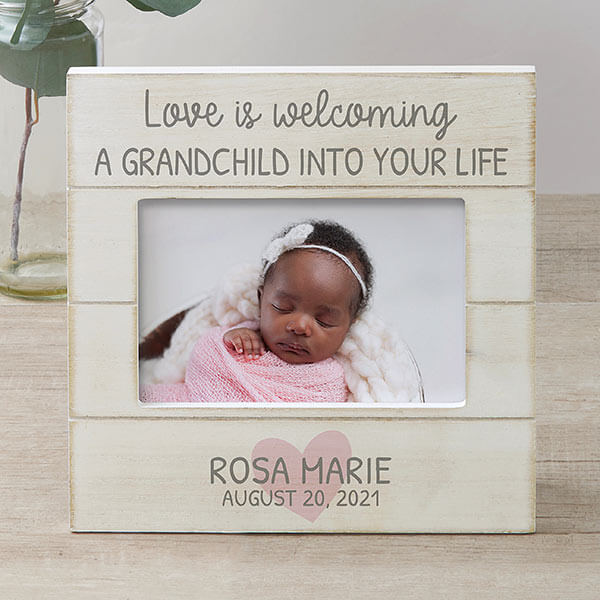 4. Gifts from Toddlers & Preschoolers
What better way to ensure even more cookies and treats from grandma and grandpa than by gifting them the perfect place to stash them. This personalized cookie jar is big enough to hold sweets for all the grandkids and can be customized with up to 21 names featured in a word art heart design. Choose from different color options and pre-fill the jar with homemade sweets to get your grandparents started. Toddlers, preschoolers and younger kids will love helping to customize and fill this fun gift!
5. Gifts from Multiple Kids or Cousins
This soft and warm photo blanket makes a great gift for grandparents from kids. It can be customized with a variety of color options along with your own text and photos. Get the kids involved by choosing the nine photos featured in the photo collage and have them come up with a fun saying for grandma and granddad to enjoy or simply include all the grandkids' names.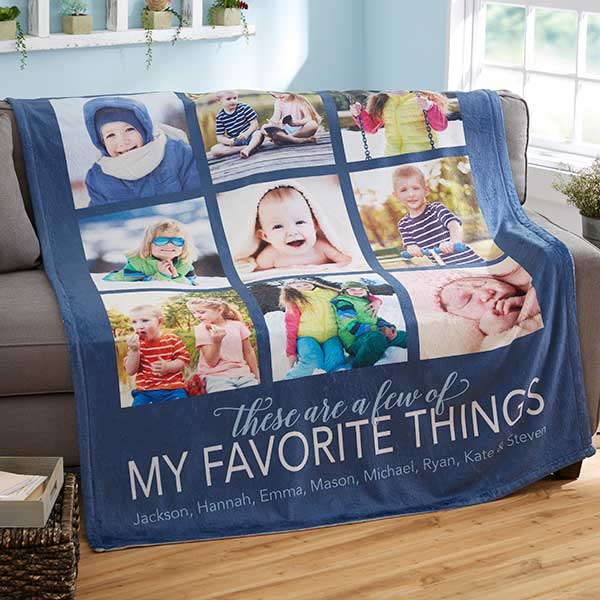 6. Gifts from Tweens & Teens
As Nana and Papa get older, they might start to become forgetful, especially if they have a dozen or more grandchildren to remember – and their birthdays! Your creative teens and tweens can help their grandparents remember all of their blessings with a canvas print listing their grandchildren's names and birthdays. This unique canvas print can be personalized with up to 30 names and dates along with an established year, creating a beautiful and memorable piece of wall decor they can enjoy and boast about.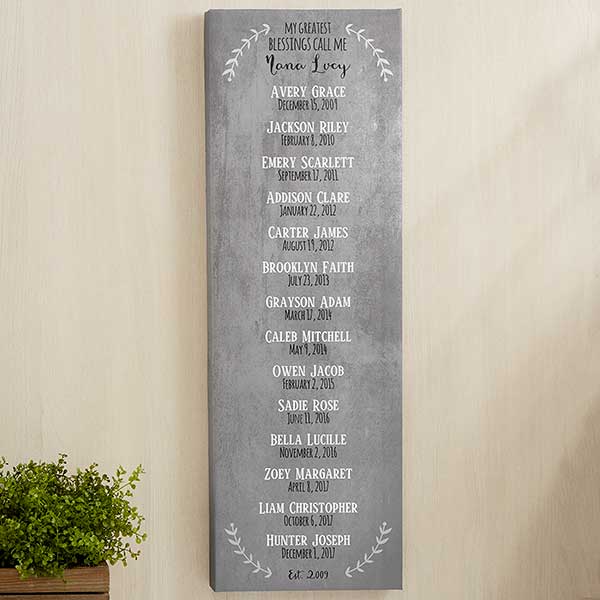 7. Gifts for Grandmas
Surprise grandma with a keepsake she'll treasure always with a custom engraved photo necklace you can personalize just for her. This delicate photo pendant will hold any photo you choose and is engraved with a loving message or the names of her grandkids. This unique piece of jewelry is sure to make her smile on Grandparents Day, her birthday, Mother's Day or any special occasion.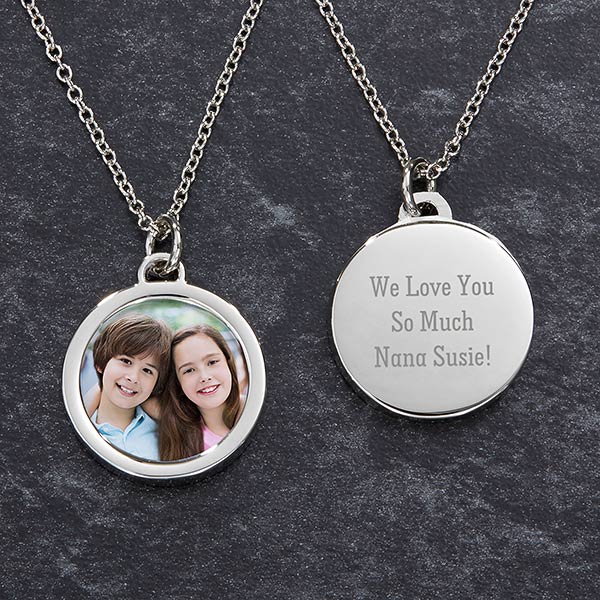 8. Gifts for Grandpas
Make grandpa feel special with his very own pocket pillow to hold his reading glasses, TV remove, favorite snacks, book, magazine, Kindle and more. This manly designed throw pillow declares his spot on the sofa or chair giving it a practical use he can appreciate. It makes for the perfect gift for grandpa on Grandparents Day, Father's Day and more.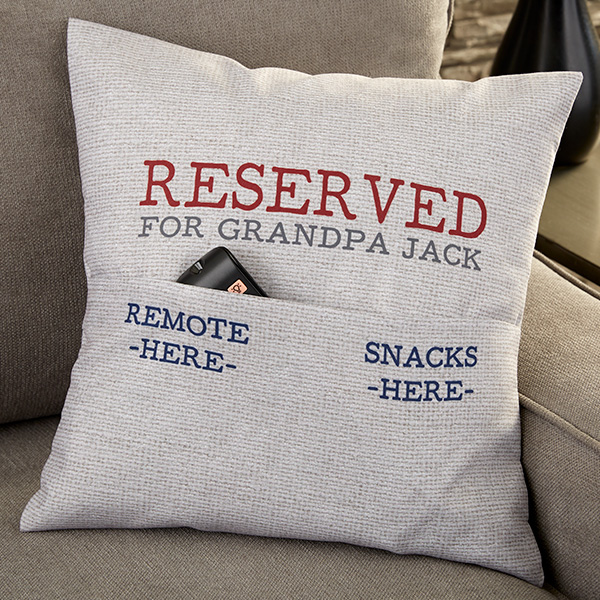 9. Long Distance Grandparents Day Gifts
For those who won't get a chance to see their grandparents this year, this gift offers the perfect way to share your love. This unique wooden postcard keepsake can be customized with any message, for a heartfelt gift straight from the heart. Include it with a photo album filled with recent family pictures or a digital picture frame that will help your grandparents feel close even if they're far away.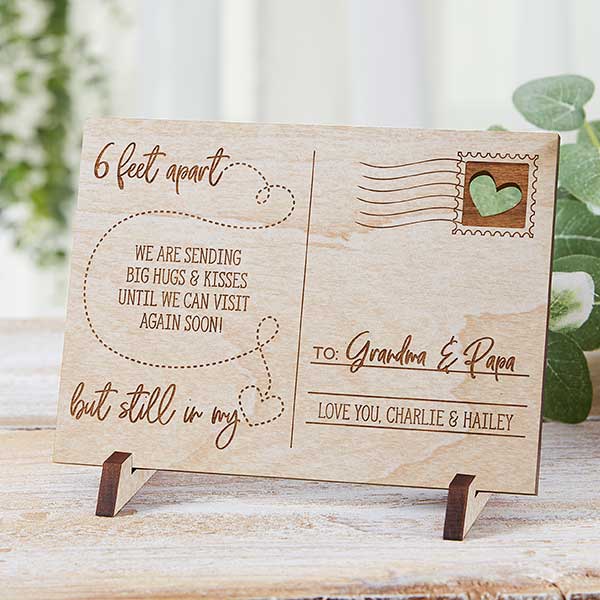 10. DIY Grandparents Day Gift Baskets
Treat your special grandparents to a homemade gift basket filled with love, memories and their favorite treats to enjoy on their day.!
Sure, you can opt for a ready-made gift basket that will look elegant and impressive. But if you would rather go the do-it-yourself route, you can create your own custom gift basket that's full of personality and charm. Include a mix of homemade and store-bought goodies for them to enjoy, including snacks, teas or coffee, a bottle of wine and whatever else you think they would enjoy. Then include a small homemade or personalized gift, like a picture frame, photo candle, coffee mugs and more.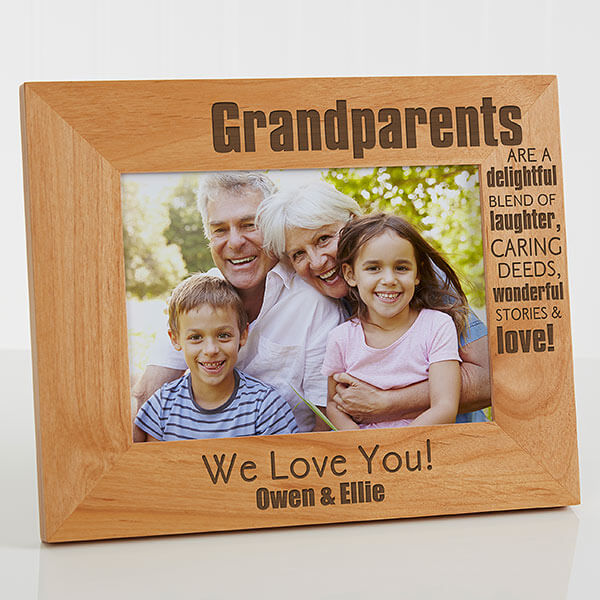 Bonus: First Christmas As Grandparents
Holidays are just around the corner, so don't forget to honor their first Christmas as grandparents with a personalized ornament they can cherish each year. This unique design can be customized with an optional photo on the back along with their titles and year on the front.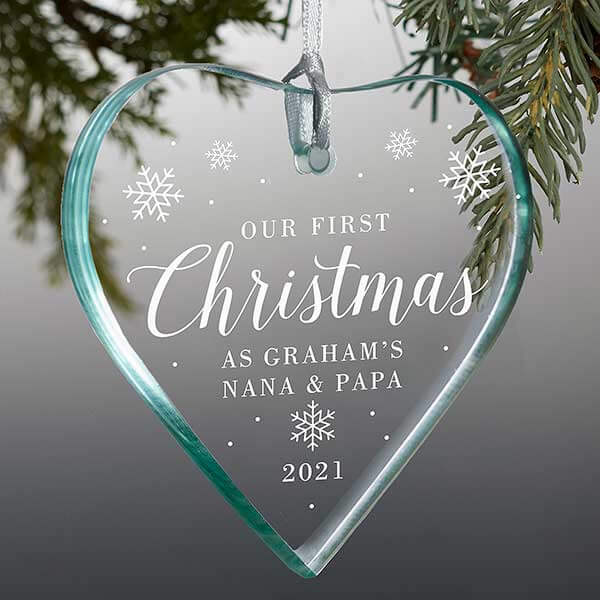 Make 2021 Grandparents Day special for your grandmother and grandfather or your parents who are grandparents to your children with unique and creative gifts they will remember and cherish for many happy years to come.
Share Your Favorite Grandparents Day Ideas
What are some of your favorite ways to honor Grandpa and Grandma this year? Share your ideas for gifts, activities and unique ways to celebrate your Grandparents.