Ah, the home bar – an oasis where friends and family gather in comfort and camaraderie throughout the year, and especially at Christmas. If there's someone on your holiday shopping list who loves to unwind or entertain in their own personal saloon, we have a few custom home bar gift ideas that are guaranteed to bring on the cheer.
Start With Personalized Glassware
Without the right glassware, happy hour is just another time of day. Help your favorite bar owner stock their shelves with personalized beer glasses including mugs, pilsner and pint glasses and an assortment of cocktail glasses, shot glasses and wine glasses that you can design just for them. Engrave your barkeep's name, initials or a holiday message of your choice, and they will surely think of you with each sip.
Here are a few of our favorites from our custom bar glassware collection.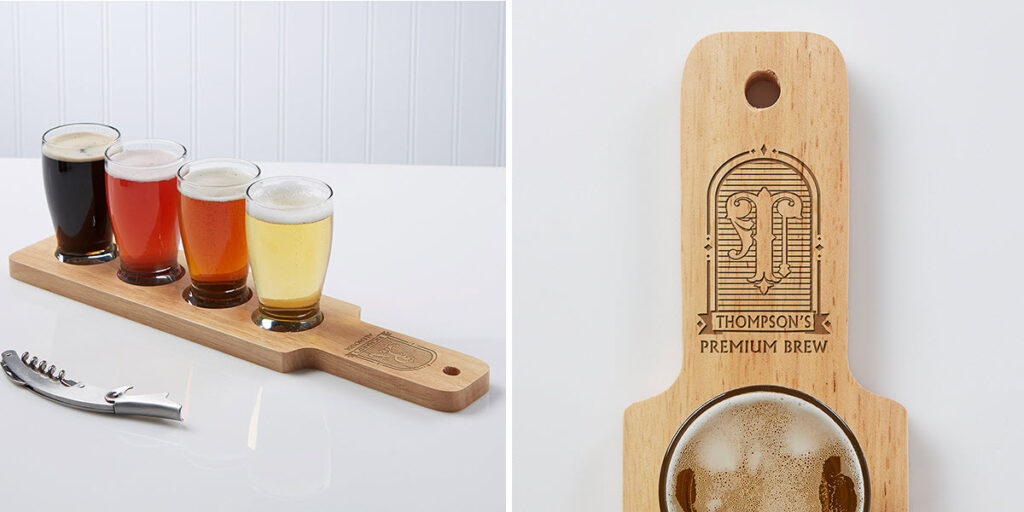 This custom beer flight comes with four hand blown beer tasting glasses and a beautifully engraved solid wood serving paddle. Customize the engraving with any initial and two lines of text. This unique set would make a perfect gift for a home brewer or any beer enthusiast.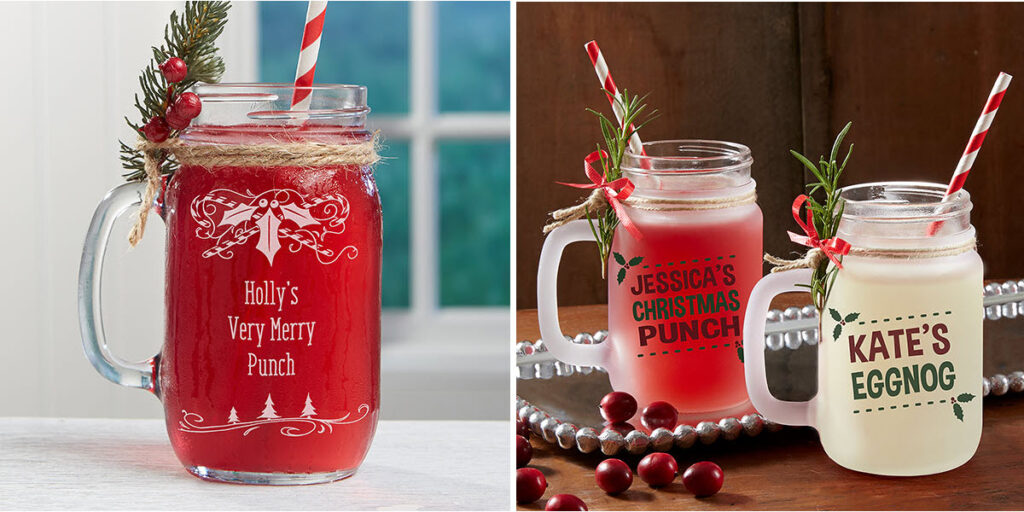 Mason jar mugs have that perfect casual vibe and they're so versatile. You can use them for beer and cocktails, or even iced tea and soft drinks. Our newest custom mason jar mugs have a holiday theme and come in frosted and non-frosted glass options. Add up to 3 lines of text and even a photo!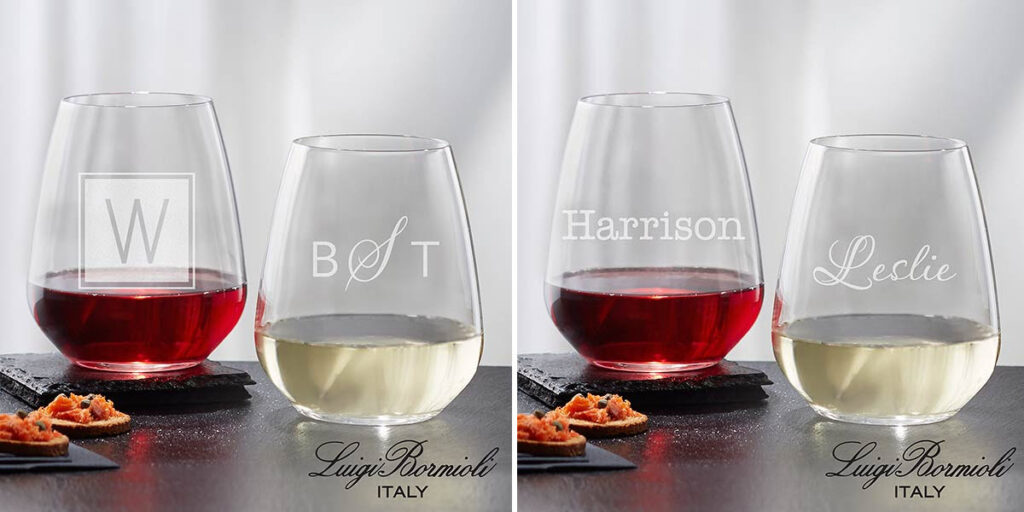 Stemless wine glasses are also becoming more popular because of their unique look and versatility. Use them for wine tastings or fill them with mixed drinks. These custom stemless wine glasses are crafted in Italy and feature amazing durability and resistance to breakage but also offer beautiful transparency. Customize each glass with your choice of etched monogram or name.
Don't Forget The Bar Decorations
Every great bar needs great decorations. Liven up the atmosphere with a customized bar sign for your favorite mixologist or beer connoisseur. Since a bar can never have enough wall art, a custom picture frame is another great gift idea that your recipient can personalize more with their own favorite photos. Want to amaze them with a gift that's both creative and customized? Check out our beer cap shadow box tand help them show off their spirited accomplishments as the years go by – it also works great with wine corks!
For a completely one-of-a-kind home bar look, don't forget about the bar top itself. Bellying up becomes even more fun with custom-printed cocktail napkins and personalized coasters that will ensure your friend's home bar is as unique as its owner.
Here are our top picks for bar decorations to help to get your creative juices flowing.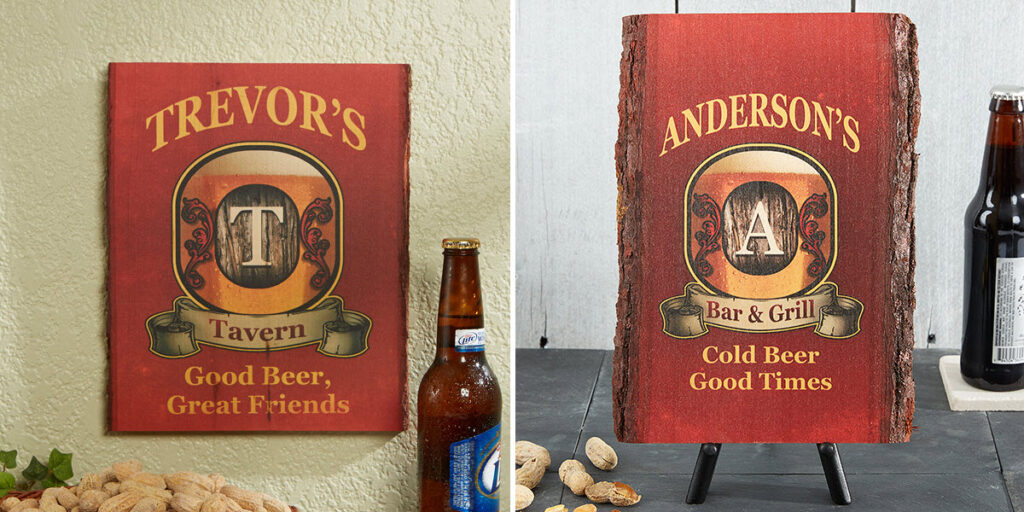 This vintage inspired bar sign is custom printed on a genuine basswood plank, with bark left on the sides to create a natural look. Hang it on a wall or display it on a bar shelf. The custom bar sign can be personalized with any initial, title, bar name and additional two lines of text.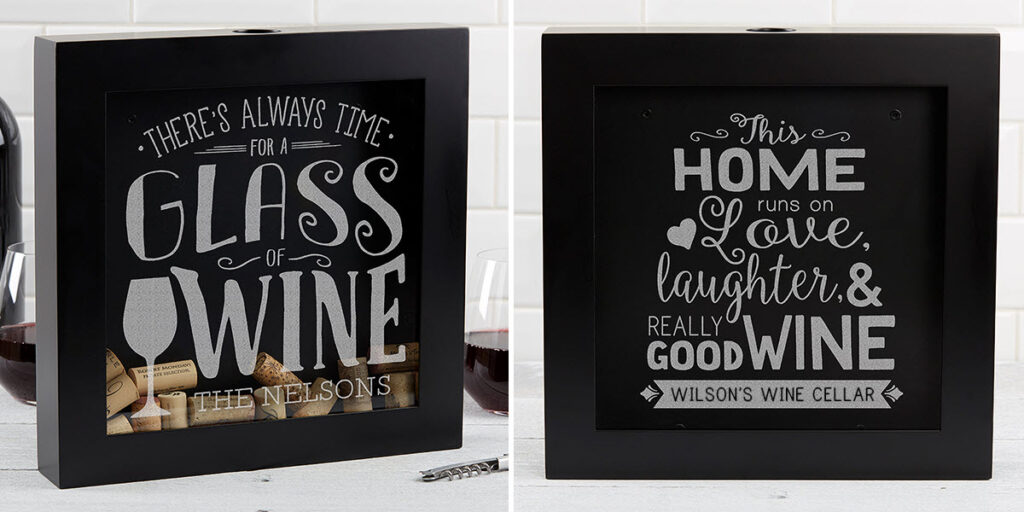 This unique shadow box is ideal for collecting wine corks or bottle caps with a whole on top for easy access. Display it on a table, shelf or hang it on a wall. With a number of custom designs to choose from, you can find one that's perfect for the gift recipient and then customize it so they know it was created just for them.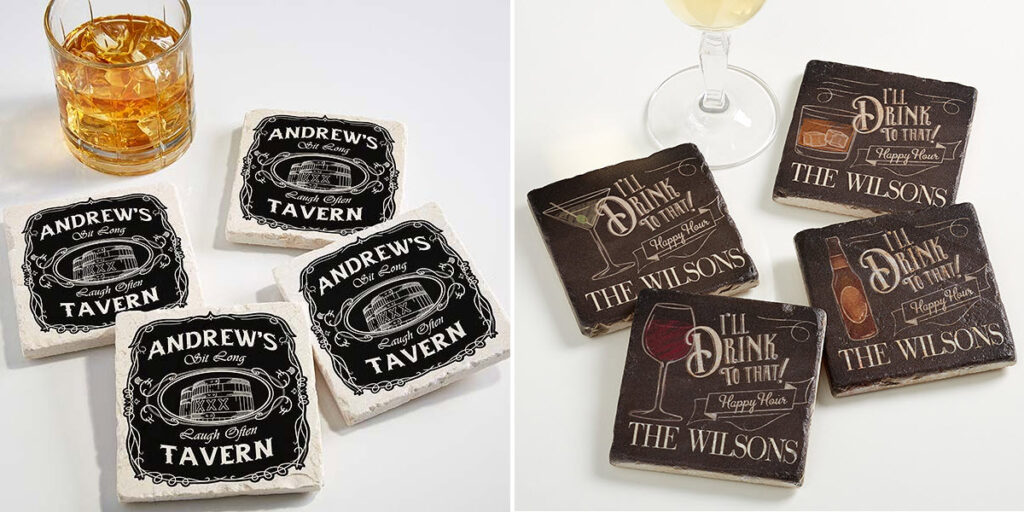 You can't go wrong with a set of custom tumbled stone coasters — they're practical and pretty to look at. Choose from a number of unique designs, colors and personalization options. The natural stone looks great with delicate imperfections that give the coasters that one-of-a-kind look.
Explore Endless Bar Accessory Ideas
Your favorite barkeep will need a way to pop those beer caps off in order to complete their custom shadow box. Custom bottle openers turn an ordinary tool into a fun conversation piece and are a must for any serious beverage enthusiast. Personalize a wall-mounted style or try a magnetic design that they can keep right on their minibar fridge. Need a stocking stuffer? A credit card size bottle opener is the perfect on-the-go gift for any beer lover.
If you're looking for even more essential bar accessories, try a personalized cutting board, a monogram bottle stopper, a classy custom ice bucket or even personalized cigar accessories for those who like a stogie with their nightcap. Here are a few of our best-sellers that will take your home bar gift to the next level.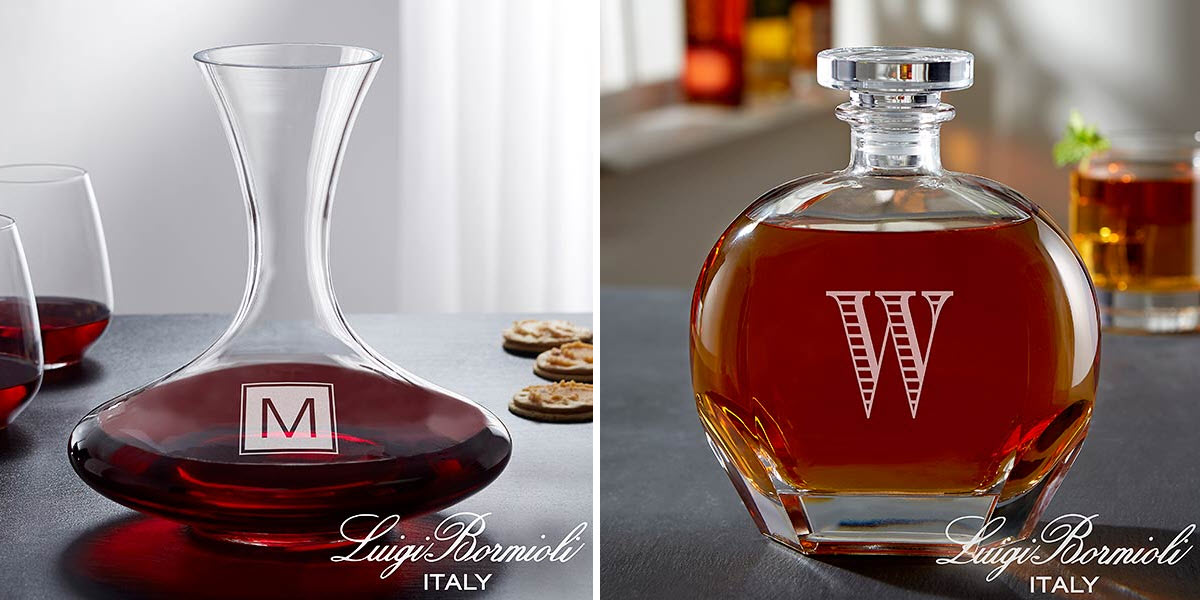 If you have a set of cocktail or wine glasses and you're looking to pair them with something that will truly make your gift stand out, consider a custom decanter or pitcher. With options to add a monogram or name, you can either match or coordinate the engraving to go along with the glasses.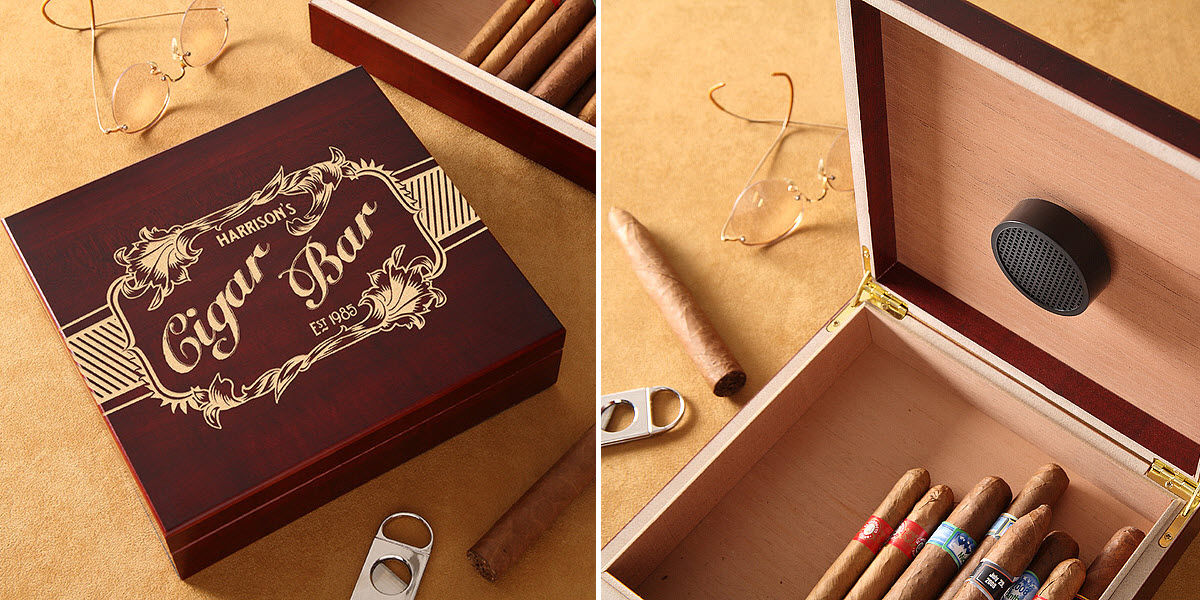 A personalized cigar humidor with this unique heirloom design will keep their cigars fresh and fragrant. This custom cigar box can hold up to 20 cigars and can be personalized with any name, title and date.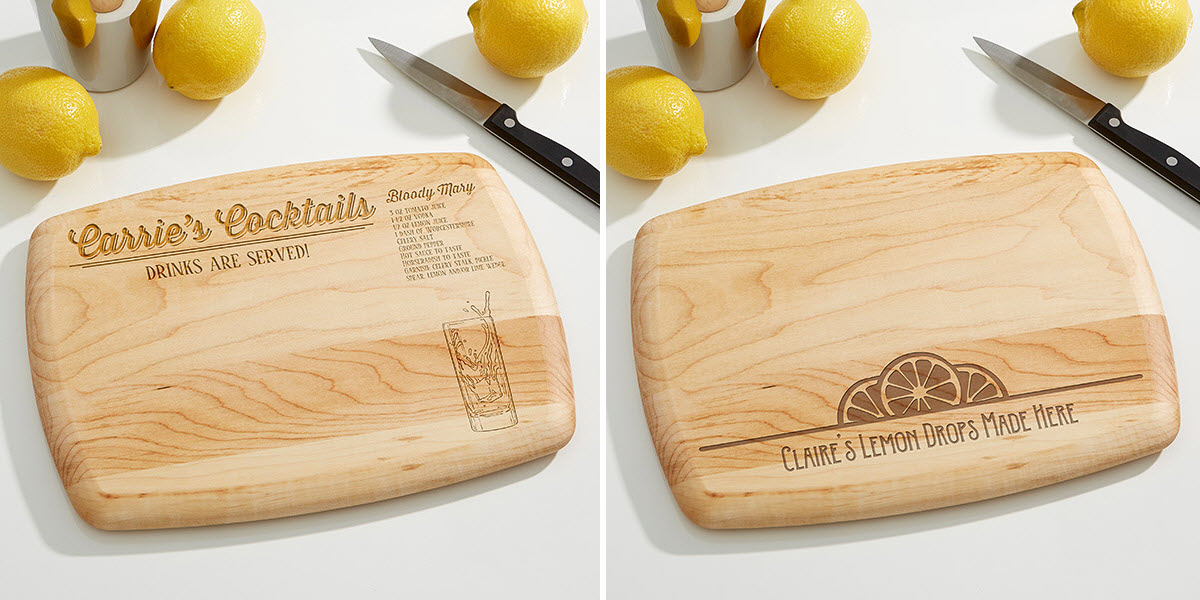 A cutting board comes in handy at any bar, whether you're cutting up limes for beer, making garnishes for cocktails or shopping up fresh ingredients to create your favorite drinks. Our selection of custom bar cutting boards are just the right size for a home bar and can be customized with a variety of designs and text that will be individually laser engraved into each board.
Shopping for home bar enthusiasts is both easy and fun! With so many great options available you're sure to find amazing, one-of-a-kind gifts that will have your friends and family toasting your name for years and years to come.