Once the craziness of Black Friday and Cyber Monday are past us, it's time to get organized for Christmas!
Christmas shopping can be extremely stressful. There's nothing more embarrassing than forgetting to buy a gift for someone, especially if they've given you one. And there's nothing more annoying than getting home from a long shopping trip and realizing you forgot something you needed from one of the stores you were just shopping at.
We want to help you stay sane and organized this holiday season. That's why we've created this Forget-Me-Not Shopping List and Shopping Planner (PDF) just for you! Just click the link for a printable version that you can keep with you throughout the month so you always have your list nearby to edit and use.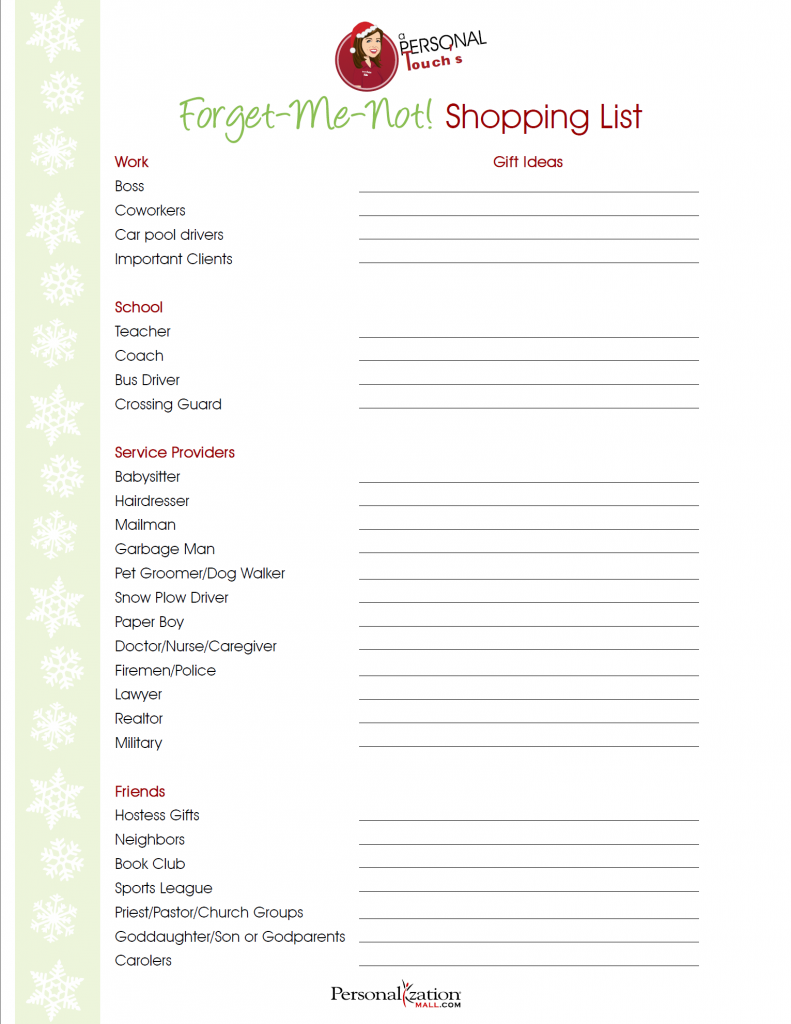 Free forget-me-not shopping list
The Forget-Me-Not Shopping List is a list of over 25 names of people outside your family and friends who you may not see every day but should keep in mind around Christmas time. This list is a great tool to help you make sure you don't forget anyone when you venture out for a day of shopping.
Not sure what gifts to give the people on the Forget-Me-Not List? We've got you covered. Check out our Holiday Gift Ideas section to find unique Christmas gift ideas for anyone on your list. Use your printable shopping list to jot down gift ideas in the space next to each person as you browse our gift guides.
Free shopping and budget planner
Once you've used the Forget-Me-Not List to figure out all the people you're buying a Christmas gift for, add them and your family and friends to the Shopping and Budget Planner. Here, we've created an organized planner with space for you to write down each person's name, the budget you would like to stick to for each person, and a checklist you can cross out after you've bought the gift, wrapped it, and sent it.
This free and simple printable has got you covered from brainstorming great holiday gift ideas to making sure all your Christmas presents get in the hands of each recipient.
We hope your Christmas shopping will not only be a breeze this year, but that it will be fun and stress free. Happy gifting!