We LOVE to put a creative, personalized and unique spin on everything. So you can imagine how excited we are now that we're seeing couples thinking outside-the-gift-box when it comes to their wedding guestbooks. Instead of setting out plain ol' guestbooks, brides and grooms are getting creative and coming up with unique items and ways for people to sign in — and we can't wait to tell you all about them!
We spotted this beautiful photo on Pinterest and we're thrilled to see that people are personalizing canvas prints and using them instead of typical guestbooks. This couple used one of their engagement photos and had guests sign their names and write a little message right on the canvas print instead of in a traditional guestbook.
We love this idea because it's more personal and creates a one-of-a-kind keepsake that you can look back on for years to come. All of the people that witnessed and celebrated your beautiful wedding get to leave special notes that you can display in your home and reminisce about with your spouse years down the road.
Canvas Print As A Wedding Guestbook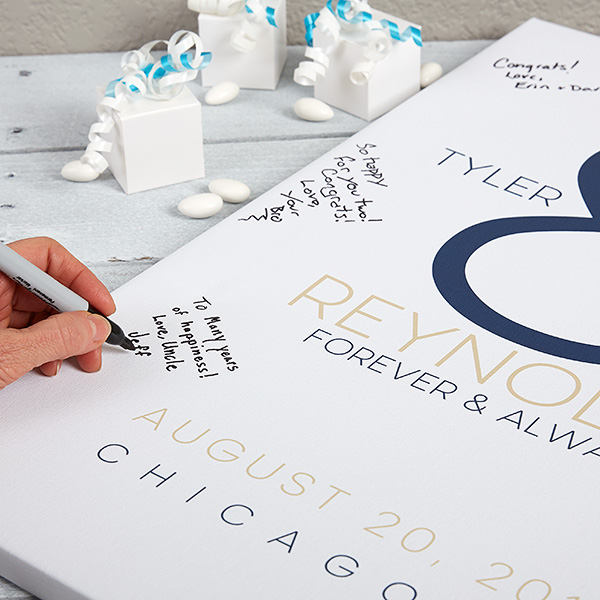 We have a wide selection of wedding canvas designs that offer you choices for even more of a unique twist to your wedding guestbook.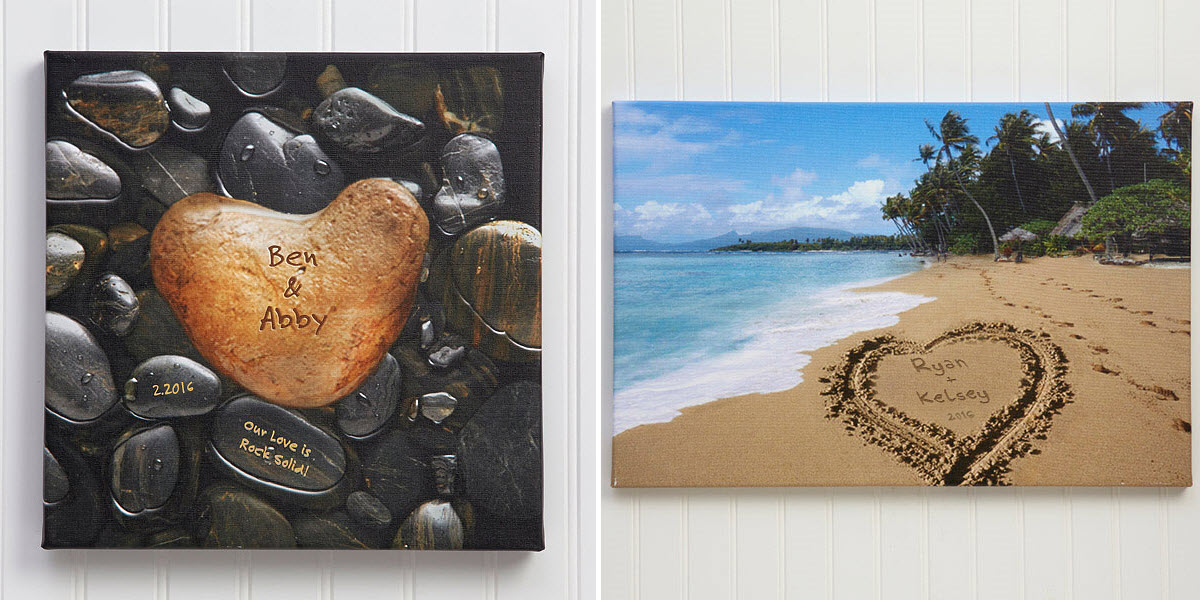 You can personalize an artistic canvas without using your own photos, like the Heart Rock design, or our popular Paradise Island canvas print, which is ideal for beach weddings or summer inspired wedding themes. For these prints you might have to use metallic markers so that the writing stands out more.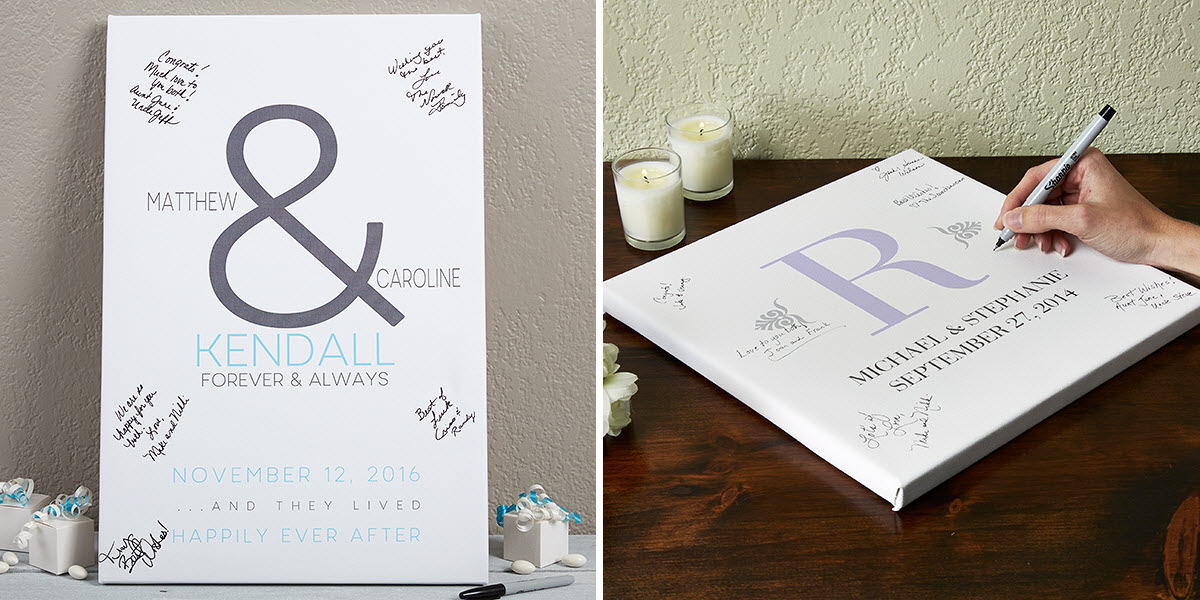 You can also personalize a canvas print that is designed specifically to be a wedding guestbook, with plenty of room for your guests to write their messages to you. Two of our favorite designs are the Wedding Initial and Forever & Always canvas prints, both of which are available in two sizes and white backgrounds so all of the text is clear and legible.

Of course you can always customize a canvas print with your favorite engagement photo or even a photo collage and text that's especially meaningful to you. You can use your wedding vows that you've written yourself, a favorite quote, or even the lyrics from the song you will first dance to as husband and wife — the options are endless!
Custom Puzzle As A Wedding Guestbook
Believe it or not, the new guestbook trend doesn't stop at pretty canvas prints. As you can see from this photo we came across on Pinterest, people have been creating personalized photo puzzles, like our Love Connection Photo Puzzle, and having their guests sign or leave a note on the front or back of the individual puzzle pieces. What a great and unusual DIY wedding guestbook idea!
We love how unique this idea is and thanks to the wide selection of personalized puzzle designs, you can customize a puzzle in many different sizes, shapes, colors, and designs — some even come with a personalized tin to store them in. You can create one large puzzle (our largest puzzle includes 551 pieces) or personalize a couple of smaller puzzles and after the wedding you can put them together and frame them for one big piece of art or a beautiful wall collage.

Think of all the fun you'll have spending time as husband and wife, reading all the sweet and funny notes your loved ones have left you as you put the puzzles together. You could even bring the puzzle along on the honeymoon to put together during your downtime!
Photo Calendar Wedding Guestbook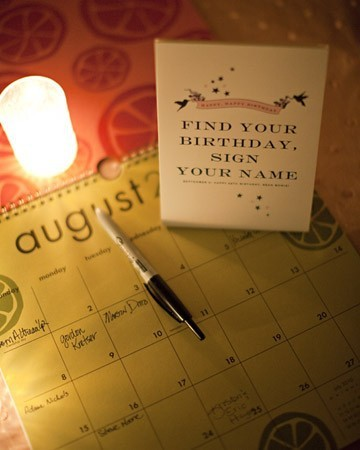 Another wedding guestbook idea we wanted to share with you was one of the most unique ideas we came across while surfing Pinterest. Brides and grooms have started putting out personalized calendars and asking guests to sign on their birthday or anniversary. How creative is that?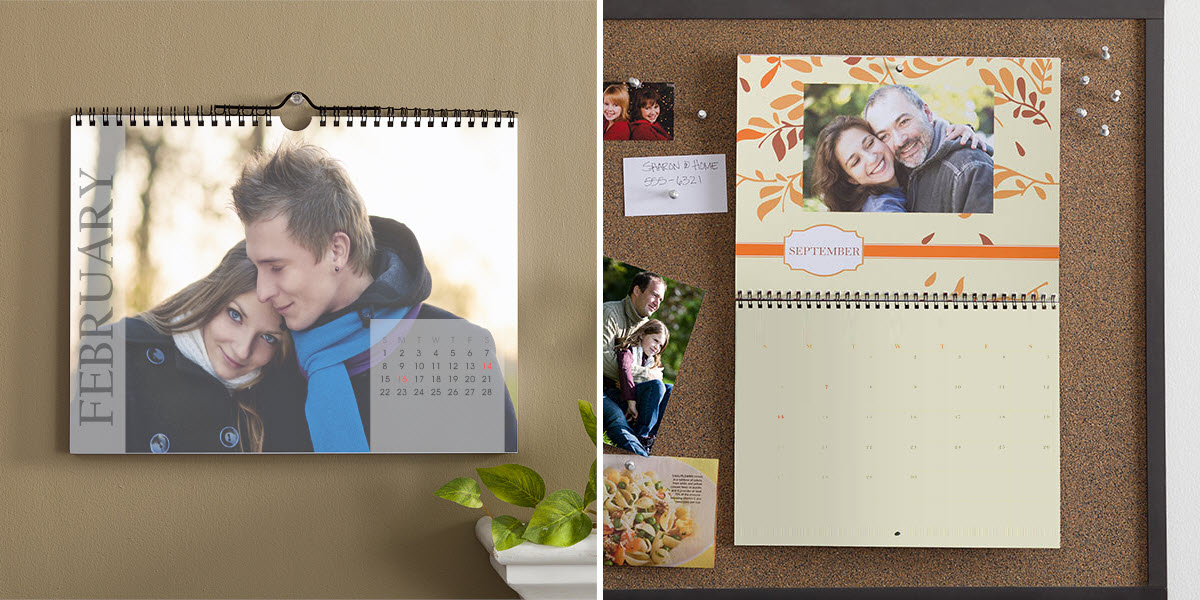 The only thing that would make this idea better is to use a photo calendar like our Through The Year Photo Wall Calendar so that it's more personal and so you'll have beautiful pictures to look at throughout the year. It's a great way to learn all the important dates for your and your spouse's family that you'll need to know once you're married and it's a great way to break the ice between your guests as well.
BONUS: Wine Cork Wedding Guestbook
A new wedding trend that's gaining popularity is to incorporate wine corks as place card holders, centerpieces and yes, even the wedding guestbook! All you need is a couple of sharpies, as many wine corks as your guests and a pretty, personalized container to hold the signed wine corks.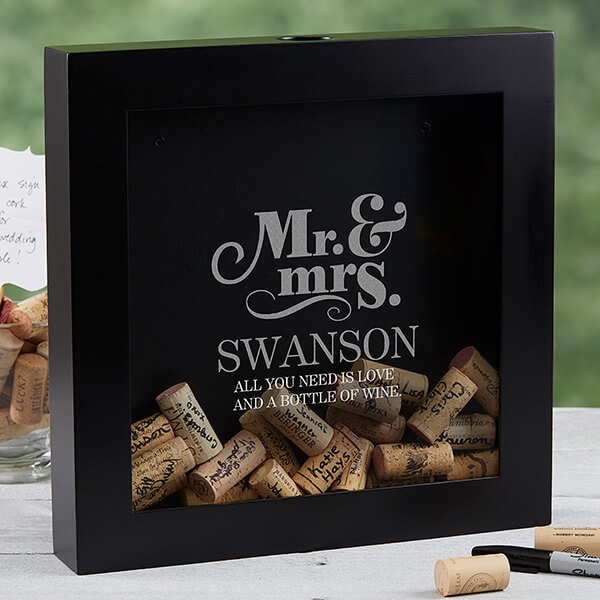 Our two favorites are the personalized wine cork shadow box and our new glass hurricane candle holders, which can be engraved with names, wedding date and more.
Read more about using wine corks as your wedding guestbook and find ideas and inspiration for how to display them after your wedding celebration.
So what do you think!? Are you a fan of the new trend of unique and unusual DIY wedding guestbooks? Have you (or are you) going to use one of these ideas? Or perhaps one of your own? We'd love to hear all about them! Tell us by leaving a comment below.