How do you find the perfect Christmas stockings for everyone? Here are tips and ideas for finding just the right holiday stockings for your family and home.
Christmas stockings hung up by the fireplace can add a touch of warmth to your holiday décor. They're a lovely Christmas tradition, especially for kids, and, in addition to being pretty to look at, are an enjoyable part of the holiday season, making Christmas morning just a bit more magical and fun for the whole family.
Just like your Christmas tree, stockings are a big part of your home décor during the holiday season, particularity around your fireplace mantel, staircase, or wherever you choose to hang them up. Christmas stockings are also very personal, often representing the family member's personality, interests, and other unique characteristics.
So, how do you find the perfect Christmas stockings for everyone? Here are some important shopping considerations along with popular Christmas stocking types, themes, and designs.
How to find the right Christmas stockings
When shopping for new Christmas stockings, make sure to get ones you really love, with colors, designs, and custom details you'll enjoy putting up year after year. If the stockings are meant to hold majority of the gifts you give, then go with oversized Christmas stockings or ones that are a bit more roomy. If you only use stockings for small gifts or stocking stuffers, then you can go with something smaller or more delicate. The stocking holder you choose is also important, both in terms of look and functionality. First and foremost, make sure it can hold both the stocking and its contents.
Today, you can find Christmas stockings to match any holiday decor, from fancy and elegant stockings with beautiful sparkling details to rustic burlap and knit stockings that add a bit of homey charm. There are many options for kids, too, with stockings featuring cute holiday characters, such as elves, reindeer, and snowmen, and popular themes, like dinosaurs or unicorns and mermaids. And with plenty of ways to personalize your Christmas stockings, you can make sure that they're a hit with everyone in the family.
Here are some unique Christmas stocking ideas that will fit any home décor, holiday theme, style, and personality.
Christmas stocking ideas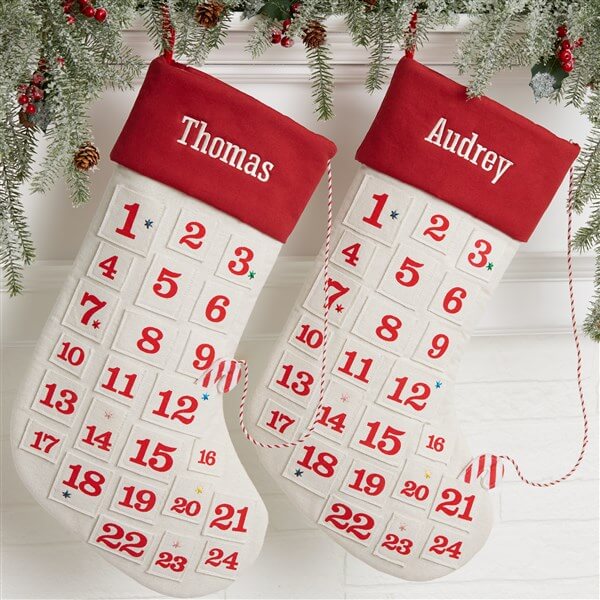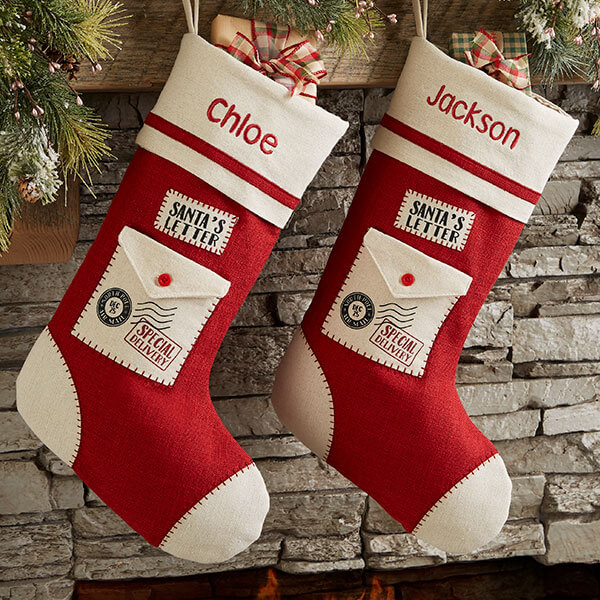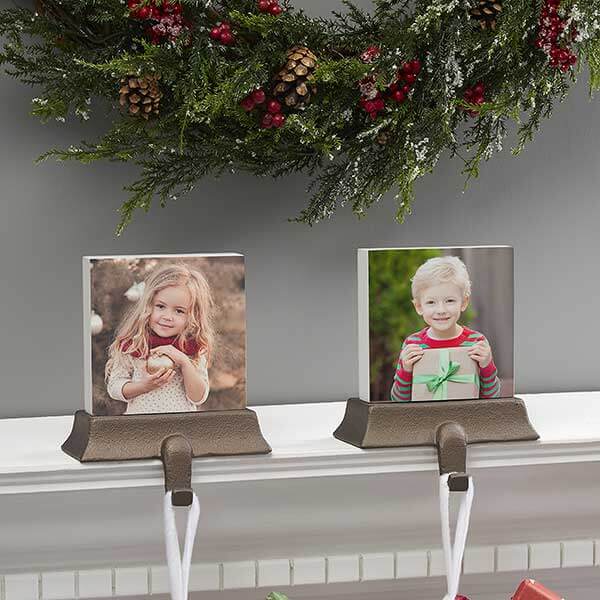 This holiday season, consider adding one of these trending Christmas stocking ideas. Stockings that are different and unusual, or serve another function, are popular, such as these advent calendar stockings that let you count down the days to Christmas with a candy cane you put into a little pocket marked for each day. Or the Santa's Letter Christmas stockings that come with a felt envelope, where kids can put their letters to Saint Nick. Photo stocking holders are also in demand, and are perfect for those who want to add something truly original to their stockings this holiday.
Traditional Christmas stocking ideas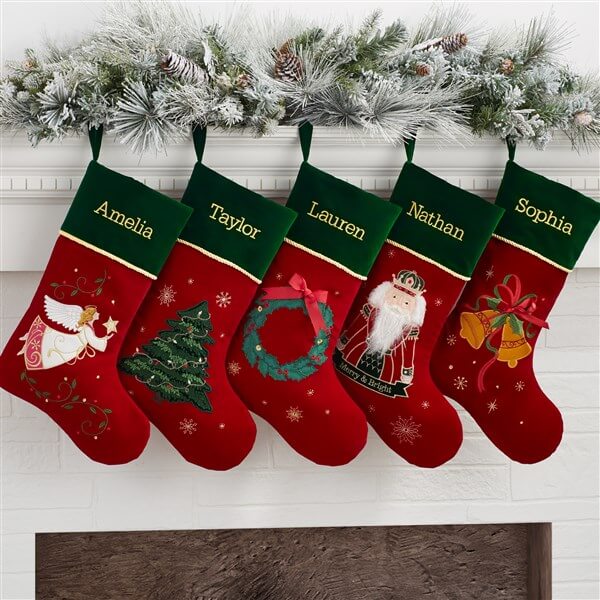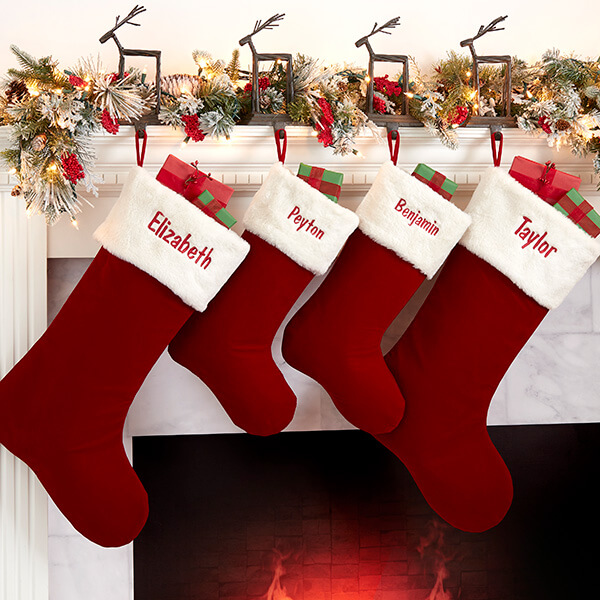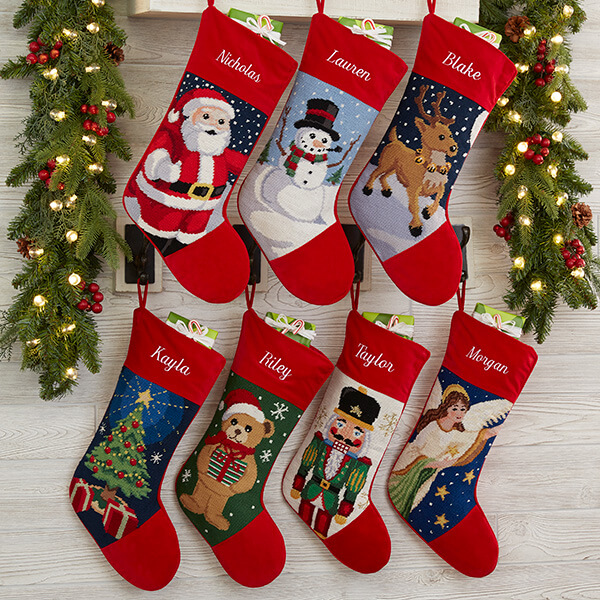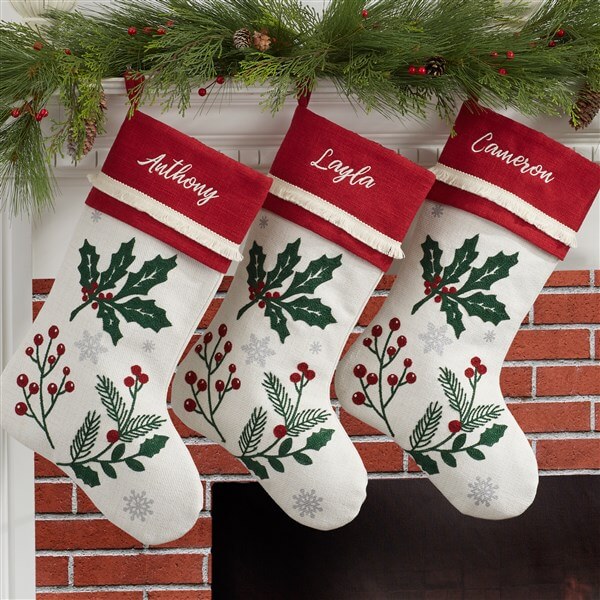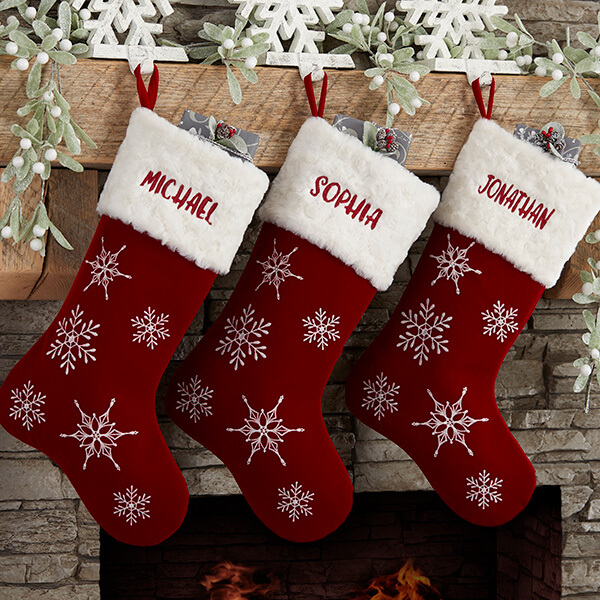 Browse traditional Christmas stockings
To create a coordinated look, you can get matching Christmas stockings for everyone in the family — and even a matching tree skirt and other holiday décor to complete your holiday family room look. Traditional colors, like red, green, and white, will never go out of style. The same is true for rich velvet fabric and traditional holiday themes and designs that will always remain classics.
Elegant & glam Christmas stocking ideas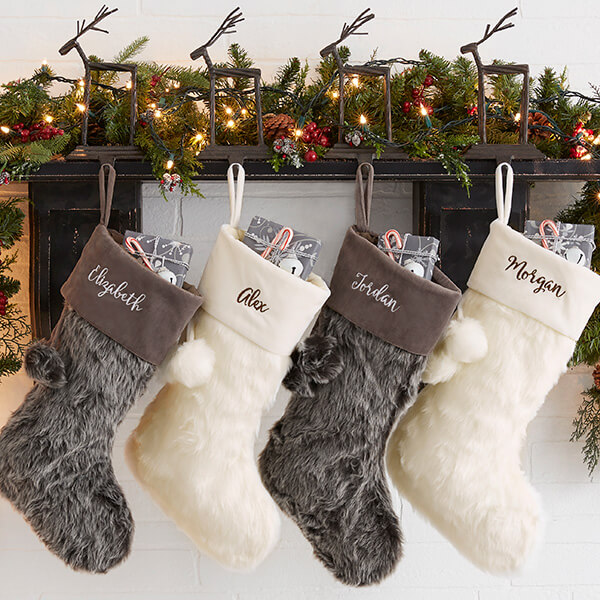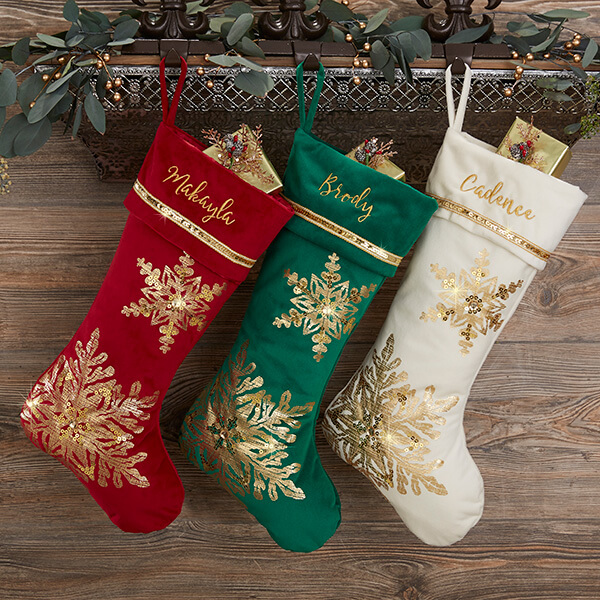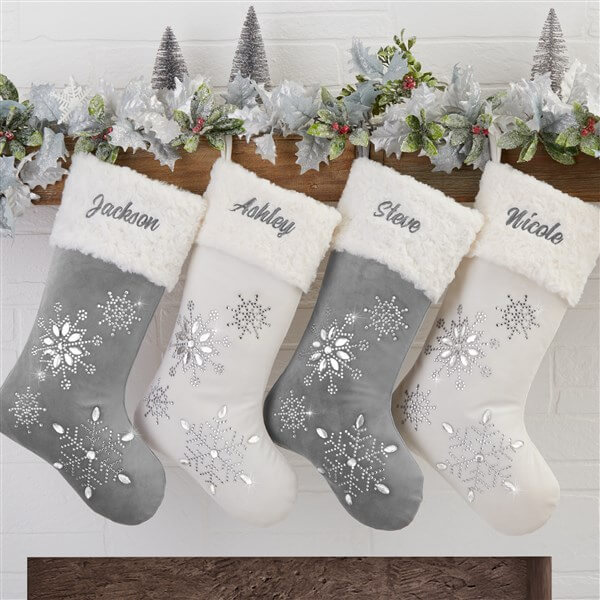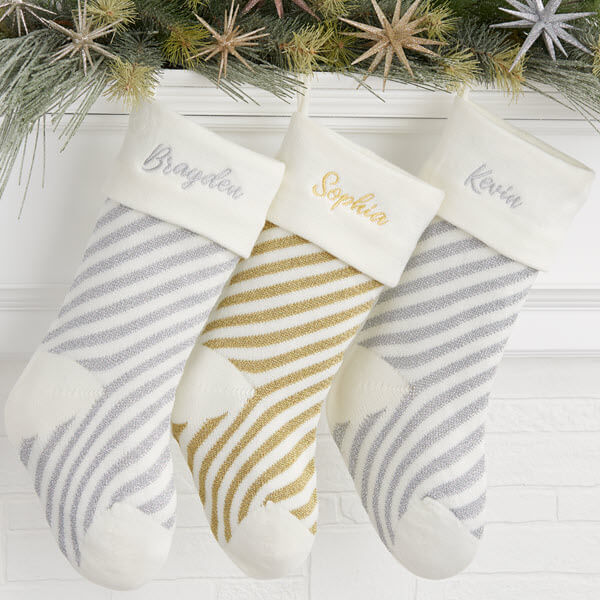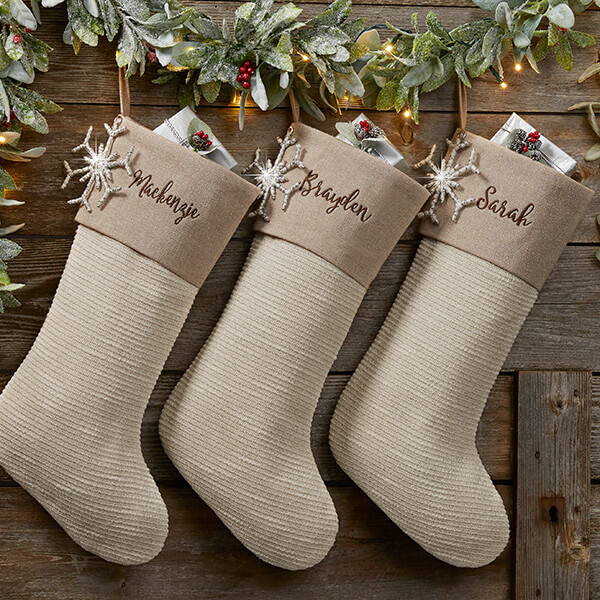 Browse elegant Christmas stockings
If your goal is to create a polished holiday look, opt for Christmas stockings that feature plush velvet, delicate embroidery, jeweled accents, and tons of sparking details. Look for silver or gold jeweled accents, elegant faux fur or velvet stockings, and unique touches that will add sparkle and glamour to your holiday mantle. Popular glam stockings have a sophisticated, tasteful look, with ornamental details, jeweled accents, and rich textures. With these stockings, you can create a dazzling design that will definitely add some glam, sparkle, and shine to your holidays!
Trendy knit Christmas stocking ideas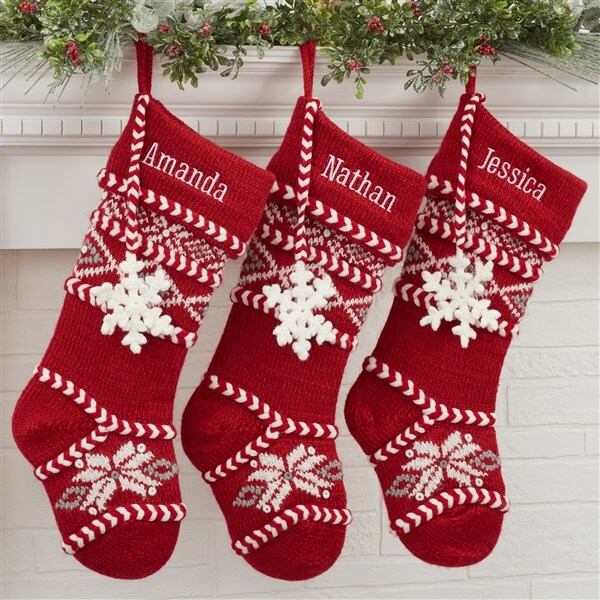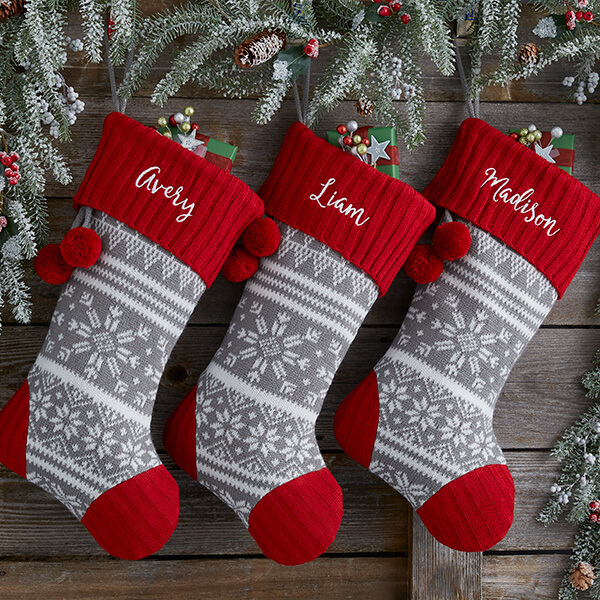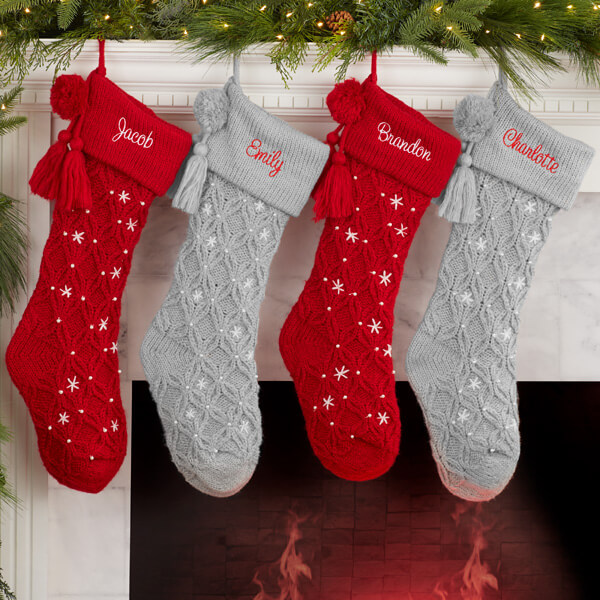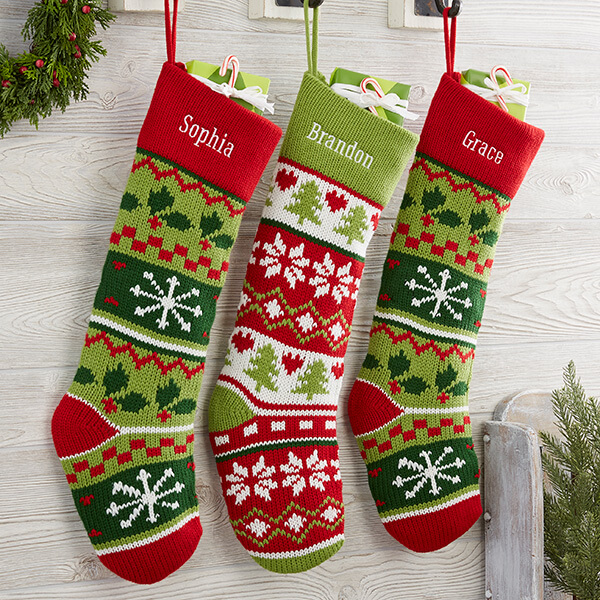 Browse knit Christmas stockings
These popular knit Christmas stocking designs offer that timeless, heirloom look. A favorite is a classic cable knit Christmas stocking, available in a variety of traditional and trendy colors, including navy, teal, and plum. Each stocking is individually hand-knit and embroidered with any name across the cuff. Depending on the colors and designs you choose, knit Christmas stockings can work with any home décor or holiday theme. The classic cable knit stockings are particularly versatile and will accommodate many different looks, from stylish and elegant to farmhouse and rustic.
Rustic & farmhouse Christmas stocking ideas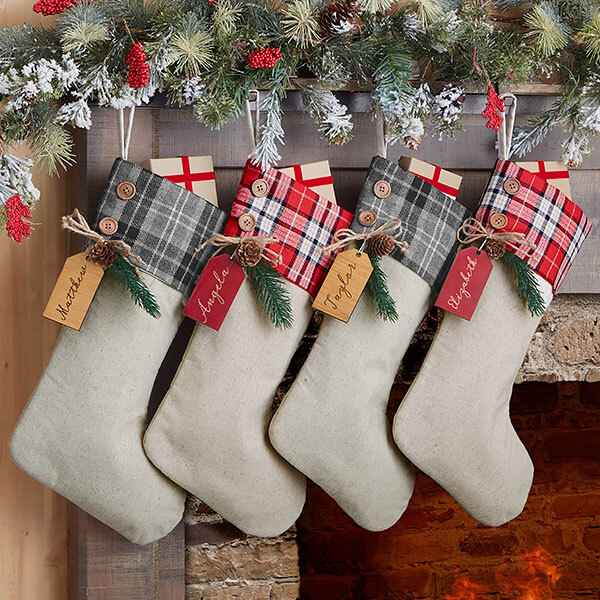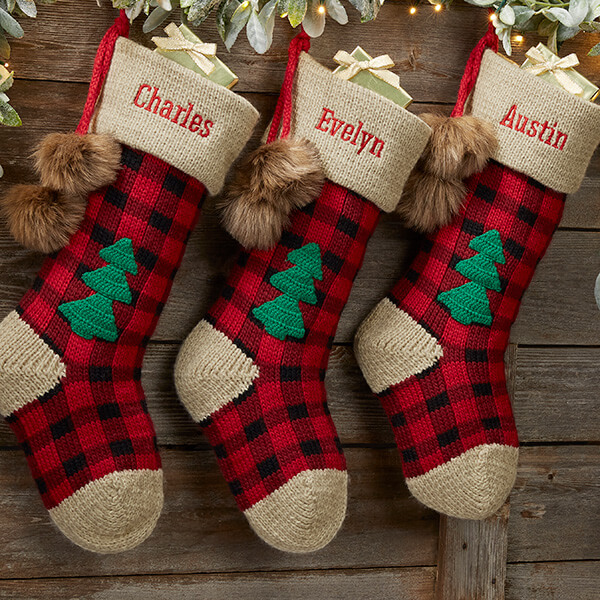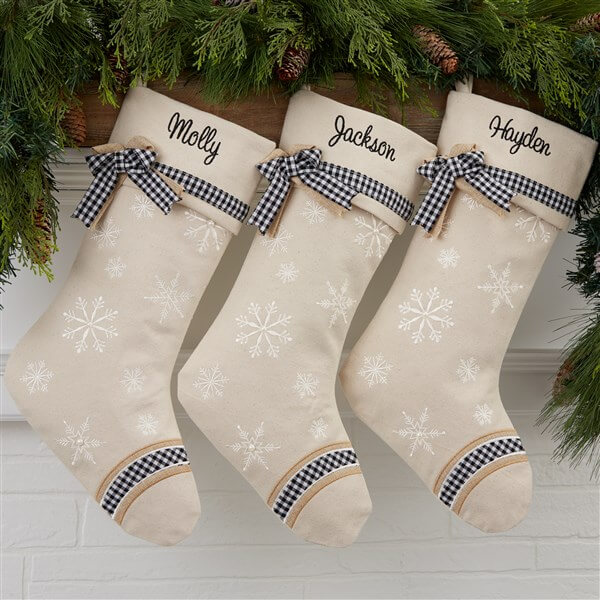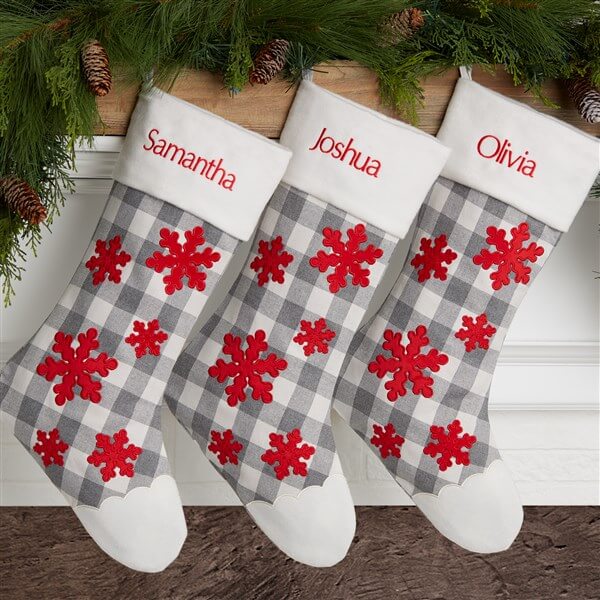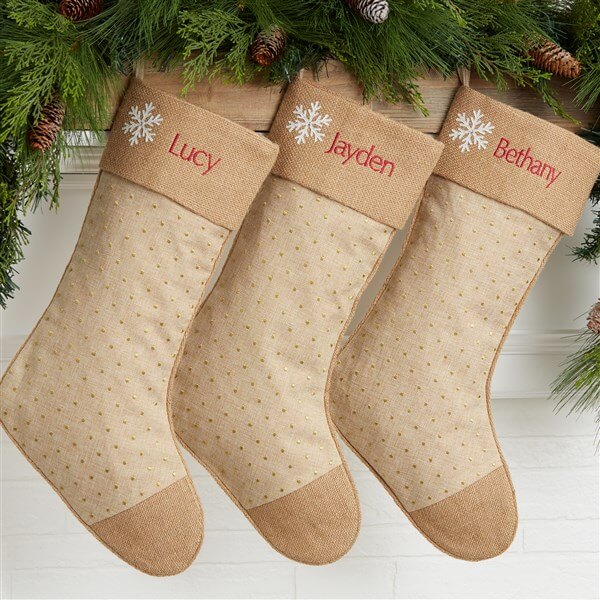 Browse farmhouse Christmas stockings
To create a trendy look with a more bucolic style in mind, consider rustic Christmas stockings with some farmhouse, country charm. Look for on-trend buffalo check, plaid, and gingham details, with rustic details, such as engraved wooden tags, buttons, pine cones, and evergreens. If your home already has the farmhouse look filled with natural wood and stone details, eclectic finds, and country accents, then rustic, burlap, jute, or plaid stockings will feel right at home in your family room this holiday.
Family character Christmas stocking ideas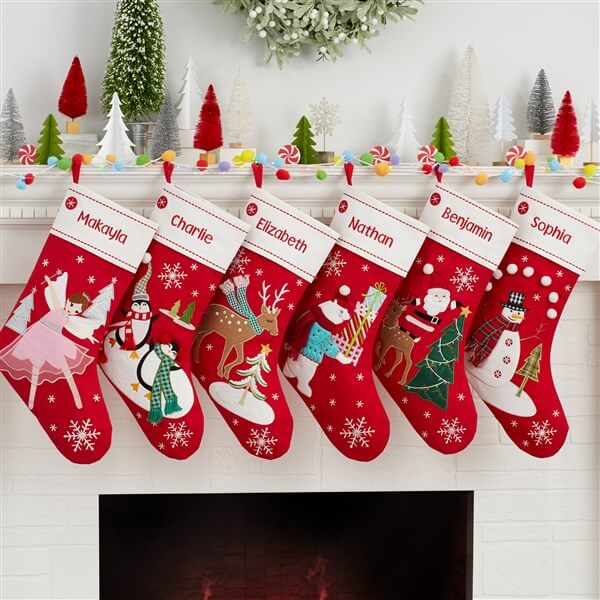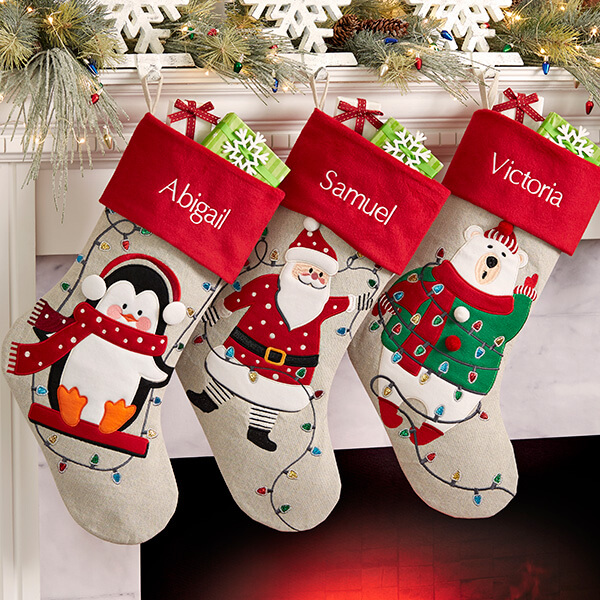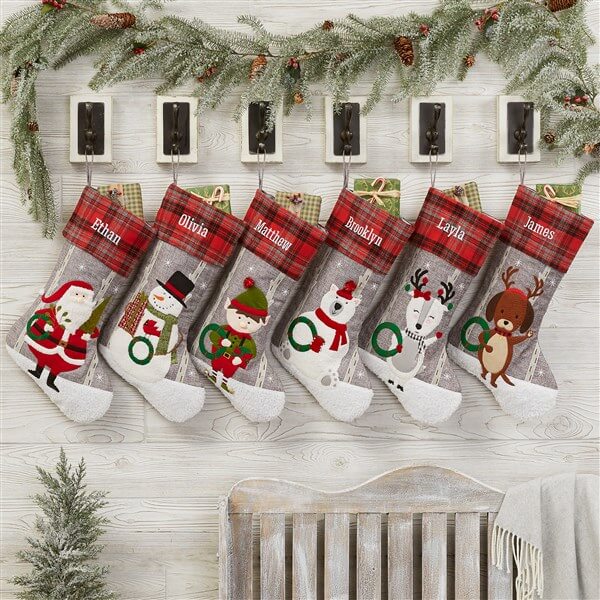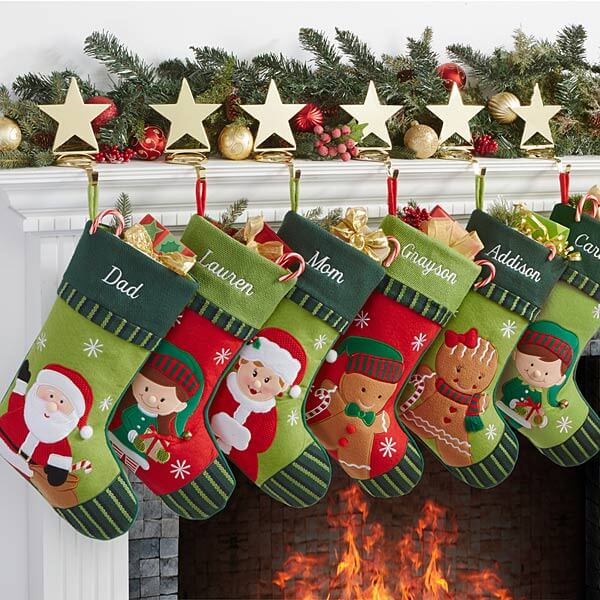 Browse family character Christmas stockings
For a fun and classic design the whole family will love, check out the family character Christmas stockings adorned with timeless holiday charm. Whether you're looking for stockings just for kids or the whole family, you can create a matching set that has a different character for each person. Some of the most popular family stockings feature a mix of traditional and new characters, so you can find the perfect stocking for every family member.
Photo Christmas stocking ideas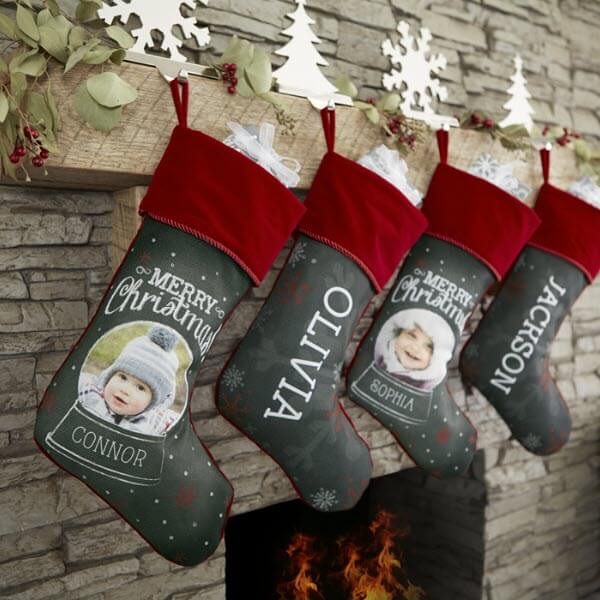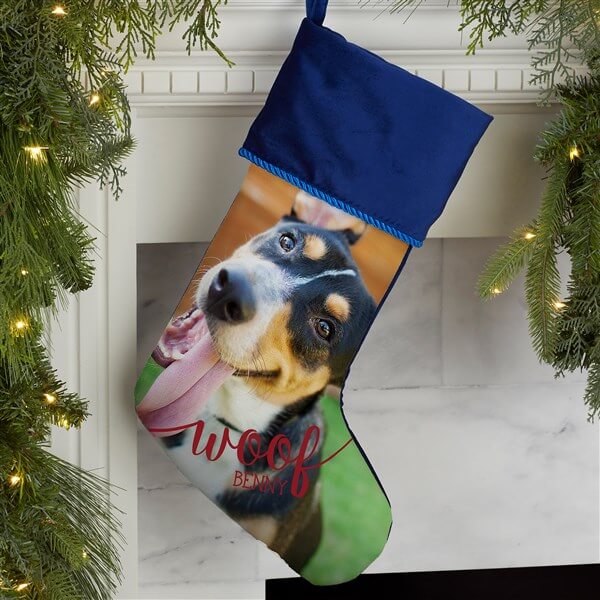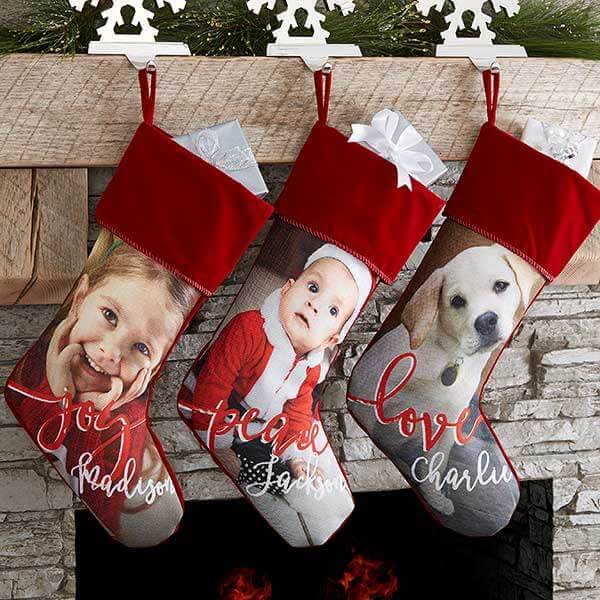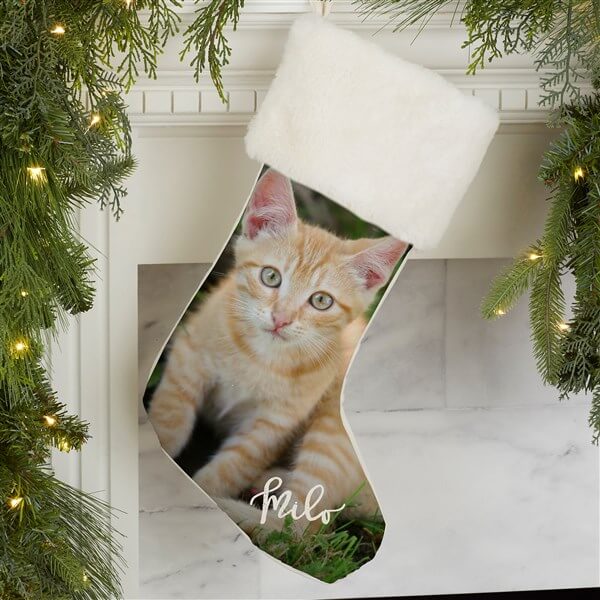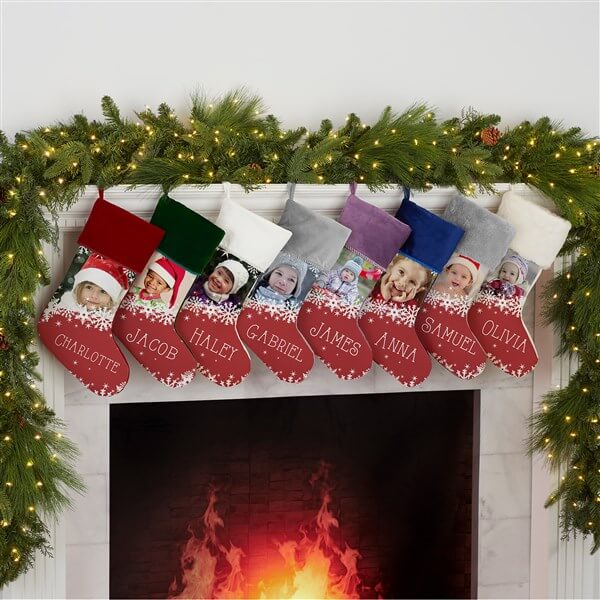 Browse photo Christmas stockings
If you're looking for something fun and completely out of the ordinary, consider creating custom photo Christmas stockings. You can incorporate your favorite family photos right on the stockings along with each person's name. Choose a set of photos from this year's vacation, a special trip, or a big event, or pick out a photo from each family member's childhood for a fun twist. These Christmas stockings will create a lively atmosphere in your home, adding a touch of whimsy and holiday magic to your family room.