The kitchen is the heart of the home. Make yours stand out with personalized kitchen decor and accessories for your kitchen counter that are beautiful and practical.
For many people, the kitchen is the most important room of the home. It's where meals are made and families meet to fuel their bodies and reconnect throughout the day. Today's kitchens are often the central hubs of the homes, where everyone gathers not just to cook and eat, but to work, relax and simply hang out. With open concept homes, kitchens have become multi-purpose living spaces where kids can do their homework or watch some TV, while parents prep food, check work email, pay bills and talk about their day. Even during parties and family gatherings, people end up typically congregating in the kitchen.
But often this busy, social space tends to lack personality. The cold, stainless-steel appliances, walls lined with closed cabinets and shelves filled with utilitarian items can all contribute to a bleak, bland or boring space that doesn't have the same feel as say the living room, where the family's history and precious moments are on display and homey accents abound.
If your kitchen can use a bit of personality, consider these 7 personalized kitchen counter decor ideas and fill your space with kitchen accessories that are both beautiful and functional.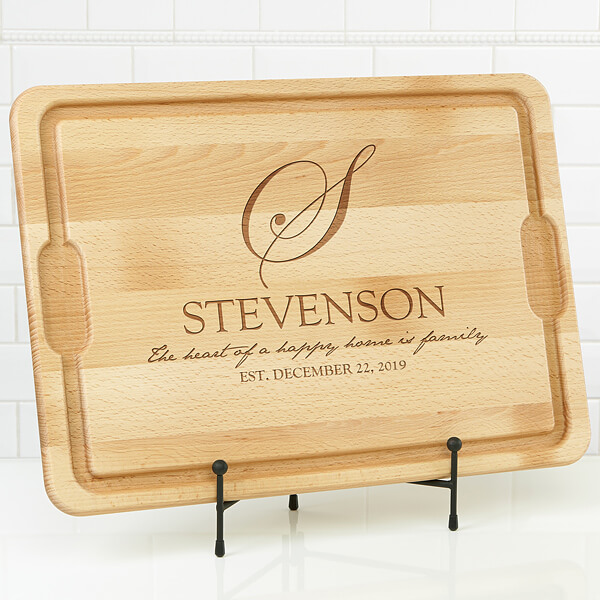 Every kitchen needs a good quality cutting board. Why not make yours the focal point of your kitchen counter with a beautiful custom engraved design you get to create?
When not in use, this wooden beauty doesn't have to hide in the cabinet. Instead, you can display your personalized cutting board on a metal easel or simply propped up on the counter as a decorative piece.
This top-selling cutting board is made from environmentally-sustainable natural maple wood from the U.S. and includes an elegant, timeless design that features a single initial, family name, established date and your own beautiful quote, like "The heart of a happy home is family."
Browse our complete collection of custom cutting boards to find the style and design that's just right for your home. Choose from hardwood maple, pressed bamboo, wood and slate boards, top-quality end grain butcher block cutting boards and more in a variety of shapes, sizes and unique designs.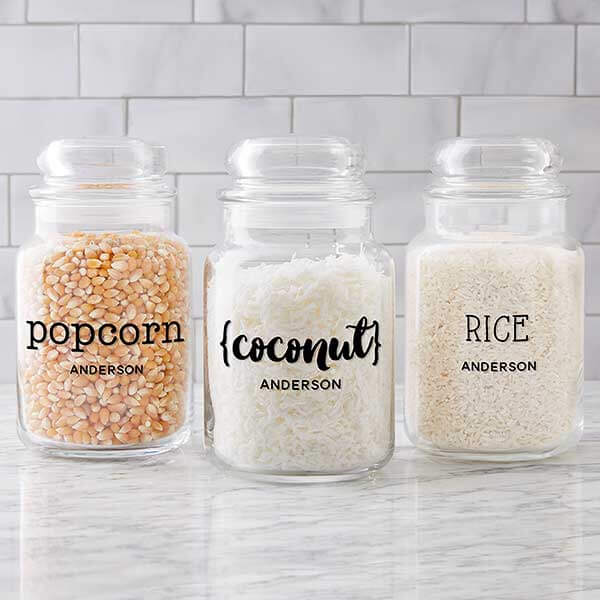 Put your favorite kitchen ingredients, snacks or daily essentials, like coffee, sugar or nuts in personalized glass jars that can be displayed on your kitchen counter or open shelf.
These sleek custom jars will save some room in your pantry and will help you and your family find their daily kitchen must-haves in no time. The simple, modern design will look great on any kitchen counter adding a tidy, organized and coordinated look.
Our popular design allows you to choose from three stylish font options printed in bold, black lettering. But you can choose from many personalized glass jar designs and color options to find the one that's just right for your kitchen.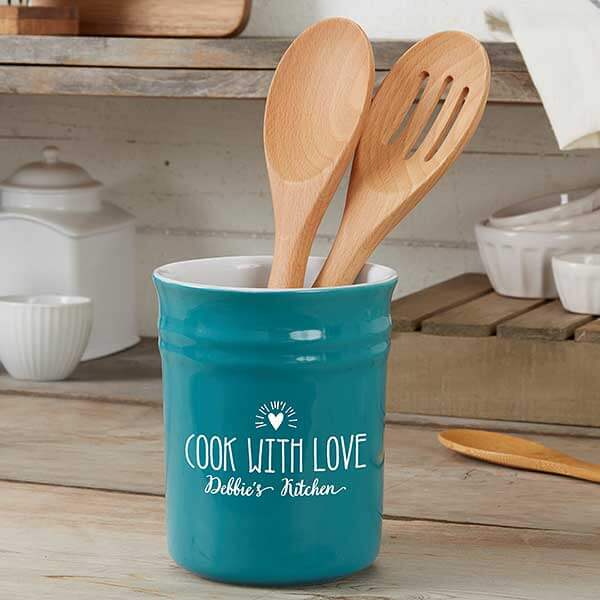 Free up a drawer in your kitchen by storing your favorite cooking utensils in a personalized stoneware crock. Not only will your must-have tools be always on-hand when cooking, the custom engraved utensil holder will add a homey touch to your kitchen counter.
Available in red or teal, this handy kitchen counter accessory has a darling design that includes a sweet little heart and stylish, modern fonts that can display any two lines of text you choose. The personalized utensil holder also coordinates with a number of ceramic bakeware dishes so you can create your own custom set that's both practical and beautiful.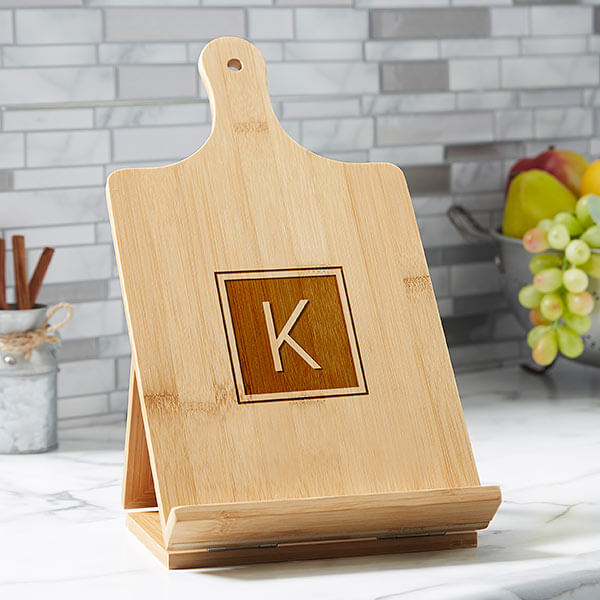 If you love to try out new recipes, then a cookbook and tablet stand is a must for your kitchen. Why not get a decorative one that you can leave out on your kitchen counter all the time?
Easily prop up your favorite cookbooks, cooking magazines, recipe cards, recipe printouts or your tablet during any cooking and baking endeavors. The bamboo stand folds down for storage, but with a custom engraving you'll want to leave it out even when it's not serving its purpose.
This timeless design can be personalized with any name, monogram or single initial in a variety of styles and font options. It will coordinate perfectly with other decor in your kitchen and will look just as classic and elegant 20 years from now as it does today.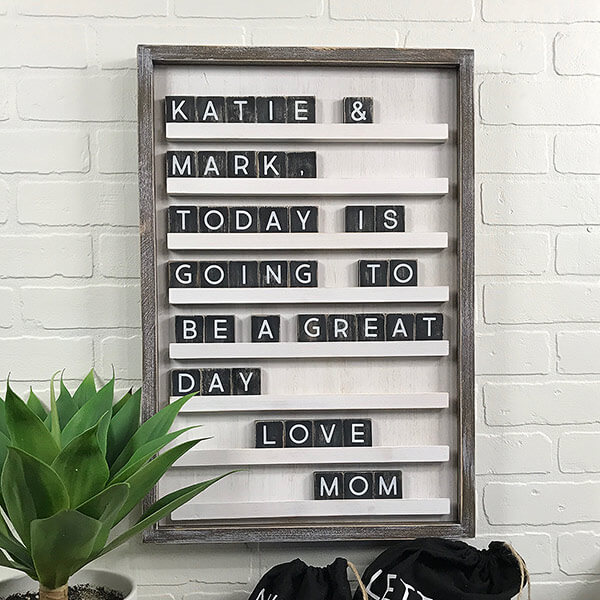 Warning: This stunning whitewashed wood letter board from Adams & Co. might become the favorite part of your kitchen!
This is a guaranteed way to add some personality to your kitchen and the best thing about it is that you can make it yours every single day.
Compose a special message for your family to read as they enter the kitchen each morning. Include your favorite saying, quote or song lyric to brighten up everyone's day. You can also make an announcement or create a welcome message during parties and family gatherings. Not feeling creative? Use the letter board for reminders or to simply show what's for dinner so your loved ones won't miss it. We use ours to display a different "word of the day."
However you like to use this charming letter board, just have fun with it!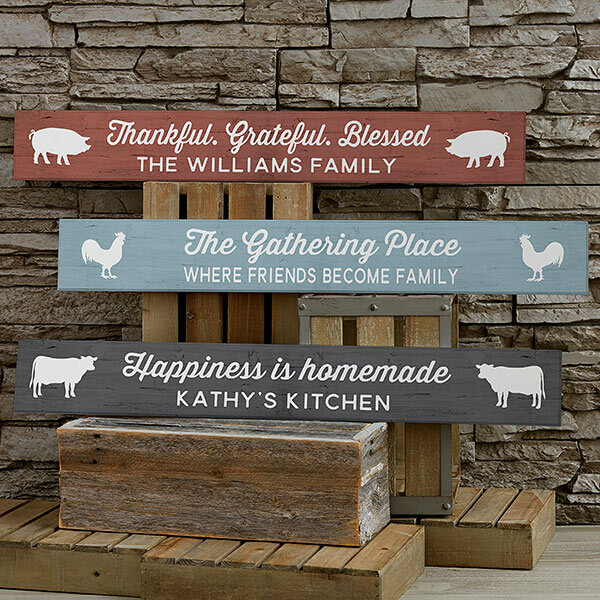 If a changeable letter board sounds like too much work, or you simply don't feel you can muster that much creativity on a regular basis, consider a personalized kitchen sign you can prop up on the kitchen counter or hang just above it.
This farmhouse kitchen wooden sign can be customized with your choice of colors, farm animal graphics and text for that perfect vintage, rustic touch. Include a meaningful quote, like "happiness is homemade" or something more simple, like "come gather in our kitchen." The long, horizontal sign is just the right size to display right on or above your kitchen counter and below your kitchen cabinets, but it will look great in other places too, like above the kitchen sink, pantry door or even above your cabinets.
Your kitchen counter won't be complete without a place to stash cookies, snacks and treats for the whole family, including your furry friends! Browse our collection of personalized ceramic cookie jars to find one that you love. Then customize with text, colors, photos and other custom details.
The white ceramic jar will coordinate well with other decor items on your counter and will look great against any backsplash or paint colors in your kitchen. And your customization will add instant personality to your home.
One of our best-selling designs is a dog treat jar that features a dog bone graphic and fits any two lines of text you choose. If you call your dog's treat's "cookies" (like we do ;-)) you can make the jar say cookies instead of treats!
Finding Unique Kitchen Counter Decor Ideas
There's no shortage of kitchen counter decor out there. The trick is to find items that are both practical and personal so you can show your and your family's unique style and personality.
If personalized kitchen counter decorations aren't your thing, consider other ways to add charm and character to your kitchen. Below are 7 more ways to make your kitchen counter stand out.
1. Pretty Produce
Display fruits and veggies in beautiful glass bowls, wire baskets, rustic farmhouse boxes and other unique containers.
2. Plants & Flowers
Display potted plants, herbs or flowers to brighten up your kitchen counter with some greenery or fresh blooms.
3. Books
Display your collection of cookbooks in a basket or simply propped up on the counter. A horizontal stack can serve as a bookend.
4. Art & Antiques
Display your favorite art pieces, antiques, vintage or rustic finds, like old cutting boards, pottery or glassware.
5. Trays & Cake Stands
There's a number of ways to creatively display trays and cake stands, with or without other accessories.
6. Small Appliances
Display your stylish appliances, like your Kitchen Aid stand mixer, SMEG toaster, fancy espresso machine and other beauties you use on a regular basis.
7. Food
Food on display will always add a delightful and inviting touch to your kitchen. Use a domed cake stand to display baked goodies, a tiered stand as a coffee, tea or hot chocolate station, bowls, plates and platters to hold snacks and items anyone can grab without having to search the pantry.