Ah, the holiday season: That time of year when your mailbox is suddenly bursting with a barrage of holiday cards from friends, family, and the occasional mystery sender who might be your long-lost cousin (but hey, cute kids though!). Whether you're mailing out fancy embossed cards or emailing your holiday greeting, you want photos that showcase the heart and soul of your family.
A holiday photoshoot, whether a professional affair or chaotic DIY operation, can accomplish a couple of goals — ensure you'll have a fresh collection of "nice" (or at least entertaining) family photos and provide your family with a new Christmas tradition it can look forward to and celebrate every year.
To help ease the stress of this task, consider these Christmas card photo ideas and tips to guarantee a display-worthy picture for this year's holiday card.
1. Freeze the fun in snowy snapshots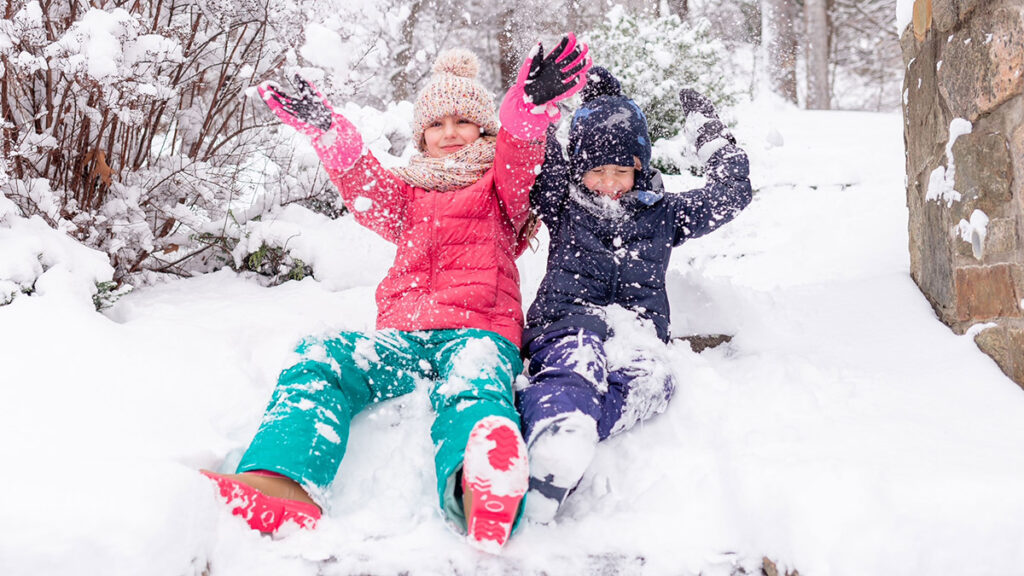 For us photographers, a snowy wonderland serves as the ideal canvas to capture the holiday spirit. Freshly fallen snow or frost-covered trees can create a picturesque backdrop, making this the perfect time to snap some playful pictures of your kids. Whether they're building snowmen, having an epic snowball fight, or simply making snow angels, these candid moments will steal the show in your holiday photos.
2. Color coordinate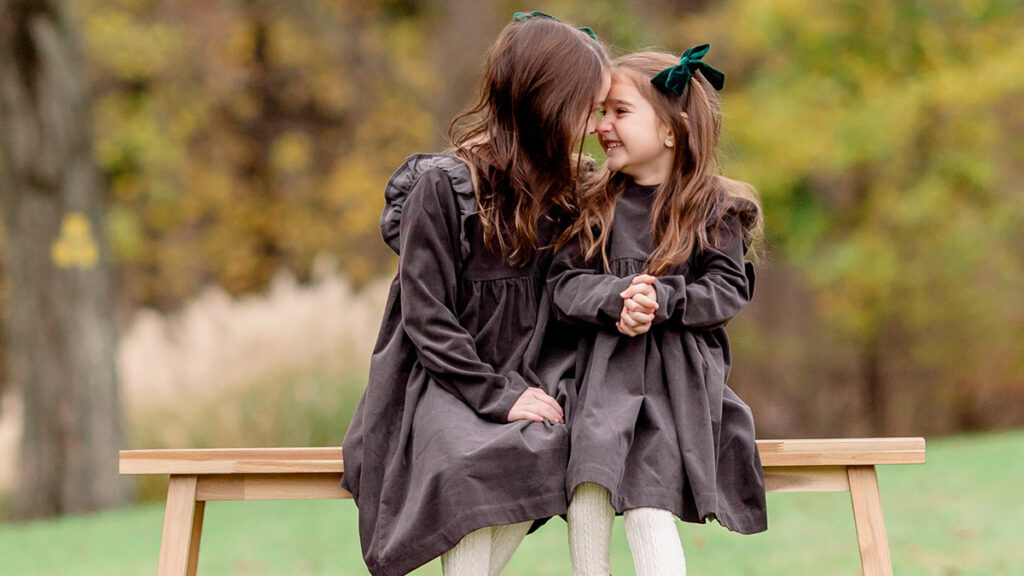 Dressing up for holiday photos doesn't mean you have to go all "elf chic" in red and green. Select a coordinating color scheme for your family that's versatile. Think about it: Many of us endure this annual photoshoot ritual, so why not choose outfits that can be showcased in pictures year round?
3. Cozy up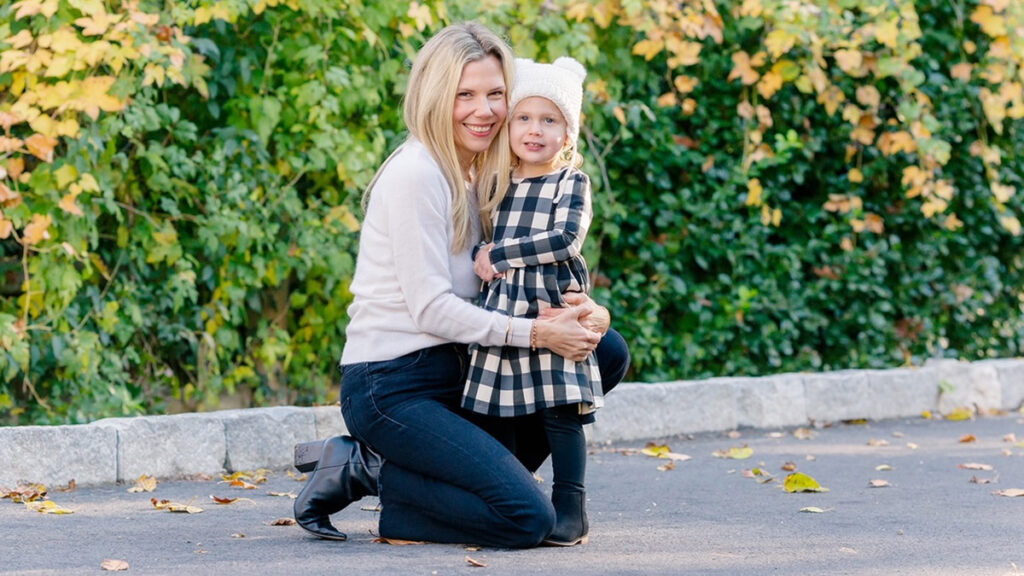 It should be common knowledge by now, but gone are the days of dressing in outfits that make you look like a team of identical twins in jeans and white shirts. Matching your clothes like a uniform is not the way to go for family photos this season (or any season, for that matter!). Instead, complement colors, add some patterns, throw in a pinch of texture, and use simple accessories. And don't forget to bundle up in warm layers to keep the cold at bay!
4. Remember to have fun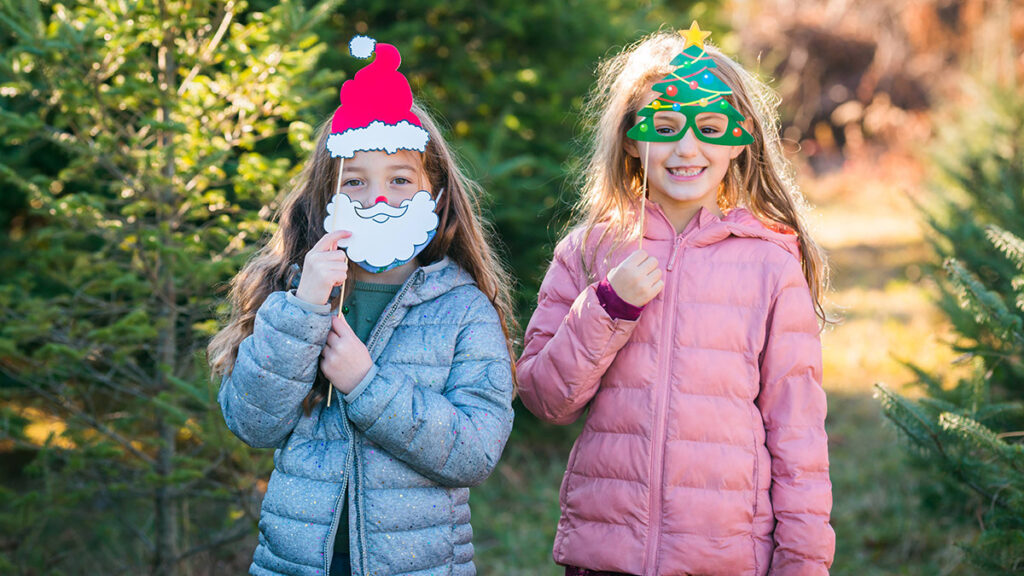 If you want your kids to smile in these pictures, you have to let them have fun. Encourage playfulness, use festive props, add a dash of whimsy, and, above all, let them be silly! If all else fails, don't be ashamed to play the bribery card. Seriously, if you need to promise them candy, a pony, or even a trip to the moon just to score a heartfelt grin, go for it! Use whatever you have to, to get those real smiles out.
5. Include furry friends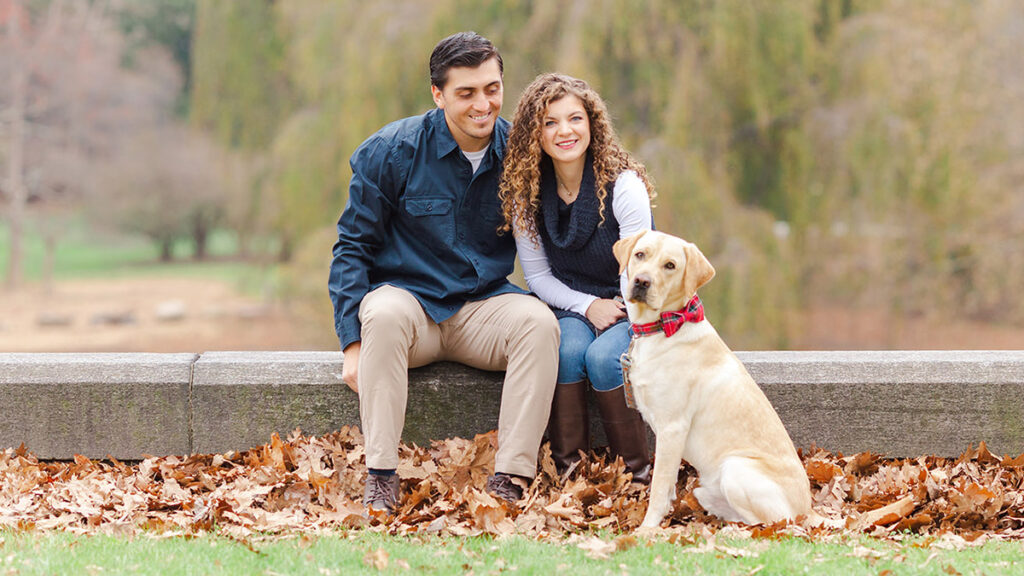 If you've got pets, why not include them in your Christmas card photos?! Pets are part of the family, and their presence can add an extra dose of cuteness and charm. Just make sure to have some treats on hand to keep them focused and cooperative during the photo session. A festive bow is a bonus but not mandatory.
6. Have a pajama party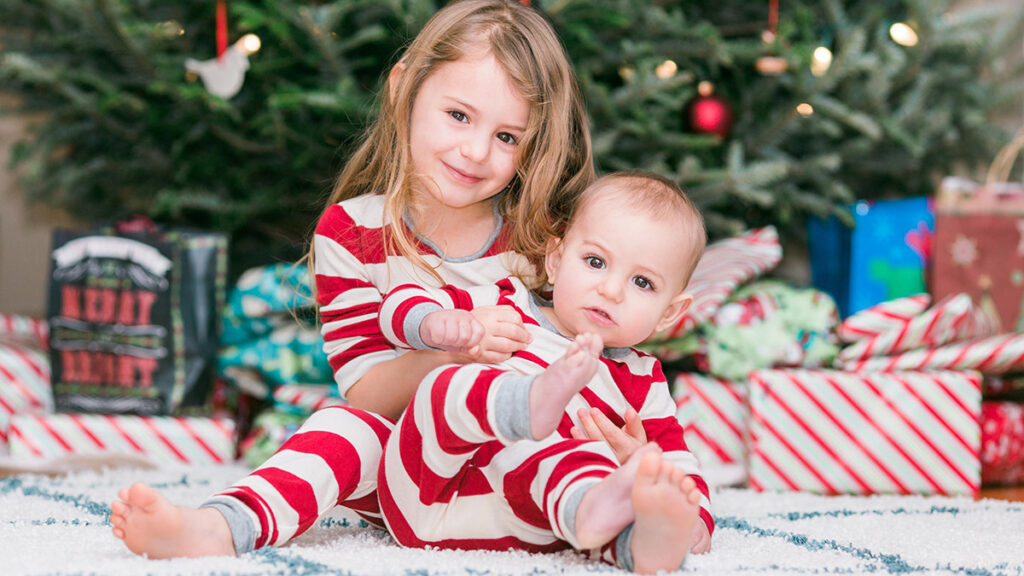 What could be more jolly than gathering your family in matching holiday-themed pajamas?! You could stick with a traditional plaid option or go for a classic candy cane, rugby-striped look. Either option is a great way to transform this simple Christmas card photo idea into a cherished holiday memory.
7. Embrace the fluffy sidekick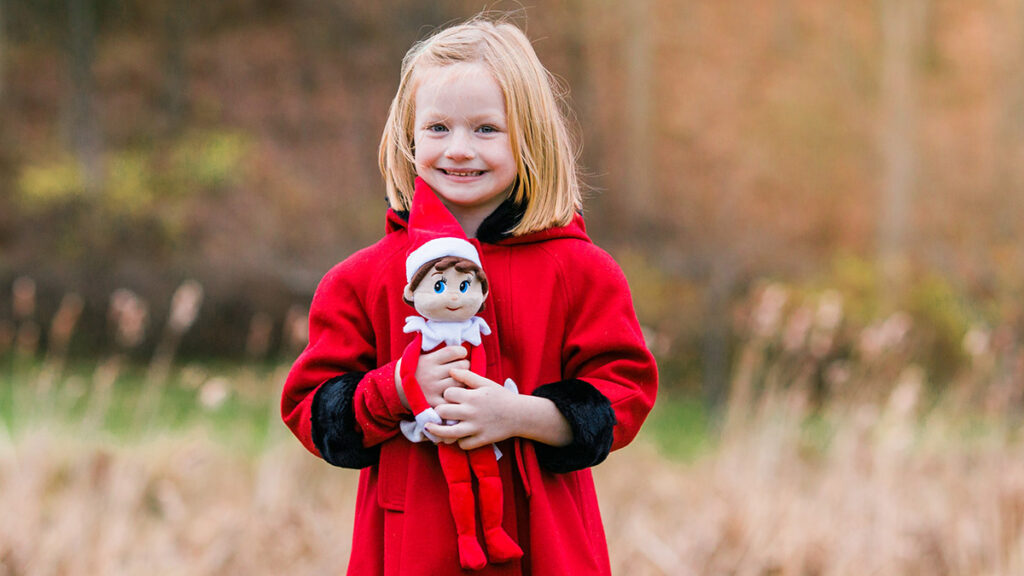 It would be a crime to leave your child's stuffed animal out of the holiday fun. Let's face it, those plush pals have seen it all and deserve their moment in the spotlight. So, pick your kid's favorite stuffed animal, give it a cute little outfit, and spill the beans on its secret life of teddy bear espionage. Your kids will get a kick out of incorporating them, and who knows, it might help lessen the anxiety of standing in front of a camera.
8. Deck the halls with laughs and tinsel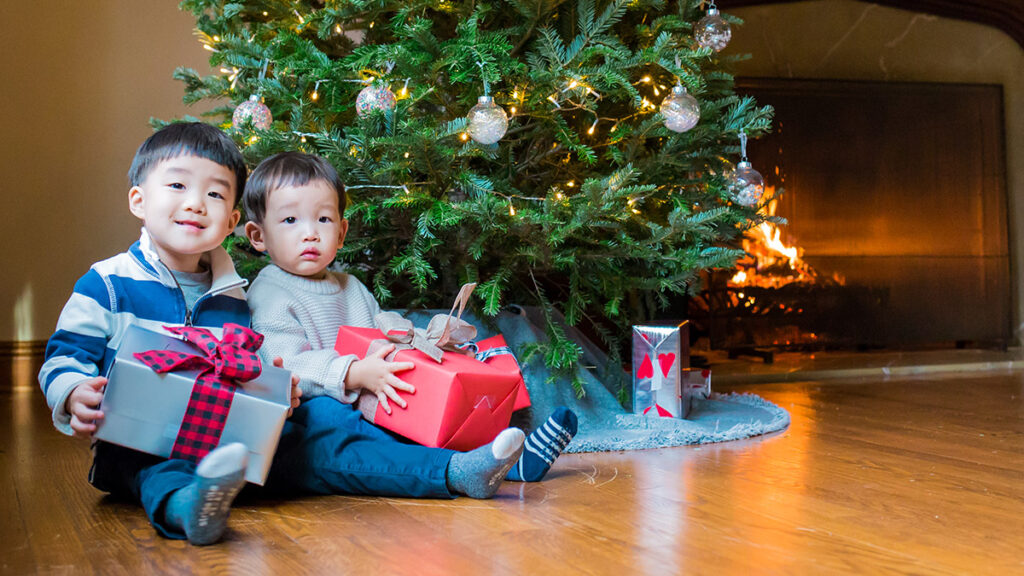 Turn Christmas tree decorating into your new holiday card tradition. Get the whole family involved, and capture the joy of this tradition by snapping a pic of your little elves in front of the newly adorned tree. Now, I'm not saying this is easy — you might experience sheer pandemonium during this holiday Olympic event — but nothing says "Holiday spirit" like a tangled mess of lights, mismatched ornaments, and kids all hopped up on candy canes.
9. Get out of your element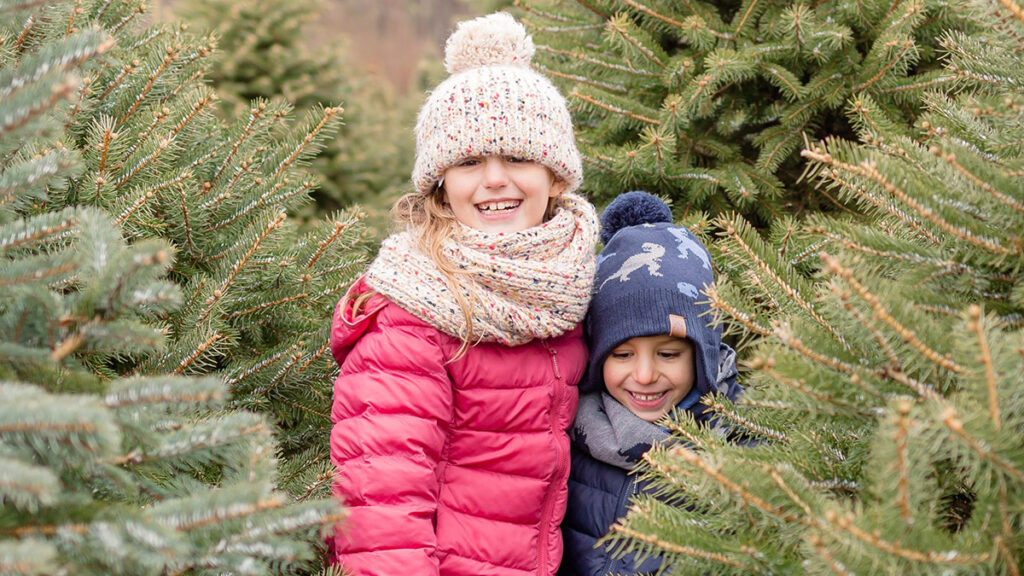 Venturing out and embracing the great outdoors for your Christmas card photo is an idea that almost always pays off. Change up your usual routine and visit a tree farm to take pictures there. You'll find the advantage of abundant natural light and the simplicity of shooting in a natural setting. This option can be more budget friendly and straightforward, eliminating the need for elaborate sets or props.
10. Get candid with the grandparents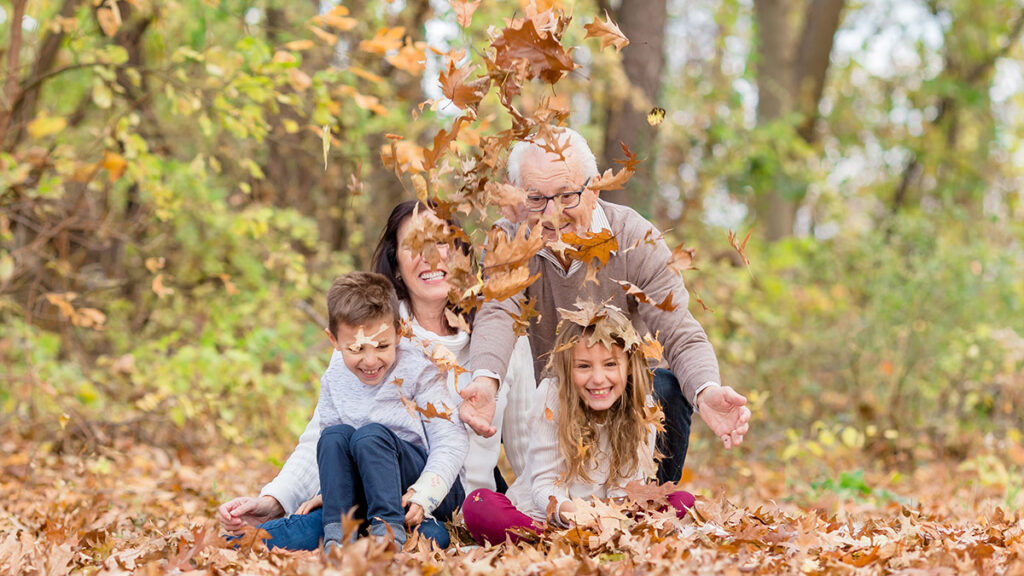 When it comes to holiday pictures with grandma and grandpa, keep it real and spontaneous. Forget the formal poses and allow the unscripted moments to naturally unfold during these special gatherings. Candid shots are where the magic happens —throw some leaves, give giant hugs, and share lots of laughter.
11. Ring in the new year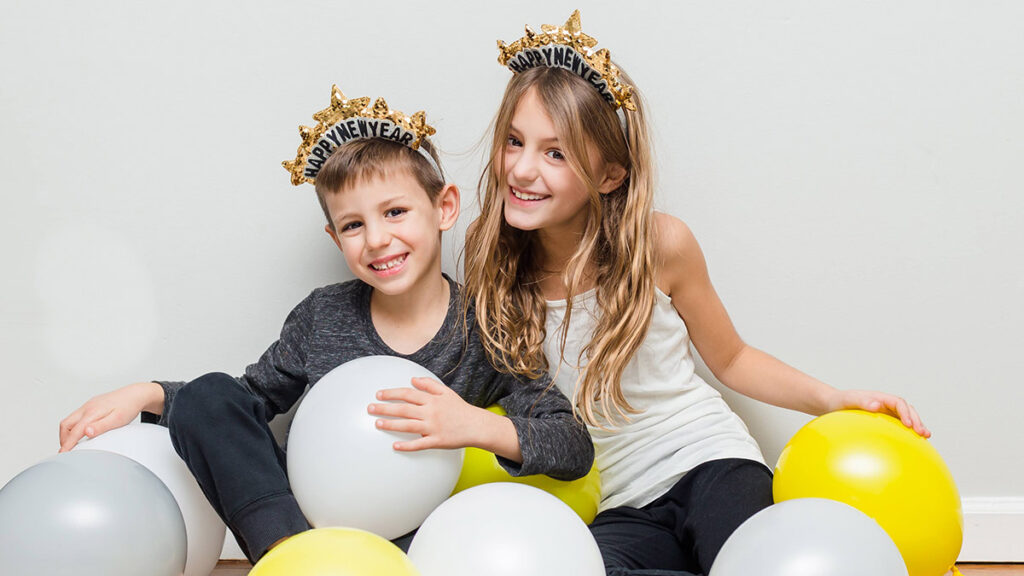 So, you've decided to ditch the traditional Christmas card in favor of a fancy New Year's greeting. Well, then, let's toast to the future in style! Capture the anticipation of the approaching year by grabbing some props that scream "countdown," toss in a battalion of balloons, throw on some headbands, and raise a toast with sparkling cider in champagne glasses!
12. Pretend it's Christmas morning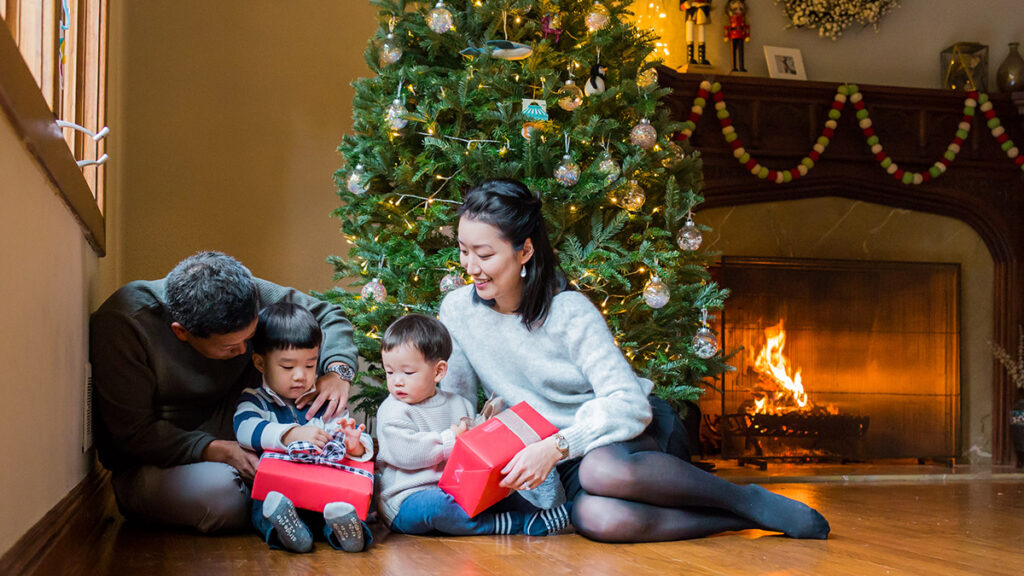 Who says you can only experience Christmas morning once a year? Embrace the art of pretending and create a cozy atmosphere for this year's Christmas card photo. Set the ambiance with a beautifully decorated tree, glowing lights, and, if you can swing it, a roaring fire in the fireplace. Arrange presents under the tree, and — voila! — added authenticity!
13. Show connection
Give your kids the freedom to just be themselves in front of the camera. Whether they're spinning, running, or simply holding hands, let them interact with their surroundings naturally. These are the moments that show the genuine connections they have with each other and reveal their unique personalities.