Create canvas prints that look just like the iconic instant photos of the past, complete with custom text printed in a handwritten font.
The iconic look of classic instant photos has something magical about it. The perfectly square photos with a white border and space below to add a note or a date have that nostalgic feel with perfect vintage charm.
If you love the look of instant photo style prints, you'll love our brand new Snapshot Photo Memories canvas prints. Each print can be personalized with a single photo and up to two lines of text printed in what looks like a handwritten font. Available in multiple sizes that you can mix and match, these canvas prints will add a retro touch to your gallery wall, creating instant interest and unique style. You can also customize a number of these prints in various sizes to create a collection of your favorite retro memories.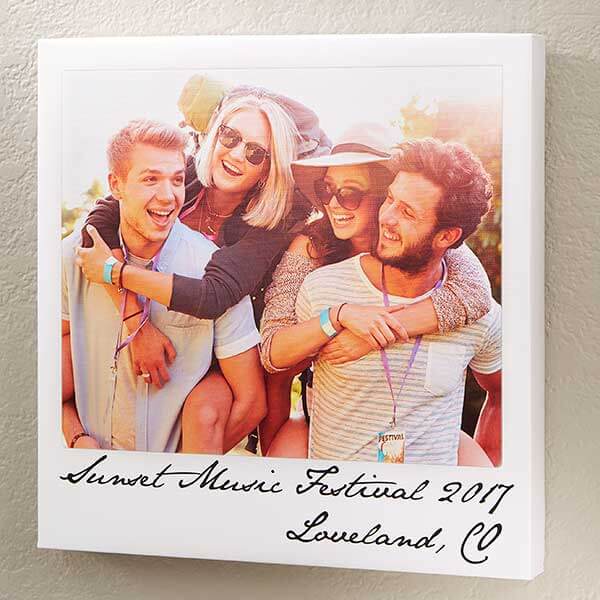 Creating a custom canvas print with Personalization Mall is easy. Just upload your favorite shots, add your text and click preview to see your completed design. The whole process can be done with just a few clicks and takes less than a minute.
As with all of our custom canvas art, we use museum-grade professionally produced canvas so your prints will last for many years. Each canvas print is custom made with solvent inks so the colors and details are rich and intense and protected against UV and environmental damage.
What's more, each canvas is professionally stretched on a wood frame and you have the choice of standard (.75 inch) and extra wide (1.5 inch) gallery wrap or canvas frames available in different styles and colors.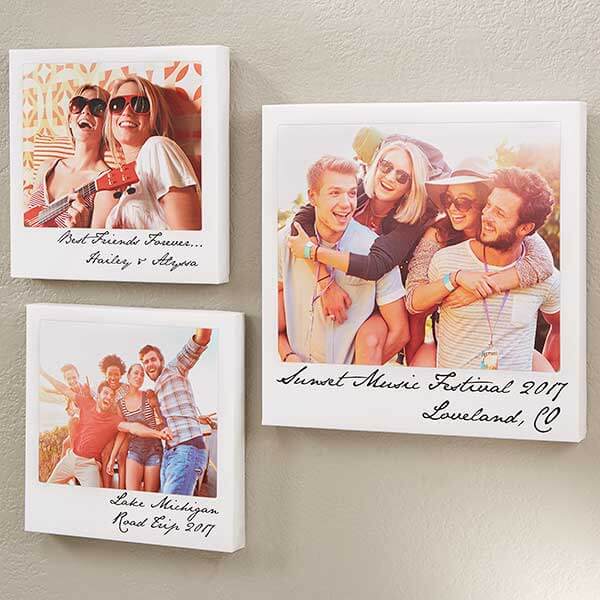 This new instant photo inspired print design is perfect for creating a collection of wall art to display your memories from a special event, vacation or adventure. It's also great for family photos, especially if you're looking to incorporate that retro feel.
And of course, these prints will make great gifts for anyone who can appreciate the beauty and magic of vintage instant photos that so many of us fondly remember and love.