Meet our brand new couples coffee mug set: We Go Together Like Biscuits & Gravy! Just add names to make this adorable mug set the perfect romantic gift.
The wait is finally over. After 369 amazing new design concepts and over 1,000 votes submitted by our amazing Facebook fans, we have a winner and a new design for our popular "We Go Together Like…" mug collection. Please welcome our brand new, adorable We Go Together Like Biscuits & Gravy mugs!
Thanks to everyone who participated by voting and sharing your creative design ideas with us. With so many great ideas, it was really difficult to choose just one. But the "We go together like biscuits & gravy" design concept submitted by Donniel was our absolute favorite and we're thrilled to add it to our collection of coffee mug sets, personalized aprons and custom Rubik's cubes.
For submitting the winning design idea, Donniel is our Grand Prize winner, taking home a $100 PMall gift card. Runners up Desire and Amber are receiving $50 PMall gift cards.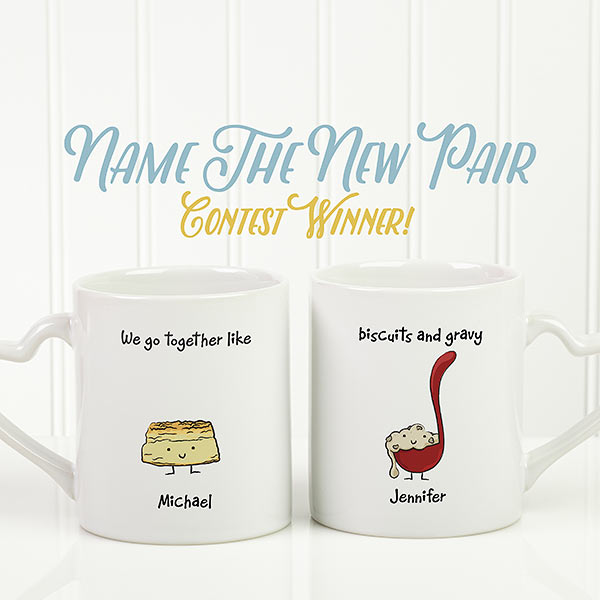 Our new Biscuits & Gravy design is joining our collection of other cute and adorable "We Go Together Like…" designs, including Bacon & Eggs, Burger & Fries, Macaroni & Cheese, Milk & Cookies, Moon & Stars, Peanut Butter & Jelly, Rock & Roll, Syrup & Pancakes, and Bees & Honey.
These designs are perfect for telling your significant other that you are meant to be together and make great, romantic gifts for Valentine's Day, anniversary and any other romantic occasion. They also make fun gifts for newly engaged or newlywed couples.
We hope you love our newest addition — We Go Together Like Biscuits & Gravy — as much as we do. And thanks again for participating in our contest!