Everyone knows February 14th is Valentine's Day — a day for love and romance, flowers and candy, candlelit dinners and champagne. What you might not know is that the day that precedes Valentine's Day is also dedicated to love, albeit of a different kind.
February 13th is Galentine's Day — a day for you and your gal friends to celebrate your friendship, breakfast-style. Galentine's Day was invented by Leslie Knope, Amy Poehler's character on Parks and Rec. As Leslie so eloquently explains it:
"Oh it's only the best day of the year. Every February 13th, my lady friends and I leave our husbands and our boyfriends at home, and we just come and kick it, breakfast-style. Ladies celebrating ladies. It's like Lilith Fair, minus the angst. Plus frittatas."
Sine the first Galentine's Day episode aired seven years ago, the made-up holiday has become very popular with the ladies. And rightly so! Who wouldn't want to spend a day with their girlfriends, eating brunch, enjoying a glass of wine, and chatting?
Whether you're looking to try something new this Galentine's Day or plan your very first ladies only breakfast-style event this February 13th, we have a few Galentine's Day tips and ideas you might like.
Use Wine Glasses As Decorations & Party Favors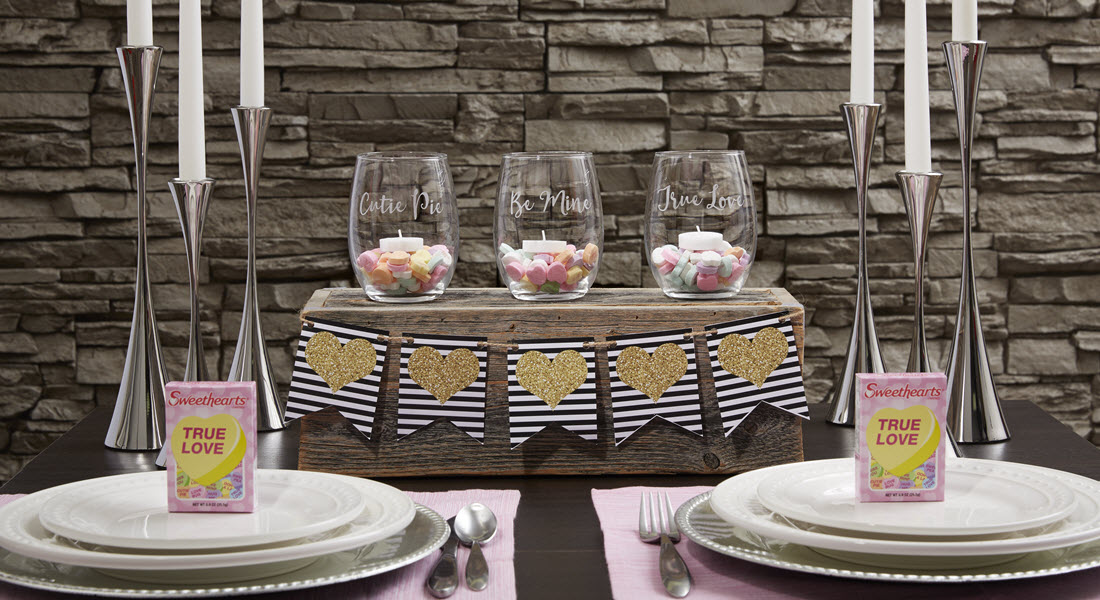 This brilliant idea came to us from Kate, our Social Media Maven, who created this beautiful example of personalized stemless wine glasses being used as table decorations.
The idea is so simple. All you have to do personalize each glass with a cute saying, fill it up with conversation hearts, add a tealight candle and voila! You have beautiful, custom decor fit for a Galentine's Day celebration. The best part is that the custom wine glasses double as party favors. When the celebrations are over, send your gals home with a glass of their choice.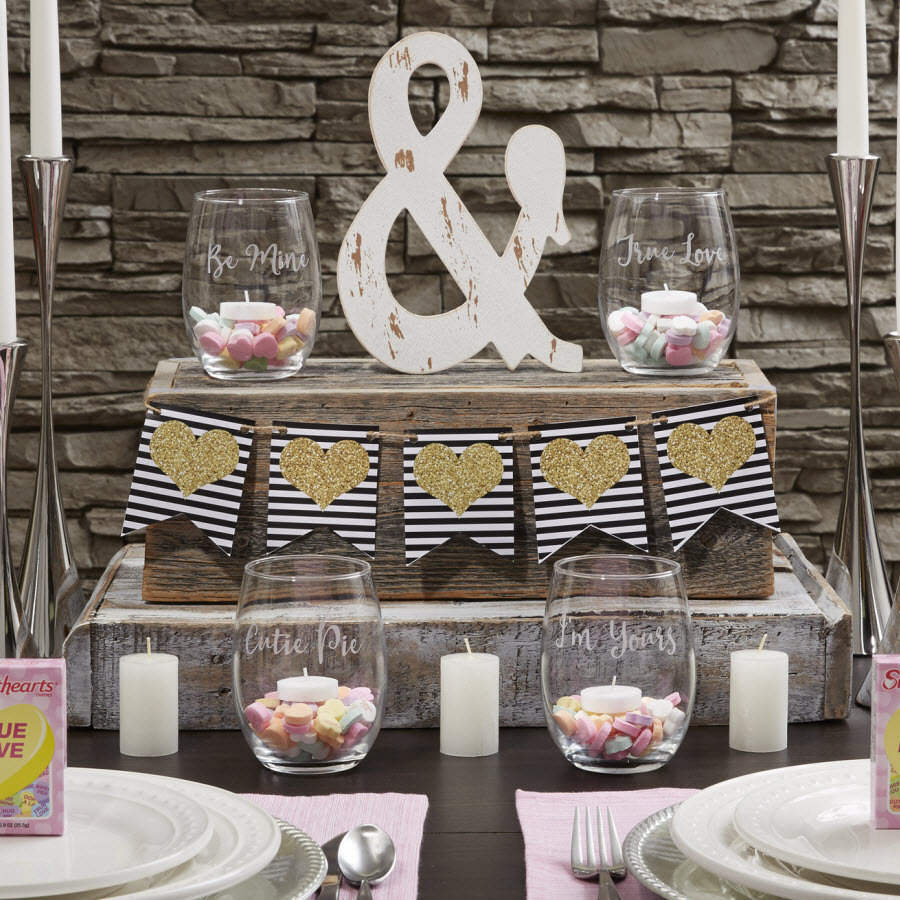 To recreate this exact design, choose the stemless wine glass option from our collection of Bridal Party Engraved Wine Glasses and add a cute saying in the Name field, while leaving the others blank. Of course, you can add names and even a date if you choose — the customization options are completely up to you.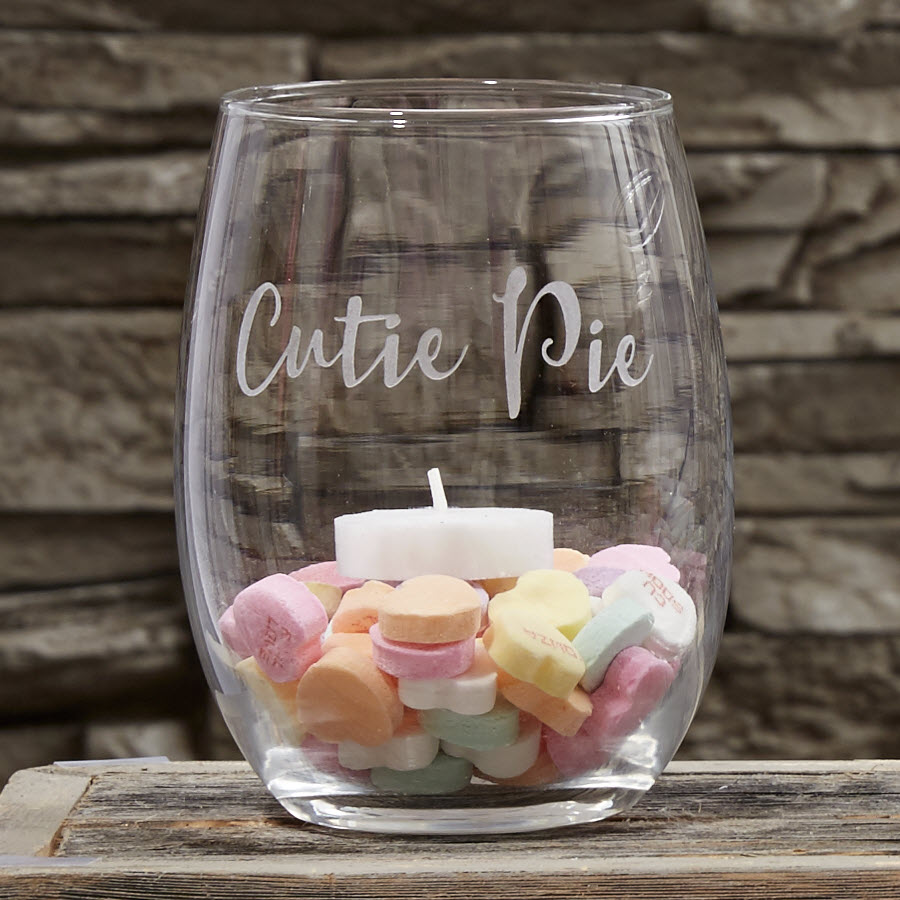 Treat Yo Self And Your Gals Without Doing All The Work
Leslie Knope is known for achieving unbelievable feats in no time at all. But if making hand-crocheted flower pens, glass mosaic portraits and writing 5,000 word essays for each you girlfriends seems a bit too much, you can still treat them to an amazing day without having to do all the work.
The idea is to set up DIY stations for food, drinks, crafts and more. Sure, there's some preparation involved, but not as much as if you had to do everything yourself (like superwoman Leslie would).
Start by setting up a breakfast station where everyone can make their own waffles, frittatas, or other breakfast goodies. Do the same for drinks with a hot chocolate bar, a coffee station or a bar cart for drinks. You can easily extend the idea to your activities, too.
Watch Parks And Rec To Your Heart's Content
Ok, this one isn't really a tip, but it is a great idea for any Galentine's Day celebration. Even if you've seen every single episode, it won't hurt to rewatch your favorites with your best gal friends.
Now go and enjoy your friends, waffles and work! And let us know how your Galentine's Day party turned out.