Baby Gift Ideas
0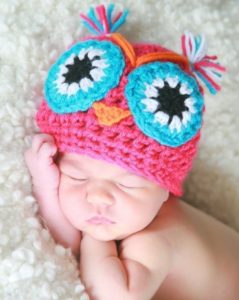 Attention all new mommies and daddies: Owls are in!
That's right – owls are the hottest new trend for all things babies and baby nurseries.
It's pretty easy to see why they've become so popular … just take a look at this cute birth announcement photo we saw on Pinterest and try not to say "awww!"
Adorable, isn't she? We don't know if it's the fun colors or those big, round eyes – everything about them is so cute that they just melt your heart! That's why PMall has introduced a whole line of personalized gifts that feature an adorable owl design called "Owl About You." We have all different types of gifts that feature this soft and sweet design and we think it's the perfect way to decorate the new baby's nursery!
0
One of the most important gifts you give your child is their name. The process of choosing a baby name should not be taken lightly – after all, a child's name can make or break them on the school playground!
For some parents, there's a simple solution – a name is selected to carry on a family tradition or to honor a relative, like a grandparent. For others, they want a name that is trendy and popular, such as Jacob, which has been the most popular baby boy name for 10 years in a row! Still other parents feel that there's something to be said about having a name that is, well, unpopular. It's unique, it's cool. Not just another Tom, Dick, Harry… or Jacob.
Where does your baby's name rank? Below is the listing from the U.S. Social Security Administration, which came out this May, ranking the top baby names for 2008:
Top Boy Names For 2008
Jacob
Michael
Ethan
Joshua
Daniel
Alexander
Anthony
William
Christopher
Matthew
Top Girl Names For 2008
Emma
Isabella
Emily
Madison
Ava
Olivia
Sophia
Abigail
Elizabeth
Chloe
Regardless of what name you give your baby, or how you spell it, you can fill their world with personalized items Our most popular baby gift is our personalized New Arrival Photo Frame, showcasing all the important details of baby's birth, including their new name.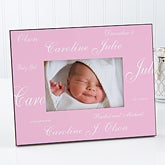 So whatever name you decide on, take pride in it, and show it off with a personalized item!
Happy Name Hunting!
0
A baby's 1st birthday.  A couple's 1st anniversary.  A family's first pet.  Each of these holds special meaning in our lives.  What a great concept, if we could grab hold of that time and never let go!
But as we all know, time slips by us all too quickly.  We must pause to enjoy the moment before it's gone. Babies grow up too fast. A wedding couple soon becomes a family. A puppy becomes a dear, old friend.
Hold tight to every milestone in your own special way.  Write your thoughts down in a journal.  Record the moments on videotape. Take photographs – lots of photographs.  Create a time capsule with special mementos – just a simple shoebox will do. Save the newspaper or Life Magazine published that day.
It's truly amazing how quickly life changes. My children love looking at photo albums of when they were babies. They laugh at our funny hair styles and fashions. They enjoy listening to stories of how they came into this world and all the silly things they did growing up.  I don't know where the time went, but we can't go back.  We can only go forward, enjoying those brief moments with all our hearts!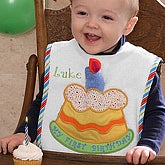 Nothing beats the smile of the first birthday boy or girl when they're "wearing" their birthday cake! Our personalized 1st Birthday Bib makes the celebration even more special (and helps with clean-up too!) Check it out, along with other first birthday, first anniversary, and other personalized gifts for all of life's "first's."   Don't let another first slip by!