Posts tagged
Halloween
0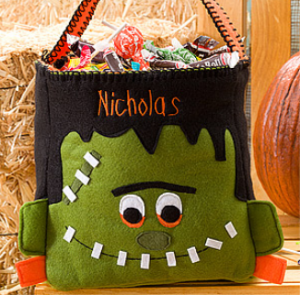 Halloween lands on a Monday this year which means your kids will be stuck in the classroom all day anxiously waiting for the bell to ring so they can head out and start their trick or treating. Just imagine how thrilled they'd be if you were to send them to school with a Halloween themed lunch to help get them through the day!
To start their day off right, surprise them by handing them a Freaky Frankie© Embroidered Trick or Treat Bag or one of PersonalizationMall.com's other popular treat bag designs with their lunch inside! They'll love that you switched up the usual boring brown bags and sent them to school with a lunch bag they can actually use! They'll be able to fill Frankie with the goodies they get from their Halloween party at school and then they can bring him home to use when they go trick-or-treating that night!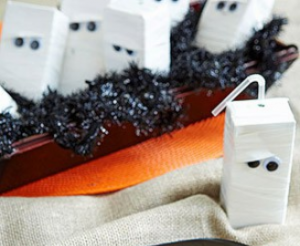 Now that you've wowed them with the actual lunch bag, it's time to find ways to bring some Halloween fun to what's inside! Put together their favorite sandwich and put it to the side for now, we're going to use the side items to carry the Halloween theme for this masterpiece from mom!
The first thing you grab should be their juice box, after all it should be in the bottom so it doesn't smash the sandwich! And thanks to Parents.com's post about "scary sippers," we have a way for you to transform their juice box into a mummy in 2 easy steps! Just pick up some white electrical tape from your local hardware store and wrap it around the juice box, remembering to leave a space open so your son or daughter can still bunch a hole with a straw. Then add a pair of googly-eyed stickers to the front and there you go! A mummy juice box!
We couldn't plan a Halloween lunch without finding a way to incorporate a pumpkin which is why we were thrilled when we came across the Under Construction Blog that suggested coloring oranges or clementines with black marker to make the perfect freaky fruit! Your kids will love the jack-o-lantern in their lunch and you'll be happy knowing your were able to get some healthy fruit into their lunch on the day known for it's supply of sweets!
You can add your own personal touch to the fruit by creating a goofy face, scary face or even adding a note or a simple "Love, Mom" on the back! It's an easy tip that any mom can do, even if you aren't that crafty!
Speaking of crafty, we have the coolest surprise for you to add to your son or daughter's surprise Halloween lunch on October 31st … it's the Happy Halloween© Personalized Coloring Activity Book & Crayon Set!
Personalize the coloring book by going to the PersonalizationMall.com item page here and selecting one of four characters that most resembles your child, then type in their name and click the button that says "click to view your personalized item." There you can see how your child's name will be personalized on the cover and throughout the 24-page activity book!
The book includes an answer key for the games and puzzles and comes with a set of 24 Crayola® Crayons. Your kid will have a ball coloring and playing the games and activities with their friends during lunch or on the bus ride home, too!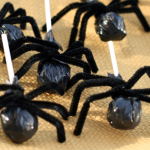 Finally, no lunch is complete without dessert! The spider suckers we saw on ohdeedoh.com were so creepy we had to include them! All you have to do is take a couple of black pipe cleaners, which you can get at any craft store, and twist them around the stick of a lollipop. Bend the pipe cleaners down at the end so it looks like they're actually walking on furry spider legs. Can you imagine the look on their faces when they see these spooky suckers crawling out of their lunch bag? They're sure to be a hit with your kids and their friends!
We hope these tips help bring some fun to your kids' Halloween lunch this year. Even if your child is having a classroom party, you could make any one of these items for the whole class! You'll be the talk of the cafeteria! We'd love to hear what you think of our tips, or if you have any tips of your own that you would like to share please do so by commenting below or by sending an email to us at social@pmall.com. We'd love to see pictures of how your lunches turned out, too!
Happy Halloween!
0
Since this week is your last week for guaranteed Halloween delivery for all PersonalizationMall.com Halloween gifts we thought we'd offer up some great ideas for how to make your Halloween party even more spook-tacular!
When you're a teacher or home room mom and are in charge of a classroom Halloween party, or just a hostess who has invited the neighbors over for some fun the personalized Spider Web Table Runner is an easy way to bring some Halloween flare to the main table that will be home for all your party drinks and treats! The table runner is perfect for any kid or adult party because while the spider webs give off the creepy, crawly effect that kids love about Halloween, the little black bells and tasteful black pattern can be personalized in the middle or on the side with an elegant orange font that adults adore!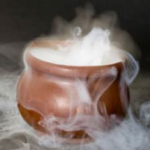 Now that you have your table beautifully decorated, it's important to find fun food and drinks that share a similar theme. That's why we're dying to share a little trick that will have guests of all ages oohing and ahhing! We came across a tip from Drink of the Week blog for how to give your Halloween punch a "fog effect" so it looks like your signature drink is a real witch's potion! You can read the full directions here, but basically you take 1 large bowl and 1 smaller bowl and place a brick of dry ice (Do NOT put the dry ice directly in the punch or touch it with bare skin, it can burn and should NOT be ingested) inside the large bowl, then put the smaller bowl, which you will fill with your Halloween punch, on top of the dry ice. Once your guests arrive, add hot water to the larger bowl and the fog will slowly start to creep out and spook all your guests! To be safe, make sure an adult is in charge of handing out the drinks for all the guests so no children are tempted to touch the dry ice.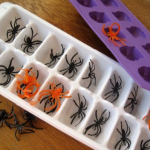 For an even more creepy and crawly effect, add spider ice cubes to everyone's glass of punch! Don't worry, we don't mean REAL spiders … as you can see here from the Fahrenheit 350 blog, you just take the little spider rings they sell at all the party stores and put them in ice cube trays, then fill with water and place in the freezer. Once they freeze over you'll be able to add them to people's drinks so they'll see a floating spider every time they go to take a sip!
Now that you have the drinks taken care of, you still need some treats and party favors that go along with your theme.
You're in luck because the Spooky Treats© Personalized Cupcake Wrappers, which come in a set of 24, are the perfect answer for both of your needs! 
You can bake your favorite cupcake recipe then place them inside the cupcake wrappers, which you can personalize to say anything you'd like, then decorate the cupcakes in a fun Halloween theme.
Decorating them so they look like a spider web, like the people from "The Girl Who Ate Everything" blog suggest, would be perfect because it would match the Spider Web Table Runner and spider ice cubs they've been adoring all night!
Display them on your table to make a beautiful centerpiece and when the party is over, you can offer the cupcakes as a take home dessert/party favor for all your wonderful guests!
All you have to do is decorate the finished cupcakes with orange icing. Then with a black decorating gel, make three circles starting from the middle and working out (like a bulls eye). Take a knife or toothpick and drag it through the icing starting at the first inside black circle and work your way out … and there you have it – A spider web cupcake!
We hope these party tips and tricks help make your Halloween party extra special! Do you have any tips you'd like to share? Make sure to comment below!
And don't forget to head over to PersonalizationMall.com for up to 20% off our Halloween gifts right now!
Happy Halloween!
0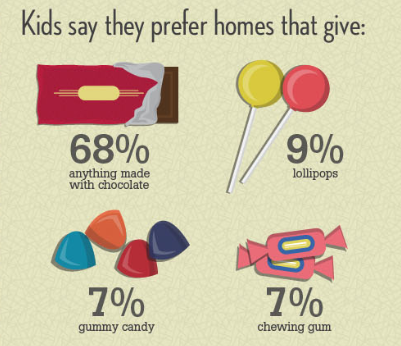 PersonalizationMall.com wanted to learn more about the candy that would be filling the adorable and popular treat bags that our customers keep talking about this Halloween, so they started doing some homework.
After looking through information from the U.S. Census Bureau and the National Confectioners Association, they compiled a list of fun facts about Halloween Candy Consumption that we thought you'd like. They wanted to know what type of candy kids like most, what types of candy kids were receiving, and what they do with it after they're done trick or treating.
One of the interesting facts they found is that 68% of kids say they prefer homes that give out anything made with chocolate. As you can see by the above graphic, the next most popular candies are lollipops with 9% of the vote then gummy candy and chewing gum round out the bottom with 7% of the vote each.
So it looks like if you want to give out the best treats and not get any tricks, don't forget the chocolate this year!
If you've always wanted to be the "cool house" on the street that the kids always run to first, personalize the Ghostly Greetings© Custom Candy Bar Wrappers for your treats and you'll be the talk of the neighborhood between kids and parents alike!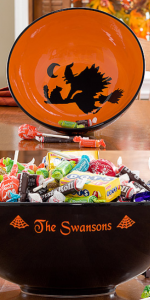 Also on the Halloween Candy Consumption site is the fun fact that 4 in 10 adults admit that they sneak treats from their own candy bowls. Well those parents wouldn't have to feel guilty about dipping into their own stash if they personalize our Halloween Candy Bowl because instead of kids being disappointed that it looks like there's no candy left, they'll be excited about the hidden design on the inside of the bowl (see picture)!
But the Halloween bowl doesn't have to just be for candy, you can use it all October long! You can host a Halloween party and use it as a punch bowl or to hold chips, or if you're planning on attending a party you can always give it as a hostess gift – the bowl would look beautiful just as a display piece because of the hidden design! The chic black and orange design makes it the perfect Halloween acessory no matter how you use it!
If you'd like to read more of the interesting candy facts, like how parents' least favorite goodie to take from their kids' trick-or-treat bags is licorice, click here to read them all!
And to see all the Halloween gifts that PersonalizationMall.com has to offer, click here and to start shopping!
Happy Haunting!