The winner of our Anniversary Contest is here! Heidi Wisdom won personalized anniversary wall art.
We would like to thank everyone who submitted a special story for our Anniversary Contest. There were many emails that came in and we truly enjoyed reading each and every one of your touching, funny, and loving stories. They were so amazing in fact that we had a hard time picking our favorite!
However, after much deliberation we finally were able to narrow it down and find our Anniversary Contest winner. The winner of our 13th Anniversary Contest is Heidi Wisdom with her story about her "Honey Pots."
Here is Heidi's first-place story.
Honey Pots
"The story behind Honey Pots lies in the Norah Jones song "Come away with me." My husband and I when we started dating use to always dance in the living room to this song and it would make me cry every time. We decided that if we ever got married we would dance to this as our "first dance." Over our three year courtship, every time I heard the song I thought she was saying "come away with me Honey Pots" when in fact it was "on a bus." His name will always be Honey Pots and we will always laugh when the line in the song comes up … Ain't love grand!!!"
Heidi and her "Honey Pots" have won their very own Our Life Together Personalized Canvas Art! "Honey Pots" will just be one of 13 lines of personalization they will be able to incorporate into their new beautiful wall art!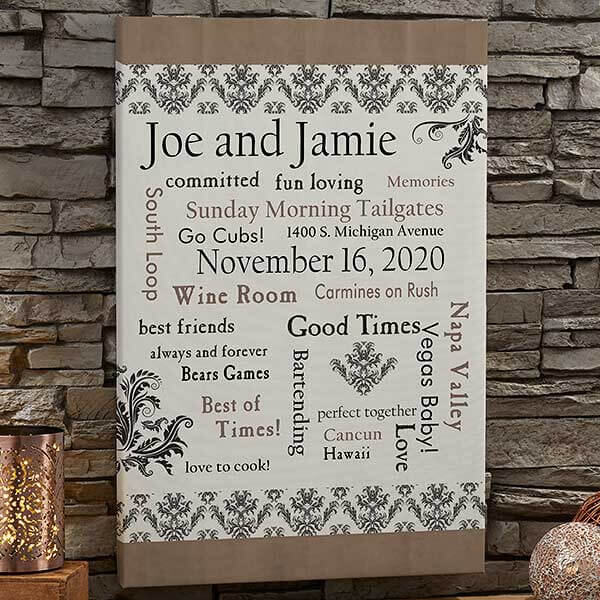 Congratulations to Heidi and thank you again to all of our readers who shared their beautiful stories with us! We wish you many more years of happiness with your significant other.
Happy Gifting!