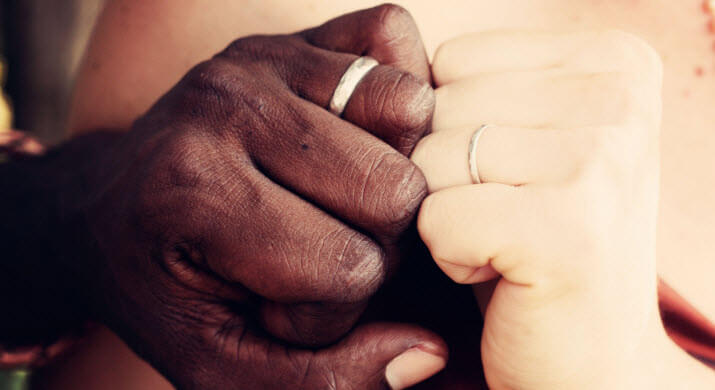 21 Sep

Milestone Wedding Anniversary Gifts By Year

Match your gifts to the meaningful milestone anniversaries in your life with this quick guide to themed wedding anniversary gifts by year.

Wedding anniversary gift themes date all the way back to the Middle Ages with the silver and gold — 25th and 50th milestone wedding anniversaries. And while the exact origins of this practice remain mostly unknown, it's now a commonly accepted cultural tradition to give gifts that correspond to specific wedding anniversary themes.

Generally, as the number of years of marriage increases, so does the value and durability of the gifts or materials associated with them, representing the growth and strengthening of a relationship. This is why the first wedding anniversary theme is paper and the 60th is diamonds.

Celebrate your own and your loved ones' milestone anniversaries with the perfect combination of tradition and your own originality with personalized anniversary gifts. Check out our list of the top milestone anniversary themes, and pair each one with personalized anniversary gifts that will give the special occasion that extra sentimental meaning.
What Is A Milestone Anniversary?
Every wedding anniversary year should be celebrated by the married couple, but big milestone anniversaries call for special celebrations.
So what exactly is a milestone anniversary? The meaning is quite simple: it's a significant and important year in one's marriage that's bigger, or more noteworthy than other years. So for example, a 10th year anniversary is considered a milestone anniversary, but the years leading up to it (years 7, 8 or 9) are not. Typically, milestone anniversaries come every 5 or 10 years, but of course the very first wedding anniversary is considered a milestone as well.
Here are the most important anniversary milestones not to be missed:
1st Milestone Anniversary (theme: paper)
5th Milestone Anniversary (theme: wood)
10th Milestone Anniversary (theme: tin & aluminum)
15th Milestone Anniversary (theme: crystal)
20th Milestone Anniversary (theme: china)
25th Milestone Anniversary (theme: silver)
30th Milestone Anniversary (theme: pearls)
40th Milestone Anniversary (theme: rubies)
50th Milestone Anniversary (theme: gold)
Find unique gift ideas for each of these wedding anniversary milestones below, whether you're shopping for your significant other, your parents or grandparents or another couple celebrating their wedding vows.
1 Year Anniversary Milestone: Paper Gifts
The first wedding anniversary is a significant milestone that couples celebrating will remember for many years to come. When looking for one-year anniversary gifts, consider: paper, clocks, and gold jewelry.
The traditional first year anniversary gift is paper, which symbolizes new beginnings and the fragile state of a new marriage. The modern first year anniversary milestone gift is clocks. The symbolic color is gold or yellow, the anniversary flowers are carnations and pansies, and if you're considering a jewelry gift, go with something gold.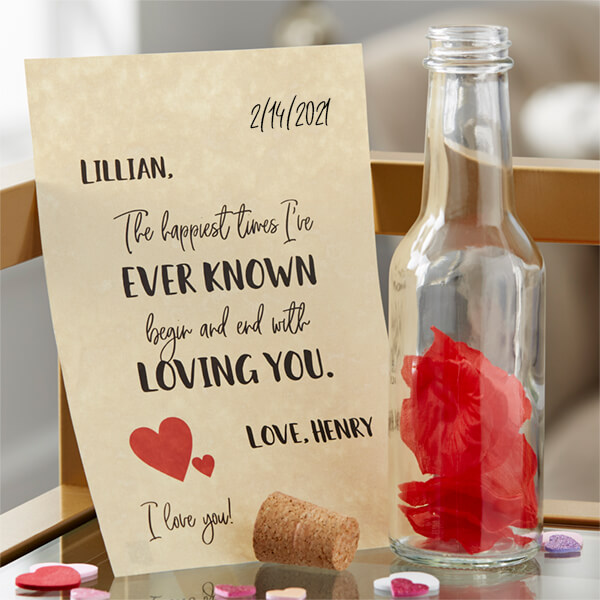 If you want to stick with a traditional 1st year anniversary gift, consider writing a love letter or creating a set of love coupons for your spouse. Both gift ideas are creative and involve paper. Of course, you can also create a gift that looks like paper, like a love letter blanket with your own words written on it.
If you're on a budget, frame your wedding vows as a gift that will also become your wedding keepsake. If you're looking for a gift of experience, consider a set of tickets to a convert, sporting event, museum, or even plane tickets for a romantic getaway. Whatever you choose, make sure your gift is thoughtful and meaningful above all.
5 Year Anniversary Milestone: Wood Gifts
The 5th wedding anniversary calls to mind the lasting endurance of trees, along with their unique ability to develop deep roots and withstand the test of time. When looking for five-year anniversary gifts, consider: wood, silverware and sapphire jewelry.
The traditional fifth anniversary gift is wood, which represents the strength of your marital bond and the insight gained in your first five years as a wedded couple. The modern 5th year anniversary milestone gift is silverware. The symbolic colors are blue, pink and turquoise, the anniversary flowers are daisies and the jewelry gift is sapphire.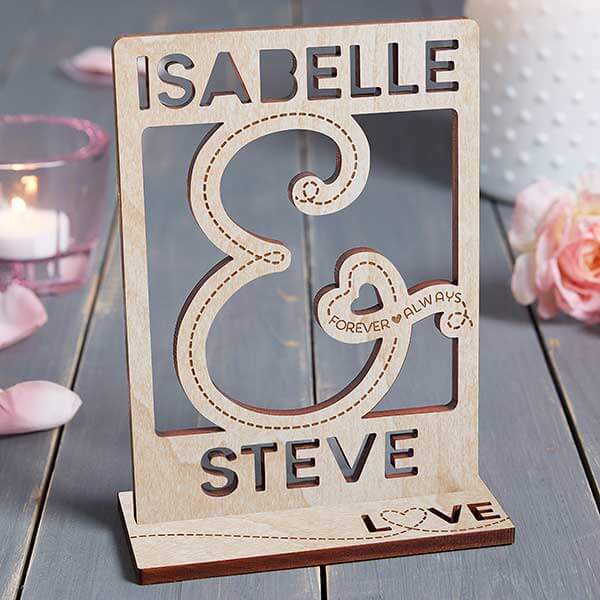 For wood anniversary gifts, look for personalized wooden picture frames and photo albums that feature this natural material in functional, beautiful displays that show off the special time you or the couple you're celebrating have spent together. Fill wooden keepsake and jewelry boxes with cherished possessions, or use wooden signs, wall art and other decor items to infuse your home with daily reminders of your love.
If you or the couple you're buying for love cooking together, consider a custom engraved wood cutting boards, cheese boards, recipe boxes, wooden bowls and other kitchen accessories to make each meal even more special. These practical gifts are also beautiful to look at.
10 Year Anniversary Milestone: Tin & Aluminum
Ten year wedding anniversary gifts traditionally feature a tin and aluminum theme, representing the durability of your marriage. When looking for 10 year milestone anniversary gifts, consider: tin, aluminum and diamond jewelry.
The traditional tenth anniversary gifts are tin, aluminum and other other metals that display similar qualities. These metals' ability to shield against rust and corrosion suggests the preservation and longevity of your connection. Tin and aluminum also symbolize pliability, as your decade's long relationship is flexible enough to bend without breaking. The jewelry of choice and the modern gift option is diamond jewelry and accessories, like a watch or tie bar. The anniversary colors are silver and blue and the flowers are daffodils.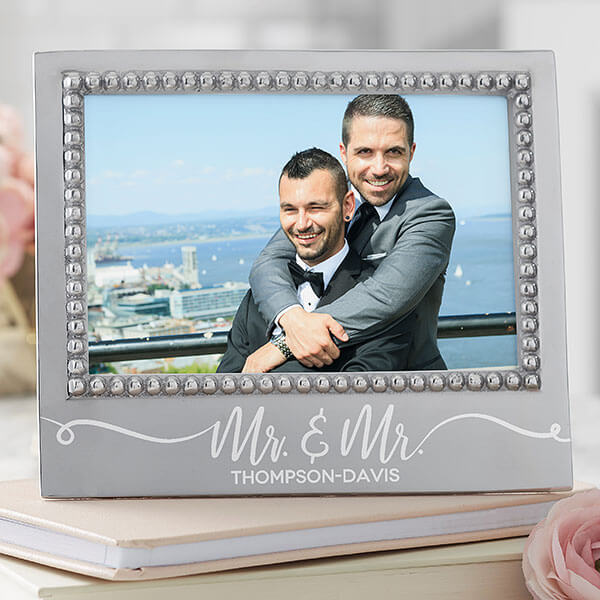 Shopping for gifts in this theme is simpler than you might think. One of our favorite milestone gift ideas is to design a custom aluminum home plaque. to spruce up the home you've built together, or choose classic serving platters or photo frames made from sturdy aluminum instead. Keep the flame of romance burning strong for any couple celebrating their 10-year anniversary with customized Mason jar candles featuring classic tin lids in 14 bright color options.
You can also customize stunning aluminum photo panels that will turn your favorite photos into high definition works of art printed on glossy metal.
15 Year Anniversary Milestone: Crystal
The 15th milestone anniversary is all about crystal, which symbolizes clarity. When looking for 15-year anniversary gifts, consider: crystal, watches and gemstone jewelry.
The traditional 15 year anniversary gift is crystal, which represents the clarity, transparency and solidity required for a successful relationship. The modern 15 year anniversary milestone gifts are watches, preferably a set for the both of you. If you're looking for jewelry, consider Swarovski crystal or gemstone jewelry with ethically sourced rubies. The symbolic 15th anniversary color is ruby red and the flowers are roses.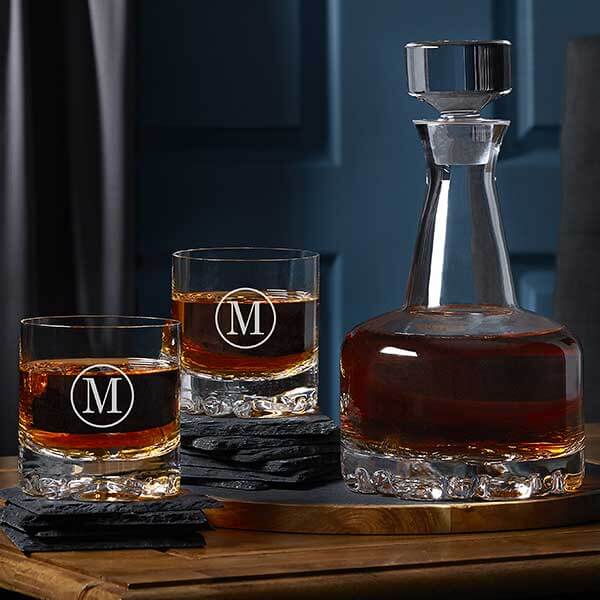 After 15 years of marriage, spoil your partner with wedding anniversary gifts made of treasured crystal to symbolize the strength of your investment in your union, your sparkling love, and the clear, open communication you two share. Take your crystal anniversary gifts a step further by engraving names or initials, a heartfelt messages, your wedding date and more on crystal gifts that will last for decades. Consider a dazzling etched crystal flower vase, crystal champagne flutes or a quality whiskey decanter and glass set. Find beautiful crystal votive candles and keepsakes you can proudly display in your home or customize as a gift for other couples celebrating their 15 years of marriage.
If you're looking for couple gifts, consider a set of Swarovski crystal watches, which tie into the traditional and modern 15th anniversary gift theme.
25 Year Anniversary Theme: Silver
Silver, a precious metal prized for its splendor and nobility, is the ideal material to help you celebrate a quarter century of marriage. When looking for the perfect 25th anniversary gifts, consider: silver and silver jewelry.
Silver is the modern and traditional 25th anniversary milestone gift and is considered holy in some cultures. Silver symbolizes your sacred bond and enduring love. As you might have guessed, the 25th anniversary jewelry theme is also silver, as is the color. The symbolic flower is iris, which offers a beautiful contrast to the glistening silver.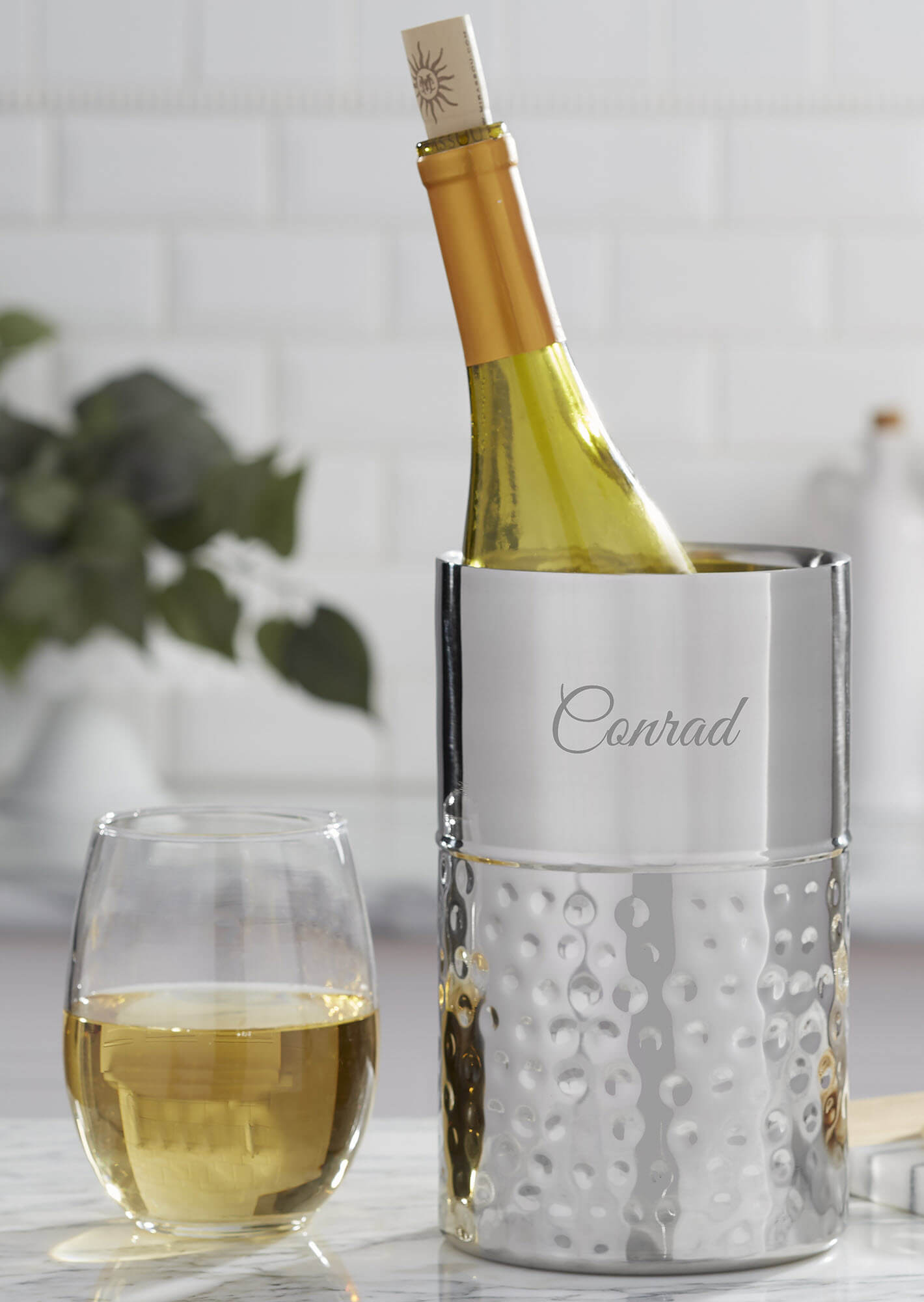 Silver has a deep history when it comes to wedding anniversary gifts. During the Middle Ages, the husband would crown his wife with a wreath of silver on their 25th wedding anniversary, and today the silver theme remains.
Mark this momentous occasion with radiant, custom silver jewelry and accessories, like silver earrings, a bracelet or necklace for her and cufflinks, watch or tie bar for him. Customize a silver picture frame to commemorate the occasion and have a chance to display your most precious wedding memories.
When looking for silver gifts for couples, look for things that are made to last. Consider a silver Christmas ornament they can hang on their tree year after year or a silver photo album to fill with photos of their 25th anniversary party, renewal of vows celebration or second honeymoon. If you're looking for a gift they can use, married couples can use a monogrammed silver ice bucket, wine chiller, beverage tub and other silver gifts they can use for entertaining.
50 Year Anniversary Milestone: Gold
Five decades. Half a century. Fifty years. A marriage that lasts so long deserves an equally weighty theme – precious gold. When looking for the perfect 50th anniversary gifts, consider: gold and gold jewelry.
Gold is the traditional and modern 50th anniversary milestone gift. Gold is not only a gorgeous material, but also a symbol of prosperity and wisdom. For these reasons, gold is the theme of choice to commemorate the remarkable 50 year wedding anniversary. Gold is also the jewelry of choice, although golden topaz is also an option. The symbolic flowers are yellow roses and violets and the color, you guessed it, is gold.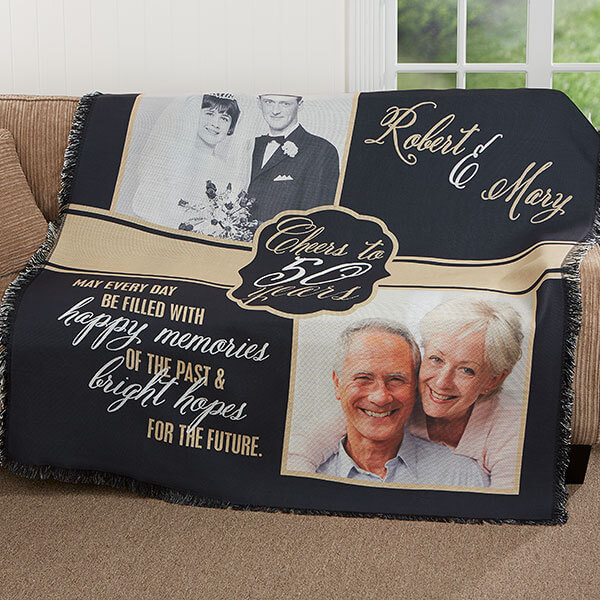 And just like with the 25th anniversary theme, the golden wedding anniversary can be traced all the way back to the Middle Ages. Husbands would crown their wives with a wreath of gold to celebrate the anniversary of their vows, and the golden tradition remains to this day.
There's no shortage of gift options with golden details, including plenty of personalized anniversary gifts that add special meaning and personality. Commemorate this momentous celebration with engraved champagne flutes with gold hammered accents or a gold cake knife and server set. If you're looking for a gift for your parents or grandparents, look for something they'll enjoy, like a custom throw with their wedding and 50th anniversary photo side by side, or a personalized family tree. One of the most popular 50th milestone gifts is an anniversary chronicle that makes an interesting and unique keepsake they'll love and cherish for years.
Make Any Milestone Anniversary More Special
We hope you'll find the perfect way to celebrate all milestone anniversaries with unique, meaningful gifts that will make these special days more memorable. While observing the traditional or modern anniversary themes and gift suggestions is fun, don't feel that you have to. The most important thing is to cherish your anniversary with the one you love and remember the day you both said: I do.
Share Your Ideas For Anniversary Gifts By Year
What are your favorite gift ideas and ways to celebrate specific anniversary years? Use the comments section below to share your wedding anniversary ideas for any milestone anniversary – or any year in between!