Tell us what makes your Grandparents amazing and enter to win a thoughtful Grandparents Day gift!
Grandparents Day is on September 9th this year and we thought: What better way to celebrate than bragging about how amazing your grandparents are — and winning a personalized gift just for them that they'll treasure forever!
That's why we're having a Grandparents Day Contest and we're asking our fans … "What Makes Your Grandparent So Grand?"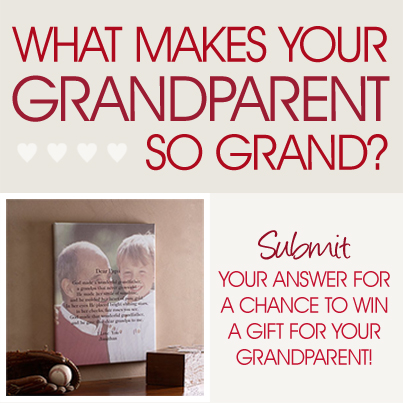 How To Enter
To enter the contest, send an email with the subject line "Grandparents Day" to social@pmall.com with the following information before the contest ends at midnight on Tuesday, September 4th, 2012:
Your full name and email address that we can use to contact you if you win
Your grandparent's full name
In 60 words or less, tell us what makes your grandparent so grand!
The PMall.com staff will select the top three most unique entries and determine the first, second and third place winners. We will post the names of the winners here on the A Personal Touch Blog on Wednesday September 5th.
What You Can Win
We bet you want to know what you can win, huh? Well, the first-place winner will win a 16″ x 20″ Photo Sentiments Canvas Print, which will be personalized with a picture of the winner and their grandparent and the winning text they submitted so that they can let their grandparent know just how much they mean to them with a special gift!
Second place will win a Photo Sentiments Table Top Canvas with their own picture and submission and third place will win a Photo Sentiments Coffee Mug that will be personalized with their picture and submission.
So don't forget to get your submissions in before the contest ends September 4th! Good luck to everyone and we can't wait to read all your entries!