Enter our Thanksgiving recipe content for a chance to win your own personalized apron & matching potholder.
Thanksgiving dinner tends to revolve around one thing: the turkey.
That's why we always feel bad for the stuffing, cranberry sauce, mashed potatoes, and all the other yummy side dishes. It's almost as if we can picture the side dishes looking at the beautiful turkey and saying, "Marsha, Marsha, Marsha!"
But not this year!
This year is going to be different because we're moving the spotlight away from the turkey with the "Side Dishes That Steal The Show" Recipe Contest!
We're asking you to share your favorite side dish recipe with us for a chance to win a prize!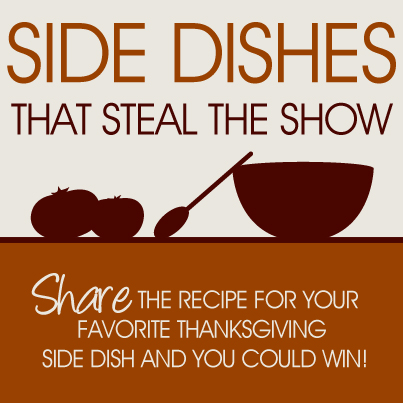 How To Enter
All you have to do to enter is send an email to social@pmall.com with the subject line "Thanksgiving Recipe Contest" with the following information:
Your full name and an email address that we can use to reach you if you win the contest.
The name and recipe for your favorite Thanksgiving Side Dish and a few words about why you love it so much.
And that's it! Please make sure you send in your emails before the end of Thanksgiving Day on November 22nd, 2012. We will announce the winner here on our blog on Friday, November 23rd.
What are you playing for you ask?
Well the winner, who will be chosen by our staff, will win their very own personalized apron and matching potholder!
That way you can cook in style the next time you're preparing your favorite side dish!
We can't wait to see all the recipes start rolling in!
Good luck!