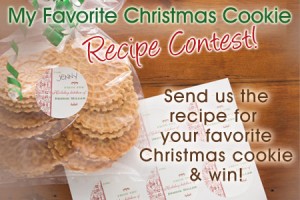 It wouldn't be Christmas without Christmas Cookies! Baking and decorating Christmas cookies with friends and families is one of those fun holiday preparations that help get everyone into the Christmas spirit.
Nowadays more and more people are having Christmas Cookie Exchange parties where everyone brings a set amount of their best batch and everyone can sample, mix and match all the different types of cookies before taking home an assortment of their favorites. Here at PersonalizationMall.com's gifting blog, A Personal Touch, we love this idea and we also love the idea of making a batch to give out as gifts, too! But we're looking for a new fresh recipe to try out that is not only tasty, but creative, too!
That's why we're launching our newest contest, the "My Favorite Christmas Cookie" Recipe Contest! We want you to share your favorite Christmas cookie recipe for us to try out!
To enter, all you have to do is send an email with the subject line "Christmas Cookie Contest" to social@pmall.com with the following information:
– Your full name and email address for where you'd like to be contacted at if you are the winner. (If you have a picture of your finished cookies we'd love to see that too!)
– The name and recipe for your favorite Christmas Cookies
And that's it! Just make sure you submit your recipe before the contest ends at midnight on Wednesday, Dec. 28th, 2011. The A Personal Touch staff will select the winner who will win their very own set of Classic Christmas Personalized Gift Stickers, which they can use to add a personal touch to their special batch at the next Christmas Cookie Exchange they attend!
We will announce the winner and contact them by email within a week of the deadline. We can't wait to read all your yummy recipes!
We love to hear about the family recipes that have been passed down, or recipes that include unique ingredients you wouldn't expect to use. The more unique and tasty the better!
Good luck to everyone and Happy Holidays!