"Grandparents are a family's greatest treasure, the founders of a loving legacy, the greatest storytellers, and the keepers of traditions that linger on in cherished memory. Grandparents are the family's strong foundation. Their very special love sets them apart. Through happiness and sorrow, through their special love and caring, grandparents keep a family close at heart." ~ Author Unknown
Grandparents really do have a special love that sets them apart from anyone else. They are always there to love you unconditionally, to listen when you feel like you're not being heard, and to give advice that is always wise and pure of heart. These are just a few of the many reasons why they deserve their very own holiday, which is coming up on September 11th.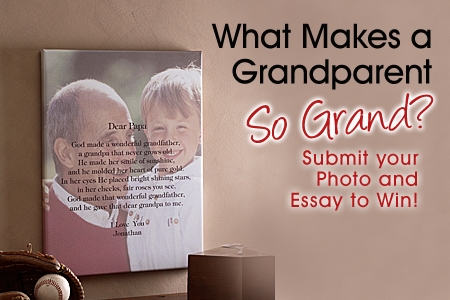 Grandparents Day is a time for us to stop and reflect on everything our grandparents have done for us, what we love most about them and to celebrate and thank them for it.
So for our Grandparents Day contest, we're asking you … "What Makes Your Grandparent So Grand?" We want you to tell us why your grandparent is special to you in 60 words or less.
The PersonalizationMall.com staff will select the top three most unique entries and determine the first, second and third place winners. The first place winner will win a 16" x 20" Photo Sentiments© Canvas (just like the one in the picture) which will be personalized with a picture of the winner and their grandparent and the winning text they submitted so that they can let their grandparent know just how much they mean to them with a special gift.
Second place will win a Photo Sentiments© Table Top Canvas with their own picture and submission and third place will win a Photo Sentiments© Coffee Mug that will be personalized with their picture and submission.
To enter the contest, send an e-mail to Social@pmall.com with the following information before midnight on September 2nd, 2011:
– Your full name
– Your grandparent's full name
– In 60 words or less, tell us what makes your
grandparent so grand
– The e-mail address by which you wish to be
contacted if you win
The winners will be announced here, the week before Grandparents Day – so keep checking back to see if you are a big winner!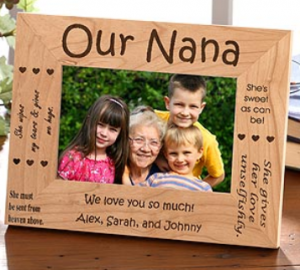 In the meantime, you can explore all the special gifts we have available for you to personalize for your grandparents this Grandparents Day.
Our personalized picture frames are always a big hit when your loved one opens their present to see how you personalized the frame especially for them (don't forget to put a picture of you both inside first!). Take a look at our A Grandparent Is Born© Personalized Frame or our Sweet Grandparents© Personalized Frame (pictured) – both would bring "happy tears" to your grandparents or your children's grandparents eyes! Don't forget the great grandparents in your lives; we have frames for them, too! Like our Great Grandparent© Personalized Frame or our A Great-Grandparent Is Born© Picture Frame.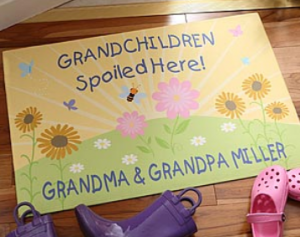 If you're looking for a gift that's a little out of the ordinary, you may be interested in our Spoiled Grandchildren© Personalized Doormat (pictured). Or for something elegant you could personalize a beautiful Love, Grandma, Joy Personalized Charm Bracelet for Grandma or our Herrington© Engraved Silver Pocket Watch you could have engraved with a special message for Grandpa.
You can always check out the usual favorite personalized gifts as well, such as coffee mugs, photo T-shirts, afghans and so much more!
We hope we've helped you with a couple ideas to get started with. We can't wait to hear all about your special grandparents!
Good luck to everyone and remember that while Grandparents Day is September 11th this year, we should celebrate them every day!
Happy gifting!