Find unique wedding anniversary gift ideas for parents and grandparents celebrating their 25th, 50th, and 60th milestone anniversaries.
Parents and grandparents celebrating their milestone wedding anniversaries deserve to be recognized in a special, thoughtful way. Many couples consider the "big ones" to be anniversary years that end with a "5" or "0", but the three that get the most attention are the 25th, 50th, and 60th wedding anniversaries.
The 25th wedding anniversary, or silver anniversary, and 50th anniversary, or gold anniversary, are two of the most well-known and celebrated milestone anniversaries. They get their nicknames from the custom in the Middle Ages of a husband giving his wife a wreath of silver on their 25th anniversary or gold on their 50th to commemorate the occasion. The 60th anniversary, or diamond anniversary, became popular during the Victorian era after Queen Victoria celebrated her 60th anniversary of accession to the throne with a diamond jubilee.
The importance of the silver, gold, and diamond anniversary milestones calls for big celebrations and beautiful, thoughtful gifts for parents and grandparents. Here is a list of wedding anniversary gift ideas for parents or grandparents to commemorate their loving bonds and commitment.
25th wedding anniversary gift ideas for parents
The 25th anniversary is represented by silver, which symbolizes radiance and the value of a long-lasting marriage.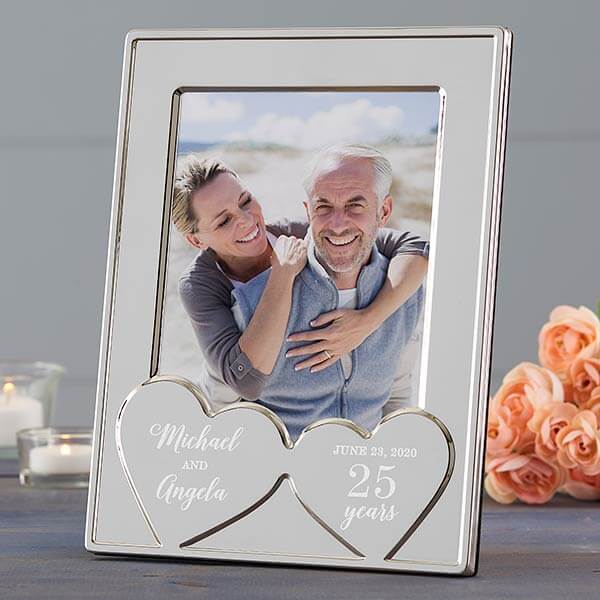 Your parents' 25th wedding anniversary is the perfect time for the happy couple to reflect on a quarter century spent together. Gifting them a beautifully engraved silver picture frame, canvas wall art, or custom photo book or photo album are all great ways for them to do just that. Use their wedding photo or your favorite photos of Mom and Dad, or let them decide which memories to feature. A great silver anniversary gift for parents should be something that serves as a lovely reminder of their 25 years together.
30th wedding anniversary gift ideas for parents
The traditional 30th wedding anniversary gifts are pearls, which symbolize hidden beauty — a reminder that true beauty always comes from within.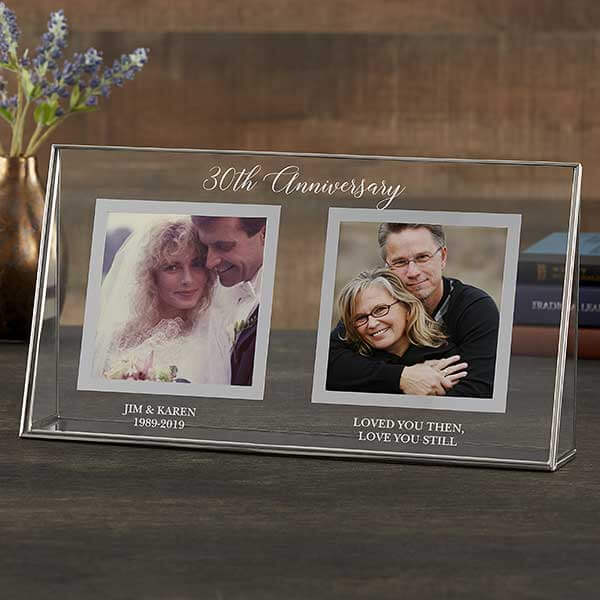 Being married for 30 years is truly a blessing. If your parents are religious, commemorate their important milestone with a personalized anniversary wall cross, family bible, or keepsake gift that includes a special anniversary blessing. Include their names, wedding date, and the years they've been married, along with a beautiful blessing that will touch their hearts.
Another way to celebrate your parent's 30 years of happiness is with gifts they can enjoy. Consider a set of champagne flutes, a serving tray, or a crystal chiller and ice bucket customized with their anniversary year, wedding or anniversary date, names, and other custom details skillfully engraved on the front.
40th wedding anniversary gift ideas for parents
The 40th anniversary is represented by rubies, precious gemstones that symbolize love, passion, and the eternal flame of a lasting marriage.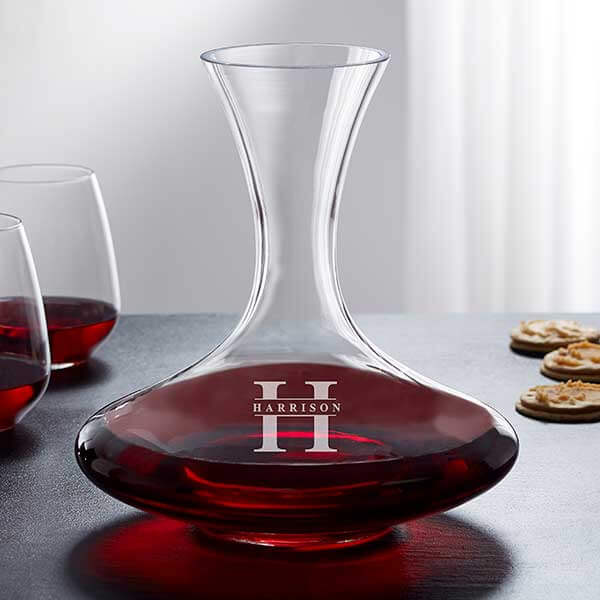 The 40th anniversary is an important milestone that should not be overlooked. Treat your parents to a big family dinner or host a party in their honor. Look for gifts that add include meaningful details, such as a custom family established plaque for their house or a blanket that includes special details of their relationship. If they like to entertain, customize a wine decanter, wine glasses, or ice bucket and wine chiller, or a custom engraved wood cutting board. If they enjoy flowers in their home, you can personalize a beautiful flower vase. Whatever you choose, make sure you're creating a meaningful keepsake gift they can use to celebrate every wedding anniversary to come.
50th wedding anniversary gift ideas for parents
The 50th wedding anniversary is known as the golden anniversary. Gold symbolizes wisdom, strength, prosperity, and lifelong love.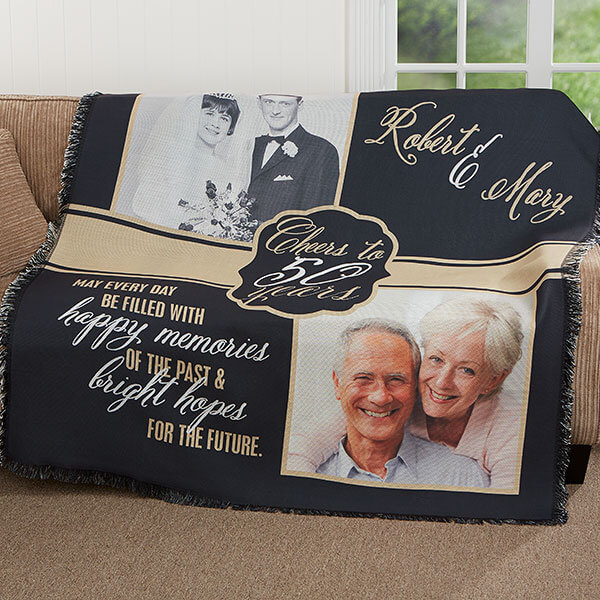 Congratulate your parents on their 50 years of marriage with a set of stunning champagne flutes with gold hammered details. Their golden anniversary will be so much more special when they enjoy a toast from these sparkling glasses. Simply add their names and anniversary date to be engraved right on the flutes. You can also personalize a keepsake with their wedding photo alongside a current photo. Or opt for a unique family tree with a gold base that can be customized with the family name, date, or a special message. The tree can old up to 50 names on coordinating golden disks to include everyone in the family. It's a beautiful anniversary keepsake that will make the perfect gift for their golden anniversary.
60th wedding anniversary gift ideas for parents
Diamonds are the traditional 60th wedding anniversary gift. These precious stones symbolize strength, affection, and eternal love.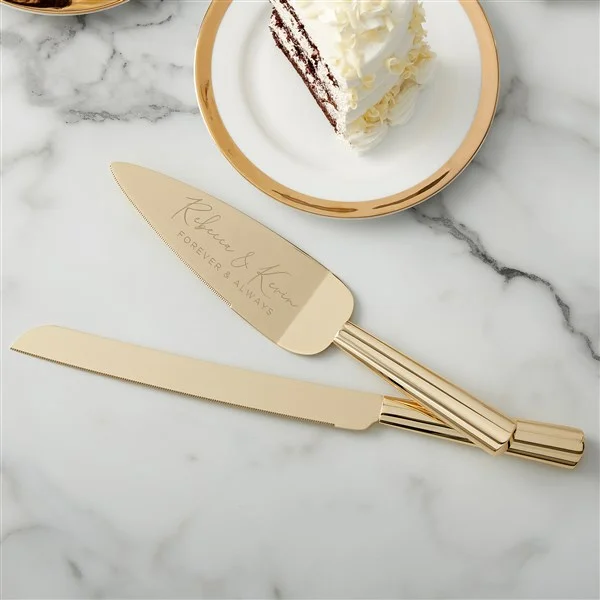 For parents and grandparents celebrating their diamond anniversary, consider a custom etched crystal vase with their anniversary year, date, and names to create an elegant gift they will love to display on special occasions and throughout the year. If you're having a big anniversary party for the special couple, look for gifts they can enjoy during the celebration, such as toasting flutes, an engraved cake server and knife set, or keepsake that can serve as their table decor. An anniversary chronicle canvas print is another great gift that any couple celebrating an anniversary will enjoy — but it's especially fun for couples celebrating a big milestone anniversary. This unique canvas print displays important events, famous birthdays, songs, movies, sports stats, and even a cost of living comparison from the date of their wedding to today.