Happy Veterans Day! On behalf of everyone at PersonalizationMall.com, we would like to say "Thank You!" to all our Veterans for serving our country and protecting our freedoms.
If you know a military veteran that you'd like to honor this Veterans Day, here are three popular gift options from our Personalized Military Gifts Store.
Personalized Heart Pocket Token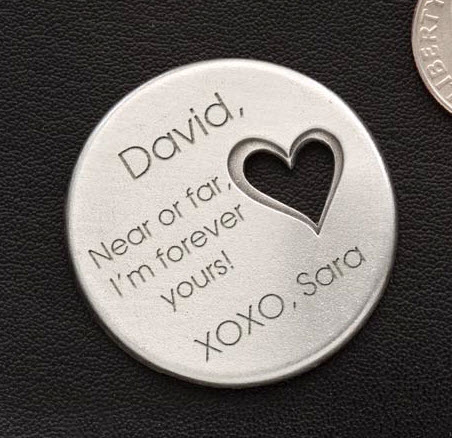 They say "good things come in small packages" and our most popular military gift not only comes in a small package, but also happens to be one of our newest and most affordable gifts. The Military Love Personalized Heart Pocket Token is a beautiful gift that will bring peace of mind to both you and your loved one in the military.
Even though your loved one is far away you can still express your love with sincerity and thoughtful words by personalizing the pewter coin with any name followed by any 3-line message and ending sentiment. Your loving words will be engraved next to the open heart so they can carry a piece of you with them wherever they go! The personalized pocket token is made in the USA, comes presented in a handsome velvet drawstring bag for elegant gift-giving.
While the pocket token is a great gift to give to your loved one so they think of you while they're away, family and friends of military members deserve a special daily reminder of their loved one, too!
Custom Engraved Glass Picture Frame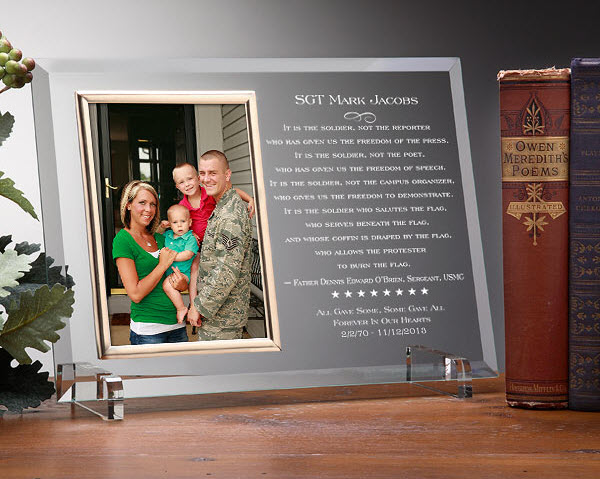 The American Hero Reflections Glass Picture Frame is personalized using the skillful, reverse-laser engraving process which provides a stunning transparent mirage that beautifully displays your special message.
Customize the picture frame with any name or 1-line message at the top, any 3-line ending sentiment at the bottom and your choice of a provided soldier's poem or prayer or you can write your own verse or message to be featured in the middle. The frame features quality workmanship of thick, heavy-weight glass with beveled edges on all sides, accented with golden brass frame trim and includes clear easel legs for an impressive table-top display.
Custom American Flag Display Case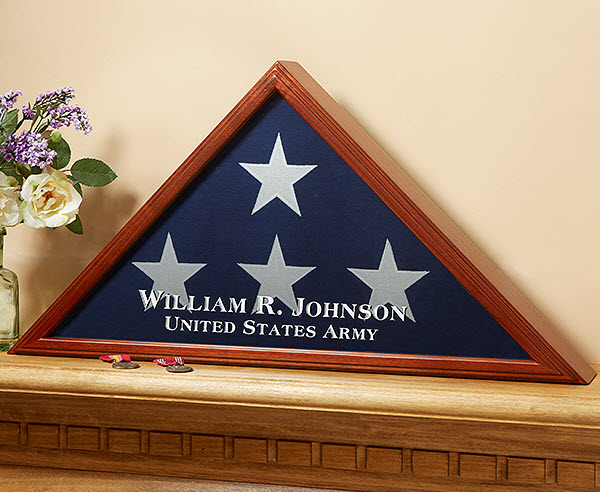 Finally, our most special and treasured military gift is the American Hero Personalized Flag Case.
This elegant flag case is a great, patriotic way to display the American Flag and to honor your loving Veteran who bravely served our country. We delicately engrave any name and your choice of any 1-line of personalization so you can add the Military Branch or War served by your Veteran. The flag case is quality made in America of solid walnut construction with an heirloom, walnut finish and features a bevel detailed edge plus a removable back for easy insertion of your flag. It measures a generous 25″L x 13″H x 3 1/2″D and includes hardware for optional hanging.
If you'd like more gift ideas for Veterans or military families, head over to our Personalized Military Gifts Store. You'll find beautiful and unique gifts that any Veteran or Military Member are sure to treasure forever.