Losing a pet can be devastating, but commemorating your beloved pet with a pet memorial can help ease the pain by giving you a chance to remember your furry friend long after they've gone.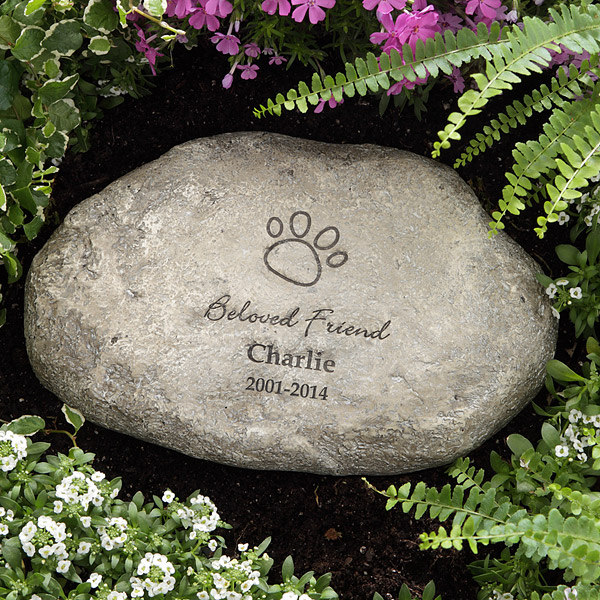 In honor Sept. 14th's National Pet Memorial Day, we'd like to offer some pet memorial suggestions that you can use to remember your own beloved animals, or as sympathy gifts to comfort a family member or friend who recently lost their family member.
Remember your furry friend long after they've gone with one of our Personalized Pet Memorials, like the customer favorite "In Loving Memory" Memorial Pet Stone. The tasteful garden stone can be laser engraved with your pet's name and memorial years below your choice of a pet graphic. Your graphic choices include a paw print, dog bone, cat, fish, bunny, hamster, horse or turtle. Place your Pet Memorial Stone in your pet's favorite place in the yard, as an accent piece for the garden or near your walkway so you can remember them every day.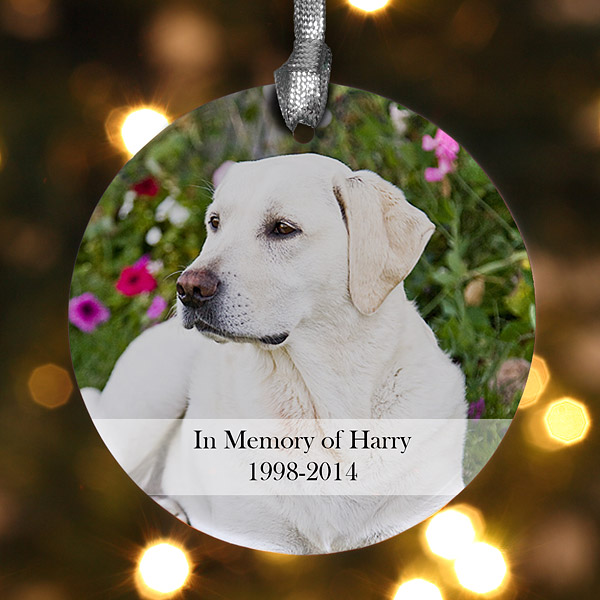 The holidays will be hard without them, but you can keep your furry friend close to your heart during the Christmas season with the Pet Memorial Photo Ornament. The porcelain ornament can be personalized with your favorite photo of the little guy or girl, along with any two lines of personalization. You can choose to include your pet's name and memorial years, a few words about a fond memory or any message you'd like.
Their spirit will live on because each year when it's time to decorate the Christmas tree, you'll be able to look back and remember all of your favorite family memories that you shared together.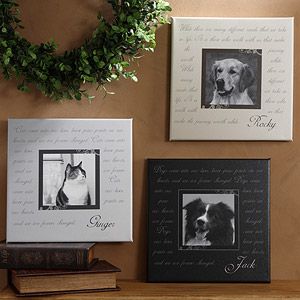 You can still have your beloved pet be a part of your everyday life by personalizing the "Paw Prints On Our Heart" Canvas Print (at left) or one of our personalized picture frames, like the "Paw Prints In Heaven" Photo Frame and displaying it prominently in your home for all to see. Both of these gifts can feature any precious photo, your pet's name and memorial years. Additionally, the Canvas Print comes with three lovely memorial verses to choose from and the option of a black, grey or tan background.
Display your canvas or picture frame in the place your family gathers most, so you can feel the spirit of your family pet with you each and every day.
We hope these Personalized Pet Memorial Gifts will help you, your family and friends find comfort during this difficult time and we hope they help you keep the spirit of your beloved family pet with you forever.