19 Apr

Administrative Professionals Day Gift Ideas For Every Budget

"People will forget what you said, people will forget what you did, but they will never forget how you made them feel." ~ Unknown

We love this quote and think it's a great thing to keep in mind, especially because Wednesday April 24th is Administrative Professionals Day. Now is a great time to show your coworkers how much you appreciate their work and we have some great gift suggestions to help you.

Our Personalized Office Gifts Storeis full of beautiful gifts that your assistant, office manager or coworker will love and no matter what your budget is, we've got great gift suggestions for you.
Office Gifts Under $20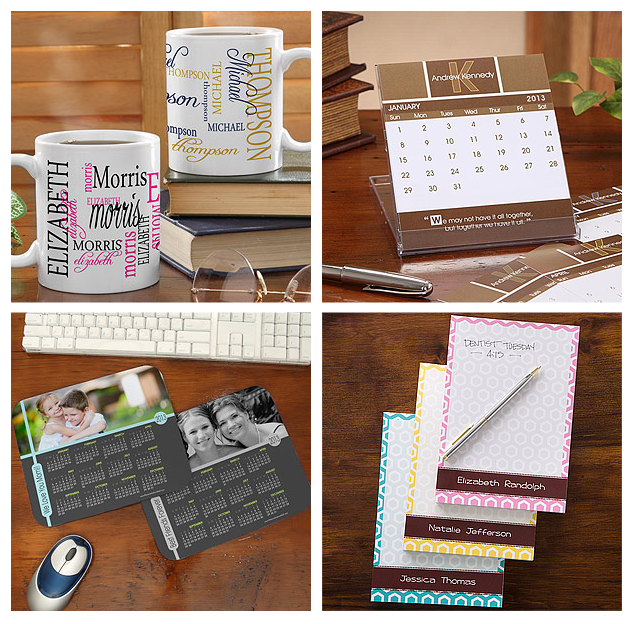 Thoughtful gifts don't have to break the bank. If you're on a small budget you will be happy to know that we have a wide selection of gifts in the $20 and Under section of our Office Gifts Store. Choose from personalized coffee mugs, calendars, mouse pads, note pads and more! Customize a gift with their name, a special message, a favorite inspirational quote, photos, favorite colors, a beautiful design or pattern along with other personalization options to add a personal touch to their desk or office. They'll love to know that their hard work is appreciated and they'll be truly touched that you thought of them!
Office Gifts Under $30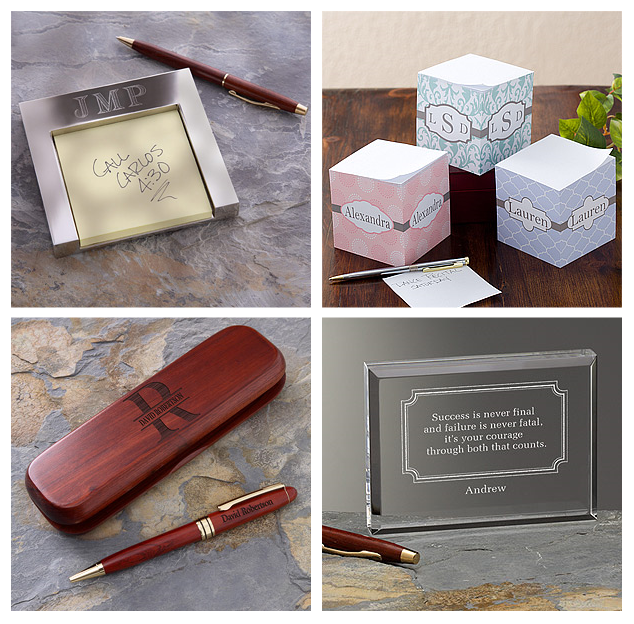 The Office Gifts from $20 to $30 section includes beautiful gifts, such as the Personalized Monogram Post-It Holder, Custom Sticky Note Cubes, Personalized Pens, and the Inspiring Quotes Personalized Keepsake that will really make an impression. The personalized sticky note cubes come in several different designs and colors so you can find the perfect match for your coworker's personality and style. Our personalized pens and Inspiring Quotes designs let you choose from several inspiring verses or you can write your own so you can let your coworker know just how much you appreciate them.
Office Gifts Under $50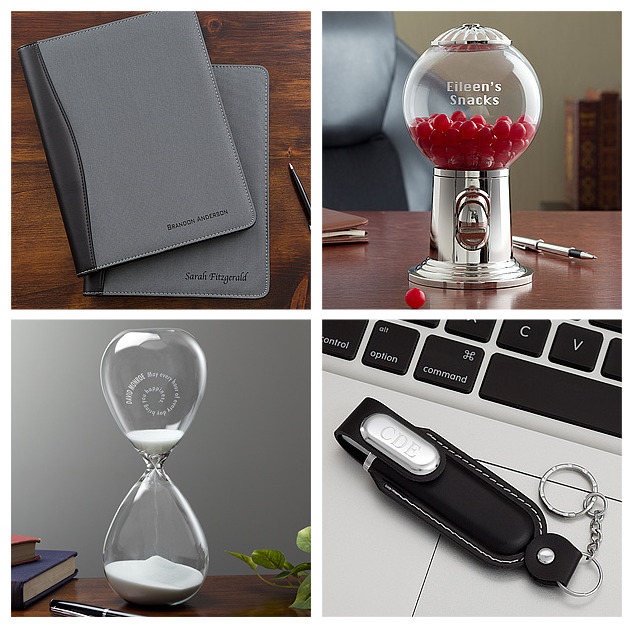 If you have a little more room in your budget, we suggest browsing through our Office Gifts from $30-$50section where you'll find an eclectic offering of gifts for all types of personalities and interests. As you can see from the photo at left, you can personalize a Business Professional Personalized Portfolio, Personalized Executive Candy Dispenser, Personalized Sand-Filled Hourglass, Personalized Leather USB Flash Drive with Key Ring and more! The Executive Candy Dispenser is one of our favorite gift suggestions because it's cool, unique and you know everyone will love it (who doesn't love candy or snacks?)! Not only will your coworker love being able to offer everyone a snack from her new gift, your whole office will enjoy being able to use the dispenser to get a treat every once and awhile, too!
And there you have it – our Administrative Professionals Day gift ideas! Don't forget to visit our Personalized Office Gifts Storeto find all of these gifts and more so you can show your coworkers that you appreciate them and their hard work!