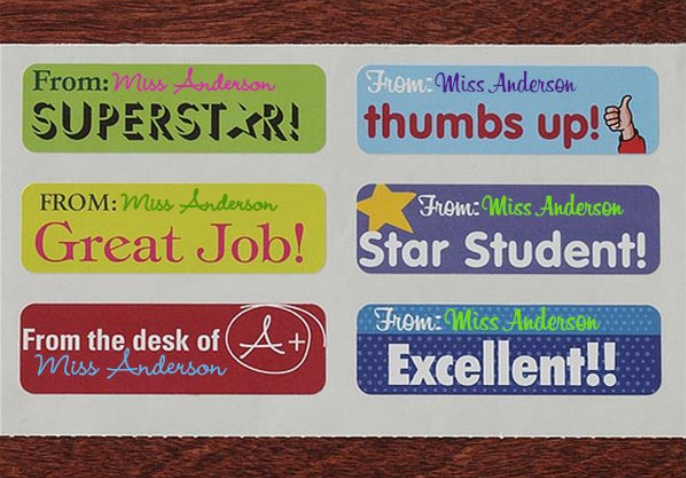 Teachers have one of the hardest jobs out there and it's important to remember them during the holiday season.
That's why teachers are the next group of people from A Personal Touch's Forget-Me-Not List that we are going to offer gift ideas for!
We have a wide selection of Teacher Gifts, however today we'll just be highlighting a few gift ideas we think you'll enjoy most.
If you're looking for just a little something for your child's teacher, in the $10 and under price range, we suggest you take a look at our unique Star Student Personalized Teacher Stickers which sell in 1 set of 64 stickers for just $9.95! Your child's teacher's name will be printed within each of our 6 exclusive designs indicating who the sticker is from. The teacher you personalize them for will be thrilled you thought of them and will be happy with all the time and hand cramps you'll save them from the next time they're grading papers!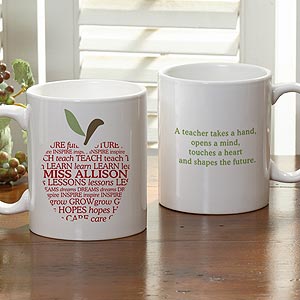 However, if the students in your family are a little too old to be receiving stickers on their papers and you are still looking to stay within a $10-$15 budget, take a look at the Apple Scroll Personalized Teacher Mug, which you can personalize for just $12.95, or any of our teacher-themed coffee mugs! The teacher's name will be featured inside our apple design filled with repeating teacher words, such as "inspire, learn and care" and on the back, choose from 3 inspiring teacher verses or write your own very special message to add that personal touch! Your child's teacher will think of them every time they take a sip of their morning coffee!
If your child's teacher isn't a coffee drinker and if you have a little more room in your budget, the Inspiring Teacher Candy Jar with LifeSavers is a great gift idea for any teacher who has a sweet tooth! Our heartwarming candy jar can be personalized for just $24.95 and features the verse, "Teachers inspire dreams, shape lives and give us hope for the future…" engraved in the shape of an apple with any name engraved in the center. But that's not all! We also fill the jar with the irresistible 13 flavors of LifeSavers that are each individually wrapped! He or she will be able to keep it out on their desk for themselves or they can give out the candies as a reward for answering questions correctly in class or getting good grades on tests!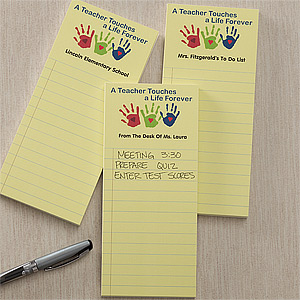 At PersonalizationMall.com we have endless beautiful, personalized gift options like the Set of 3 Touches A Life Personalized Notepads, which would be perfect for all the teachers on your Christmas Shopping List! So make sure you explore all of the options we have to offer and don't forget to keep checking back here for more gift ideas!
Happy Gifting!