Time is running out to find the perfect Christmas gifts for everyone on your list. Right about now it's crunch time and things might be getting pretty stressful if you have to deal with finding last minute gifts, wrapping, baking or cooking for the big day. That's why this is a good time to stop, take a deep breath and go over your Forget-Me-Not Shopping List and Shopping Planner so you can make sure you have everything organized and you don't miss anything.
But if you happened to see our Forget-Me-Not-Shopping list and realized you still need a little something for some of those people, don't panic – we've got some great last minute gift ideas that don't look last minute.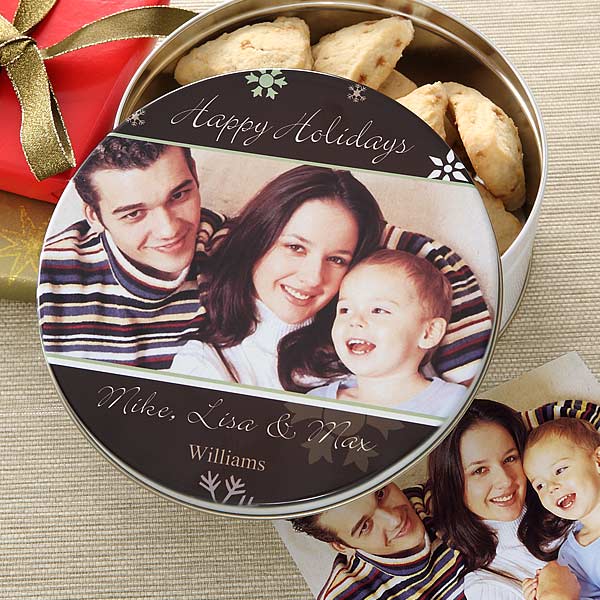 We firmly believe that last minute gifts don't have to be impersonal. They can still have that special personal touch that leaves a lasting impression on your family and friends. So here are a few ideas to help you still hold on to the title of "Best Gift Giver" without going over budget.
The Happy Holidays Personalized Photo Gift Tin is the perfect way to add a personal touch to a last minute gift to a group of people on your Christmas Shopping List. You can fill them with your freshly baked holiday cookies, candies, or brownies and give them to your doctors office, Church, or even your local Fire and Police departments! You can personalize them with any color or black & white photo and we'll custom personalize the lid with any personalization above and below, for an extra-special personal touch that they'll love just as much as the treats!
And if you're afraid you're running out of time before Christmas, you can always personalize your tins with a Happy New Year message and drop them off next week! These popular tins are available in various quantities with price ranges that depend on the number of tins ordered.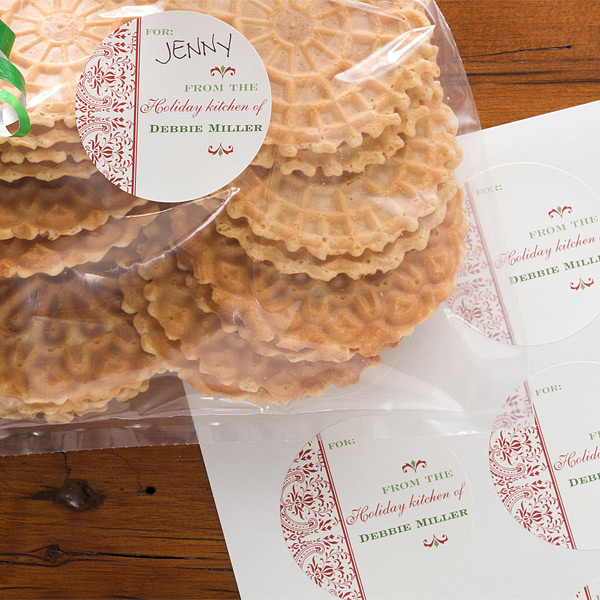 For the individual people who are still on your list, you can fill bags with homemade treats and decorate them with the Classic Christmas Personalized Gift Stickers so your gift is extra special and unique. The exclusive design features an elegant red pattern and the words "From the Holiday Kitchen of" in a beautiful font that is followed by any family name or first names that you choose. The self-adhesive labels are sold in a set of 72.
Another way to add a personal touch with your Classic Christmas Gift Stickers is to make your own instant coffee and hot cocoa mix to share with your loved ones! We'd like to share one of our family recipes for a festive drink mix that everyone on your list will enjoy:
---
Fireside Coffee Recipe
2 cups instant hot chocolate mix
2 cups non-dairy powered creamer
1 cup instant coffee
1 ½ cups sugar
1-teaspoon cinnamon
½ teaspoon nutmeg
Combine all ingredients in bowl, mix well. Store in air-tight
container. Mix 3-4 teaspoons with 1 cup HOT water for each serving.
With the nutmeg and cinnamon, who wouldn't love sipping on a cup of this warm blend and being instantly brought back to your childhood Christmas memories?!
If you're worried about having the time to bake treats to fill the tin and bags, here are a couple more budget-friendly personalized gift suggestions for those people on the Forget-Me-Not-List that can be hard to buy for: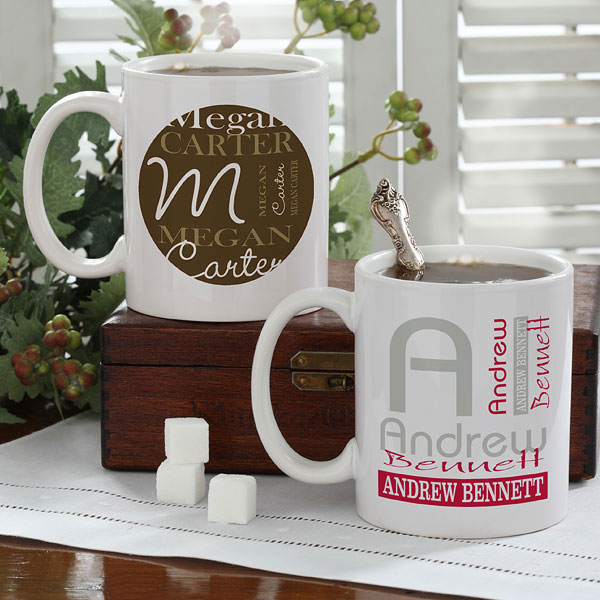 Gift For Coworkers On Your List
We suggest something that is fun and something they can actually use, too … like the popular Personally Yours Personalized Coffee Mug. You can make it fun and colorful by adding any full or single name and then choosing any 2 color combinations from our 12 background and accent colors. They can leave it on their desk at work and since you will have personalized it with their name, they won't have to be worry about mixing up their mug with any other coworkers again!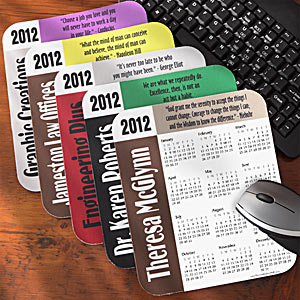 If your coworker isn't a coffee or tea drinker, we suggest you think about personalizing a You Design It Quote Calendar Mouse Pad for them! Created exclusively by you, we'll create the calendar with any starting month in any 2 colors from our 12 color options. Then you can personalize it with their name and any of our 35 quotes or you can write your own and we'll personalize any name, company or business name, too! They'll think of you every time they use it – which will be every single day!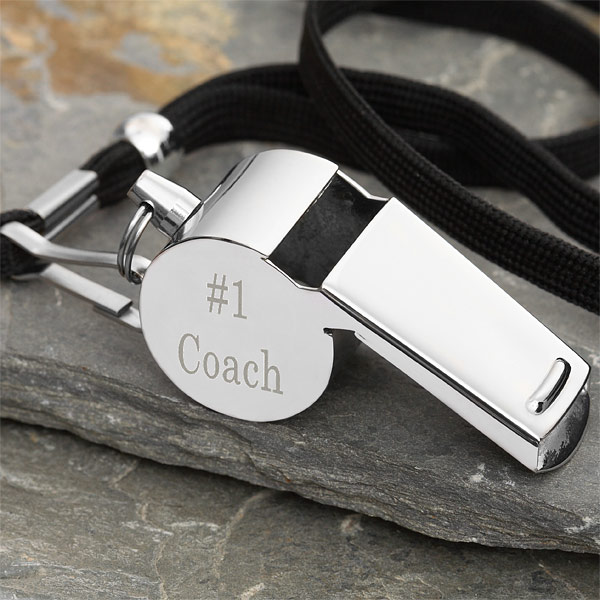 For The Coach On Your List
The #1 Coach Personalized Whistle is a great gift that any coach would be truly touched to receive! Quality crafted in a shiny non-tarnish finish, we skillfully engrave any name, title team name or year in the handsome block letter style for a winning keepsake on both sides of the whistle.
The coach on your list will know how much he or she and their work mean to the team when they see how you took the time to personalize this special gift just for them!
See? It is possible to give last minute gifts that have meaning! Just head on over to PersonalizationMall.com to get yours before time runs out!
Happy Holidays from everyone at PersonalizationMall.com.