Spring and the Easter season are popular times for Christenings and Baptisms. Babies as young as a few weeks are Baptized with water, beginning their religious journeys. During a Christening a baby is given a name while Godparents vow to care for child's spiritual life and guide the on their path to faith.
This significant occasion is celebrated by family, friends and the entire church. Just like spring and Easter, a Baptism is about new beginnings.
If you're planning your child's Christening this spring, being honored as a Godparent, or attending a baptism for a special child in your family or circle of friends, you'll be interested in these unique Christening gift ideas for both baby and Godparents. That's right, parents of the baby should get the Godparents a small gift of appreciation for their lifelong commitments. And of course, the baby also deserves a special gift during this important occasion.
Christening Gift Ideas For Babies
Finding the right Christening gift will depend on whether of not you want your present to be religious or not. Both types of gifts can be special and meaningful, so the preference is really up to you.
If you're leaning towards a religious gift, consider one of our beautiful children's Bibles that are personalized with the baby's name and Baptism date. Our Tiny Testament Personalized Baptism Bible has room for personalization on the front cover, with your choice of pink or blue text. The inside of the bible has a special page where you can fill in the name and date that this Bible was presented on.
Our silver cross necklace and engraved keepsake box is one of our most popular Christening gifts and a great religious gift option for Godparents, grandparents and close family members. This is a truly special gift that the child will cherish for many years.
Another popular religious Christening gift is a personalized wall cross. We have many options to choose from, with colorful printed crosses that feature a Bible verse, beautiful cross boxes where you can store a rosary in, and our best-selling engraved wood crosses where you can add the child's name.
Of course you have plenty of wonderful options when choosing a personalized Christening gift. One of our newest favorites is this custom keepsake memory box. You can personalized the lid of the box with the child's name and Christening date and two lines of text to include a special message or blessing. Parents will be able to fill the box with precious keepsakes from their baby's Christening so that the child can one day see them all.
Our personalized baby blankets are always popular baby gifts, and the same is true to Christenings. This option is available in three colors, ivory, pink and blue and can be customized with any two lines of text which will be skillfully embroidered in your choice of over a dozen thread colors.
For a more fun Christening gift that the baby might actually appreciate, customize one of our precious little baby lamb plush toys. Choose the thread color and font style and add the baby's name to be embroidered on the baby lamb's belly along with the words "God Bless."
Christening Gift Ideas For Godparents
Gifts for Godparents can include anything from a simple, hand written than you note, to a small token of appreciation, like a personalized picture frame with a photo of their Godchild. We have several custom picture frames that are perfect for this occasion that can be customized with names and your heartfelt thank you.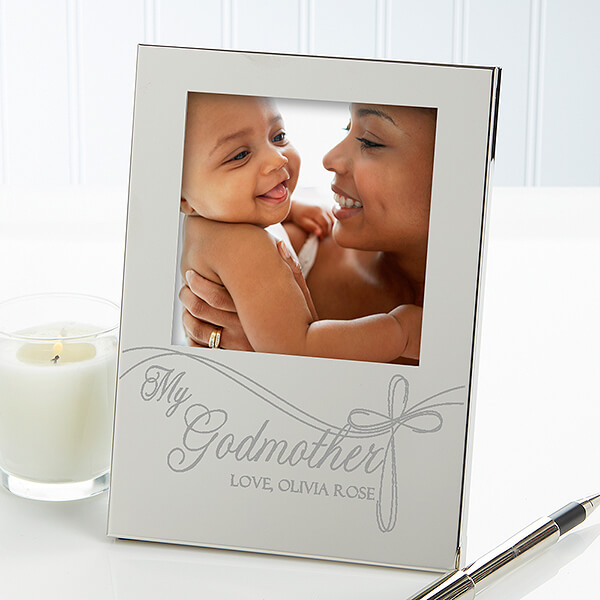 For a more elaborate gift, you can customize a beautiful necklace or bracelet for the Godmother and a set of custom cuff links or a personalized watch for the Godfather. Here are a few of our favorite options, but feel free to browse our personalized jewelry collection for women and our men's accessories to see other options.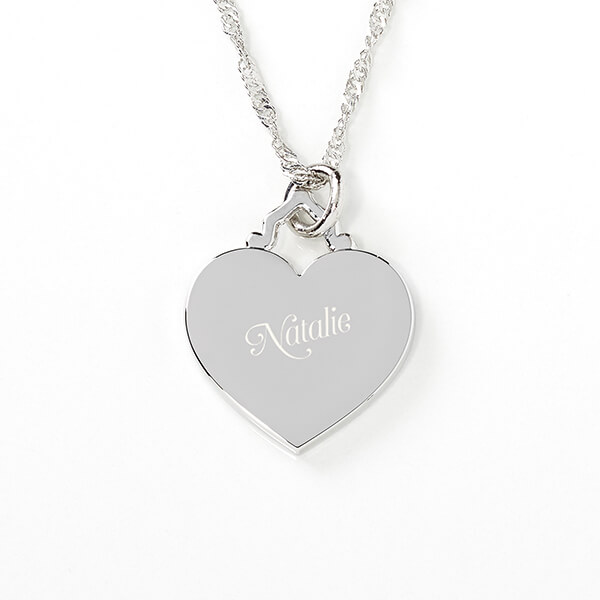 To complete your Christening gifts, make sure to include a handwritten heartfelt note to commemorate this special occasion. Check out our other Baptism and Christening gifts for more ideas and inspiration.