Bridesmaid gifts give you the chance to express your appreciation for the love and support your bridesmaids have shown. Whether you're preparing to pop the "Will you be my bridesmaid?" question or looking for matching accessories they can wear on your big day (and after), this guide will help you find unique bridesmaid gift ideas that are as fun to give as they are to receive.
1. Bridesmaid gift bags
It can be hard to search for that one perfect gift that will please everyone, so why not mix things up? Create a bridesmaid gift bag packed with fun or functional items they can use and wear both during the wedding and for years after. Make each bridesmaid a reusable personalized tote and fill it with items all the women in your wedding party will enjoy. Step up your game by choosing a distinct collection of gifts for each bridesmaid in your wedding party that matches their individual styles and personalities.
Gifts they can use during the wedding itself include beauty and bath products, custom robes, and subtle jewelry. If you want to include presents they can enjoy after the event, add a bottle of their favorite wine or personalized picture frame they can use to display a photo of your wedding party once the prints are ready.
2. Bridesmaid boxes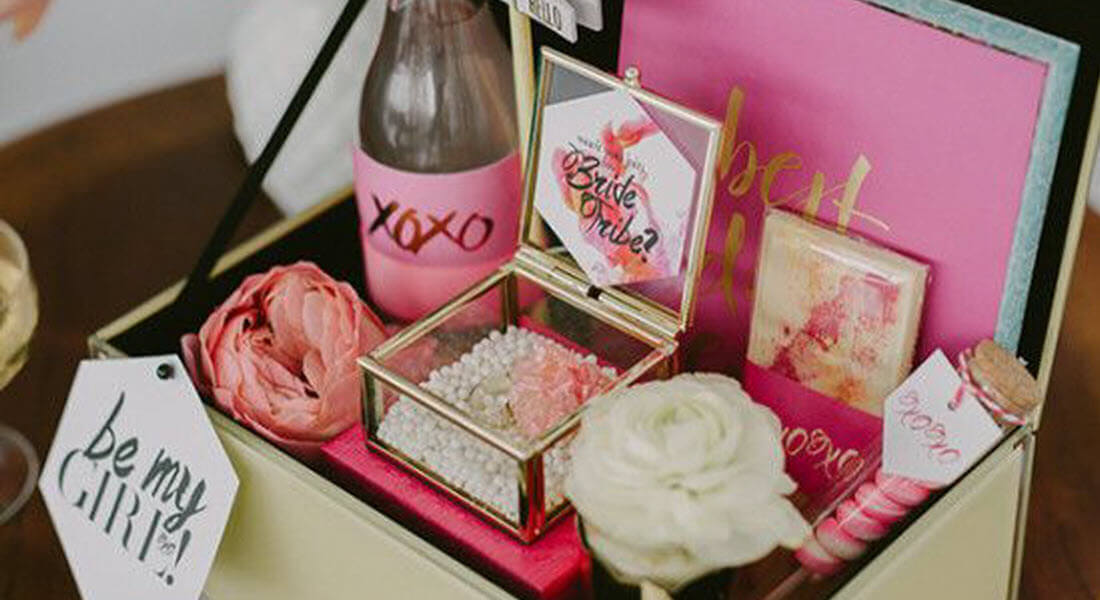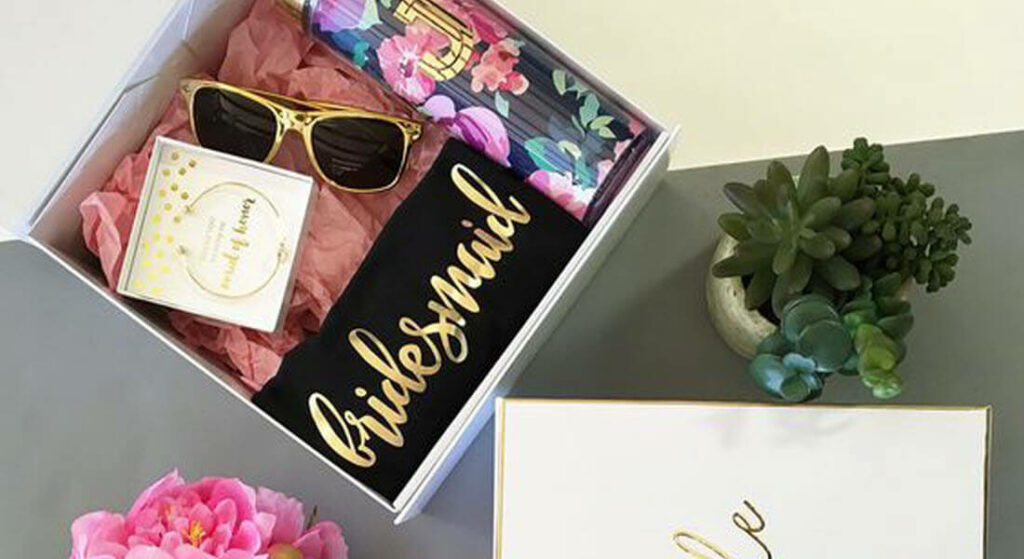 Similar to a gift bag, a bridesmaid box lets you present a range of hand-selected items in a single, refined package — and the options are practically endless. You can design unique gift boxes for each bridesmaid, use a matching set of attractive organizers, or even repurpose old wine and shoe boxes. Decorate repurposed boxes to make them more attractive and personal.
3. "Will you be my bridesmaid?" gifts
What's better than receiving a thoughtful gift packaged just for you out of the blue? Getting invited to be a part of your good friend's wedding at the same time, of course! It's no surprise that "Will you be my bridesmaid?" gifts, such as wine bottle labels, cards, and socks, are so popular today. Bridesmaid proposals make asking your friends to support you on such a special occasion all the more exciting and enjoyable.
To pop the question with panache, slip a handwritten note with the question just under the wrapping of your gift. If you opt for bridesmaid gift bags or boxes, tie the note to a handle or slip it right inside. Or go a step further and include a letter that explains how much their love, friendship, and support has meant to you and to ask them to stay by your side for the journey to come.
4. Maid of honor gifts
Your maid of honor is one of the hardest-working people in your wedding party. She organizes your shower and bachelorette party, helps you find the perfect dress, and keeps you on schedule when the big day arrives. To show your appreciation for everything your maid of honor does, design something special just for her, such as personalized jewelry that includes her name, monogram, or birthstone, or a custom keepsake box engraved with her name and a personal message.
---