Buffalo check is back on trend and bigger than ever! The bold buffalo plaid print can add instant style, character and a unique element to your Christmas decor. Get started on your holiday buffalo check-list with ideas and inspiration on decorating with everyone's favorite plaid.
The popular buffalo check plaid is not new to home decor. In fact, it's been around for ages and used in a variety of ways. Recently, there's been a renewed interest in buffalo plaid, particularly with holiday decor.
This classic pattern is incredibly versatile and can serve as both an accent and as a neutral base in place of a solid color. As many plaids, buffalo check has the perfect balance of masculine and feminine look, and can be used in a bold or subtle way depending on its application in the space.
You can use it in a variety of color combinations and easily mix it in with other prints and patterns, even other plaids, to achieve a timeless look with your holiday decor.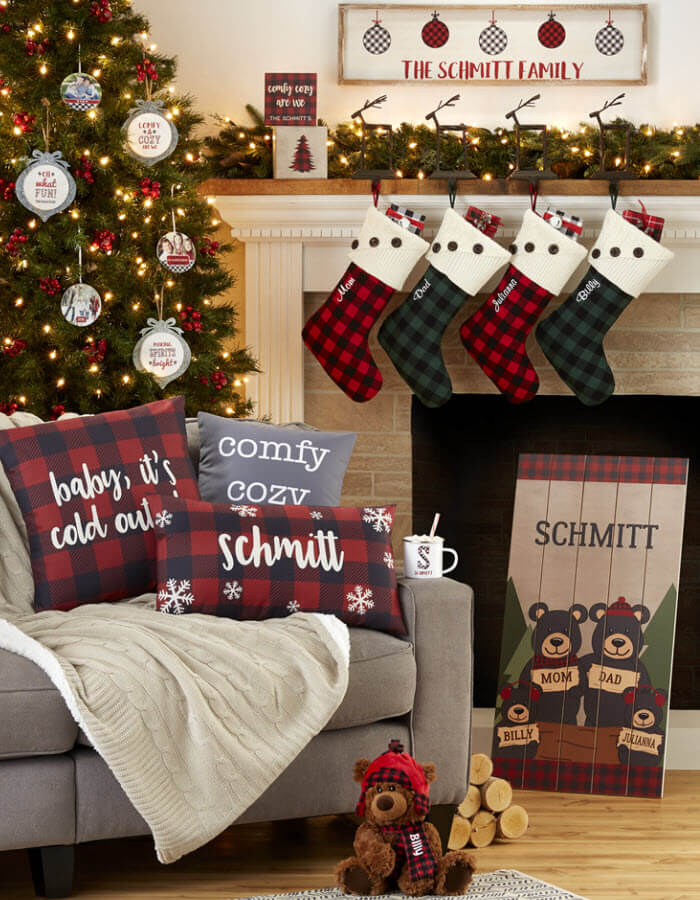 Holiday Decorating With Buffalo Check Plaid
Buffalo plaid can add a homey, rustic feel to your home that's reminiscent of a cozy cabin tucked away in the winter woods. But it can also add an elegant and sophisticated touch to your Christmas decorations, depending on how you use the pattern.
It's ideal for any country or farmhouse inspired home and goes well with both vintage and modern pieces. Don't be afraid to incorporate it with what you already have, especially if you're able to stay within the same color scheme.
Play it safe and use it sparingly with small decorative accents mixed in with your typical Christmas decor. Or go all out and transform your living space with bright, bold pops of buffalo check on throw pillows, blankets, table runners, napkins, wall art, shelf decor, Christmas tree skirt, stockings and more.
For winter holidays, you can use buffalo check in the family room, kitchen, bedroom, bathroom, entryway, porch and even to decorate your entire Christmas tree and fireplace mantel.
Below you'll find ideas and inspiration on how to add a little or a lot of buffalo check to your holiday decor. But before we dive too deep into how to use the popular pattern, let's talk about what buffalo check is and isn't.
Buffalo Check vs Tartan vs Plaid
Today, buffalo check, plaid and tartan are frequently used interchangeably to identify a textile pattern that's made up of straight, intersecting vertical and horizontal lines and colored stripes that create a grid-like pattern. These iconic textile designs have a long and rich history that we won't go into here, but if you'd like to learn more visit Greenhouse Fabrics for an interesting article that dives deep into the topic.
We'll simply cover the basics so you know how to quickly distinguish between buffalo check, tartan and other plaids.
Check
Check patterns are simple, bold and plain, typically utilizing two colors like white and black, or red and black, which are both popular for holiday decorating. The stripes are symmetrical and equal sized, creating a simple, neat, proportional grid.
Buffalo check incorporates big, wide stripes; gingham check is a smaller pattern, and windowpane check creates the look of a square window in the design. Here's a visual comparison of the three check patterns with examples.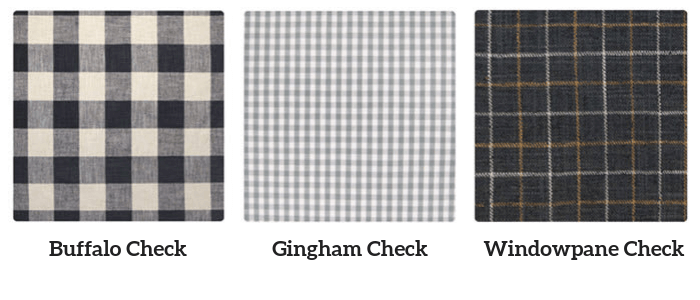 Tartan
Tartan patterns are more intricate than check, frequently utilizing multiple colors and overlapping stripes of various sizes. Like buffalo check, the tartan pattern is still very neat and symmetrical, but not all of the stripes are equal sized and the design typically incorporates more than two colors.
Tartans feature multiple horizontal and vertical cross-crossed stripes in different colors that create new colors in places where the lines overlap. The vertical and horizontal stripes are identical, duplicating in exactly the same way on their own axis.
Here are three popular Tartan examples and a link to a list of traditional and authentic tartans from around the world.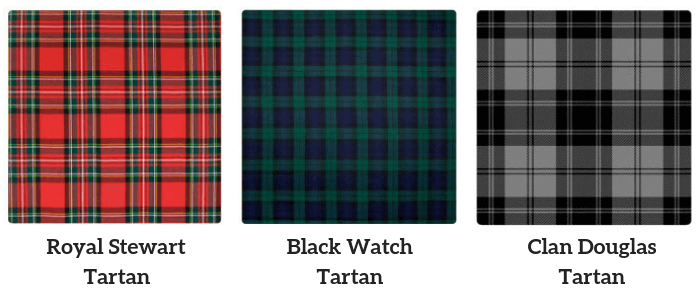 Plaid
Plaid was historically used to refer to a cloth or garment, and not the specific pattern of the fabric.
However today, plaid is used to refer to a variety of chekered and boxed patterns, including both check and tartan designs mentioned above.
The term is still used differently depending on where you live. Here in the U.S., plaid has become a sort of a catch-all term for patterns inspired by traditional tartan and check designs. Plaids have also many more variations and no strict rules as far as how the stripes and bands should repeat on the horizontal and vertical axes.
Plaids can be simple or complex, and can feature a variety of colors, varying widths of stripes and how they repeat throughout the pattern. Here are a few notable plaid examples.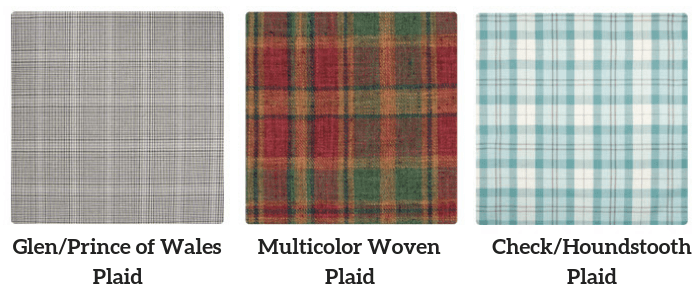 Now that you know a bit more about buffalo check and how to spot the popular pattern, let's take a look at some unique ways you can incorporate it in your holiday decor.
10 Ways To Add Buffalo Plaid To Christmas Decor
Adding small touches of buffalo plaid to your existing Christmas decor is easy. Start with your Christmas tree and fireplace mantel and include buffalo plaid accents in a color scheme that will coordinate with your current holiday decorations.
Customize buffalo check Christmas stockings for the whole family. Choose stockings that are entirely made from buffalo plaid fabric, or ones that feature a more subtle touch of the pattern, like in the winter icons in the stockings featured below.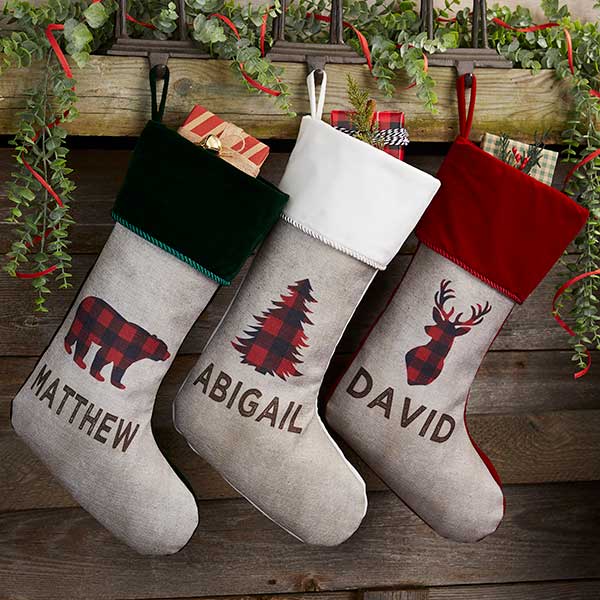 Easily give your Christmas tree the buffalo check treatment with a tree skirt that features the plaid print. Again, you can go bold or subtle, with either small accents of buffalo check or the entire tree skirt made up of the fabric.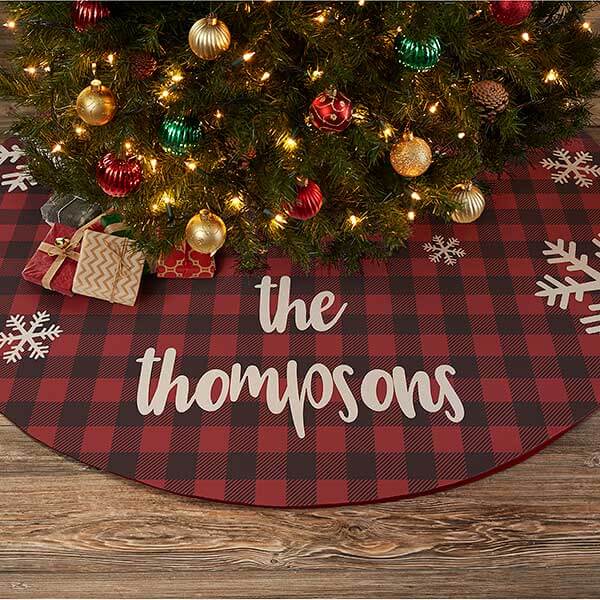 Hang a few Christmas tree ornaments featuring the buffalo check print. Or add a wide ribbon garland and bows made of buffalo plaid to your Christmas tree to bring out the bold pattern.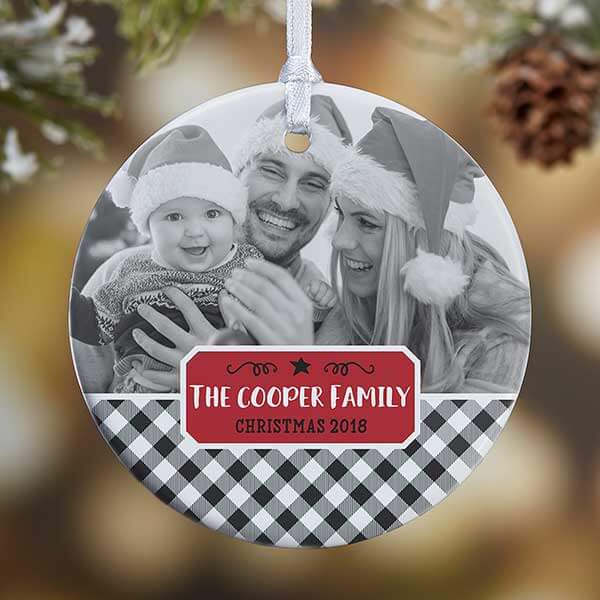 In the family room, bedroom or guest room you can add a touch of buffalo plaid with a woven throw or accent pillows. Remember, buffalo plaid mixes well with other patterns and its simple, two-tone color scheme can accommodate a variety of existing color pallets. Don't be afraid to use it in new and unexpected ways to add a cozy, warm feel to the room.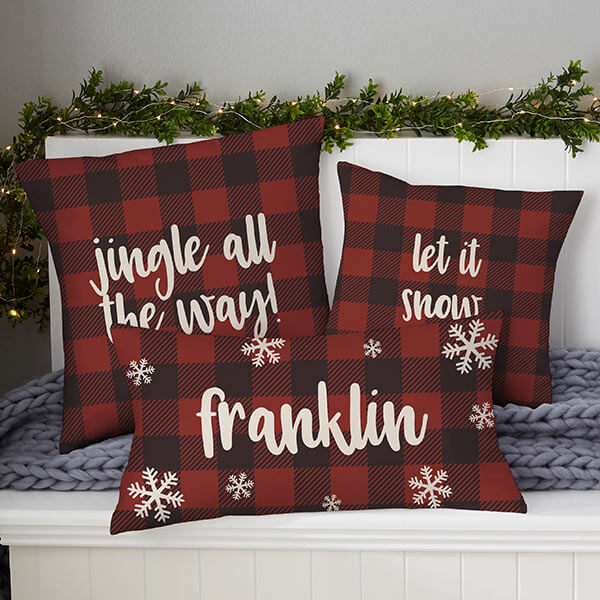 For your front porch or foyer, you can add a holiday doormat with a buffalo check accent. Coordinate your doormat with a buffalo check wreath or simply add a buffalo plaid bow to your front door to complete the look.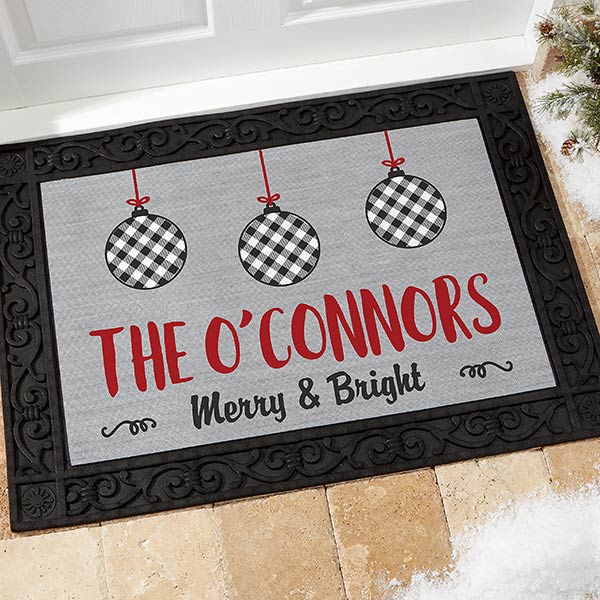 Your entryway can also be adorned with a holiday welcome sign that incorporates the plaid print. In this design buffalo plaid is added in small amounts so that it's not too overwhelming.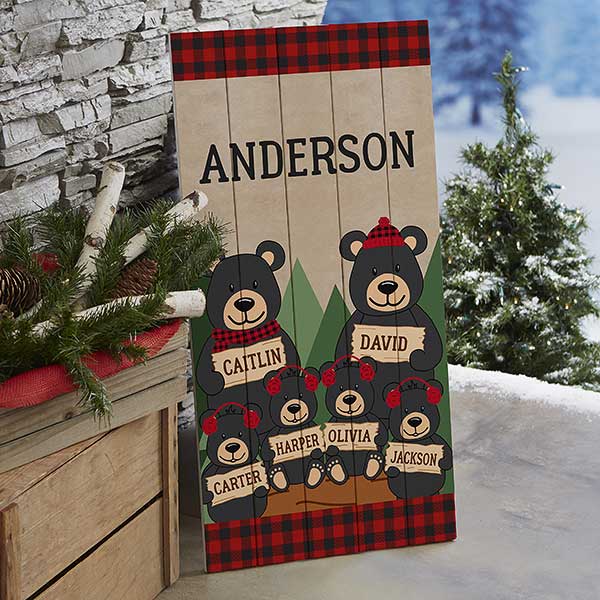 Wall art can be used in any space to add a buffalo check touch to your holiday decor. Hang our buffalo ornament sign above the fireplace, in the kitchen or as a holiday accent to your family gallery wall.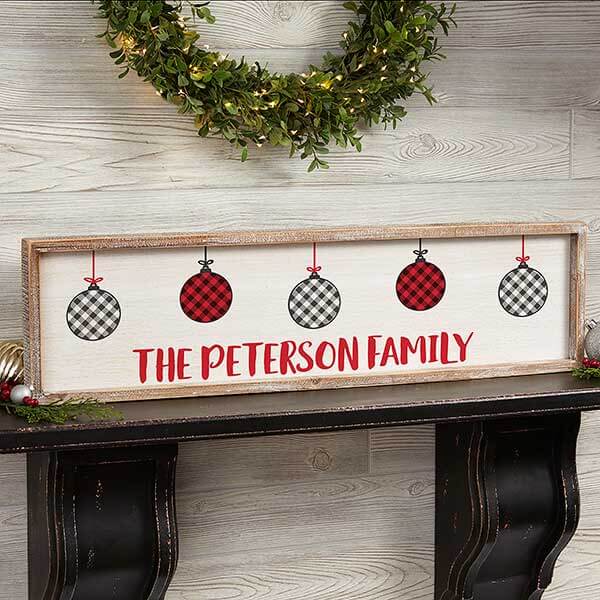 Our shelf blocks are small, but extremely versatile and when used in the right way, they can be very impactful. Place the shelf blocks on the fireplace mantel, add them to any shelf or wall ledge, or use them on your holiday table as a unique centerpiece.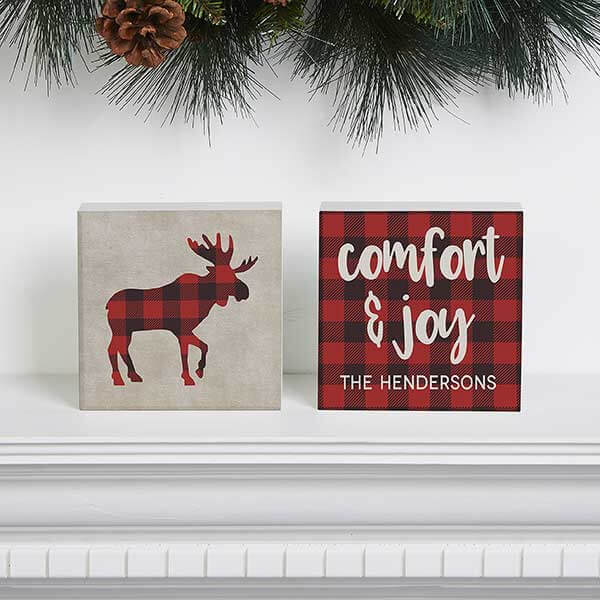 Bring buffalo check to your front lawn or garden with a garden flag or sign that welcomes guests and visitors to your home with the trendy pattern.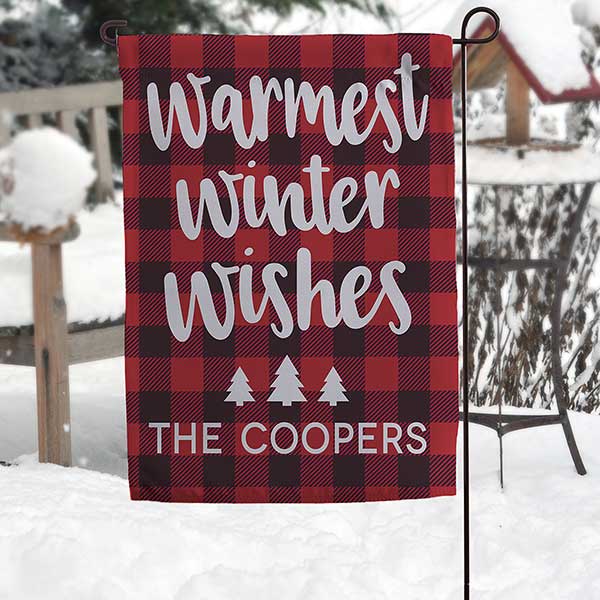 Adorn your front door, hallway or any wall in your home with a unique slate plaque that features buffalo check in a cozy, winter themed design.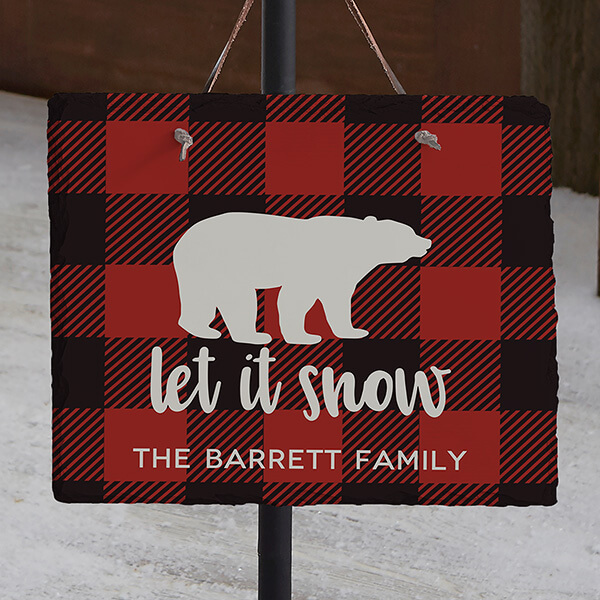 Bonus: Buffalo Check Holiday Gifts
If you're looking to brighten someone else's holidays with buffalo check, you have plenty of options too! Surprise friends and loved ones with a personalized camping mug that features their name and initial in white and black buffalo plaid.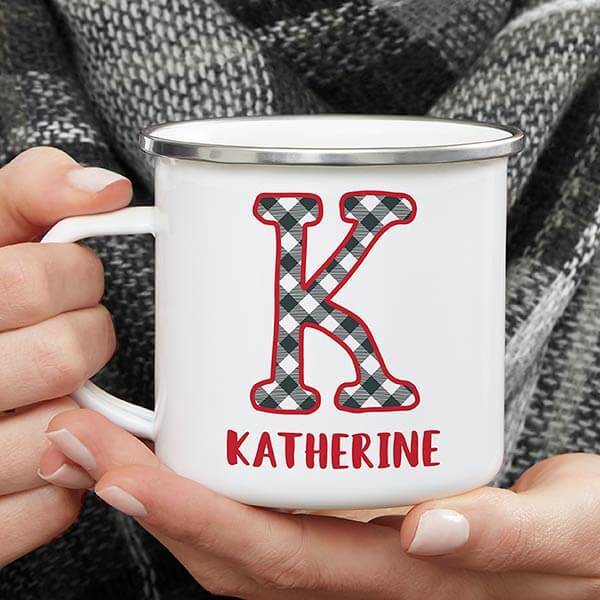 Or customize our adorable teddy bear that's wearing a festive red and black buffalo check hat and scarf.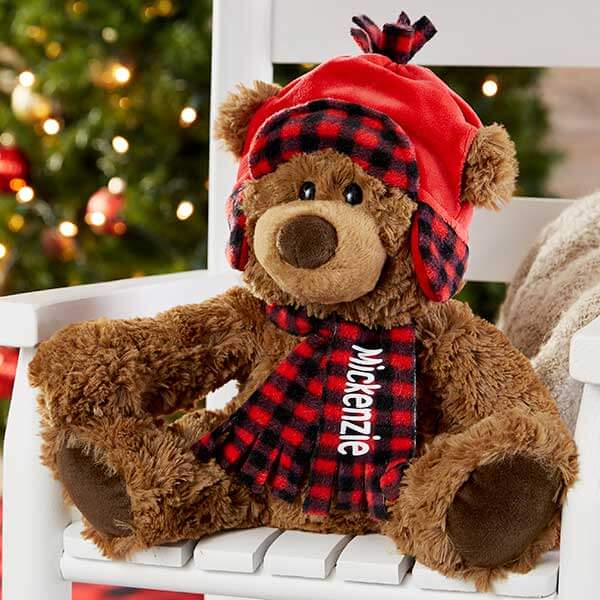 If you already have your presents picked out, simply wrap them in buffalo check wrapping paper in the color scheme of your choice.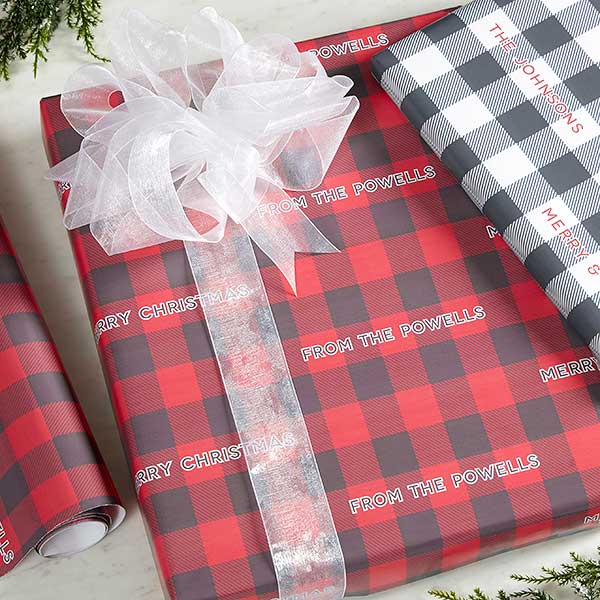 From holiday cards sent out to your family and friends, to ornaments, stockings and other holiday decorations, you can easily add buffalo check to your Christmas home inside and out.
See our complete list of buffalo check plaid Christmas decor and gifts from Personalization Mall and tell us which designs are your favorite in the comments below!