See how easy it is to create a perfectly plaid Christmas with classic tartan, buffalo and gingham check patterns and festive holiday colors.
Nothing creates quite the same cozy winter vibe as warm Christmas plaids in bold colors and patterns. If you're looking to update your holiday home with plaid accents, you've come to the right place. Today we'll cover:
What exactly is Christmas plaid
A brief history and terminology of plaid
How to mix & match Christmas plaids in your home
Christmas plaid home decor ideas & inspiration
And while you're learning all about Christmas plaid, don't forget to check out our brand new design collection, which expertly incorporates plaid along with rustic, woodsy details that will help transition your home from holidays to winter.
What Is Christmas Plaid?
There's no denying the appeal and versatility of plaid. It's both traditional and modern, elegant and rustic, and it can take on a formal or informal tone, from stylish suits and dresses to lumberjack shirts and cabin decor. But why is plaid such a staple at Christmas?
When I went searching for this answer I found a lesson in history: the history of tartan.
What we all know and refer to as plaid today, has a rich history behind it. You've probably heard of buffalo check, gingham, houndstooth and even tartan. Most people use these terms interchangeably to identify fabrics and other items that feature grid-like patterns of straight lines and intersecting stripes. However, these terms actually refer to very specific textile patterns where the different colors that overlap, create a new color.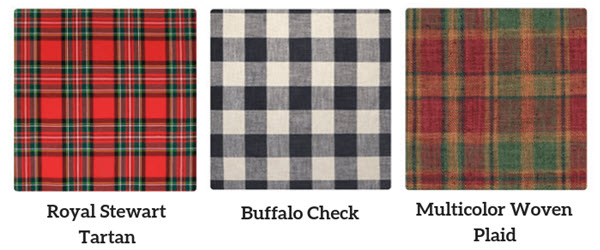 [ Side Note: If you've ever wondered what the difference between buffalo check, tartan and plaid is, see my post from last year on Buffalo Check Christmas Decor. ]
A Brief History of Plaid (& Tartan)
Plaid traditionally referred to a type of garment made of tartan, which was worn by the Scottish during the winter months to protect them from the cold. The word plaid is derived from the Scottish Gaelic word "plaide," which means "blanket." Plaid, also referred to as a "belted plaid" or a "great kilt," was a large garment made of thick wool that was worn by both men and women starting in the late 16th century. (Read more on the belted plaid from Wikipedia.)
Today, the word "plaid" simply refers to patterns inspired by traditional tartan designs.
Tartan and plaid's association with Christmas comes from the Scottish folk who wore their tartan plaids at the Yultide festivities during the cold winter months. However, the use of tartan at Christmas is not simply a longtime tradition being passed down through generations. Tartans (like the Balmoral royal tartan, which was designed by Queen Victoria's husband, Prince Albert, in 1853) still hold incredible social, cultural and even political meaning.
It would seem that we have Scotland to thank for the festive Christmas plaid of today, which has broadened from its use in garments to all forms of home decor and accessories.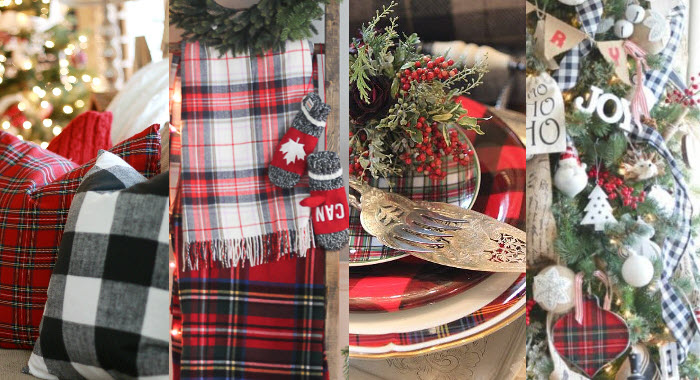 Mixing & Matching Christmas Plaids In Your Home
The wonderful thing about plaid patterns is that they go so well with one another. You can easily mix a bold white and black buffalo check plaid with more intricate red and green tartan inspired patterns. Same applies to gingham and houndstooth. You can even mix different tartan prints, as long as you're staying within a cohesive color scheme.
The bottom line is: plaids look lovely when layered, so get creative and use any patterns you like in your decor. Play around with your arrangement and see what works for your home.
Plaid is incredibly versatile and can coordinate well with solid colors as well as other patterns. You can add plaid to rustic, country or farmhouse decor, old fashioned or vintage-inspired holiday decor, modern and contemporary Christmas decor, girly, glittery or glam holiday decor, even coastal Christmas designs that are so trendy this year. Plaid looks well with traditional red Christmas decor, trendy green and white decor, Nordic or Scandinavian inspired styles, simple or minimal decor styles, or unique and eclectic holiday decor.
The best part is that the look is timeless, so as you update your other holiday decor items, chances are your Christmas plaid decor will always remain a staple.
Christmas Plaid Home Decor Ideas & Inspiration
Whether you're fully committed to all things plaid or just want to test out the waters, check out these ideas and inspiration on adding Christmas plaid to your holiday home this year.
1. Plaid Christmas Stockings
A great way to add a touch of plaid to your holidays is with plaid Christmas stockings. They're widely available in a variety of styles and designs from trendy buffalo check patterns to rustic burlap with tartan cuff, fun family characters and more.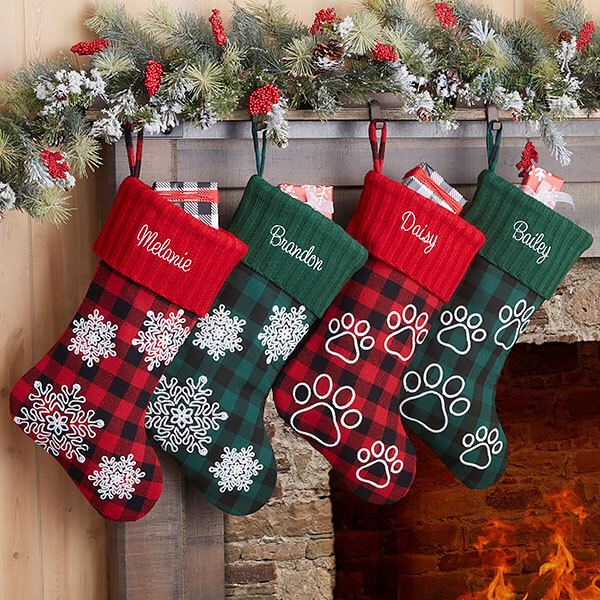 More Personalized Christmas Stockings
2. Plaid Christmas Tree
Another simple way to try out the Christmas plaid look in your home is with plaid Christmas tree decorations. You can add a wide ribbon garland in plaid, or make simple plaid bows to add throughout the tree. There are even tree toppers adorned with plaid details and ornaments dressed in Christmas plaid. If you have a white or flocked Christmas tree, try black and white buffalo accents for a truly unique touch.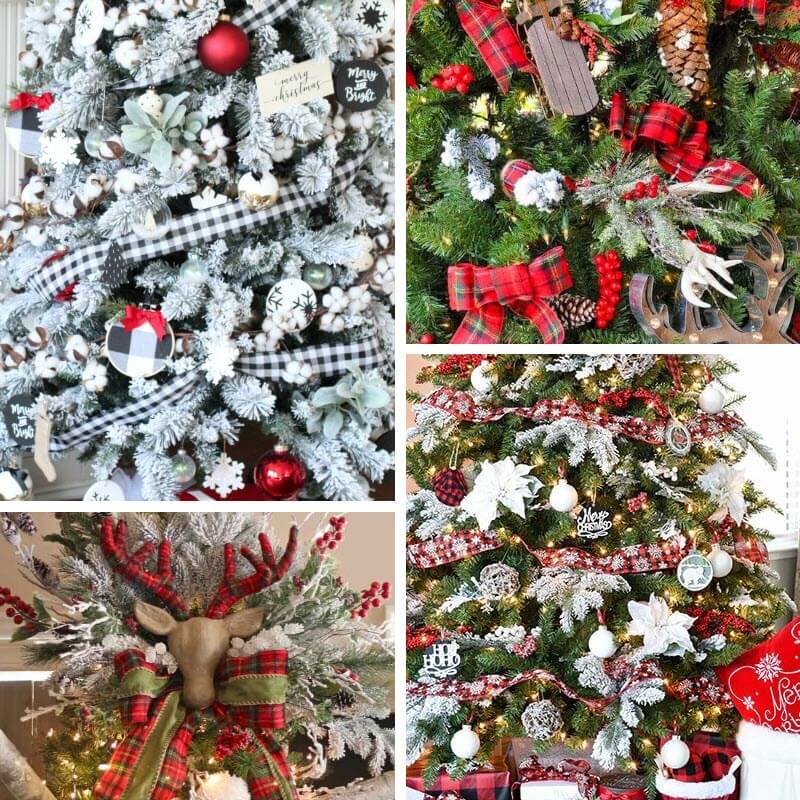 3. Plaid Christmas Ornaments
Plaid Christmas ornaments can decorate your tree or serve as gift toppers in lieu of gift tags or stickers, especially if you use personalized ornaments. You can DIY your own plaid ornaments with fabric or paper (there's no shortage of tutorials available out there) or purchase ornaments individually or as a set; these days they're widely available in an assortment of styles and designs. Here are a few of our Christmas plaid ornaments that can be customized with names, photos and more.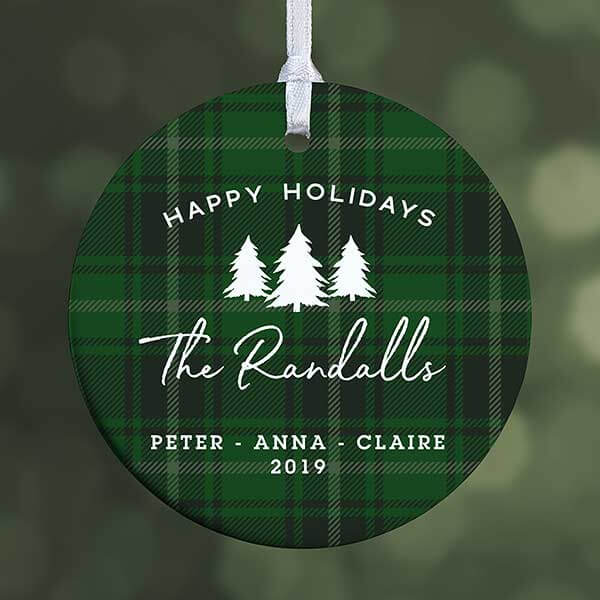 More Personalized Christmas Ornaments
4. Plaid Christmas Tree Skirt
You can achieve a big impact simply by adding a Christmas tree skirt with plaid details. Your tree skirt can be all plaid, have a plaid trim or other plaid accents depending on the look you're going for. It's an effortless way to add plaid to your holiday home and a great way to coordinate decorations with your Christmas stockings, ornaments and other decorative details.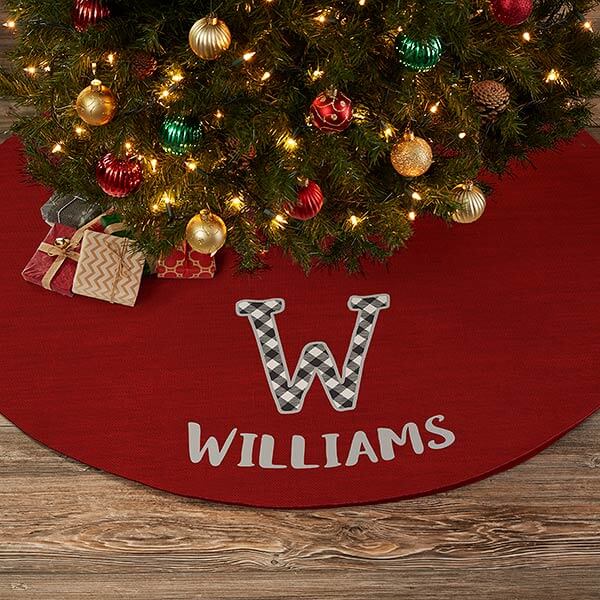 More Personalized Christmas Tree Skirts
5. Plaid Wrapping Paper
Wrapping your gifts in plaid wrapping paper is another easy way to add some Christmas plaid to your decor. Plaid wrapping paper is available anywhere in a variety of colors and patterns for you to choose from. It's such a great way to test out different plaid designs on the cheap to see which ones you like the most.
6. Plaid Christmas Pillows
Adding a few plaid throw pillows to your family room, entryway or bedroom is also a great way to incorporate plaid in your holiday decor. Coordinate them with other holiday themed designs or plain throw pillows in festive colors and warm cozy fabrics like faux fur, velvet or knit designs.
7. Christmas Plaid Blankets
For a more complete look, throw in a warm Christmas plaid blanket with a plush faux sheepskin Sherpa layer or a silky soft fleece. Choose a smaller blanket to drape on your sofa or chair, or go for a larger one to display on a bed. The blanket will serve as a decorative piece for your living room or bedroom while keeping those you love cozy and warm during the cold winter months.
8. Plaid Christmas Doormat
A plaid Christmas doormat can be a decorative and functional accent to both the inside and outside of your home. Use it in your entryway or foyer to give visitors a place to leave their snowy boots. Or place it in front of your front door to add a plaid touch to your front porch. Many also use Christmas themed doormats in front of the fireplace to have a spot to put their firewood or to simply add a decorative piece to the family or living room.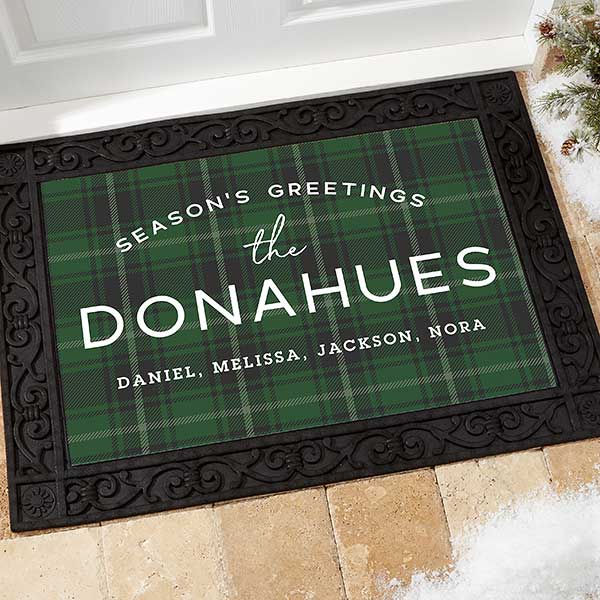 9. Christmas Plaid Garden Flag or Sign
Give guests a warm holiday welcome with garden flags or signs that feature Christmas plaid details. If you're decorating your front porch, yard or garden for the holidays you can easily add plaid details your decor. Tie it all in with a plaid ribbons on your holiday wreath, garland and other outdoor decorations.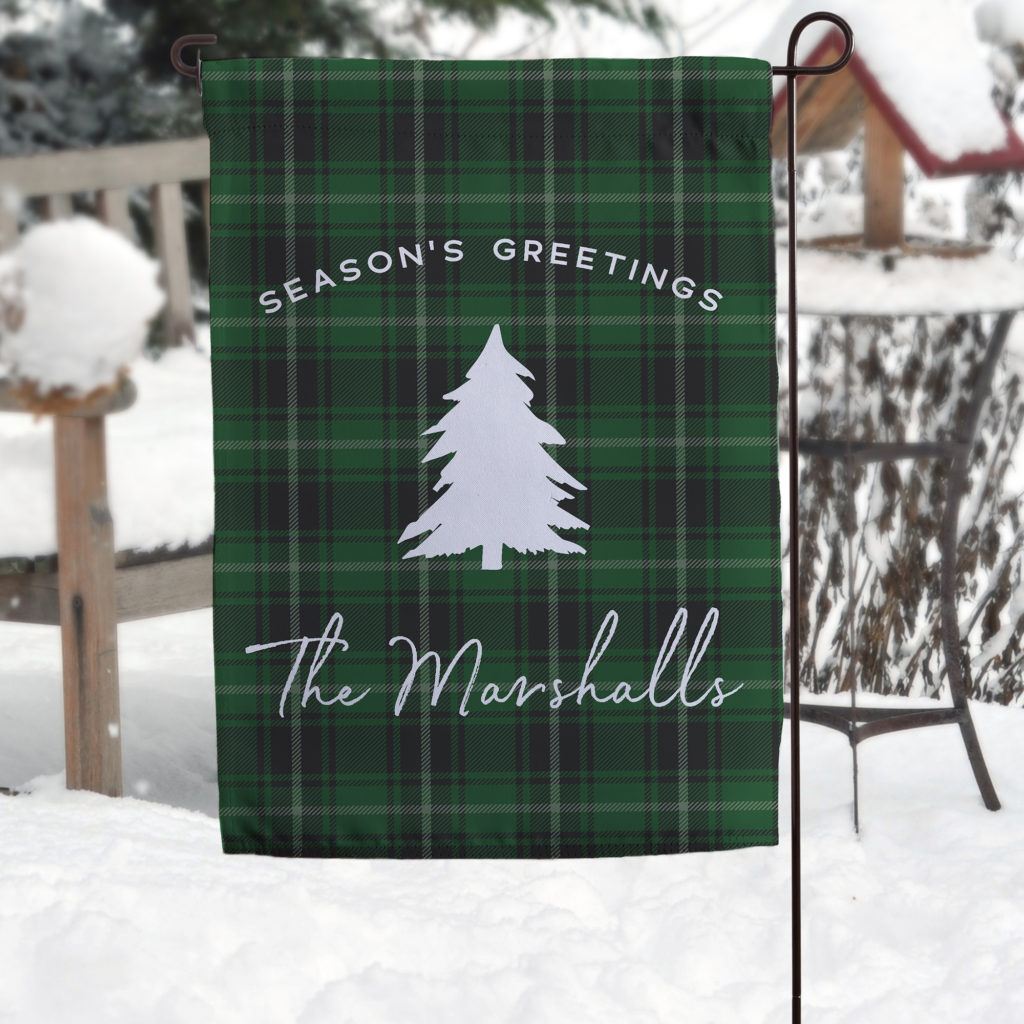 10. Plaid Christmas Table
Dress up your holiday dining table with plaid accents to give your home that perfectly plaid vibe. Start with a plaid tablecloth, table runner, place mats or napkins. You can also use plaid plates, bowls, chargers, platters, mugs and other dinnerware items; they're surprisingly common these days and can be found at a variety of retailers. Your table centerpiece can also include plaid details.
Layer on different plaids for a unique, eclectic vibe or go with a single pattern for a more dramatic look. You can also extend the design of your holiday table to your sideboard or buffet table, kitchen decor and more.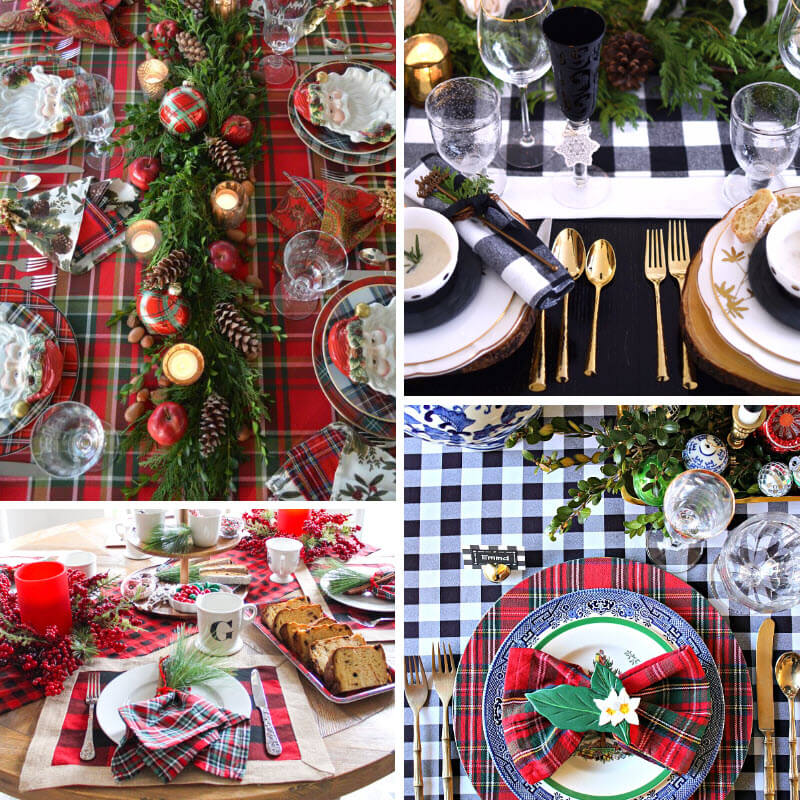 Bonus: Plaid Christmas Cards & Gifts
Share your love of Christmas plaid this year with those you hold near and dear. Your friends and family are sure to catch the plaid bug when you send them your stunning plaid Christmas cards or gift them unique plaid gifts. Here are a few of our favorites from the new Christmas Plaid Collection along with best-sellers from previous years.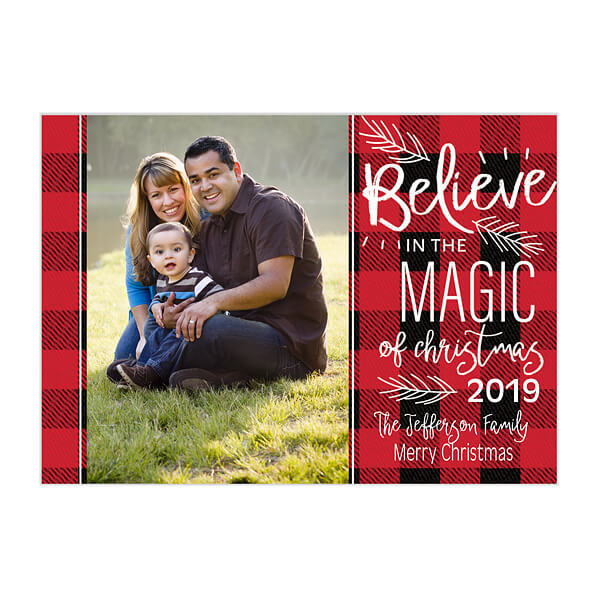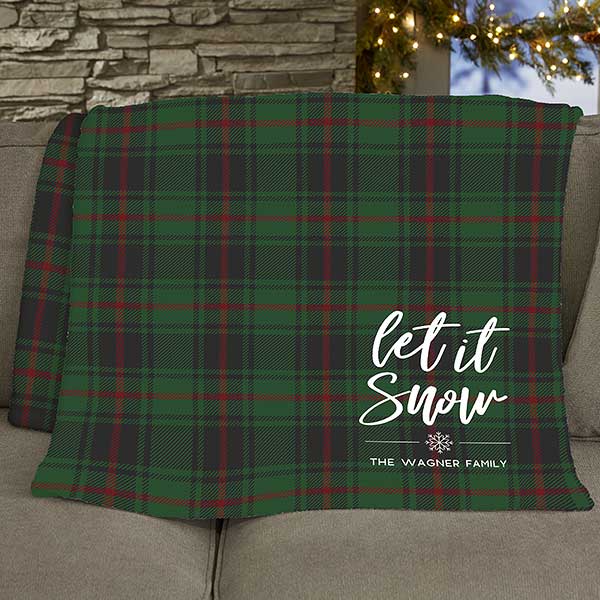 Let us know what you think of these Christmas plaid decor ideas and share your inspiration in the comments below or on our social pages!