A gallery wall is one of the best – and easiest – ways to add a personal touch to your home. Mix and match your favorite art and family photographs with frames, signs, wall decals and other wall decorations to create a unique look that showcases the people, places and things that are most special to you.
To really take your gallery wall decorating ideas to the next level, try incorporating unique, personalized wall art like custom canvas prints, frames, wall plaques, signs, photo collages and more. The result will be an eye-catching display that will wow your friends and visitors, and that you and your family will enjoy every day.
Here are our top tips and tricks on how to create your own custom gallery wall so you can get started designing today!
1. Make A Statement With Photo Canvas Prints
Give your favorite photographs an elegant, professional appearance when you transform them into personalized photo canvas prints. When you order from PersonalizationMall.com, you'll get museum-grade durable canvas, professionally stretched and wrapped over wood frames, to turn your special photos into masterpieces that can set the tone for an entire gallery wall. You also have an option to get a thicker gallery wrapped frame or add a frame in your choice of four colors.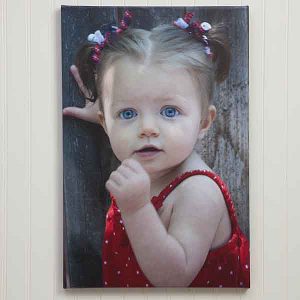 Canvas photo prints provide the perfect amount of texture, depth and scale to fit right in with your other artwork. Choose from different sizes and shapes, or split a single photo across multiple canvases for an unforgettable collage effect. Feeling bold? Try using photo-editing software to give your photos a hand-painted or sketched look, and amaze visitors with your very own custom portraits.
2. Get Edgy With Personalized Frames
If you really want to make your custom wall art stand out, try putting your special photos and prints inside different custom picture frames for a fun, individualized look. Whether it's to commemorate a new baby, wedding, anniversary or other special occasion or just to recognize the most important people in your life, a personalized frame adds to any gallery wall's story while offering an extra touch of design flair.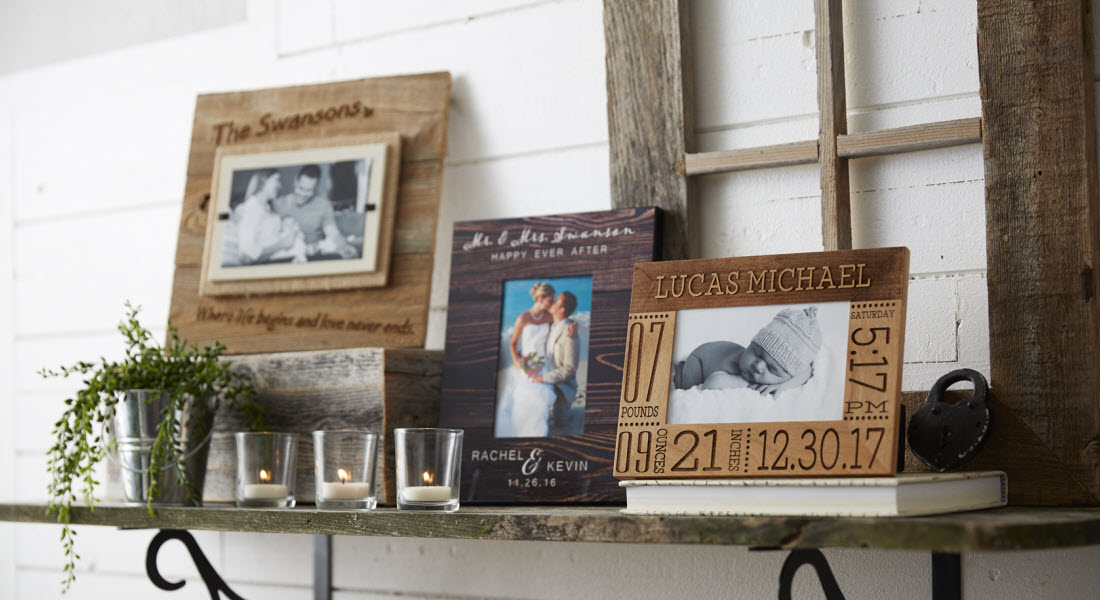 You can choose from literally hundreds of frame styles to find your favorite ones, and then add your own special messaging for a truly unique effect. Hang them right on the wall or place them on a wall shelf or layered on a picture ledge hanging on your gallery wall along with books, plants, vintage knick-knacks and other mementos for a more eclectic look.
3. Add Interest With Custom Signs And Wall Plaques
By incorporating signs, wall plaques, wall decals, letters, monograms and other unexpected items you can create instant interest, breaking up the photo wall gallery to create a beautiful eclectic collection. Try a one-of-a-kind custom puzzle piece, with or without photos, and a special message or dates. Or a custom wood sign with your family name and one of your favorite sayings.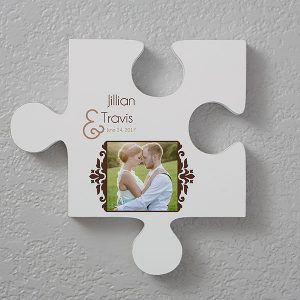 You can use a custom wall decal as the centerpiece of your gallery wall, adding canvas prints, picture frames, signs and other design elements around it. The important thing is to find items that reflect your personal style but that also have meaning to you and your family.
Bonus: Design A Family Photo Collage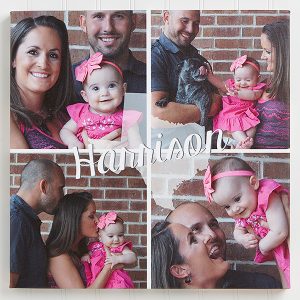 The trick to any gallery wall is the pleasing combination of beautiful shapes, textures and images. Why not try the same technique within individual art pieces by creating a photo collage? You can create a custom work of art that displays several sides of the same story. Whether you're craving a classic portrait collage or want to include a special message, using a photo collage in your gallery wall is an easy way to showcase a series of special images that go together.
Creating Your Custom Gallery Wall
If you love the idea of a personalized gallery wall but don't know how to get started designing one, don't worry — creating a gallery wall is actually pretty easy. Start by deciding where you want your display to be. Environmental factors like the wall color, furniture selection and placement and other styling details in the room you choose can impact how the finished product comes together.
Do you want a classic look with a muted color palette? Going for a modern motif with bright, bold colors? Think about your overall goals and how those will impact the art, frames, layout and other design choices you make.
When you have your pieces picked out, plan your gallery wall's layout by placing each item on the floor near the wall you'll be using. This step helps you experiment with different layout options without putting a bunch of holes in your wall. To get started designing your layout, decide which piece you want to serve as the focal point of the display, give that one central billing, and then fill your other pieces in around it.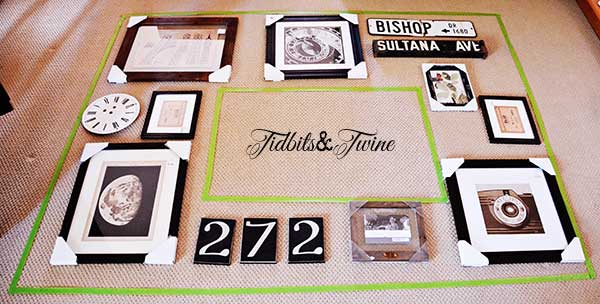 An easy trick to get the layout just right is to measure out the wall space and mark the exact shape with masking tape on your floor. Then you can play around with different layout options until you're happy with your gallery wall design. Kim from Tidbits & Twine walks you through this whole process with a great example on her blog.
Once you've settled on your layout and overall design, it's time to hang your custom gallery wall! Start from the middle and work your way out, so that the focal point doesn't wander if you have to make slight spacing adjustments. Hang everything securely, and you're all done! You now have a beautiful, personalized gallery wall full of cherished memories that you and your loved ones can enjoy for years to come.